Manazuru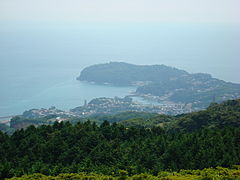 Manazuru
() is a coastal resort in Kanagawa prefecture, on the east coast of the
Izu Peninsula
southwest of
Tokyo
,
Japan
, near
Hakone
,
Odawara
,
Atami
and Yugawara.
Understand
Manazuru
is a production center of high-quality stone which is long ago Komatsu Ishi. The name of the town was named because the shape on the map is similar to crane.
Quarries are abundant in the mountain north of the city area. Hills along the northern coast are cultivated
Mikan
.
The northwestern part of the town is a part of the mountainous region that continues to the outer ring of
Hakone
volcano.
Japanese Riviera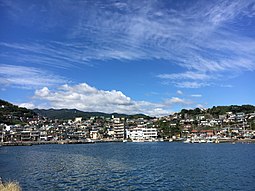 The majority of the town area is a mountainous area and the flat area is poor, but the mountain foot of Hakone volcano is used as a
mikan
garden. It is said that the view from the slope where Hakone is to the north and
Sagami Bay
to the south is closely resembles the
Mediterranean
coast of France, Italy, and it is called Japanese
Riviera
.
The Kataura area of ​​the adjacent
Odawara
is also called "Oriental Riviera".
Get in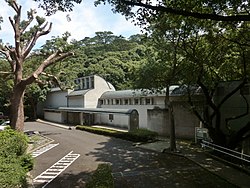 By plane
You can reach
Manazuru Station
from one of Tokyo's two airports. From
Narita Airport
, take the Narita Express train to
Shinagawa
, then transfer to either a Shinkansen
Kodama
train or a Tokaido Line local train. It is 2 hours via shinkansen connection and 3 hours via local connection.
From
Haneda Airport
, take a Keihin Kyuko line train to Shinagawa for connection to the Shinkansen and change at Yokohama for the local JR Tokaido line.
Alternatively you can take the Keikyu Line from Haneda to Yokohama via Keikyu-Kamata station and change at Yokohama for the local JR Tokaido line.
By train
The fastest and most expensive method of reaching Manazuru from Tokyo is to take a Tokaido Shinkansen Kodama (こだま) train from Tokyo to Odawara, then transfer to the local JR Tokaido line for the run to Atami, Numazu. The one-way fare starts from ¥3390 for unreserved seating, but with a Japan Rail Pass you need only to pay ¥240 for the local JR Tokaido line - easily done with a Suica or PASMO card. With a good connection, the trip takes one hour.
Be aware that the JR East Rail Pass does not provide access to the Tokaido Shinkansen and to make use of this pass you will need to ride the regular Tokaido Main Line to Manazuru. From Tokyo, a convenient choice that is valid with the JR East Pass is the
Odoriko
limited express train service. These trains have bigger windows and better seating than the regular commuter trains, and seat reservations can be made. There are at least 3-4 runs during the day in either direction.
See
Iwa BeachesMinamoto no Yoritomo sailed

The monument of Stonemason's ancestors
Kibune Festival which is designated as an important intangible folk cultural asset designated as a country and is considered one of Japan's three major festivals.
This historic site near Manazuru Port is associated with Minamoto no Yoritomo. After losing a battle with the Taira clan at Mt.Ishibasiyama in 1180, Minamoto no Yoritomo fled into the Hakone mountains, stayed in this cave, then escaped to south of present-day Chiba.
Odaiba memorial tower
SetomichiThe back streets of Manazuru
Sashimi boat
Do
Mikan
phone: +81 465 68-0330

Mikan, DogRun, narcissus, MTB, bambooshoot.
Fishing, cycling
phone: +81 465 46-2974

Cycling rental, fishing rental, souvenirs.
Hot springs
You can use hot springs in the neighboring Yugawara or Nobukawa .
Scuba diving
Manazuru is a popular day or weekend trip from Tokyo for
scuba diving
, largely due to its proximity to the city. Visibility can be poor during certain times of year, but it peaks toward the end of the summer or early fall.
Buy
Himono, Shiokara
phone: +81 465 68-0057
Carangidae, Squid(salted fish), dried fish
Tombstone, Monument
phone: +81 465 68-2738

phone: +81 465 68-0826

phone: +81 465 68-0722
Eat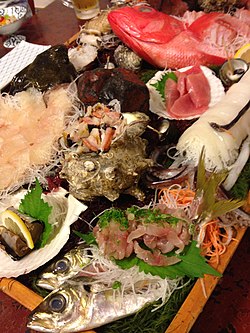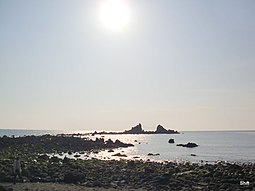 Drink
phone: +81 465-68-1063
Sake, sashimi, yakitori.
Sleep
Budget
phone: +81 465 68-6050
Sashimi boat.
Mid-range
phone: +81 465-68-5348
Herbs & vegetables cooking.
Splurge
phone: +81 465-27-1188
Connect
Cope
address:Kanagawa,Ashigarashimo-gun, Manazuru- machi, Manazuru, Manazuru station front
phone:+81 465-68-2500