Manchester/Castlefield-Petersfield
Castlefield-Petersfield
covers the area in central
Manchester
west of Quay St, Peter St, and Oxford St. It covers the locales of Castlefield and Petersfield (
also known as St Peter's Fields
). Both are located within The Historic County Boundaries of
Lancashire
.
Castlefield
is the site of the original Roman settlement Mamucium and has been known as Castlefield since Medieval times. It is the centre of Manchester's canal network and includes the Castlefield Basin, which joins the Rochdale and Bridgewater canals. Very important in industrial times, it became run down in post-war times until it was completely regenerated in the 1990s and designated Britain's first Urban Heritage site. These days it is like a small country oasis in the heart of the city, with regular events and a handful of great pubs around the canals and the neighbouring streets. It is also the only place to see wildlife in Manchester's centre.
Petersfield
(also known as the
Exhibition Quarter
) is the home of Manchester's exhibition, conference and concert halls, as well as the almost-deserted Great Northern shopping and entertainment centre and two of the city's most luxurious hotels. It is also home to the Beetham Tower, the tallest building in the UK outside of London and the home to Manchester's Hilton hotel.
Get in
By train

Manchester Deansgate railway station is the closest railway station, although Manchester Piccadilly is readily accessible for InterCity trains.

By tram

The Deansgate - Castlefield tram stop is situated nearby with a footbridge across to Deansgate railway station.

See
St. John's Gardens

address: Byrom Street

The site of the former St. John's Church has become central Manchester's most beautiful park. Come here in the summer to see the flowers and bring some bread for the hundreds of birds that make St. John's their home.

Museum of Science and Industry

phone: +44 161 832-2244

address: Liverpool Road, M3 4FP

This is a great museum for those interested in technology and industrial heritage: sited at one end of the world's first passenger railway line. The working cotton weaving machines are particularly worth experiencing. Catch one of their regular demonstrations of their operation. There is also the opportunity to explore the city's former sewers (now fully cleaned!) to get an idea of the living (and dying) conditions of Manchester's cotton workers. Most impressive of all is the huge collection of working engines in the Power Hall, powered by steam, gas, water, you name it. Across the road is the Air and Space Hall, containing real examples of Britain's aeronautical history. The museum also hosts the first steam train (and with it, the first ever vehicle to run faster than a horse), as well as the first programmable computer with a cathode ray tube memory.

Roman Fort

address: off Liverpool Road

Not much survives of Manchester's four Roman settlements, but what is left can be seen in the gardens of Castlefield running from Liverpool Road down to Castle Street. The North Gate of the fourth fort on Duke Street, along with a section of the fort's West Wall, its gatehouse, granaries, and other ancillary buildings from the vicus have been reconstructed and are open to the public.

phone: +44 161 834-2700

address: Windmill Street

Manchester Central (formerly "G-MEX") was once Manchester Central railway station and it carries the air of many of the grand stations in London with its enormous arched steel frame and giant railway clock. These days it is home to Manchester's largest exhibitions and fairs. Attached is the much newer and thoroughly unimpressive International Conference Centre.

phone: +44 161 950-0000

address: Lower Mosley Street

Manchester's main classical music venue is a stunning musically-inspired building dating from 1996. It is home to the world-famous Hallé orchestra and boasts an enormous 5500-pipe organ across the whole of one wall. The building is also home to a cafe and restaurant.

The Merchant's Bridge

address: near Catalan Square

Look up and marvel at the massive Victorian structure which carries the metrolink trams and trains over the canals.
Do
Sit back and relax with a cool pint at one of the many pubs in Castlefield.

address: 253 Deansgate, Unit 2 The Great Northern, M3 4EN

16 screen cinema multiplex. Shows the usual Hollywood movies.
Eat
Most bars in Castlefield provide bar meals.
Dukes 92Famous for its huge cheese and pate boards. Plus, they serve a selection of pizzas late into the night.

Alberts ShedRecently built restaurant which offers mid-priced modern Italian cuisine.

ChoiceAn award winning restaurant housed within a converted red brick warehouse. It serves a menu of modern British food, along with a good selection of wines.

Deansgate Hot Food BarFor breakfast, nothing beats this. Situated next to Deansgate station, it's a cheap and friendly authentic greasy spoon.

phone: +44 161 834-8444

address: 73-83 Liverpool Road, Castlefield, M3 4NQ

Slightly upmarket Indian restaurant. Not cheap, but very good value.

The Twisted Med

phone: +44 161 839-7099

address: Arch 8, Catalan Square, M3 4RU

Greek, Spanish and Italian-influenced Mediterranean cuisine set in a beautiful high end location of the city centre.

phone: +44 161 839-3319

address: Campfield Arcade, Deansgate, M3 4FN

A taverna with live acts as well as underground seating in a plush environment. Food and drink is competitively priced but well worth the money for the spectacular quality and authenticity of the food and dining experience as a whole.
Drink
Castlefield bars are extremely popular during the summer months when tourists, local residents, and city centre workers flock to the area to enjoy the large outdoor drinking areas and views across the Bridgewater Canal. Overall, Castlefield is trendy but sometimes pricey.
Britons Protection

address: 50 Bridgewater St

Behind the stage door entrance of the Bridgewater Hall. It is here where many a poor mug "took The King's Shilling" and found himself press-ganged into the army. Largest selection of whisky in the city.

ChoiceAlthough primarily a restaurant, Choice has a good selection of wines and is an ideal choice if you want to escape the crowds.

Dukes 92By far the most popular venue in Castlefield, Dukes 92 has an unusual, but successful, mix of antique furniture, modern deep leather sofas, and minimalist décor. Although relatively quiet in winter, it is hugely popular on hot summer days due to its large patio area overlooking lock number 92 of the Rochdale Canal. An outside bar has recently been installed in an attempt to reduce what can be a lengthy wait for refreshment.

The Knott BarA quirky, modern take on the traditional boozer. Housed within a railway arch it is popular amongst real ale fans, but also serves a good selection of bottled and drought ciders and lagers. It has a great jukebox and a sheltered balcony overlooking Deansgate and Beetham Tower.

The OxAway from the Castlefield basin on Liverpool Road you will find The Ox. Popular with the stars from Coronation Street due to its close proximity to the set, this lively gastro pub has the distinction of being the only pub in the country to be named after a potato - the Ox Noble.

White LionA traditional boozer of little note, although it does feature on its walls an interesting aerial photograph of pre-developed Castlefield. Soundtrack of soul and funk with congenial staff set it apart from the others.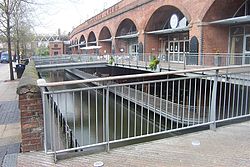 The
Deansgate Locks
are a bunch of bars and clubs alongside a set of locks:
Sleep
Budget
address: Potato Wharf, Castlefield, M3 4NB

Boasting views across the canal, this no frills hostel is centrally located with easy access to Castlefield and the city centre. It offers a game room, TV, cafe and restaurant, guest kitchen, laundry, internet access, and parking facilities.

Holiday Inn Express Manchester

address: Oxford Road Manchester

City centre location. Modern, comfortable bedrooms.
Mid-range
address: Liverpool Rd

Castlefield's hidden gem. Mid-priced three star hotel with the best leisure facilities in the city centre, including an 18m heated pool, sauna, gym and steam rooms. The hotel offers free WiFi and has parking available for an extra charge.

address: Liverpool Road

A friendly welcome and a small number of reasonably priced rooms.
Splurge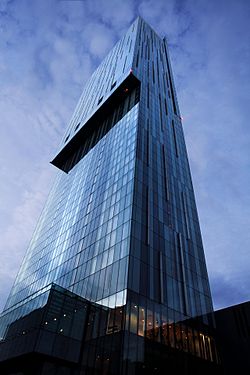 address: Beetham Tower

The recently opened five star Hilton housed within the Beetham Tower offers amazing views over Castlefield, Manchester and beyond.

address: Peter St, Manchester, M60 2DS

Manchester's only grand old hotel, The Midland is a red brick hotel off St Peter's Square in the heart of the city. Luxurious as it is impressive, this is the hotel in which Rolls met Royce.

phone: +44 161 288-1111

address: Oxford Street