Manchester/Universities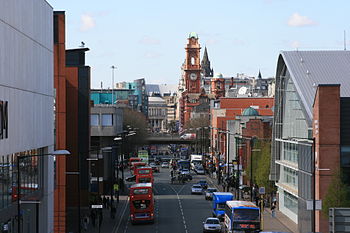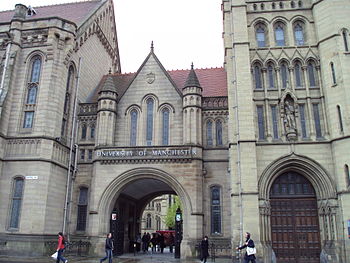 The
Universities Corridor
is in the south of
Manchester
. It covers the corridor around the Oxford Road and the Wilmslow Road, from the A57(M) south down through Rusholme to Fallowfield and the areas immediately either side bounded by the A34 and A5103. The University of Manchester and Manchester Metropolitan University - the city's two large universities - are located within this locale.
There are three distinct areas here:
The northern-most being where the university campuses are
Rusholme, which is home to a large Pakistani population and the Curry Mile. It is also a residential area starting from as far north as St. Mary's Hospital south to Platt Fields Park; East from the former Manchester City Football Ground west to Anson Road.
Fallowfield, which is the heart of student life, so at times it can be heaving, but everything is cheap.
The fantasy writer Jeff Noon set most of his works in some future version of this area.
Get in
By bus
Buses from Piccadilly Gardens travelling down Oxford Road are generally the cheapest, a (brown, white, and orange) Finglands bus will cost you £1.20, a (blue and yellow) Magic Bus £1.30 as well.
Any 42, 41, 43, 142, 143 bus from
Piccadilly Gardens
or on the
Oxford Road
will go down the Oxford Road passing the universities, Rusholme, and Fallowfield. The number 50 runs along Anson Road. The 147 runs from the South exit of Piccadilly station, past the University of Manchester (North and South campus), Manchester Metropolitan University and the Manchester Royal Infirmary, but only during the week day time.
By car
There are two main roads between the centre of
Manchester
and Rusholme and Fallowfield. Wilmslow Road and Anson Road (Oxford Road and Upper Brook Street towards the centre).
On foot
Fallowfield is just a few minutes walk south of
Rusholme
and the famous Curry Mile. Just walk down the Wilmslow Road.
By taxi
A Black Cab Taxi from Piccadilly station should cost around £6.00; from Oxford Road Station around £5.00; from the airport £17.00 (although the 43A and 45A buses both travel between the airport and the centre of Manchester through Rusholme for about £2.50 - £3.00).
By train
The main station nearby is
Manchester Oxford Road station
. It can be reached walking due south from it for 30 minutes will find you at the top of Rusholme, 45 minutes in Fallowfield.
See
Do
Buy
South Asian clothes, jewellery, and gifts in Rusholme.
There is a large Sainsbury's in the heart of Fallowfield on Wilmslow Road.
There is a large World Foods, and a medium sized Tesco Direct and Lidl opposite Whitworth Park.
In Rusholme, there are many smaller Middle Eastern and Asian food markets and shops. Venus Foods (45 Anson Road) is an interesting Turkish supermarket, it has recently set up a hot food/take away section. Not very friendly staff, but you will get by.
Eat
Around the
Universities
:
Pizza Co

address: 121 Oxford Road

This small fast food restaurant is just across from Manchester Metropolitan University. Try their spicy chicken wings with fries, which are a hit among students in Manchester, for under £3. The spicy wings are very flavourful and are really not very spicy.
Popolino's Pizza High quality food for the price, it specializes, unsurprisingly, in Pizza.

Red Chilli

address: Oxford Rd

is of a very good standard and is unusual in Manchester in specializing in Beijing and the very spicy Szechuan cooking. It has a large Chinese following, which is always a good sign.

Tai Pan

address: Upper Brook Street and Brunswick St

This is an increasingly esteemed and popular restaurant outside Chinatown. Visit the huge, Hong Kong style restaurant M-F after 12:00 for half price dim sum.
Revolution on Oxford Road has a policy where your food is either ready within a 15 minutes wait or it's free. Worth going at busy times of the day!
In Rusholme:
Many kebab shops (Along Wilmslow Road).
Mandarin Chinese TakeAway (Junction of Banff Road and Wilmslow Road. Closed on Mondays).
A Jamaican Restaurant (Junction of Wilmslow Road and Moss Lane East).
A Nigerian Restaurant (At The Nigeria Centre, Appleby House, Platt Lane).
A Kurd Restaurant (Grandale Road).

address: 331 Gt Western Street, Rusholme, Manchester, M14 4AN

Vegetarian and vegan Restaurant.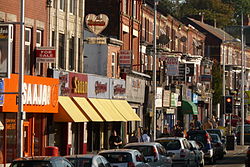 Al Bilal

Al Nawaz

Gogi's

Lal Quila

Shere Khan
In Fallowfield:
address: Friendship Inn, Unit A, 351-353 Wilmslow Road, M14 6SS

Fuzion Noodle Bar

address: 264 Wilmslow Rd

This Noodle Bar has very good, speedy pan-Asian noodles.

phone: +44 161 225-9106

address: 248 Wilmslow Road, M14 6LD

Good Greek food, but quite pricey. Not the most attractive interior, but good service and atmosphere.

Thai Banana

address: 341-343 Wilmslow Road, Fallowfield, Manchester, M14 6XS

Thai restaurant. Nice atmosphere inside and pretty good Thai food.

address: 2a Landcross Rd, M14 6NA

Quite expensive, but a very cool place to eat. Fairly good food, but the place gets very busy around lunch and dinner time. Very popular with students.
Drink
In the University area:
Bands play regularly at the Manchester Academy 1, 2 and 3.
The Phoenix.
Manchester Metropolitan University Student's Union.
University of Manchester Student's Union.
Kro Bar - Think Starbucks with booze.
Po Na Na, 42 Charles Street
Lass O'Gowrie, Charles Street
Fallowfield is heavy with drunken students at night, so if you want a quiet drink, this is not the place to go. However, if you don't mind students, there are some decent prices to be had.
Friendship Inn

address: 353 Wilmslow Road, Fallowfield, Manchester, M14 6XS

Very nice pub with a good mix of students and locals. Serves good beer, but average food.

Baa Bar

address: 258 Wilmslow Rd, M14 6JR

One of a handful in Manchester, a three story bar that serves food during the day and turns up the music in the evening.

The Orange Grove

address: 304 Wilmslow Road, Fallowfield, Manchester, M14 6NL

Nice, relatively cheap pub, strict students-only policy. Serves good food.

Queen of Hearts/Cheshire Cat

address: 256 Wilmslow Road, Fallowfield, Manchester, M14 6LB

Cheap, but nothing special. (Students only)

Sofa

phone: +44 161 248-4820

address: 236 Wilmslow Road, M14 6LE

Nice bar, with (surprisingly!) sofas and wooden floors. DJs on the weekends, also sells tickets to some of the bigger club nights in town.
XS Malarkey - comedy night at Bar XS.
Rusholme tends to be slightly less heavy at night and there are less students (and more curry restaurants nearby).
The Clarance

address: Wilmslow Rd. between Denison Street and Walmer Street East

Hardy's Well

address: on the corner of Wilmslow Rd and Dickenson Road

The Osborne

address: Victory Street

The Osborne is a quiet Hydes pub hidden away from the main streets in Rusholme.

The Rampant Lion

address: Anson Road Hope Road

You pay for the privilege of not being on Wilmslow/Oxford Road in the drinks, but the food is very good for the price.

The Whitworth

address: Wilmslow Rd. and Moss Lane East
Sleep
Connect
There are a number of internet cafes on Wilmslow Road: One called
Link Up
located between Banff Road and Gt. Western Street. There are a handful of others in a row of converted terrace houses between Gt. Western Street and Dagenham Road. There is also a British Telecom Broadband Telephone box further south between Thurloe Street and Grandale Street.
Telegeneration
provides wireless access at a number of near-by pubs and Bed and Breakfasts on and around Oxford Road/Wilmslow Road, the closest being at Luther King House.