Manhattan/Chinatown
Manhattan
's famous
Chinatown
is a lively neighborhood, full of good values in restaurants and food shopping. Also on sale are cheap knockoffs of designer labels made in
China
, and all sorts of trinkets and toys. Chinatown is a much larger neighborhood in population and area than it used to be a few decades ago, and for all practical purposes encompasses most of "Little Italy" and a large portion of what was traditionally called the
Lower East Side
, north of Canal Street and on the north side of the Manhattan Bridge overpass. Indeed, in a real sense, it can be said that the center of Chinatown is no longer on Mott Street between Canal Street and Chatham Square (though that stretch is well worth visiting), but has moved further north and east to East Broadway between Chatham Square and Pike Street and Grand Street between the Bowery and Chrystie Street, where locals shop for foodstuffs - and you can, too, for good values. Chinatown has also been growing more diverse, becoming a bit less of a Chinatown and more of a China and Southeast Asia town, with a growing presence of immigrants from
Vietnam
,
Malaysia
,
Indonesia
, etc. And inasmuch as it remains a Chinatown, it is no longer dominated by
Cantonese
people the way it used to be. For example, Eldridge St. between Division and Broome Sts. is now known as Little
Fuzhou
, due to a recent influx of Fuzhounese immigrants who have given Chinatown a new flavor.
The Chinatown area also encompasses what little remains of Little Italy, an area which is essentially comprised of a few blocks of Mulberry Street north of Canal, plus a bit on streets perpendicular to Mulberry (such as the block between Mulberry and Mott on Grand Street, or part of it). Little Italy is almost devoid of Italian residents nowadays, and is primarily a kind of tourist theme park, but still contains a few eateries with reputations. What used to be the northern end of Little Italy, now called NoLIta (which extends north to Houston Street), is a quieter residential area, less touristy, but with upscale boutiques, and more often frequented by New Yorkers than
SoHo
, of which it is in some ways an eastern extension, nowadays.
Get in
By subway
For general purposes, the
D
or
B
subway
lines to Grand Street are optimal for accessing Chinatown. The
J
and
Z
to Bowery leave you a little north of the center of Chinatown. The
F
train to East Broadway leaves you toward the eastern edge of the neighborhood. The
6
,
N
,
Q
,
R
,
W
,
J
or
Z
to Canal Street leave you a few blocks west of the center of the neighborhood though in the midst of the excitement, congestion, and vendors of Canal St (this is generally the best stop for shopping for anything other than foodstuffs). Further afield, it is also possible to take the
4
or
5
to Brooklyn Bridge or the
2
or
3
to Park Place and walk north and east. The
A
,
C
, or
E
trains that stop at Canal and 6th Av. and the
1
train, which stops at Canal and Varick, are far west of the neighborhood though walkable in good weather.
By MTA bus
Several
city bus
lines including the M9, M15, and M103 traverse Chinatown.
By long distance bus
Chinatown is the home of several super-cheap long distance bus companies. You can take buses from Manhattan's Chinatown to other Chinatowns in Boston; Philadelphia; Washington, D.C.; to various cities further afield; and to casinos in Atlantic City. Ticket offices of the various bus companies are scattered throughout Chinatown, including those of
Eastern Coach
and
Lucky Star Bus
, among others.
On foot or by bicycle
You can of course walk to Chinatown. If you're coming from Brooklyn, you can cross the Manhattan Bridge, which opened to pedestrian traffic within the past few years. Note though, that your view will be partially blocked by a protective mesh, and that you will be periodically rattled by the B, D, N, and Q trains crossing the bridge. But on the plus side, you will exit on Bowery near Canal Street in central Chinatown. Another bridge that can be crossed from Brooklyn to Manhattan is the Williamsburg Bridge. After crossing the Williamsburg, you will be left on Delancey Street, a few blocks east of the northeast corner of Chinatown. All things being equal, though, it is most pleasant to cross the Brooklyn Bridge and then take the short walk to the southern reaches of Chinatown from the pedestrian exit. Note that it is also possible to use a bike path on the Manhattan Bridge and that the walkway over the Brooklyn Bridge doubles for most of its length as a bike path; the Williamsburg Bridge also has a bike path.
See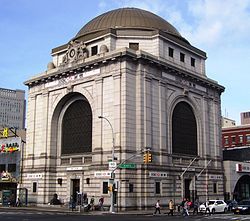 The main attraction in Chinatown is just walking through the neighborhood, visiting the above-mentioned shopping streets.
Landmarks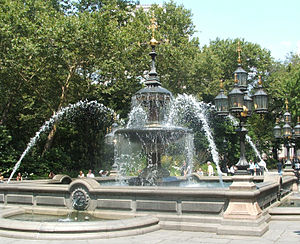 phone: +1-212-788-2656

On a triangular city block between Broadway, Park Row and Chambers Street sits City Hall, a gorgeous gleaming white building completed in 1812 and still serves as the home of certain city government functions, such as the office of the mayor. The building itself is fenced off and only accessible by tour, but there is a lovely park surrounding the building, with plenty of shady trees and a pleasant fountain just to the south of the building. Just north of City Hall and on the same block is the , a gorgeous government structure and the legacy of Tammany Hall boss William M. Tweed, who used the courthouse project to embezzle large sums of money from the city budget and was convicted in a courtroom in this building.

City Hall StationThe original subway station, and quite a marvel to witnessthe chandeliers and ornate tiling are a sharp contrast to the nearby Brooklyn Bridge-City Hall station. There's one catch, though: it's been closed since 1945. However, you can see it by staying on the downtown 6 train after its last stop Brooklyn Bridge-City Hall; it will turn around in the old station. This is the one place in the system where this is allowed, and the announcements reflect that. The Transit Museum (in Downtown Brooklyn) offers occasional tours as well, which allow you to actually walk around the station, but you must be a museum member and a US citizen, making this an impractical choice for most visitors.

address: 1 Centre St

With New York City growing and not enough space in the City Hall building, this 40-story structure was built to meet the space demands of the city government. Completed in 1915, it is a massive and very grand building with the gilded statue of a woman standing atop the building's spire.
Parks and squares
Chatham SquareAt this square at the confluence of several major streets, there is a memorial archway to Chinese-Americans who died in WWII which has some interesting calligraphy. Also in the square is a statue of Lin Zexu, a Chinese scholar who opposed the opium trade in the 19th century.

address: Bayard St

An excellent place to relax and people-watch. Early in the mornings, people practice their tai-chi there. If you're interested, some of these people might teach you a little bit of it. At times, there are a group of women practicing the traditional Chinese fhan dances. Also, usually in the summer time there are basketball tournaments one may either participate in or watch. In the afternoon when school is out, many adolescents hang out in this park.
Museums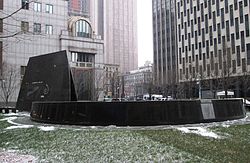 African Burial Ground National Monument

phone: +1-212-637-2019

address: 290 Broadway, 1st floor

For most of the 18th century, Africans in New York City were buried in a graveyard outside the city. The graveyard was eventually forgotten and was rediscovered in 1991. This museum and memorial site commemorate the estimated 15,000 Africans that were interred on the site of the memorial. Note that the museum is located inside of a Federal building so airport-style security should be expected.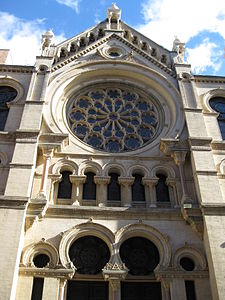 phone: +1 212 219-0888

address: 12 Eldridge St

The museum, a non-sectarian cultural organization based in the restored 1887 National Historic Landmark Eldridge Street Synagogue, presents the culture, history and traditions of the great wave of Jewish immigrants to the Lower East Side drawing parallels with the diverse cultural communities that have settled in America. The museum offers guided tours of the synagogue, new exhibits and programs -- including concerts, neighborhood walking tours and film screenings.

phone: +1 212 965-9000

address: 155 Mulberry St.
Do
Mulberry and Canal StreetWhen many tourists arrive in Chinatown, they are greeted by the stench of dead fish that are sold along the streets. It's definitely a sight worth watching since it is a distinct quality of Chinatown.
Buy
Be mindful that most shops in Chinatown accept cash only.
Canal Street
east of Broadway is a paradise for bargain hunters and people looking to buy counterfeit knock-offs of high-end clothes and accessories. If you want to impress people back home with the fake Louis Vuitton bag you got for $30, this is the place to go. Also look at the stores that line
Mott Street
between Canal and Chatham Square.
NoLiTa has become synonymous with avant-couture boutiques in charmingly dilapidated buildings. Some stores are so idiosyncratic that they appear not to sell anything at all, yet are perpetually crowded and passionately trendy.
Elizabeth Center

address: 15 Elizabeth Center

If you want to purchase cute Asian accessories or dolls, Elizabeth Center (also known as EC, for short), is the right place for you to shop. Once you enter, go down the escalator and all the shops downstairs sell cute Asian merchandise. If you want to take sticker pictures, EC has it too. It's on the first level in the far left corner of the building.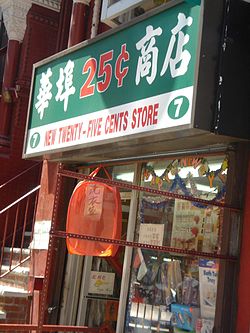 Groceries and food to go
Aji Ichiban

address: 37 Mott St

Hong Kong snack shop, very popular with locals and tourists alike. The staff are friendly and give samples.

phone: +1 212 962-2020 or +1 212 962-2028

address: 71 Mulberry St

Renovated several years ago from a dusty, old grocery store with tight aisles and rusty shelves into a brighter, more spacious store with a wider selection of goods, Asia Market supplies a variety of Asian ingredients, snacks, and drinks. Usually the difficult, hard to find Southeast Asian ingredients will most likely be available at this store. Even if something you want isn't available, the staff here is very friendly. You may leave the brand name of the product you want and they may try to order it for you. There is also a vegetable and fruit stand outside the store. Basically, this may be your one-stop store to shop for everything. One good example of the products this store has is fresh kaffir lime leaves.

phone: +1 212 732-8916

address: 104 Mosco St

This modest-sized store contains a large quantity of Thai goods of various descriptions, and also sells inexpensive prepared sweet and savory items. Friendly, helpful service.

Deluxe Food Market

phone: +1 212 925-5766

address: 79 Elizabeth St

This humongous store has almost anything you can think of and more, both raw and prepared. Seriously; go and see.

phone: +1 212 571-0330

address: 200 Canal St

phone: +1 212-965-0796

address: 95A Elizabeth St

This is not a cheap snack, but their chicken and beef jerky are excellent and come in spicy and regular varieties. Unlike American-style jerky, Malaysian-style jerky is moist. Its sugar content may surprise you, so low-carb dieters, beware! There is nowhere to sit inside the store, so business is strictly for takeout.
Book stores
phone: +1 212 274-1160

address: 52 Prince St

Formerly McNally Robinson Booksellers, this independent bookstore features an extensive collection of magazines, fiction, and nonfiction. The store also features a cafe, as well as a number of ongoing events, signings, book clubs and discussion groups.

Aeon Bookstore

address: 151 E Broadway, New York, NY 10002

This subterranean bookstore is a neighborhood gem, with a carefully curated selection of books. The books are fairly prices and cover a range of topics, such as philosophy, art, culture, history, mysticism, and esoterica.

address: 75 E Broadway #205, New York, NY 10002

2 Bridges Music Arts sells new and used records, tapes and books while staging exhibitions and events from their post in a Chinatown mall. The space is meant to host overlapping tendencies in experimental music, art and knowledge production internationally.
Knockoffs
If you want knockoffs of designer labels, try the stores on Mott Street south of Canal first. There are other stores on Canal Street, but you may find them more expensive. And remember, you get what you pay for, so if you buy a knockoff watch and it lasts you more than six months, be happy. Price shop and don't be afraid to try
bargaining
.
Eat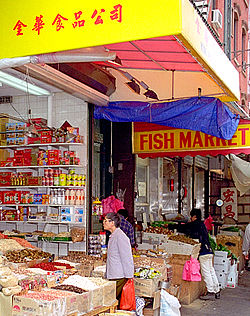 If you want to have a really cheap meal, or it's really nice weather, consider buying something on the street (the fried chicken cart that you may find on Canal or Walker Street right near the triangle between Canal, Walker, and Baxter Streets serves really tasty legs and wings, for example) or a cheap prepared thing such as is sold at the Bangkok Center Grocery on Mosco Street between Mott and Mulberry, and eat it in Columbus Park or another park as a kind of impromptu picnic.
If you'd rather have a sit-down meal, Chinatown probably has the largest number of inexpensive restaurants in Manhattan. They range from the "rice, soup, and four side dishes" steam table places to the "4 dumplings for $5" establishments to full-service restaurants like Great NY Noodletown and Noodle Village, which abound in dishes "on rice," noodle soups, and congees for around $7 or less, and on up to a seafood specialist like Oriental Garden, where specially requested, highly prized varieties of live fish and seafood can run up the bill somewhat. But what Chinatown lacks is anything truly high-end. For the most part (with the exception of off-menu items at Oriental Garden), $30-40 is about the most you are likely to pay, even if you pig out at a multi-course banquet.
Budget
phone: +1 212 941-1541

address: 198 Grand St

This is in back of a jewelry and gem shop; no kidding! Both the Banh Mi Saigon (pork) and Banh Mi Ga (chicken) sandwiches are fantastic. Get them to go and eat them in a nearby park such as the one on the corner of Spring and Mulberry, a few blocks north and one block west. Note: Do not confuse this place with Saigon Banh Mi So at 369 Broome St, which serves sandwiches that are fine but nowhere near as good.

phone: +1 212 406-2292

address: 80 Bayard St

Very inexpensive food, reliable soups that are especially welcome in cold weather. Very quick service. They have side dishes of offal (pig's ears, etc.) for those who like them. They are also known for their Teochew country-style duck. There is another branch with an identical menu at 216 Grand St., between Mott and Elizabeth.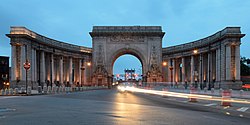 Cheung Wong Kitchen Inc.

phone: +1 212-343-2373

address: 38A Allen St.

This restaurant is probably putting out the best soy sauce chicken in Chinatown today, and their soy sauce duck is also delicious. Very good roast pork, too. Most of the rest of their dishes are just OK, but it's worth going there just for the chicken or duck, and the price is certainly right, as you can absolutely pig out for about $13. If you get a main dish, you are entitled to also have a small soup, so just ask for the soup if you want a mild pork broth with some greens. The restaurant is small and unprepossessing, and you are likely to share a table with a stranger, but you aren't there for the atmosphere, anyway.

phone: +1 212 608-4170

address: 65 Bayard St

Enjoy the "regular" flavors like taro, green tea, lychee, black sesame, mango, and coconut (or the "exotic" flavors like strawberry, vanilla...), and don't neglect the sorbets. The owner also experiments and creates new flavors. Even though there is a Haagen Dazs down the street from this ice cream store, Chinatown Ice Cream Factory is the go-to place for ice cream when you visit Chinatown. On a nice, sunny day, you'll most likely find a long line of customers outside the store waiting to purchase their ice cream. That is how popular this store is. If you really like the ice cream, you may purchase one of their Chinatown Ice Cream Factory t-shirts.

Fay Da BakeryThis bakery offers a wide assortment of traditional and fusion buns, pastries, cakes, as well as an assortment of drinks and bubble teas. All their buns are freshly baked every morning so the quality and consistency is always there. It's a self-serve bakery so you can easily pick and choose while taking your time.
Fay Da Mott

phone: +1 212 791-3884

address: 83 Mott St

Fay Da Centre

phone: +1 212 966-8934

address: 191 Centre St
phone: +1 212 349-0923

address: 28 Bowery

This restaurant, which is open late, has the feel of a Chinese diner. It can be very crowded at peak hours. Try the noodle soups and congees (around $5/person), the Ginger-Scallion Lo Mein (ditto), the barbecued items, and the salt baked dishes, but don't neglect the less inexpensive specials, like the dishes with chives or pea shoots (around $13/person, with different charges depending on choice of beef, chicken, shrimp, scallops, etc.).
phone: +1 212 233-8888

address: 9 Pell St

This is the most famous of the Shanghainese restaurants in Chinatown, but not the best. Like most every other Shanghainese restaurant, it serves the popular "soup dumplings" (xiaolong bao in Chinese) which contain either pork or crab+pork with soup all within a dumpling. However, due to its popularity, here are some tips: Don't wait on line, go only at odd hours and order adventurously (get things like eel).
iM Star Cafe

phone: +1 212 966-8988

address: 19 Division St

Small restaurant decorated with caricatures of Hong Kong celebrities on the walls. If you hit the morning stream of customers, you'll definitely have to wait for a seat since their breakfast is... to die for! Extremely cheap! This restaurant is the best restaurant to eat at if you're looking for something similar to the diners in Hong Kong. A mix of Chinese and American tastes. Definitely try their French toast, pan fried rice noodle, and iced milk tea!
phone: +1 212 625-2359

address: 66 Bayard St

Stick to Shanghainese food and do not get things like "Jalapeno Chicken."
phone: +1 212-233-0788

address: 13 Mott St

This is a very good restaurant and a good value. They serve their noodles nicely al dente and use good roast pork and roast duck. Their vegetables are fresh, too. Excellent rice dishes and casseroles, too — for example, they make a delicious spicy curried oxtail rice dish.
phone: +1 212-925-0805

address: 27 Eldridge St.

This is a very cheap place to eat, as you can easily fill up on a single dish. For example, their standout dish is 10 steamed pork dumplings for $3. Some dumpling connoisseurs consider Sheng Wang's dumplings the best in Chinatown today. Most of the rest of their dishes are noodle soups with hand pulled or peeled noodles made in house, and be warned that for a single person, trying to eat an order of dumplings plus a bowl of noodle soup is likely to be quite excessive. Also, one type of tripe they use in soups can be overly chewy. But you can't beat the value.
Spicy Village

phone: +1 212-625-8299

address: 68 Forsyth St

This very informal eatery across the street from Sara Delano Roosevelt Park serves food from the province of Henan. All items are good, but the highlight is the Spicy Big Tray Chicken ($12.95), a very large soupy, stewy bowl of flavor, including cumin seeds and a generous helping of potatoes, that's not quite like any other style of Chinese food. Take at least one friend with you if you can, so you can share the chicken and some cold dishes. The proprietress is very nice.
phone: +1 212 732-2222

address: 194 Canal St

This bakery store offers numerous Chinese breads, delicacies, and both hot and cold beverages/snacks. It shares its name with a popular bakery store chain in Hong Kong.
Mid-range
phone: +1 212-608-5359

address: 51 Bayard St.

This restaurant was opened in 2013 by personnel from the defunct South China Garden, which used to be around the corner on Mott St. The portions are large and the food is delicious. This is in the estimation of many people the best Cantonese restaurant in Chinatown right now, and best to go to with at least a couple of friends and a big appetite, so that you can share a few dishes. If you like chicken, get the garlic fried chicken, which is one of their standout dishes.

phone: +1 212-966-5585

address: 17 Cleveland Pl

Some of the best cheesecake in the city, with individual-sized slices so that you can sample multiple flavors.

phone: +1 212-964-8365

address: 21 Mott St

A decades-old Cantonese restaurant with classic dishes (Roast Pork Lo Mein, etc.) Open late on weekends (until 4AM), but like many other Chinatown restaurants, cash only.
phone: +1 212 941-7994

address: 32 Spring St

The establishment in its current incarnation was opened in 1994, but describes itself as a continuation of "America's first pizzeria" (established in 1905). Their coal oven pizza is served by the pie, not the slice. Many New Yorkers think it has coasted off its prior reputation for years, but tourists can sometimes be seen lined up outside the door.

address: 66 Mott St

Very good Cantonese food--go in a large group and get a feast!

phone: +1 212 233-5948

address: 87 Baxter St

Looking to catch a quick lunch or dinner? This is definitely the place to go! Speedy service! You order and five minutes later, it's on your table ready to eat. A nice, homey Vietnamese restaurant. Be sure to try the soft-shelled crabs and fried calamari. Keep in mind that while this is good Vietnamese food for Manhattan, if you've had really good Vietnamese food in a place like San Jose, you may be very disappointed by this and any other sit-down Vietnamese restaurant in Manhattan.

Ping's Seafood

phone: +1 212 602-9988

address: 22 Mott St

Good seafood restaurant especially the seafood pan-fried noodles & calamari. Also has dim sum. Note that this place can get very crowded during weekend dinner.

phone: +1 212 966-3988

address: 100 Mott St

Can make the best Shanghainese food in Chinatown, but has some consistency problems. Many young Chinese-American couples have dates there. Do not be shocked if the check is delivered to you unbidden, but don't feel that it must be paid right away. It's easy to have a sizable meal here for around $15 and possible to eat here for less.
Splurge
phone: +1 212 267-9680

address: 14 Mott St

Japanese food in Chinatown. Quaint, peaceful restaurant. You can splurge on the spider roll (sushi with soft-shelled crabs) and the fried ice cream. However, Japanese people often call the Ajisen chain the "McDonald's of ramen," which is not a compliment. So weigh that reputation into your decision on whether to go there.

phone: +1 212 334-3669

address: 199 Grand St

This restaurant is part of a small chain with other Nyonya and Penang restaurants and is popular and crowded on weekends. Their roti canai is good. One word of warning, though: If you are looking for food like you had on your visit to Kuala Lumpur, for the most part, you won't get it here. Instead, you are likely to get very watered-down, Americanized versions of most of their Malaysian dishes. Expect to spend around $25/person for dinner.

phone: +1 212 619-0085

address: 14 Elizabeth St

Somewhat upscale, white tablecloths. Excellent seafood dishes, in particular, and a good, reliable place for a Cantonese banquet. The managers are good at customizing a banquet menu within your budget if you tell them what you want to spend, but consider eliminating one or two of the dishes they suggest, because they tend to recommend too much food (though you can take some home if need be). Unfortunately, there have been reports lately (2014-15) that while their fish and seafood are still acceptable, their non-seafood dishes have become bland and boring.
Dim Sum
For dim sum eating halls, especially those with carts, it is generally best to arrive by 10:30 or 11:00 in order to beat the crowds and have fresh food that is hot.
Dim Sum Go Go

phone: +1 212 732-0796

address: 5 East Broadway

More expensive than the average Chinatown restaurant and catering to a mixed clientèle of Chinese and non-Chinese, it is many connoisseurs' favorite spot for dim sum in Chinatown. All the food is made to order; no carts. Some of their non-dim sum items are also good. Dumplings are mostly excellent — tasty, with a good texture and thin wrapper — but there have been some problems in the past with overly doughy buns that then got mushy from condensation, so you might consider avoiding those.

phone: +1 212 941-0911

address: 18 East Broadway

Occupies a few floors. Each of the eating rooms is smaller than Jing Fong. There is also a bit more decor and the prices are a bit higher. Unfortunately, the food is mediocre.

Jing Fong

phone: +1 212 964-5256

address: 20 Elizabeth St

Has an eating hall about the size of a football field. Try to get a table near the kitchen (to your right on entering) if possible, and don't neglect the non-circulating items available on either wall. The quality of the food is generally acceptable, if not refined, but it is best when fresh from the kitchen.

phone: +1 212-962-6047

address: 13 Doyers St

Nom Wah was the first dim sum parlor in New York, opening in 1920. In 2011, they renovated, sprucing up the interior but leaving most of the old-fashioned feeling intact. A few new dishes were added, but the core of Nom Wah's menu remains Cantonese. They serve dim sum all day. Unfortunately, the quality of the items is not consistent.

Oriental Garden

phone: +1 212 619-0085

address: 14 Elizabeth St

Also gets good notes for dim sum from some connoisseurs, though others find it inconsistent. There are some carts on weekends, but its dim sum is mostly to order.

Ping's Seafood

phone: +1 212 602-9988

address: 22 Mott St

Medium priced, but according to some, the best dim sum in Chinatown (others vehemently disagree). They have exotic offerings such as calamari and sugar cane shrimp.

phone: +1 212 966-1123

address: 202 Centre St

This restaurant cares about its decor. Its dim sum is perhaps a bit less fancy than Dim Sum Go Go's, and it used to be good but by most accounts is no longer much worth going to, as of 2015.
Drink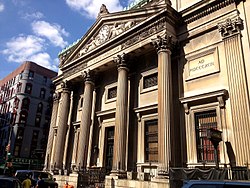 When in Chinatown, try some bubble tea. It's named for the tapioca/sago balls in the tea, which are sucked up with an oversized straw or eaten with a spoon. This kind of tea, which originated in Taiwan, has a popularity in New York that extends beyond the Chinese community, so you can find bubble tea houses outside of Chinese neighborhoods, but the greatest concentration of such establishments is still in Chinese communities like Manhattan's Chinatown and in
Flushing
,
Queens
. There are numerous bubble tea houses in Chinatown.
phone: +1 212 732-7178

address: 79 Mott St

Some of the best bubble tea in town, but price is slightly towards the expensive side compared to other bubble tea stores in the neighborhood.

phone: +1 212 566-6833

address: 49 Bayard St

A small (with a grand total of three seats) but very popular branch of this bubble tea shop chain, with inexpensive drinks and some rather quirky decorations, like Homer Simpson sitting on a bench out front and little coin-operated prize machines to entertain you while you wait in line. The tea can have a weird chemical taste and also be kind of dilute at the same time; your mileage may vary.

address: 40 Market St, New York, NY 10002

This local bar is pretty chill on the weekdays, but it can get packed on the weekends. Chinese-inspired cocktails & bar bites, plus a jukebox.
Sleep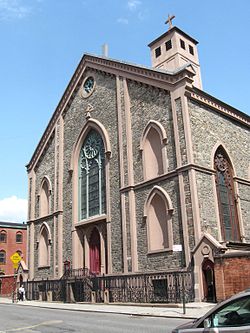 Connect
There are a number of internet centers in Chinatown. Look for them on Mott Street between Chatham Square and Bayard and especially on Eldridge Street between Canal and Grand, where there are several. You could also try the at 33 East Broadway, but expect it to be very crowded. That library branch is also a good source for teach-yourself-Chinese materials and Chinese-language books.
phone: +1 212 966-3424

address: 10 Jersey St
Go next
Obvious places to go next include the
Lower East Side
, which almost seamlessly merges with Chinatown on its edges and sometimes beyond, nowadays; the
Financial District
, such as the area near City Hall;
SoHo
; and
Brooklyn
across one of the nearby bridges. A somewhat more out-of-the-box idea is to go to
Flushing
next, to see an extensive and even more diverse Chinatown in
Queens
. There are vans that connect Manhattan's Chinatown with Flushing, but you might have to ask around to find them. They are sometimes on Division St. not far from the Bowery, and more recently have been seen on Elizabeth St. near Hester and lately on Forsyth St. just south of Canal.