Manhattan/Gramercy Flatiron
In the shadow of the skyscrapers of Midtown sit some of
Manhattan
's most colorful and vibrant neighborhoods. Busy
Flatiron
is one of the borough's most active shopping and entertainment districts, situated between Union Square and Madison Square Park, two of the most popular meeting places for Manhattanites. Just to the east is quiet
Gramercy
, a residential neighborhood centered around the park of the same name and holding some of the most pleasant streets in Manhattan. North of Madison Square Park, the bustle of Midtown spills over into this historic neighborhood, filled with shops and grand old buildings.
Understand
This area derives its name from two New York landmarks - the Gramercy Park and the Flatiron Building. The loosely-defined "Flatiron District" extends east from 6th Avenue and north of Union Square, centering on the famed Flatiron Building on 23rd Street. Tranquil, exclusive Gramercy Park is open only to immediate area residents, though the old brownstones surrounding the park and on Irving Place are some of Manhattan's most attractive streetscapes. Union Square was completely revitalized in the 1990s and is now one of the city's premier shopping, dining and entertainment districts. Toward the north is Kips Bay, an affluent residential neighborhood. There's also a sub-neighborhood comprising approximately 26th-29th Sts. on and around Lexington Av., which is nicknamed "Curry Hill," due to the agglomeration of Indian stores and restaurants there.

Get in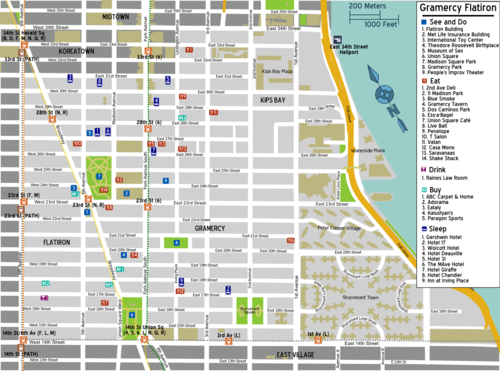 You can get in via many different
subway
lines. The
6
line runs under Park Avenue, stopping at 28th St., 23rd St., and 14th St./Union Square, with the
4
and
5
stopping at Union Square as well. The
R
and
W
lines run under Broadway, stopping at 28th St., 23rd St., and 14th St./Union Square, with the
N
and
Q
also stopping at Union Square. The
F
and
M
lines run under 6th Avenue, stopping at 14th St. and 23rd St. The
L
train runs under 14th St., stopping at 1st Av., 3rd Av., Union Square, and 6th Av. Additionally,
PATH
trains to
Hoboken
and
Jersey City
, New Jersey stop at 14th and 23rd Sts. on 6th Avenue. There are plenty of
local buses
, but they can be slow, especially on crosstown routes and on Park Av. South. Time allowing, walking is highly recommended.
See
Landmarks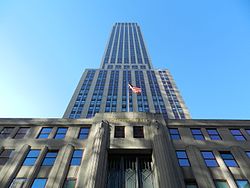 phone: +1 212 736-3100

address: 350 5th Ave

A legend from the moment it was finished in 1931, the Empire State Building was easily the tallest building not just in New York, but the entire world for many years before being overtaken by another New York landmark - the twin towers of the World Trade Center. With the destruction of those two buildings, the Empire State Building was once again the tallest building in the city, but that lasted less than eleven years. But even though it's no longer the tallest, it remains iconic and one of the city's biggest tourist attractions. Expect long lines, and a lot of them - you'll have to wait in line to pass through a security checkpoint, wait in line to get tickets, wait in line for the elevators, and then make your way through the crowd on the outdoor observation deck on the 86th floor. One way to deal with the lines is to buy an express line ticket, which will bring you to the front of any line, but it will more than double the cost of your ticket. Another option is to visit very early in the day or late in the evening, when the lines will be considerably shorter. Despite the long lines and inevitable tourist kitsch, the views are excellent and the experience of being outdoors on top of New York City is a great one. Hawkers outside the building may try to tell you there is a very long line inside and that they can get you tickets to cut the line for some exorbitant price; before believing them, go inside and check the actual wait time which is clearly written on the electronic boards.

phone: +1 212 340-0833

address: 455 5th Ave

The main branch of the New York Public Library (the Stephen A. Schwarzman Building), this is the grand structure flanked by lions on both sides of the entrance. Inside you'll see impressive architecture, long hallways, and beautifully designed reading rooms.
The Flatiron District contains three great examples of classic New York skyscrapers, all within a few blocks of one another:
Flatiron Building

address: 23rd St

An iconic building, considered the oldest remaining skyscraper in Manhattan, the Flatiron was completed in 1902. 285 ft (87 m) tall.
Metropolitan Life Insurance Building

address: 24th St and Madison Ave

A lovely building with a tall clock tower just across Madison Ave from Madison Square Park.

International Toy Center

address: 200 5th Av.

Two buildings connected by a pedestrian bridge, this complex was long a hub for toy manufacturers.
Museums and galleries
phone: +1 212 260-1616

address: 28 East 20th St

A designated National Historic Site, Roosevelt lived at this site from his birth in 1858 until the age of 14 years. The building is not the original - that was demolished in 1916 - but a reconstruction erected by admirers three years later in 1919 after Roosevelt's death, and subsequently furnished with many of the original fittings and memorabilia of the 26th U.S. President by Roosevelt's wife and sisters.

phone: +1 212 689-6337

address: 233 Fifth Ave

National Museum of Mathematics

phone: +1 212 542-0566

address: 11 East 26th St
Parks and gardens
Union SquareAn important and historic intersection in New York City, situated where Broadway and the Bowery came together in the early 19th century. Union Square Park (3.5 acres) is known for its impressive equestrian statue of George Washington, erected to Henry Kirke Brown's design in 1856. In April 1861, soon after the fall of Fort Sumter, Union Square was the site of a patriotic rally that is thought to have been the largest public gathering in North America up to that time. A newer addition, added in 1986, is a statue of Mahatma Gandhi in the southwest corner of the park. Union Square is also known for its Greenmarket and also its history as a focus for political demonstrations, most recently protests of the 2004 Republican National Convention. Following the terrorist attacks of September 11, 2001, Union Square became a primary public gathering point for mourners and those seeking information about missing loved ones. People created spontaneous memorials in Union Square, and the square was the setting for vigils held to honor the victims of the attacks.

Madison Square ParkA lovely small park which offers beautiful views of the Flatiron, Metropolitan Life Insurance, International Toy Center, and Empire State Buildings. There is also a popular Shake Shack kiosk that serves burgers and shakes in the southern end of the park.

Gramercy ParkA private park open only to immediate area residents and guests at hotels on the perimeter who have access to keys to the gate.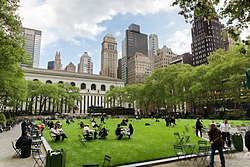 phone: +1 212 768-4242

address: Main Library, 42nd St and 6th Ave

Located behind the Main Library, this shady park is an excellent spot to relax and get some good views of the surrounding skyscrapers. The park has free wireless internet, a children's carousel, several food and drink kiosks, and seasonal shows such as Fashion Week.
Do
phone: +1 212 563-7488

address: 123 E 24th St

Dedicated to the instruction, performance and development of original comedy. Wednesdays are free.

phone: +1 212 777-6800

address: 17 Irving Pl

A popular concert venue that regularly hosts rock and hip-hop concerts as well as the occasional comedy show.

phone: +1 212 614-6932

address: 127 East 23rd Street

An old theater that now serves as a small rock concert venue.
Buy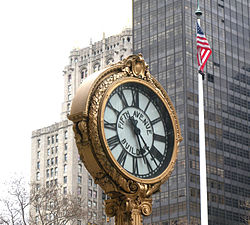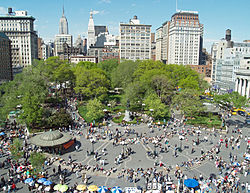 Eat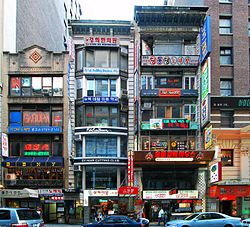 In the low 30s near Herald Square is Koreatown, an emerging Little Korea of BBQ restaurants and Asian markets centered on 32nd St. between 5th Avenue and Broadway.
phone: +1 212 613-8660

address: on the 2nd floor of the Langham Place Hotel, 400 5th Av. between 36th and 37th Sts.

This Ligurian restaurant has delicious cocktails (the fiori d'arancia, made with Old Forester bourbon, is absolutely delightful) and equally fine food, made with the freshest, highest-quality ingredients and with some kind of pleasant surprise in every dish. And unlike most other New York restaurants, it has plenty of space between tables. It is expensive but worth the money. The room is large, so while reservations are recommended, this is one upscale restaurant where it's usually possible to reserve at short notice.

phone: +1-212-840-6500

address: 25 West 40th St

New American food in elegant dining room behind the public library, with a view over the park.

phone: +1 212-792-9603

address: Bryant Park

Indoor and outdoor seating in the winter overlooking the skating rink. Good food and service, a little pricey but reasonably for the location (open seasonally).

phone: +1 212 695-8222

address: 55 W 35th St

A slightly upscale Korean restaurant that specializes in dishes made with artisanal tofu, several varieties of which are made on premises.

phone: +1 917 367-3314

address: 1 United Nations Plaza

Located on the 4th floor of the UN General Assembly, this high-class dining hall lets you eat alongside delegates, ambassadors, and celebrities at the heart of international politics. The menu changes every day, providing a unique international buffet every day as you sit with a gorgeous view of the East River. Reservations should be made at least 24 hours in advance. Do note that with security concerns, you'll be escorted to and from the dining room. Dress attire is business casual.

phone: +1 212 683-2200

address: 17 East 32nd St

Pleasant restaurant with real decor and ambiance, specializing in Korean barbecue - especially meat marinated in hot sauce - among other things. Don's Bogam and Madangsui (see listing below) are widely considered to be the best Korean BBQ specialists in Manhattan.

Han Bat

phone: +1 212 629-5588

address: 53 W 35th St

Han Bat has the feel of a Korean diner, though with some surprisingly nice decor. Their forte is Hyaemul Dolsot Bibimbap (rice cooked in a stone pot with mixed seafood, herbs, Korean hot sauce, etc.). Some of their other dishes are very salty.

phone: +1 212 944-0990

address: 27 W 38th St

Well-priced Cuban casual restaurant & bar for lunch and dinner. They serve a variety of daily specials, including Plantain Soup and Suckling Roast Pork.

Kang Suh

phone: +1 212 564-6845

address: 1250 Broadway

A Korean restaurant with a large menu. Order from the regular menu and avoid the lunch specials, which are not as good. There are special banquet rooms for large parties (reserve those in advance), and excellent service is provided.

phone: +1 212 947-3636

address: 72 W 36th St

A New York chophouse with excellent steaks and great bar for pre & post dinner drinks or just drinks. Fine dining in comfortable surroundings. Founded in 1885, the restaurant has an interesting ceiling covered in 90,000 clay pipes which the customers used to smoke after dinner. Pipes were left at establishments, as they were too brittle to transport!

phone: +1 212 564-9333

address: 35 W 35th St

Serves great Korean barbecue accompanied by a generous (8 dishes) and delectable banchan (complimentary side dishes), plus a bowl of dwenjang jigae (soupy stew made with fermented bean paste).

phone: +1 212 736-9002

address: 34 W. 32nd St., 2nd floor

Another Korean restaurant with a substantial menu and some people's favorite.

phone: +1 212 689-9075

address: 162 E 33rd St.

This famous kosher delicatessen, which used to be on 2nd Av. and 10th St., reopened at its new location a few years ago. The place is a real throwback, which really feels like an old-school Jewish deli. The menu is more extensive than old-school delis were, however, and includes what used to be considered "appetizing" (i.e., pareve - neither meat nor milk) foods. Try their tongue, corned beef, pastrami, and kasha varnishkes, and enjoy their freebies of artisanal cole slaw, pickles, and gribenes (chicken fat cracklings). The food may be bad for the heart, but it's good for the soul.

phone: +1 212 889-0905

address: 11 Madison Av.

Has one of the most beautiful rooms of any restaurant in New York. Long well-liked for its upscale American cuisine and helpful service, it has in the last few years been graced with a new chef who has been getting rave reviews from many quarters. Call ahead for reservations.

phone: +1 212 675-9500

address: 31 Union Square West

Quality seafood and sushi in the dining room, an outdoor café in Union Square and a jazz room with live music daily.

phone: +1 212 447-6058

address: 116 E. 27th St.

Danny Meyer's barbecue restaurant. This is also an important venue for live jazz. Reservations recommended.

phone: +1 212 253-2773

address: 52 Irving Pl

A delightful Spanish wine bar and restaurant by Mario Batali. The food is smashing.

phone: +1 212 294-1000

address: 373 Park Avenue South

One of four up-market Mexican restaurants in Manhattan by the same name and under the same ownership (the other's are in SoHo, Chelsea, Midtown East) Sticky, saucy ribs and guacamole to die for.

phone: +1 212 477-0777

address: 42 E. 20 St.

Thought of as Danny Meyer's flagship restaurant, serves upscale American food at higher prices than 11 Madison Park. Expect to pay over $100/person for dinner in the main dining room. The actual Tavern is more informal and more moderately priced. Gramercy Tavern is known as one of the more difficult reservations to obtain in Manhattan.

address: 14 E 23rd St

Great and cheap oysters, clams and other seafood, raw and cooked as well as southern fare like jambalaya. Not afraid of the tabasco here. One of the few places in town that serves Abita Springs beer from Louisiana.

phone: +1 212 481-3800

address: 159 Lexington Ave

Cafe/restaurant/bakery with a cozy, inviting atmosphere. Homestyle food and casual but friendly service. Inexpensive. Wine and beer served. Long lines for weekend brunch.

Saravanaas Bhavan

phone: +1 212 679-0204

address: 81 Lexington Ave

Excellent South Indian food at good prices. This is a vegetarian kosher restaurant and a branch of one in Chennai (Madras), India. Expect to wait a half hour or so on weekends.

phone: +1 212 889-6600

address: Madison Square Park

Awesome roadside food stand in Madison Square Park serving hot dogs, burgers, frozen custard, beer, and wine. Though reputed for their burgers, they also serve what is widely regarded as the best Chicago-style hot dog in New York.

phone: +1 212 243-4020

address: 21 East 16th St

One of New York's best-loved restaurants, serving great American and Italian cuisine with flair and crisp style. Osso buco, tuna burgers, roast vegetables and corn pudding are fine examples of the dishes created using the best local and seasonal produce from the café's neighbor, the Union Square Farmers' Market. Mains in excess of $30 average. Reservations recommended.

phone: +1 212 689-5666

address: 409 Third Ave

A prix-fixe vegetarian Indian restaurant with wonderful food. The decor is a little hokey, but the food makes it worthwhile.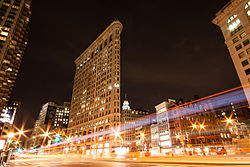 Drink
phone: +1 212 532-3740

address: 11 E 36th St

Sister bar to the Volcano (below). Larger bar with a broad selection of drinks that also serves bar food and snacks. Also an after-work crowd, this bar is also popular with your average Joes. Good place for groups.
Sleep
Budget
Mid-range
Splurge