Manhattan/Greenwich Village
Greenwich Village
(often referred to as "West Village" or simply "the Village") is a well-known, largely residential district in
Manhattan
, once famous for its vibrant art and literary community. Nowadays the neighborhood is so gentrified that the artists and poets who once lived here wouldn't be able to afford the rents, but the Village is still worth a visit for its lovely tree-lined streets and colorful history. Centered around Washington Square Park and the campus of New York University (NYU), the neighborhood sits west of Broadway between Houston Street and
SoHo
on the south and 14th Street and
Chelsea
on the north.
Understand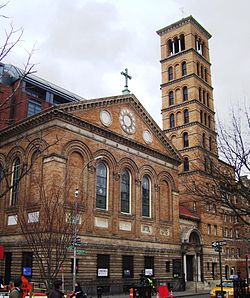 Greenwich Village was once a large industrial park; later, it was colonized by radicals, bohemians, beatniks, artists, and literary greats squatting in abandoned factories. High rents exclude most of their ilk today (their countercultural counterparts are NYU students with parental support) but the Village still has its charm.
Greenwich Village, home to a vibrant artistic and literary community in the 1950s, occupies the space between Houston Street and 14th Street. The central portion surrounds Washington Square Park and includes NYU's large campus and a thriving B&T (bridge & tunnel - a pejorative term) nightlife scene on MacDougal Street. West of University Place are many historic and attractive brownstones and some of the city's best restaurants and bars. The area's traditional avant garde reputation - it was a major center of the gay rights movement in the 1970s, for example - has somewhat faded as yuppies and movie stars move in.
Many people worldwide who have never been to the Village are familiar with the
Village Voice newspaper
, which is actually published in the East Village.
Greenwich Village is also the main setting for the TV series
Friends
as Monica's apartment has a Grove St. address, and there are numerous references to nearby areas such as Bleecker St. and SoHo (although the series was actually filmed in the Warner Brother studios in
Los Angeles
).
Note that the "East Village" was not historically part of Greenwich Village and is still considered by many New Yorkers to be part of the Lower East Side, but the term "West Village" is synonymous with Greenwich Village, or at least that part of the neighborhood that is west of 6th Av. or so. In the 19th century, Greenwich Village's eastern portion was better known as
Washington Square
. Washington Square Park remains a neighborhood landmark, but the terms "The Village," "Greenwich Village," and "West Village" are practically interchangeable.
Get in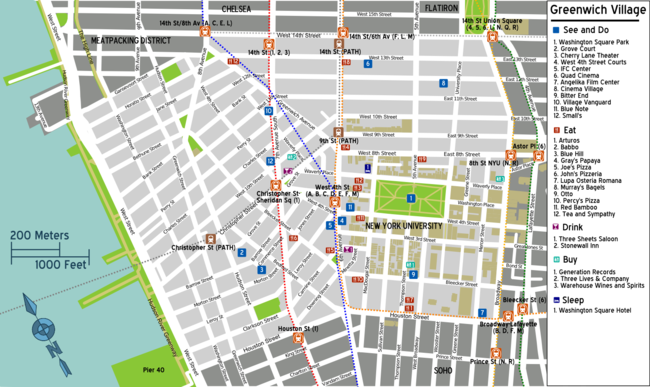 By subway
Greenwich Village is served by many
subway
lines:
The 1, 2, and 3 lines run under 7th Avenue, with the 1 stopping at Christopher Street station (next to the picturesque Sheridan Square) and all three stopping at 14th Street (a passageway allows free transfer to 14th St./6th Av. station).
The A, B, C, D, E, F, and M lines stop in the middle of the Village at the West 4th Street station (at the intersection of West 4th Street and 6th Avenue), with the A, C, and E serving 14th St. and 8th Av. station and the F and M lines serving 14th St. and 6th Av. station (a passageway at 14th St./6th Av. allows free transfer to 14th St./7th Av. station).
The R and W line runs under Broadway, along with the N at night and on weekends, serving the 8th Street NYU and Union Square stations on the edge of the neighborhood.
The L line runs under 14th Street, stopping at the 14th St./6th Av., 14th St./8th Av., and Union Square stations.
The 4, 5, 6, and Q lines also serve Union Square.
By PATH
The PATH (Port Authority Trans-Hudson) train, a subway-style transit system, is convenient and inexpensive for going to points on 6th Av. up to 33 St. (one block east of Penn Station) and to Hoboken and Journal Square in New Jersey. One can transfer from Journal Square to the PATH line that terminates at Newark - Penn Station (not to be confused with New York's Penn Station), and get from there to Newark Airport by local Newark bus. Within Greenwich Village, the PATH stops at Christopher St. between Hudson and Greenwich Sts. and at both 9th St. and 14th St. at 6th Avenue.
By bus
The double-decker tour buses whisk their way up 6th Av., but why not take an
MTA bus
, get off, and do your own tour?
In this neighborhood, the following uptown/downtown buses operate:
The M20 goes uptown on Hudson St. and 8th Av., downtown on 7th Av.
The M5 and M6 go uptown on 6th Av.. The M6 goes downtown on Broadway, the M5 on 5th Av. to 8th St., then east on 8th and downtown on Broadway to its terminus on Houston St.
The M3 goes uptown on University Place and downtown on 5th Av.
The M2 goes uptown on 4th Av. and downtown on 5th Av.
The M11 goes uptown on Greenwich St. and downtown on Hudson St. to and from Abingdon Square.
There is also the M7, which has its downtown terminus on 14th St. and Broadway, just south of Union Square.
There are also crosstown buses:
The M14 goes across 14th St.
The M8 goes west on 9th and Christopher Sts., east on 10th and 8th Sts.
The M14 is by far the most frequent at all hours. There is also a crosstown bus on Houston St., the M21, but it runs fairly infrequently and tends to get backed up in traffic, so it is not recommended if there is a good alternative. The M21 does not run between approximately midnight and 6AM See the
MTA website
for more information.
On foot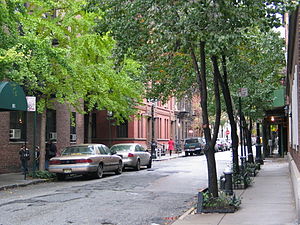 If you are close enough to walk to the Village, do it. Walking is the best way to experience the character of neighborhoods in Manhattan and the contrast and continuity between them.
By bicycle
The park along the Hudson River has a popular bike path. Many people also ride along city streets in this neighborhood, many of which are pretty quiet side streets.
Get around
It is possible to take some of the aforementioned buses along the avenues in the Village, but there are so many side streets that are worth wandering on and cannot be accessed by public transit. Walking is really optimal, or you can cycle. Cabs are numerous throughout the neighborhood, too.

See
New York UniversityThe main campus for NYU is found in Greenwich Village, centered around Washington Square Park.

Washington Square ParkThe park and its famous arch are located in the heart of the Village. Though located in the middle of an affluent neighborhood, the park attracts a hodgepodge of people. During the warmer months of the school term, the park is a favourite hangout spot for students from nearby NYU. Part of the charm of the park is the view of the buildings across the street. All these buildings are now owned by NYU, and though there has been some controversial construction in recent years, most of the stately 19th-century dwellings pictured in the classic movie The Heiress (based on Henry James' novel, Washington Square) are still there for you to enjoy looking at.

Grove Court

address: Grove St

The setting for O'Henry's famous short story, The Last Leaf.

phone: +1 212-668-2577
Do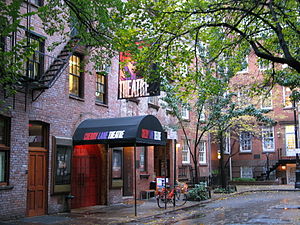 Greenwich Village has developed as a home for a significant number of off-Broadway theater companies and lots of music venues.
phone: +1 212 989-2020

address: 38 Commerce St

West 4th Street Courts

address: W 4th Street and 6th Avenue

Even if you haven't heard of these basketball courts, you've probably seen them in TV commercials and movies, as "The Cage" (referring to the small, chain-link fence enclosed court) is the site of many intense, very physical pick-up games and informal "streetball" tournament matches. It's not a place to play unless you really know what you're getting into, but it's worth watching if you're interested in a more intense, physical form of basketball.
Film
Music
Buy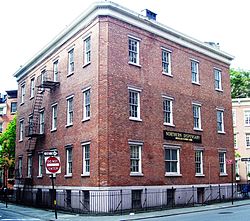 The Village is full of unique stores, sometimes so specialized in what they sell that you might feel as if you just walked into your secret collection of some obscure item that you assumed nobody else cared about. There are record stores which sell only oldie vinyls, bookstores larger than an average library, and chess shops where a full chess set might rival with a car in price.
Eat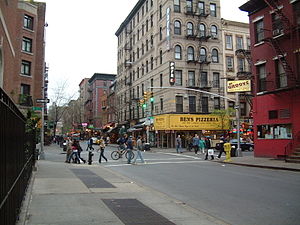 You'll find hundreds of restaurants and sidewalk cafés of virtually every culture. All-American, Mexican, Indian, Italian, Polish, Pakistani, Spanish, Chinese, Thai, Vietnamese...the list goes on... At many spots you'll find affordable eats with the chance to enjoy your meal on the sidewalk. There are also some well-known upscale restaurants in the neighborhood.
Arturo's

phone: +1 212 677-3820

address: 106 West Houston St

A popular local pizza restaurant with an "old-time" theme, serving coal oven pizza with a lightly charred, crispy crust. There is live jazz there every night.

phone: +1 212 777-0303

address: 110 Waverly Pl

The most famous of Chef Mario Batali's restaurants, and especially well-known for its pasta tasting menu. Reserve a month in advance or stand on line before opening time (5:30PM on weekdays and 5:00PM on Sundays) to try to get a seat at the bar or one of the tables kept open for walk-ins. Babbo is one of the hardest restaurants to get a reservation at in New York, which should indicate something about its popularity. Do not expect a cheap meal, but this is one you don't have to dress up for.

phone: +1 212 539-1776

address: 75 Washington Pl

An upscale American restaurant known for its fresh ingredients and subtlety. Call ahead for reservations.

phone: +1 212 366-1182

address: 7 Carmine St

A very popular corner pizza joint that serves huge, thin crust slices fresh out of the oven. This is classic New York fast food - service is quick but the place is tiny, so you'll want to take your slice outside to eat.

phone: +1 212 243-1680

address: 278 Bleecker St

A classic New York pizza place - a gritty joint with coal-fired brick oven, thin crust pizza. The lines are often long but the service is fast. Whole pies only, no slices.

phone: +1 212 982-5089

address: 170 Thompson St. between West Houston and Bleecker Sts.

This is yet another restaurant associated with Mario Batali, but the Executive Chef is Steve Connaughton. This is a good and sometimes very good, relatively informal, mid-priced eatery, with a good and fair-priced wine list, though the food can be overly salty at times. Every fan has their own favorite dishes. First-timers may want to share several smaller dishes instead of having full meals, in order to sample the cuisine, but the primi and secondi are also worthy. The excellent Tartufo is their best dessert. Reservations recommended; otherwise, you may have a long wait.

address: 119 MacDougal St

A hole in the wall place that serves arguably the most famous falafels in New York City.

phone: +1 212 462-2830

address: 500 Ave of the Americas (6th Ave)

This is a place that believes in the pure New York bagel — which means no toasting. Don't even bother asking. But the bagels are so fresh that it doesn't matter. It's often packed with long lines and the service is chaotic, but they give you a healthy amount of spread and toppings.

phone: +1 212 995-9559

address: 1 5th Ave

The pizzeria in the Batali chain. Prices are much cheaper here than at Babbo, but the entire concept of the restaurant is different, so take it for what it is. The antipasti are great and the gelati as well as the pizza are well thought of. Good pasta dishes, too. Though the food is very good, the restaurant can be deafeningly loud, especially if you are in or close to the bar.

Percy's Pizza

address: 190 Bleecker St.

Pizza for minimalists. Percy's is a favorite among the collection of one-dollar pizza slice joints in the city. Inside is a cozy little room with about eight seats and a nice pizza cook. Know what you want when you step up to order and avoid trying to sit with any large groups; you'll quickly fill up the whole place.

phone: +1 212 260-7049

address: 140 W. 4th St.

Excellent vegetarian soul food, organic wines.

phone: +1 212 328-0000

address: 13 East 12th Street

Strip House is a privately owned fine dining chain of steakhouses. All locations have smaller, separate rooms for private dining and a gift card program. Strip House Next Door is next door at 11 East 12th Street. Similar hours and menu but closed Sunday & Monday.

phone: +1 212 989-9735

address: 108 Greenwich Ave

Describes itself as "a quintessential corner of England in the heart of Greenwich Village", typically English meals are available here (perfect for the Anglophile or homesick Brit!)

phone: +1 (212) 243-7200

address: 20 Christopher St

French vegan crepes and galletes in a cozy setting.
Drink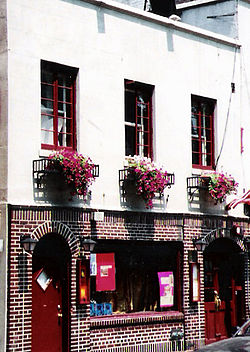 phone: +1 212 777-1733

address: 134 W. 3rd St.

phone: +1 212 488-2705

address: 53 Christopher St

A veritable icon of the worldwide gay community, not just New York's. While it's not the original incarnation of the bar that was the site of the Stonewall riots of 1969 (the building has gone through several uses since then), the current incarnation pays homage to the old and has regained its prominence as a meeting place in the LGBT community.
Sleep
phone: +1 212 777-9515

address: 103 Waverly Pl

This hotel offers art deco styled furnishings and complimentary internet access at the lobby bar and considers itself a haven for writers, artists and visitors.
Connect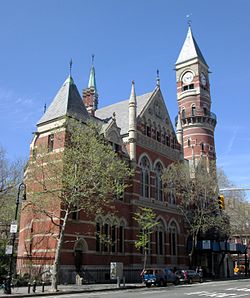 phone: +1 212-243-4334

address: 425 6th Av

Like other branches of the New York Public Library, they have Wi-Fi and computers for public use, among other services. The building, formerly used as a courthouse, is a unique, fanciful neo-Gothic structure well worth looking at even if you don't plan on patronizing the library.
Respect
The Village thrives on French tourists, honeymooners from Texas, and day-trippers from uptown and all around the region. Having lots of people around all the time makes it feel safer, and the residents appreciate that. Most will happily take your picture, give you directions, and advise you about where to eat, etc. At the same time, the Village isn't an amusement park. The people who live there are generally rather sedate, and they cannot be on perpetual holiday. Most need a good night's sleep so they can get up for work in the morning. Have a heart: Don't make a lot of noise, or do anything else in public that you wouldn't want someone to do in front of your house!