Manhattan/Harlem and Upper Manhattan
Upper Manhattan
is a large, relatively under-visited area that ranges from 125th Street to Inwood Hill Park on the west and from 96th Street northward on the east (where the island of Manhattan tapers off unevenly). The area includes
Harlem
, recognized globally as a center of African-American culture and business and home to America's historic Black nationalist movements, and
East (Spanish) Harlem
. Other areas of interest include the neighborhoods of
Washington Heights
, a center of Dominican culture in New York and the home of
The Cloisters
museum and the huge
Columbia-Presbyterian Medical Center
; and
Inwood
, the home of the last remains of the marshes and forests that once covered the island.
Understand
Upper Manhattan is a large and fascinating place where the identity and characteristics of the neighborhoods change almost every few blocks. Harlem itself consists of several neighborhoods each with its own distinct culture and history.
Spanish Harlem
, also known as
El Barrio
, is the famous heart of Puerto Rican culture in the United States. Once known as Italian Harlem, today this area on the East Side, bounded by 96th Street and the Harlem River, is a polyglot mixture of renovated and gentrified streets sharing space with West African immigrants in single room occupancy hotels and the many Latinos who still live in the area. The Latino population of the neighborhood is also diverse, and is now more Mexican than Puerto Rican.
Further north and west, centered around 125th Street, is the Harlem of the Harlem Renaissance, the center of African-American culture in the early twentieth century. While old standbys like the Apollo Theater are still going strong, Harlem and particularly 125th Street are amidst a renaissance as new homeowners renovate historic brownstones and new development surges. A new Marriott hotel is planned for 125th and Park, and former President Bill Clinton's offices are in the neighborhood as well. There are famous churches in the area, such as the Abyssinian Baptist Church, and some of these have famous gospel choirs.
The western side of Harlem is now roughly divided into Manhattanville, an area being developed as a new campus by Columbia University; Hamilton Heights, north of about 133rd street and south of 155th street, which contains City College, the alma mater of quite a few Nobel Prize winners and other notables; and Sugar Hill, east of Amsterdam Avenue and north of 145th street, an area that was always associated with African-American culture but is best known because of the Ella Fitzgerald rendition of
Take the `A' Train
, a song by Billy Strayhorn which describes how to get to the place where his famous musical collaborator, Duke Ellington, lived. The entire west side of Harlem is a surprising mix of rundown streets with car repair garages, stately single-family town houses, and boarded-up buildings. Even further west, along Riverside Drive running all the way to 165th street, are delightfully preserved apartment buildings from the turn of the twentieth century.
North of Harlem are Washington Heights and Inwood, unlikely to be on most tourists' radar screen except for The Cloisters but also fast improving from their days as by-words for urban blight.
Washington Heights
is the acknowledged center of Dominican culture in New York. Today, it is an ethnic mix with recent immigrants from Bangladesh and young artists and professionals in search of relatively low rents rubbing shoulders with long-term Dominican residents in the south and the Jewish residents of the northern Cabrini Boulevard area. Columbia University's Medical School and Hospital, New York Presbyterian Medical Center, dominates the neighborhood. At the northern end of Washington Heights, The Cloisters, a medieval museum and gift of the Rockefeller family, lives inside the beautiful Fort Tryon Park. Further north lies the neighborhood of
Inwood
, a mostly residential area, and
Inwood Hill Park
, a marshy and forested park that is the best approximation of what Manhattan island was five hundred years ago. Even further north is
Marble Hill
, a small residential area north of the Harlem River that's the only part of Manhattan on the North American mainland. Originally, it was on Manhattan Island, but became its own island in 1895 when a canal was built to straighten out a severe bend in the Harlem River, and was connected to the mainland in 1914 when the bypassed section of the river was filled in. Many residents consider it part of the Bronx, the borough to which it is attached.
History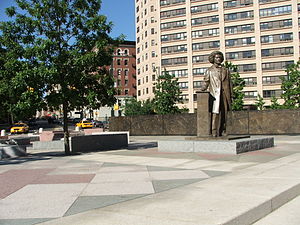 The original village of Harlem was established in 1658 by Dutch Governor Peter Stuyvesant and named
Nieuw Haarlem
after the
Dutch
city of
Haarlem
. Throughout the Dutch and British colonial periods, rich farms were located in the region's flat eastern portion, while some of New York's most illustrious early families, such as the Delanceys, Bleeckers, Rikers, Beekmans, and Hamiltons maintained large estates in the high, western portion of the area.
In the early 1900s, particularly in the 1920s, African-American literature, art, music, dance, and social commentary began to flourish in Harlem. This African-American cultural movement became known as "The New Negro Movement" and later as the
Harlem Renaissance
. More than a literary movement, the Harlem Renaissance exalted the unique culture of African-Americans and redefined African-American expression. African-Americans were encouraged to celebrate their heritage.
During the 1920s and 30s, many African-Americans were excluded from witnessing performances of much of the great music that members of their community were creating. Many jazz venues, like
Small's
and the
Cotton Club
(where Duke Ellington played), were open to white customers only. The
Savoy
, which was integrated, was closed down by municipal authorities in the 30s amid concern over interracial relationships engendered by the easy mixing there. Fortunately, segregation in New York clubs is long past, and visitors to Harlem can still listen to jazz over a meal or a few drinks today.
Get in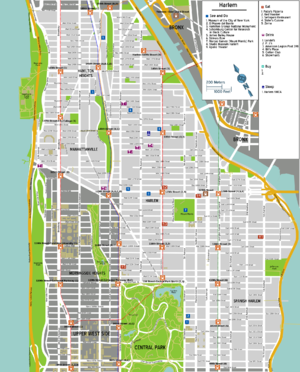 By subway
Many
subway
lines pass through the neighborhood. The
A
,
C
, and
1
go up the West Side to Manhattanville, Hamilton Heights, Washington Heights, Inwood and Fort Tryon Park. The
2
and
3
go up Lenox Avenue more or less in the center, and the
4
,
5
,
6
on the East Side. The
B
and
D
go up 8th Av. and St. Nicholas Av. along with the A and C as far as 145th St., and then following a stop at 155th St, go under the Harlem River to Yankee Stadium and other stops in the Bronx. The A and D and the 4 and 5 are fast express trains during the day, as the A and D whiz passengers from 59th St. directly to 125th St., while the 4 and 5 go from 86th St. to 125th St. in one stop. The
168th St
and
181st St
stops on the
1
are among the prettiest stations in the system and deserve a visit.
By commuter train
The
Metro-North Railroad
has a station at 125th Street and Park Avenue with easy connections to and from the Hudson Valley and Connecticut. See the
By train
section on the main New York City page for more info.
By bus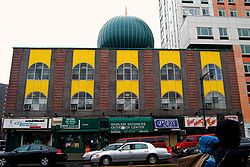 MTA bus
There is plenty of
MTA bus
service to the area. The M4 makes its slow way up to the Cloisters from Midtown via the East Side (Madison on the way up and Fifth Avenue on the way down), across 110th St, and via Broadway and Fort Washington Av further north – a nice way to see the changing face of Manhattan, but a very slow way! Or you can take the M5 uptown to Washington Heights from Midtown via the West Side, traveling along 5th & 6th Avs, 59th St, Broadway, and Riverside Dr.
Commuter buses and jitneys
There is also the large, though sparsely occupied , a commuter bus terminal that is under the ramps to the George Washington Bridge (at 178th Street between Broadway and Fort Washington Av). The station can be reached via an underground tunnel from the 175th Street stop on the A subway line. Jitney and bus services are available to points in suburban New Jersey and Rockland County, New York. The jitneys, which are to be found in the parking lanes just outside the Fort Washington Av. doors of the station's lower level, are inexpensive and a very good option for trips to and from various communities in northern New Jersey, including
Fort Lee
,
Englewood
,
Teaneck
, and
Paterson
.
See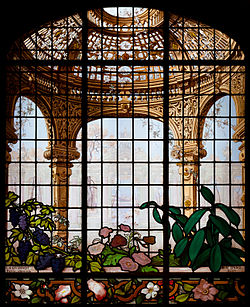 Museums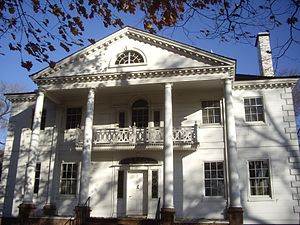 Architecture
James Bailey House

address: 10 St. Nicholas Pl

Street built by architect Samuel Burrage Reed. A major mansion owned by circus entrepreneur Anthony Bailey - joined with showman Phineas T. Barnum in 1881 to form the Barnum & Bailey circus. Now Known to the children of Harlem as the Beauty and the Beast house.

Malcolm X and Dr. Betty Shabazz Memorial and Educational Center

address: 3940 Broadway

Once the Audubon Ballroom where Malcolm X was assassinated with 21 gunshots. Only a part of the facade of the original building remains (Columbia University demolished the building in 1992). The location now houses a memorial to Malcolm X and Betty Shabazz, with a stated goal of advancing human rights and social justice. It also features a 63-foot mural depicting Malcolm X's life.

Strivers Row

address: along W 138th and W 139th Street

Million-dollar homes in an unlikely neighborhood.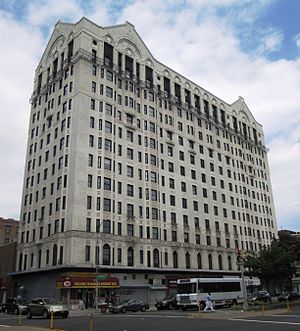 Theresa Tower

address: 2082-96 Adam Clayton Powell Jr. Boulevard (7th Av.)

This New York City landmark started accepting black guests in 1940, becoming one of the few hotels in the city to do so. This led it to become a mixing point for notable African Americans of the time, and through the 40s and 50s it was the center of black Harlem social community. It also gained notoriety when Fidel Castro chose to stay here for the 1960 UN General Assembly. Its ornamentation makes it one of the most visually striking buildings in Northern Manhattan.
Parks
Do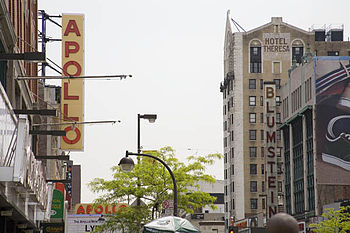 Performing arts
phone: +1 212 531-5300

address: 253 W 125th St

The legendary Apollo Theater, "where stars are born and legends made", is a source of pride for Harlem, and a symbol of American artistic achievement. The Apollo is best known for its world-famous Amateur Night at the Apollo, which launched the careers of legendary artists like Ella Fitzgerald, James Brown, Michael Jackson, D'Angelo and Lauryn Hill. The Apollo remains the nation's most popular arena for emerging and established black and Latino performers.
Amateur Night at the ApolloAmateur Night at the Apollo celebrated its 75th Anniversary in 2009 as the quintessential talent competition, serving as the model for Star Search and American Idol. Competitions are held nearly every Wednesday evening throughout the year, culminating with the "Super Top Dog" competition. The show marries world-class talent with a distinctive, vaudeville-like atmosphere, and has depended on audience participation since the very beginning. The popularity contest has proven an effective measure of star potential, becoming a launch pad for some of the nation's greatest entertainers.
Marjorie's Parlor Jazz

phone: +1 212 781-6595

address: 555 Edgecombe Ave, apt 3F

One of the most charmingly intimate jazz venues anywhere is simply Marjorie Eliot's apartment in Harlem. It's somewhat a jam session, although there are regulars, drawing an attentive and eclectic crowd including music students from China, neighbors from the building, and everyone in between. Seating is first come, first served, so it does make sense to be there by 4PM. As friendly and hospitable as it gets, people will come around with cookies and juice during breaks. Note that getting off the subway at 155th St will require a long, steep climb up steps to get from lower 155th to Edgecombe.
In addition to the above, the
Cotton Club
was a famous club and speakeasy during the Harlem Renaissance. There has been for a number of years a new incarnation of the Cotton Club, and it is part of the fabric of Harlem, but since it is on the south side of 125th St. west of Broadway, it is covered in
Manhattan/Upper West Side#Drink
.
Walks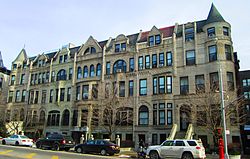 There are several interesting and pleasant routes for walking through Harlem, including:
125th St, Harlem's main commercial corridor. Expect bustling street life, big crowds, a varied lineup of shops, and major historic landmarks like the Apollo. Some of the local shops have been displaced by big-box stores, and some upscale boutiques more reminiscent of Soho than the Harlem people used to know have opened, but the local color has not (or at least not yet) disappeared.
St Nicholas Ave in the 140s and 150s is lined with some beautiful apartment houses with ornate facades and front doors. As you walk on that stretch of St Nicholas Ave, you will also see some lovely buildings on Edgecombe Ave if you look to the east, or you could choose to walk on that avenue as well. South of 142nd St, you pass by the tree-lined expanse of St Nicholas Park until 128th St. Here, some of the more interesting buildings you can see are up the hill past the park on Convent Av, but the St. Mark's United Methodist Church of Harlem, occupying the square block between 137th and 138th Sts between St Nicholas and Edgecombe Aves, is a lovely neo-Gothic building with multi-toned stones. There are more worthwhile buildings to see south of St Nicholas Park, as the avenue cuts diagonally on its way to Central Park North.
Convent Ave in the 140s and 150s is also lined with pretty brownstones. It is quieter and less populated than St Nicholas Ave, which is downhill from Convent and on the other side of St Nicholas Park. South of 140th St, Convent Ave is lined on both sides by City College of New York, a historic public college and part of the City University of New York. Some of its buildings are landmarked neo-Gothic structures and some are more utilitarian modern structures. South of 127th St, Convent Ave turns into Morningside Ave.
Broadway north of 132nd St and especially past 155th is the center of a lively Dominican neighborhood, filled with the colors of fresh produce, smells of roasted chicken, and sounds of bachata.
East 116th St is the main commercial street of East (aka Spanish) Harlem. While most famously the heart of New York's Puerto Rican community, it today is an ethnically mixed area, and no less interesting because of that.
Buy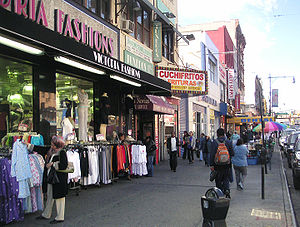 phone: +1 212-234-3883

address: 2328 12th Ave

Fairway is a quality discount supermarket that's well-known in the New York area. Their humongous Harlem location is in an out-of-the-way location that isn't convenient to any subway stop, as it is quite a bit west and somewhat uptown from the #1 stop at 125th St. and Broadway — not very convenient if you are carrying a lot of heavy groceries — and no bus stops really close by, either (the closest you can get is 125th St. and 12th Ave., via the Bx15 limited bus on weekdays and regular bus on weekends). Most of the people who shop at this location probably drive cars, and the store's website promotes the fact that it is near the 125th St. exit from the Henry Hudson Parkway (and therefore convenient for people who work in New York City and want to buy some produce before taking the George Washington Bridge home to New Jersey). However, if you spend more than $200, they guarantee free delivery between 86th and 220th Sts., east and west sides (it costs $7.95 otherwise), and they also offer a free shuttle for groups of 10 or more people, by reservation, with pickup and delivery from and to 64th-181st and 12th Avenue-York Avenue.
Shopping streets
There are also several shopping streets in Uptown Manhattan:
125th St.
is lined by many shops, restaurants and department stores;
E. 116th St.
is known as "La Marqueta" and is the major numbered shopping street in Spanish Harlem, where you can buy cloth as well as cuchifritos, and further west on Lenox Av. (Malcolm X Boulevard), 116th St. is home to the
Malcolm Shabazz Harlem Market
, an outdoor market where you can buy kente cloth and all manner of African and African-American products;
3rd Av.
is the main shopping avenue in Spanish Harlem, lined by many convenience stores and Puerto Rican and Mexican eateries; and
Broadway
is the main business avenue and the most important city street in West Harlem, Washington Heights and Inwood.
Eat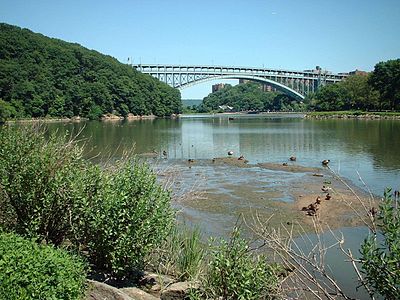 phone: +1 212-280-8779

address: 113 W 116th St

Classic, tasty soul food, friendly service.

phone: +1 212 927-3812

address: 4141 Broadway

A Dominican restaurant famous for its pollo a la brasa (rotisserie chicken) has its flagship in this neighborhood. Go there and enjoy the food, the fresh-squeezed juice, and the Latin music on the jukebox.

phone: +1 212 927-7011

address: 3938 Broadway

Offers another take on Dominican food, with good pork-stuffed plantains, guinea hen stew (an occasional special) and, oddly, a terrific Cuban sandwich.

phone: +1 212-996-1972

address: 256 E 125th St

This is a great Puerto Rican luncheonette, serving excellent pollo a la brasa (roast chicken), glazed with a tasty sauce and cooked till tender, with garlic sauce available to add to taste. They are also known for their pernil (pork shoulder) and serve various daily specials. If you like spicy food, try their "hot sauce", which is actually a delicious slaw of lightly pickled sliced onions, tomatoes and hot peppers. This place is a throwback, with nothing but several stools at the counter. Service is friendly. Open hours are until the closing time or whenever they run out of food.

Mike's Bagels

phone: +1 212 928-2300

address: 4003 Broadway

Fresh bagels made in-house daily.

phone: +1 212 534-9783

address: 2287 1st Ave

This is great old-school New York coal-oven pizza. Don't go overboard on the toppings, which are not the reason why you should go there. Get a plain pizza, and enjoy the wonder of a thin, nicely charred crust with delicious sauce and cheese that aren't heaped on but applied judiciously in a style that derives clearly from its origins in Naples. A couple should be able to down a pie or two with some salad without trouble for a meal, because the crust is so thin, but note that you can also get slices for takeout.

phone: +1 212 792-9001

address: 310 Lenox Ave

The new restaurant of Marcus Samuelsson, who is from Ethiopia with adoptive Swedish parents. The cuisine is a mix of different influences, with nods to traditional soul food, classic Swedish fare, the Middle East, and Southeast Asia. Tables can be hard to come by without a reservation, and you might not get a friendly hostess, but the restaurant by itself is reason enough to take the trip uptown.

phone: +1 917 492-4006

address: 196 Lenox Ave

phone: +1 212 410-3000

address: 47 E 124th St

Anglo-Caribbean.

phone: +1 212 662-0620

address: 2084 Frederick Douglass Blvd. (8th Ave)

This Ethiopian restaurant is one of the best in the city. Their injera (traditional Ethiopian bread) is more sour than other Ethiopian restaurants in town, and the food is really savory. If you drink, get a bottle of tej (mead) with your meal, as they have a good one. It helps if you like spicy food, as they do not stint on any aspect of flavor. Cash and Amex only; no other credit cards accepted.
Drink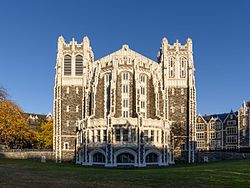 phone: +1 212 234-6114

address: 2620 Frederick Douglass Blvd

P. J.'s

phone: +1 212 283-5812

address: 2246 Adam Clayton Powell Jr Blvd
Jazz
Jazz and Harlem are so inextricably intertwined that anyone paying the neighborhood a visit should try to make a performance. The jazz scene here is a mere shadow of its former self, when saxophones rang out the door of every bar up and down the main streets and even side streets. But it's still vibrant enough to have several options most nights of the week, which is more than you could say about almost every other American city!
Sleep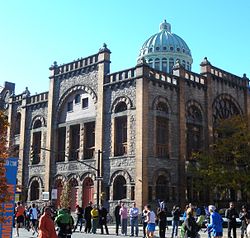 phone: +1 212 912-2100

address: 180 W 135th St

Has a Health and Wellness Center and a heated swimming pool.
Stay safe
Violent crimes have declined dramatically in Harlem and Washington Heights, and the relative safety in upper Manhattan varies greatly depending on where and when one travels. Most of the tourist destinations are very safe. However, crime still exists, as it does throughout New York City. As in all neighborhoods, exercise caution when walking in the neighborhood at night, but don't let that stop you from going out. Subway stations are generally safe and are patrolled by uniformed and undercover police. Consider staying on main thoroughfares, especially after dark. Population density is generally high in Washington Heights, and most residents are Spanish-speaking and friendly.