Manhattan/Lower East Side
The
Lower East Side
of
Manhattan
is bounded by Houston Street, the Bowery, the Manhattan Bridge, and the East River, with the neighborhood's center being Orchard Street. For over 200 years, the Lower East Side has been a working-class immigrant neighborhood: It had large Irish and German populations in the early 19th century, and was a wholesale Jewish enclave by 1900. At present, this street is a true multicultural blend, with trendy boutiques, French cafés, and velvet-roped nightspots sprinkled among dry-goods discounters, Spanish bodegas, and mom-and-pop shops selling everything from T-shirts to designer fashions to menorahs. The
East Village
was also traditionally considered part of the Lower East Side, but that neighborhood has developed its own identity.
It was here that the New York garment industry began. The area has been known as one of New York's favorite bargain beats, where serious shoppers find fantastic bargains (especially along Orchard Street on a Sunday afternoon), but this is increasingly becoming a thing of the past as rents skyrocket and cutting-edge new designers and boutiques formerly seen in
SoHo
flock to the area. But in its mix of old and new, bohemian and upscale, you can find trendy bars and music venues, a venerable old no-nonsense place that just might serve up the best pastrami sandwich in the world, and great bialys.
Much of what used to be considered the Lower East Side, east of Bowery and the Manhattan Bridge overpass, is now functionally part of
Chinatown
, as another wave of immigration continues to move further north and east.
Get in
Several
bus lines
go to the Lower East Side, or you can take the
J
,
M
, or
Z
subway
lines to Essex Street; the
F
to Delancey Street (which is connected to the J/M/Z Essex St. station), East Broadway, or 2nd Avenue; or you can take the
B
or
D
to Grand Street.
See
Do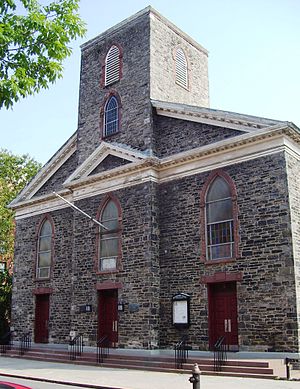 Lower East Side Jewish Conservancy

address: 235 East Broadway

The LESJC runs both private and public tours of the Jewish Lower East Side. The tours are unique as they take visitors into synagogues rather than just the outside. It is recommended to purchase tickets ahead of time as they sell out fast.

phone: +1 212-260-7289

address: 143 E Houston St

This relatively new multiplex cinema, done up to look like a movie palace of old, quickly became a landmark in the neighborhood, and is an excellent place to watch a film.
Buy
Orchard St. is more and more lined with expensive boutiques, but in this traditional locus of bargain clothes shopping, there are still some good deals to be had for those with patience. Note that many stores on this street are owned by Orthodox Jews and closed on Saturdays and Jewish holidays.
phone: +1 212 777-6028

address: 172 Allen St.

A fun radical feminist bookstore that also has a little cafe and a regular calendar of readings and other events.

phone: +1 212-673-5832

address: 504 Grand Street #1

This is an old-fashioned kosher bakery. Among their excellent offerings are their strudels, mandel bread, rugelach, black & whites, danishes, almond horns, cinnamon sticks and kichlach (big crispy sugar cookies), and their challahs are also very popular. Their hamantashen are also good, though sometimes a bit salty. The Chinese almond cookies are good, but some of the smaller cookies are not too consistent in quality. The counterwomen are always willing to help you select items that were baked that day. Items that are in individual portion size, like black & whites, danishes, and almond horns, cost around $2.50-$3 apiece, but rugelach and mandel bread are quite a lot more expensive and must be bought by the quarter pound (minimum) or as an entire large piece, respectively. The staff will be happy to cut you a piece of strudel, and they will also slice challah for you without extra charge. Wednesdays and Thursdays are particularly good days to visit, as they have fresh chocolate and sometimes also cinnamon babka those days, and with any luck, you can get some that's still warm (unfortunately, they no longer sell it by the slice; you'll have to get half a babka or an entire one). There is no place to sit, so all business is for takeout, and they do not have napkins or utensils to give you.
Eat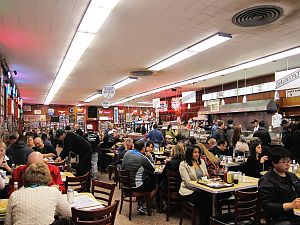 Drink
The Lower East Side is a very popular neighborhood for drinking, especially on the part of young people, who come from nearby, other parts of town, the suburbs, and even foreign countries — meaning that, especially on weekend nights, it can be uncomfortably packed, with tremendous crowding on the streets as well as on lines to get into bars and in the bars, themselves. Here are some highlights of the scene:
phone: +1 212 477-2998

address: 121 Essex St.

This whiskey specialist bar can be quiet on weekdays. It's a good spot for anyone who enjoys whiskey or/and wants to explore more whiskeys, as they have a selection of unusual bourbons, ryes, Scotches, and Irish whiskeys. The prices for whiskeys that are also found in non-specialist bars may be higher here, but the bartenders are real experts, who can guide you in selecting 3 half-pours for a whiskey flight (or two flights, if you aren't driving and have the tolerance). The flights are priced as a sum of exactly half the cost of a shot for each whiskey or rye you drink. There are also beers on tap, etc., so if you are with a non-whiskey drinker, do not despair.
Sleep
phone: +1 212 475-2600

address: 107 Rivington St

21-story glass tower full-service hotel with unobstructed views.

address: 150 Delancey Street

A fairly standard Holiday Inn except for the Retro diner serving as the hotel's restaurant. This is the hotel located the deepest into the Lower East side of all, and hence it is in a slightly deserted area, facing a parking crater.

address: 171 Ludlow Street

The idea of Intercontinental's Indigo chain is to provide a boutique hotel experience in a chain hotel, but many of the Indigos fail to live up to that. The one in Lower East Side, however, wholly does with a truly unique experience provided by its loft-like spaces and light, airy rooms echoing Scandinvaian designs, wooden flooring and practical designer furniture included. The supertall outlier in a low-rise neighbourhood provides multiple terraces as its slender build tapers off towards the top, one even includes a small pool. The Mr. Purple rooftop bar is an institution in itself, and works of art can be found throughout the hotel. The only letdown may be the rather large room count, approaching 300 - meaning also that only the best rooms get the hotel's signature views.
Go next
The obvious places to go next are the
East Village
, which is to a large extent a northern extension of the Lower East Side;
Chinatown
;
NoLiTa
, a neighborhood of upscale boutiques, quiet residential streets and loud clubs that was formerly the northern part of Little Italy and is not part of Chinatown but is covered in the
Chinatown
guide; and
SoHo
, a little ways further to the west than NoLiTa, much more crowded with tourists and shoppers, but with a lot of beautiful, classic buildings and cobblestoned side streets. All of these neighborhoods are easily walkable from the Lower East Side, for a person of normal fitness.
You can also access
Williamsburg
by taking the M, J or Z trains or walking across the Williamsburg Bridge, and
DUMBO and Downtown Brooklyn
are on the other side of the Manhattan Bridge or the first and second stops on the F train in Brooklyn, respectively.