Manhattan/Midtown East
Midtown East
is the core retail and commercial neighborhood of
Manhattan
, containing the highest concentration of business and money this side of, well, the planet. The Empire State Building, the most iconic building (even if no longer the tallest) in the city is here. Shady Bryant Park abuts the imposing New York Public Library main branch at 42nd Street, while to the east is the magnificent Beaux Arts Grand Central Terminal. Le Corbusier's landmark UN Headquarters is located on the East River. The masterpiece art deco towers of Rockefeller Center and adjoining Radio City sit opposite 5th Avenue from St. Patrick's Cathedral, the seat of the city's archdiocese. Fifth Avenue below 59th remains the toniest and most exclusive retail neighborhood in
New York City
, home to names like Saks, Tiffany and Bendel (and Apple!). Murray Hill north of 34th Street is home to some of the city's nicest brownstones. Much of the real estate in this neighborhood is likewise quite expensive, and the restaurants, bars and other facilities notably cater to a higher-paying clientele.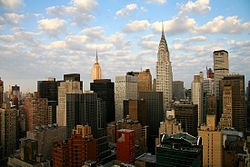 Understand
Orientation
Midtown, also called Midtown East to distinguish it from the
Theater District
to the west, is the area between around 34th St and 59th St (beyond which is Central Park), and from the East River through First, Second, Third, Lexington, Park, Madison, and Fifth Avenues, with Sixth Avenue as the western boundary of the district.
There is a small but vibrant Koreatown neighborhood, which is focused on 32nd St. between Broadway and 5th Av. and extends a bit north, south and east. It has a Midtown character and has been included in this article.
Get in
By subway
There is plenty of
subway
service to this area. The
4
,
5
, and
6
lines travel under Park Avenue (south of Grand Central Station) and Lexington Avenue (north of Grand Central), stopping at 42nd St. (Grand Central Station) and 59th St., with the 6 also stopping at 51st St. and 33rd St. Running under 6th Avenue are the
B
,
D
,
F
, and
M
lines, which stop at 34th St. (close to the Empire State Building), 42nd St. (at Bryant Park, near the library) and 47-50 St. station (near Rockefeller Center). The F line continues up 6th Avenue, stopping at 57th St., while the
E
and
M
lines head under 53rd Street, stopping at 5th Av. and Lexington Av. (a passageway offers a free transfer to the 6 line). The
7
and
S
(Grand Central Shuttle) lines run under 42nd St. Both of them stop at Grand Central Station, with the 7 also stopping at 5th Av. (free transfer to the B, D, and F lines). Also serving the neighborhood are the
N
,
Q
,
R
, and
W
lines, which stop at 34th St. and 6th Av., close to the Empire State Building.
By MTA bus
Regular
MTA buses
run along every avenue except for short avenues like Vanderbilt, and there are also many crosstown routes. These include the M34 and M34A SBS (34th St), M42 (42nd St), M50 (49th/50th Sts), and M31 and M57 (57th St). Local buses charge $2.75 and enable free transfers to other local routes and the subway. In addition, express buses stop along these avenues, providing service to other boroughs. Express buses charge a $6.75 fare, with free transfers available to other routes.
By Metro-North commuter rail
Metro-North commuter trains originate and terminate at
Grand Central Terminal
on E. 42 St at Park Av. See the
By train
section on the main New York City page for more info. Note that the train terminal (but not the subway stop serving it) closes from 2 am to 5:30 am daily.
See
Parks and recreation
Greenacre Park

address: 51st St

One of New York's many "pocket parks," Greenacre is a small plot of green space and an excellent place to relax, with a nice waterfall in the back, plenty of seats and tables, and lots of shade, plus a small tea shop.

Paley Park

address: 53rd St

Another pocket park which is celebrated among landscape architects and urban designers, Paley is a great place to relax, with plenty of chairs below a canopy of trees and a waterfall spanning the entire back wall of the park.
Skyscrapers
Chrysler Building

address: 405 Lexington Ave

One of the most recognizable and favored structures of New York, the Chrysler was the world's tallest building when completed in 1930, but lost that title to the nearby Empire State Building less than a year later. But what it lost in fame it makes up for in beauty, with its gorgeous, instantly recognizable Art Deco crown.

Citigroup Center

address: 153 E 53rd St

With its distinctive slanted roof and long, slender base columns, this building is another great skyscraper with a grand atrium.

Daily News Building

address: 220 E 42nd St

This Art Deco design classic, completed in 1930 to a design by Raymond Hood, was made famous by the Superman films; to be admired are the extreme verticality of the design, the understated setbacks and functional design. The newspaper no longer holds offices here, but the foyer is well worth a visit if passing, if only to see the newspaper's giant globe sculpture and wall weather stations.

MetLife Building

address: 200 Park Ave

Since it was built it has been probably the most hated building in New York, mostly because it rises up over Grand Central Station, completely blocking the view up Park Avenue, but it is a good example of modern architecture.

address: 1st Ave at 46th St

The UN HQ sits on an 18-acre site between 42nd and 48th Streets, and between First Avenue and the East River. It is noted for its gardens and outdoor sculpture. There is a charge for the tours of the General Assembly and Secretariat but you can visit the Visitor's Lobby for free (although you do have to pass through a security checkpoint). There are two levels to the lobby area which includes a gallery, a gift shop, and a bookshop. If you're just visiting the lobby, don't join any queues - just find your way around. There is little in the way of signs to tell you where you can go - this is the UN, well-meaning but not well organized.
Historic buildings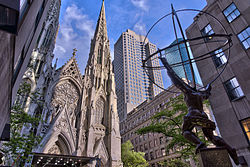 address: 42nd St and Park Ave

Walk in and see the main concourse, a cavernous room often filled with people and elegantly detailed, with arched windows, a lovely clock, and an astronomical ceiling.

phone: +1 212 753-2261

address: 460 Madison Ave

A big, grand neo-Gothic Catholic church, presided over by the Archbishop of New York; a years-long renovation was completed in time for a September, 2015 visit by Pope Francis.

phone: +1 212 355-3100

address: 301 Park Ave

A famous luxury hotel.
Museums
phone: +1 212 685-0008

address: 225 Madison Ave

Once J. Pierpont Morgan's private library, this building houses his art collection, a Gutenberg Bible, and a first printing of The Star Spangled Banner. The bookshelves lining the walls include books by Dante, Dickens, Einstein, Twain, and several First and Second Folios.
Do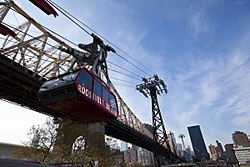 Walk on 5th Av. Around Christmas, it is usually mobbed, but off-season, it can be downright pleasant, and you can get to see just how pretty some of the department stores and high-end shops are. You may even be able to walk around Rockefeller Center at a strolling pace and see a view of the entire plaza.
For great views:
Walk or bike across the Edward I. Koch Queensboro Bridge.
Take the Roosevelt Island Tram.
More about Roosevelt Island below:
Roosevelt Island
Roosevelt Island
is an elongated island in the East River between Manhattan Island and Queens. Originally a cattle farm, over the years it has had various names and uses, including as an asylum and a quarantine hospital. Today called Roosevelt Island, it is the home to several thousand New Yorkers who like its calm ambiance and connection to Manhattan. The island offers excellent views of the Manhattan skyline, particularly at the , just north of the Tramway stop, and , a public space at the southern tip of the island, accessible by one of the riverside promenades. The island also affords one of the best views of the city's
4th of July Fireworks
displays when they take place in the East River (some years, they are too far away); in such cases, get to the island very early, or you'll find that the seats are sold out.
There are two ways to access the island from Manhattan. The most popular way for tourists (and certainly the most scenic) is to take the , an aerial tram which crosses over the stretch of the East River between Manhattan and Roosevelt Island next to the Queensboro Bridge, offering splendid views of the skyline along the way. You can board the tram on Second Avenue at 60th Street; the one-way fare is $2.75; subway MetroCards accepted. The second option is to take the subway: the
F
train makes a single stop on the island at
Roosevelt Island
station, connecting it to Midtown Manhattan to the west and Queens to the east. Additionally, a road bridge connects the island to the intersection of 36th Avenue and Vernon Boulevard in Queens, allowing you to drive, walk, bike, or take the Q102 bus to the island from Queens. Private cars are forbidden on the roads of the island.
Buy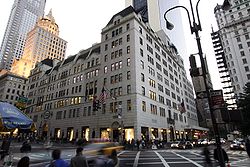 Fifth Ave
is a shoppers' paradise from 42nd to 60th Streets, boasting numerous flagships stores of national chains. Perpetually mobbed with shoppers and tourists, Fifth Avenue is a virtual standstill during the Christmas shopping season, when Bergdorf Goodman, Saks Fifth Avenue, Cartier, Tiffany's, and Lord and Taylor put out their holiday displays. Other popular stores include Niketown, NBA Store, Versace, Gucci, Armani Exchange.
47th Street
between 5th and 6th Avenues is a large wholesale and retail Jewelry District. It is said that nearly every diamond sold in the US passes first through this street. On this street a dealer's reputation among the community of jewelry dealers is all-important, and million-dollar contracts are agreed to with just a handshake because of the reputation of each dealer.
Eat
phone: +1 212 336-5400

address: 825 Third Avenue

One of four up-market Mexican restaurants in Manhattan by the same name and under the same ownership (the others are in Gramercy, Chelsea, SoHo) Sticky, saucy ribs and guacamole.

phone: +1 212 980-1010

address: 831 3rd Avenue

This legendary place serves up doughy, chewy bagels the size of hubcaps that some New Yorkers consider 'the best bagels in NYC - which means everywhere'. Bagel-eaters will also find a wide variety of mixed cream cheeses, tofu spreads, and smoked fish. Bagels are cheap, but prices depend on whether you eat in or take out! Expect to pay $3 for two bagels and a small tub of your favorite cream-cheese spread. Lines can be long at lunchtime.

Grand Central Oyster Bar & Restaurant

phone: +1 212-490-6650

address: 89 E 42nd St

An institution, opened in 1913 along with the station itself.

phone: +1 212 888-2288

address: 42 E 58th St

Trendy Asian cuisine; reservations required. Beautiful decor.

phone: +1 212-342-21-78

address: 155 W 51st St

Very nice Vietnamese restaurant with full bar. Nice food and decent prices. Try seafood combo
Drink
address: 45 E 46th St

Amazing happy hour spot in Midtown atop The Roosevelt Hotel with a fantastic view. Not only serving delicious after work cocktails, but also offers a lite fair menu.
Sleep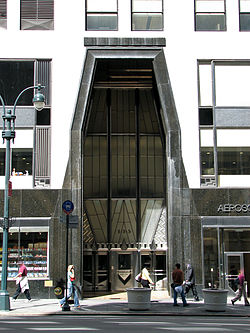 Budget
Soldiers', Sailors', Marines', Coast Guard and Airmen's Club

phone: +1 212 683-4353

address: 283 Lexington Ave

A service member friendly hotel. The hotel is closed to non-military personnel unless accompanied by a service member, veteran, or military retiree.

address: 224 E 47th St

Walking distance from Grand Central Terminal and near the United Nations.
Mid-range
phone: +1 212 661-4475

address: 45 E 45th St

A Pakistani-owned hotel named after the 20th President Theodore Roosevelt and opened in 1924. The hotel has 1,015 rooms including 52 suites. This hotel has been seen in several major motion pictures.

Hyatt Place New York/Midtown-South

phone: +1 212 239-9100

address: 52 West 36th Street
Splurge
phone: +1 212 973-2400

address: 70 Park Ave

Nice boutique hotel with good bar, Silverleaf Tavern, which serves a good G&T. Lovely rooms including LCD TV's etc. Some rooms have a view of the Empire State Building.