Manhattan/TriBeCa
A former industrial district in Lower
Manhattan
,
TriBeCa
, short for "
Tri
angle
Be
low
Ca
nal Street", has transformed from artist community to upscale residential district in the 21st century. Sitting on the Hudson River and sandwiched between Canal and Chambers Streets west of Broadway, the neighborhood's cobblestone streets and loft buildings give it a surprisingly quaint feel for Manhattan. Nevertheless, numerous art galleries, fine restaurants, and a growing film festival have brought an element of prestige to this old port neighborhood.
Understand
Previously farmland, TriBeCa became a central transfer point for textiles and dry goods in the mid-1800s. In the 1960s, the Washington Market Urban Renewal Project transformed the area from commercial to residential by replacing the industrial buildings with apartment houses, office buildings and schools. Between 1970 and 1980, the population of TriBeCa jumped from 243 to 5,101. Today, TriBeCa features numerous galleries, stores and fine restaurants and is home to the burgeoning Tribeca Film Festival organized by Robert De Niro to help revitalize lower Manhattan after 9/11.
TriBeCa is one of the few neighborhoods in Manhattan that embodies a sense of community. The neighborhood has that quaint, safe, and comfortable feeling which are not typical adjectives that come to mind when thinking of NYC. Although the neighborhood is transforming into more of a place for the rich and famous, you will still find the struggling artist and average New Yorkers that were there before TriBeca became one of NYC's most desirable residences.
Another aspect that separates TriBeCa from the rest of the neighborhoods in the city is its general appearance. The neighborhood represents historic Lower Manhattan. Unlike most areas, the Triangle Below Canal street still has the cobblestone streets and loft apartment buildings that disappeared in most areas years ago.

Get in
By subway
You can get in by
bus
or
subway
. The
1
train runs through the middle of the neighborhood under Varick Street, stopping at Canal, Franklin, and Chambers Streets. You can also take the
2
and
3
trains to Chambers Street. The
A
,
C
, and
E
stop at another Canal Street station, with the A, C, E, 2, and 3 also stopping at Chambers Street–World Trade Center / Park Place station. A third Canal Street stop, several blocks east of the heart of the neighborhood, is served by the
N
,
Q
,
R
,
J
,
Z
, and
6
trains.
By PATH
The
PATH
stop at World Trade center is connected to the
Park Place/Chambers Street
Station.
See
phone: +1-203-966-9663

address: 233 Broadway

One of the oldest and most famous of New York's skyscrapers (dubbed the "Cathedral of Commerce"), the neo-Gothic Woolworth Building was completed in 1913 and was the world's tallest building until 1930. The building has a beautiful ornate lobby. Tours are offered most days. Pre-registration is required.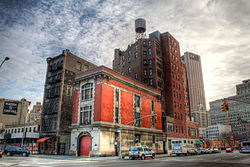 Hook & Ladder #8

phone: +1 212 334-0611

address: 14 N Moore St

The firehouse used for exterior shots in the movie Ghostbusters.

Hudson River ParkWalk along the Hudson River and enjoy the breezes, views, and people-watching.

phone: +1-212-941-2000

address: 375 Greenwich St

Washington Market Park

address: bounded by Greenwich, Chambers and West Streets
Do
Halloween in TriBeCa is a great experience for kids. Traditionally trick-or-treating in New York City happens floor to floor in the tall apartment buildings. However, in TriBeCa, all the restaurants, stores and galleries participate in the holiday. Trick or treating outside gives kids the exciting experience that usually only happens in suburban areas.
The TriBeCa Film Festival is another fun activity to not miss out on. Stop by to sample some delicious food from all the nearby restaurants. There are also many fun activities and games for the younger generation, as well as some dance, instrumental, and vocal performances. It's also a great opportunity to catch some celebrity sightings, and if you're lucky enough, even snagging a ticket to one of the films participating in the festival.
Washington Market Park is a great place to take your kids to play, enjoy a nice a nice picnic, or just sit back and relax. There is plenty of playing equipment for children, as well as organized games and arts and crafts. Hosting birthday parties is very popular in this park for those who are interested in renting out the gazebo. In the summer, bands will often play music in the gazebo for the older generations. The park is small and safe, and great location to escape to.
Taste of TriBeCa is a yearly food festival that everyone should attend at least once. It takes place every year on May 16 from 11:30AM to 3PM on Duane and Greenwhich St. It was developed by parents of the children in the neighborhood in 1994. During the festival the best restaurants come together and cook their best dishes, giving visitors the ability to have six tastings for a set fee. Along with the restaurants, there are visiting corporate donors, like UNICEF, live entertainment, and some designers offering items lik. T-shirts and hats. Just a few of the participating restaurants include, Acapella (Italian),Flor de Sol(Spanish), and Salaam Bombay(Indian).
Buy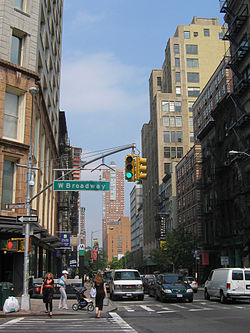 Eat
phone: +1 212 219-0666

address: 120 Hudson St.

One of the more affordable restaurants in Tribeca, this place caters to families and those who don't mind sitting next to high chairs. They do indeed have a wonderful variety of pies on any given day, one of the best cheeseburger in town, and an interesting choice of beers.

phone: +1 212 343-3883

address: 179 West Broadway

Considered by many to be one of the best values not only in TriBeCa but in Manhattan. They serve a kind of eclectic nouvelle American cuisine. The restaurant is very baby-friendly.

phone: +1 212 274-8500

address: 25 Hudson St

A ninja-themed restaurant with dark hallways, sneaky ninja/waiters with swords, and many elaborate dishes that involve smoke or fire. Caution: Many who have eaten there don't recommend the food, so if you go, go for the experience.

Square Diner

phone: +1 212-925-7188

address: 33 Leonard St

An inexpensive diner; a neighborhood institution.
Drink
Tribeca Tavern

phone: +1 212 941-7671

address: 247 W. Broadway

A local watering hole that's friendly to all. Or sullen to all. However you prefer.
Sleep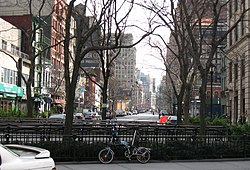 Go next