Manhattan/Upper East Side
The
Upper East Side
of
Manhattan
is one of the city's wealthiest districts. Spanning the stretch of island between 59th Street to 96th Street east of
Central Park
, the neighborhoods of Lenox Hill, Yorkville, and Carnegie Hill are full of luxurious townhouses and apartment buildings on some of the most affluent addresses in New York. Madison Avenue holds a multitude of fashionable boutiques and fine restaurants catering to the upscale crowd. Gracie Mansion, the official residence of the mayor; many other historic buildings; superb art museums; and many consulates are part of what makes this neighborhood special.
Get in
By subway
The primary
subway
service to the Upper East Side is via the
4
and
5
express lines and
6
local line, which run under Lexington Avenue. All three lines stop at 59th St. and 86th St., with the 6 also stopping at 68th St., 77th St., and 96th St. 5th Avenue is three blocks west of Lexington Avenue. These trains can get very crowded during rush hour, as this is the only north-south line running the length of Manhattan on the east side. Another option is the
Q
line, which runs under 2nd Avenue and has stops at 96th St., 86th St., 72nd St., and Lexington Ave.-63rd St.
Serving the very southern end of the district is the
F
line, which stops at Lexington Avenue and 63rd St., and the
N
,
R
, and
W
lines, which run along 59th Street and stop at 5th Avenue and Lexington Avenue. Both Lexington Avenue stations have a free transfer to the 4/5/6 lines at the 59th Street station (the F station is an out-of-system transfer, meaning you have to walk 4 blocks south to 59th Street from 63rd Street).
By bus
Every avenue from 5th to York except for Park Avenue has at least one
bus
route, and there are also crosstown buses on 57th St. (M57; also M31, which doubles as the York Av. bus), 66th/68th Sts. (M66), 72nd St. (M72, which uses the 66th St. transverse through Central Park), 79th St. (M79), 86th St. (M86) and 96th St. (M96).
On foot or by bicycle
From the Upper West Side, a walk or bike ride to the Upper East Side through Central Park is very pleasant in good weather.
See
The stretch of Fifth Avenue alongside Central Park in the Upper East Side is commonly referred to as "Museum Mile", though museums and galleries are also to be found off this particular beaten track. Note that the
Metropolitan Museum of Art
, the primary museum in this area, is covered under the
Central Park
page. Additionally, the
Museum of the City of New York
and the
El Museo del Barrio
are on Fifth Avenue just to the north in
Spanish Harlem
.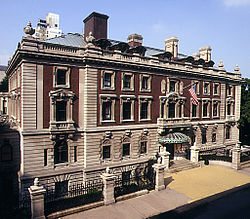 Cooper-Hewitt National Design Museum

phone: +1-212-849-8400

address: 2 E 91st St

A branch of the Smithsonian Institution, the Cooper-Hewitt is devoted to historic and contemporary design, with changing exhibits.

phone: +1-212-288-0700

address: 1 E 70th St

The former home of steel baron Henry Clay Frick, this sprawling mansion is filled with Frick's enormous personal art collection, displayed as he left it. It's worth a visit for the house alone, which is explained nicely in the audio tour. The collection is impressive, including works by Whistler, Corot, El Greco, Turner, Renoir, and Rembrandt.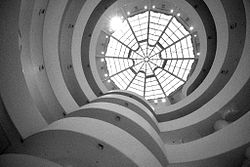 phone: +1-212-423-3500

address: 1071 5th Ave

Probably the most famous of the Guggenheim foundations (others found in Bilbao and Venice), which hold avant-garde modern art by artists such as Kandinsky and Mondrian, the New York branch is housed in a unique and famous Frank Lloyd Wright-designed building rendered in a rounded, organic form and completed in 1959. Be sure to take the elevator to the top floor, then follow the spiral viewing floors downwards to the street level. One of eight buildings by Wright to be listed as a world heritage site.

phone: +1-212-423-3200

address: 1109 5th Ave

Containing artifacts spanning 4,000 years of art and Jewish culture, with a collection of 26,000 objects – paintings, sculpture, works on paper, photographs, archaeological artifacts, ceremonial objects and broadcast media. The museum also hosts the annual SummerNights concert series and the annual New York Jewish Film Festival.

phone: +1-212-628-6200

address: 1048 5th Ave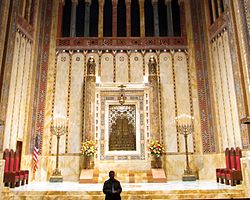 phone: +1-212-744-1400

address: 1 E 65th St

This temple traces its lineage to the founding of the Reform Jewish community in New York in 1845, although this building itself dates from 1929. The building is an important and impressive landmark, and the congregation numbers among its members many of the pillars of the Jewish community in New York, including major philanthropists, businesspeople, and politicians. If you don't arrange to visit the interior, it's worth just walking past the building and looking at the decorations on its exterior.

Weill Cornell Medical Institute

phone: +1 212-746-5454

address: 1300 York Avenue

The Medical School of Cornell University, one of the Ivy League schools and among the most prestigious universities in the country. Although the main campus of the university is located in Ithaca in upstate New York, the medical school was set up in New York City to allow the students to receive better clinical training.
Do
The Metropolitan Museum and the Frick Collection are among the many venues in the neighborhood that host concert series.
phone: +1-212-415-5500

address: 1395 Lexington Ave

A full season of concerts, lectures, and other events takes place here. The Y's Kaufmann Concert Hall is one of the premiere concert halls in the city, and its lecture and concert series feature many well-known groups and individuals. Some fans particularly recommend the chamber music concerts featuring members of the New York Philharmonic. The Y also offers classes in various subjects.

address: East End Ave and 86th St

Home of Gracie Mansion, the Official Residence of the Mayor of New York, Carl Schurz Park also boasts wonderful views of Hell Gate and the East River. Compared to other New York parks, Carl Schurz is extremely quiet, given that the surrounding area is almost exclusively residential.
Buy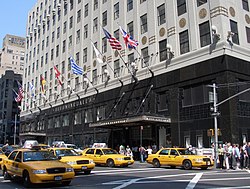 Madison Avenue
is the center of New York's haute couture, full of small shops selling fabulously expensive clothes, accessories, and housewares to people who can afford not to look at the price tag. Even if it's out of your price range, it's worth a visit just to gawk.
phone: +1-212-826-8900

address: 660 Madison Ave

Anyone who hopes to make it into New York's high society makes regular trips to Barney's, where the clothes and accessories are priced to empty all but the fattest wallets.

phone: +1-212-705-2000

address: 1000 3rd Ave

An enormous department store that is frequented by the glamorous and the masses alike. A must-visit for any serious shopper.

phone: +1-646-735-0078

address: 1011 3rd Ave

An upscale candy store started by Ralph Lauren's daughter, Dylan.
Eat
The Upper East Side is a very expensive neighborhood — though less so east of Lexington Ave. — and this is reflected in the categorization of a restaurant that serves a $29 goulash (albeit a good one) as "mid-range."
Budget
phone: +1 212 860-5903

address: 1370 Lexington Ave

Restaurant with an array of Italian-American cuisine.

phone: +1-212-369-0648

address: 179 E 86th St

One of the best hot dog joints in the city, Papaya King was also the originator of the papaya drink/hot dog combination, which has inspired similar chains around Manhattan.

phone: +1-212-452-0476

address: 1652 2nd Ave

A great bakery specializing in American pastries and cakes. They make one of the best cheesecakes in New York; but don't pass up their other offerings, such as the various squares (lemon, lime, Linzer, etc.). Not exactly an eat-in cafe, but they have a few small tables, so you can have a snack there.
Mid-range
Splurge
Drink
The Upper East Side is primarily a land of sports bars and Irish pubs, though a few exceptions can be found. Generally, 2nd Avenue contains the highest concentrations of bars and restaurants in this part of the city.

Sleep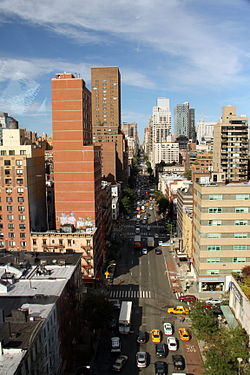 As the Upper East Side is the legendary location of the Park Avenue duplexes of the super-rich, the expensive boutiques of Madison Avenue, and the gorgeous doorman buildings of 5th Avenue, you would figure to be hard-pressed to find inexpensive accommodations there, unless you have a friend you can stay with. If you want to try your luck with apartment-rental websites, you are more likely to find relatively cheaper accommodation east of Lexington Avenue than further west. Otherwise, fortunately, the Lexington Avenue subway line is generally quite good, though crowded, and will speed your way downtown from Harlem and the Bronx or uptown from areas further south if you would like to take an afternoon trip to this neighborhood.
Mid-range
Courtyard New York Manhattan/Upper East Side

phone: +1-212-410-6777

address: 410 E 92nd St

Free high-speed Internet & large work desk in each room.

phone: +1-212-876-6000

address: 1295 Madison Ave

European style boutique hotel.
Splurge
phone: +1-212-744-1600

address: 35 E 76th St

A luxury boutique hotel, the Carlyle offers rooms and suites for extended stays, and luxury apartments and rentals.

phone: +1-212-355-2800

address: 781 5th Ave

Full concierge assistance, elevator attendants, beautifully furnished rooms.
Go next
The most obvious place to go next is
Central Park
. The
Upper West Side
is on the other side of the park, accessible by walking; bike riding; taking a crosstown bus at 96th, 86th, 79th, or 66th St; or using a taxi or private car. Also,
Midtown
and the bright lights and ritzy department stores of 5th Avenue in the 40s and 50s are just south of the Upper East Side.
East (Spanish) Harlem
starts just north of 96th St., though the Upper East Side has increasingly been bleeding into the southern reaches of the Barrio.
Roosevelt Island
and
Queens
are on the other side of the East River.