Manhattan/Upper West Side
The
Upper West Side
(including
Morningside Heights
) covers a large area in upper
Manhattan
bounded by 59th Street on the south, 125th Street on the north, the Hudson River on the west, and
Central Park
and Morningside Park on the east. The area encompasses four distinct Manhattan neighborhoods – the Upper West Side, Morningside Heights, Bloomingdale, and Manhattan Valley – and includes one of its finest parks, Riverside Park, which runs along the river all the way from 59th Street to 125th Street.
Often called the city's quintessential neighborhood, the area includes delightful residential streets, the twin-towered facades of the old apartment hotels on Central Park West and Riverside Drive, two of the city's best-known markets (Zabar's and Fairway), one of its major museums (the American Museum of Natural History), an Ivy League university (Columbia University), and the Neo-
Gothic
Cathedral of St. John the Divine and Riverside Church. The area is an architectural historian's delight with many of its buildings (especially in Morningside Heights) built before the Second World War and quite a few built before the First World War, though the area is changing with the construction of large condominium buildings south of 110th Street. The Lincoln Center for the Performing Arts, running from 62nd Street to 66th Street, contains the Metropolitan Opera; the David H. Koch Theater, home of the New York City Ballet; Avery Fisher Hall, the home of the New York Philharmonic; the Juilliard School; and the New York Public Library's Library for the Performing Arts, among other institutions.
Understand

From west to east, the Upper West Side is oriented along Riverside Drive, West End Avenue (which is called 11th Avenue south of 59th St.), Amsterdam Avenue (called 10th Avenue south of 59th St.), Columbus Avenue (9th Avenue), and Central Park West (8th Avenue). All these avenues change from numbers to names north of 59th Street. The 66-block stretch of Broadway forms the backbone of the Upper West Side and lies diagonally across the avenues; it begins at its juncture with Central Park West at Columbus Circle (59th Street), crosses Columbus Avenue at Lincoln Square (65th Street), crosses Amsterdam Ave. at Verdi Square (72nd Street), and then merges with West End at Straus Square (aka Bloomingdale Square, at 107th Street).

Get in and around
By subway
The primary
subway
service to the Upper West Side is the
1
local train and the
2
and
3
express trains, which run under Broadway. All three lines stop at 72nd St. and 96th St., with the 1 also stopping at 59th St. (Columbus Circle), 66th St. (Lincoln Center), 79th St., 86th St., 103rd St., 110th St., 116th St. (Columbia University), and 125th St. The 1 line continues north along Broadway, while the 2 and 3 lines branch east north of the 96th St. stop and head into Central
Harlem
.
Also serving the neighborhood are the
A
,
B
,
C
, and
D
lines, which run under Central Park West (called 8th Av. north and south of Central Park), although the A and D express lines usually stop only at 59th St. (Columbus Circle) and 125th St.(at St. Nicholas Av.), except after midnight, when the A goes local for a few hours. The B (weekdays only) and C local lines stop at 59th St., 72nd St., 81st St. (Museum of Natural History), 86th St., 96th St., 103rd St., 110 St., 116th St., and 125 St.
By bus
Numerous
bus routes
serve this neighborhood, including:
M5, on Riverside Drive north of 72 St. and Broadway south of that street
M104 on Broadway
M7 and M11, which go uptown (north) on Amsterdam Av. and downtown (south) on Columbus Av.
M10 on Central Park West.
M4 on Broadway coming from the north to 110th Street, then crosstown to 5th Avenue.
M60 from Broadway and 106th Street to LaGuardia Airport via Broadway to 120th Street and Amsterdam Avenue to 125th Street.
There are also crosstown buses on 65th/66th Sts., 72nd St. (the M72, which uses the 66th St. transverse through Central Park), 79th St., 86th St., 96th St., 106th St. (to and from East 116th St.), and 125th St.
On foot or by bicycle
A walk or bike ride to the Upper West Side is a very pleasant way to get in in good weather, whether going through Central Park from the Upper East Side or heading north from the
Theater District
. The Hudson River Greenway provides easy access through Riverside Park to Upper and Lower Manhattan. The Citibike
bike share
system has stations all around the neighborhood and most of Manhattan.
See
Landmarks
Museums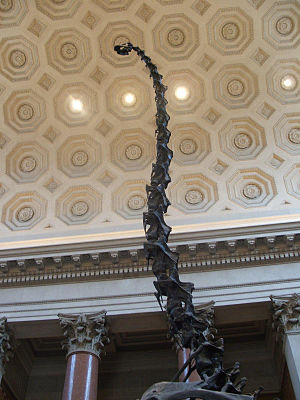 Churches and cathedrals
Institutions of learning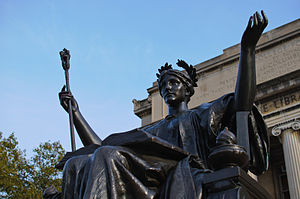 Monuments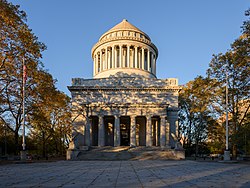 Do
Performances
phone: +1 212-465-6500

address: 2124 Broadway

This is a major music performance venue for big-time solo acts and groups, and many, many famous artists have performed there, including The Rolling Stones, Jerry Garcia, Aerosmith, Michael Jackson, James Taylor, Radiohead, Queen and the Allman Brothers. Prices are not cheap, and tickets sometimes sell out well in advance.

Lincoln Center for the Performing Arts

address: between West 62nd and 66th Streets and Columbus and Amsterdam Avenues

The world's largest cultural complex, where you can see theater, symphonies, ballet, opera, movies, art exhibits or just wander the architecturally beautiful buildings. The buildings are modern, and even have modern chandeliers. There are two opera companies, and the famous Juilliard School of Music is also here. Also part of the complex is the New York Public Library's Library for the Performing Arts, containing circulating and non-circulating collections in music, drama, and dance, as well as special collections of priceless documents that scholars from around the world come to look at.
phone: +1 212-501-3330

address: 129 W. 67th St.

Important and fairly prestigious venue for classical music, much of it contemporary, and various other kinds of performances. The hall seats about 250 people and has good acoustics for chamber music. This hall is near Lincoln Center but is not part of it; instead, it is part of the Kaufman Music Center, which also runs music schools for children.
phone: +1 212-864-5400

address: 2537 Broadway

Symphony Space used to be the Symphony movie theater back in the 1970s, and it still occasionally screens films, but it is more often used, nowadays, as a performance venue. The offerings are eclectic, and though ticket prices have crept up, there are quite a few inexpensive shows, especially at the Leonard Nimoy Thalia, another former movie theater around the corner on 95 St. between Broadway and West End Ave.
phone: +1 212-854-7799

address: 2960 Broadway

Miller Theater is Columbia University's main performing arts venue and is well known for its classical music performances.
Music clubs
phone: +1 212 769-6969

address: 2485 Broadway, New York, NY 10025

Jazz (and pop) club with a middle eastern menu

phone: +1 212 663-7980

address: 666 W 125th St

A dance club/dinner club near Columbia University. Swing dancing is on Monday nights (8:30PM-midnight, $25), with a 13-piece swing band! Friday nights at 8:30PM are taken over by Latin Dance ($20) with a live 14-piece band playing merengue and bachata, appropriately for Dominican-heavy West Harlem. Th 8PM and Sa 9PM are jazz/dinner and dancing nights ($55) for a southern cooking buffet and swing band, while Sa-Su have gospel brunches at noon and 2:30PM ($45).

phone: +1 212 864-6662

address: 2751 Broadway

Live jazz seven days a week. Performers often jam late into the night so go for the late set if you can.
Parks and walks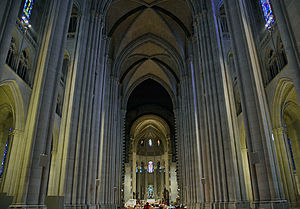 address: west of Riverside Drive

While nearby Central Park is justly famous and finds its way onto a "must see" list for most visitors to New York, Riverside Park also has its charms, as its riverfront location provides pleasant views of New Jersey and sometimes breezes off the river. Summer brings al fresco movies, plays and music to Riverside Park.

Morningside Heights Walking TourMorningside Heights remained relatively bucolic till the turn of the 20th century because of its relative inaccessibility, and most of the existing apartment buildings were constructed between about 1900 and 1910. The buildings survive because elevators were being introduced then, and consequently most of the buildings are ten- to twelve-story apartment blocks rather than smaller townhouses or single family homes. Juliet balconies, details on the facades, and grand lobbies make this neighborhood a great place to explore the local architecture. The Cathedral of St. John's the Divine and 115 buildings in the area bounded by Riverside Drive, Amsterdam Avenue, 110th Street and 119th Street are designated as landmark buildings by the New York City Landmarks Preservation committee. On the border between Morningside Heights and Harlem is Morningside Park, once the murder capital of Manhattan in the 1970s but now a peaceful, beautiful space of greenery with some plunging hillsides.
Cinemas
phone: +1 212 336-5020

address: 1998 Broadway

A multiplex two blocks from Lincoln Center, showing major, first-run films on 13 screens. It also contains an IMAX cinema showing mainstream feature films.
Buy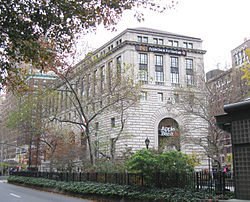 The neighborhood, especially the Morningside Heights area, is home to several excellent bookstores.
Eat
Budget
phone: +1 212 932-2052

address: 2788 Broadway

A true New York bagel shop with a fanatical following, often ranking among the very best bagels in the city. There's usually a long line out the door, but it tends to move quickly. Lots of spread and sandwich options are available.

phone: +1 212 932-2400

address: 706 Amsterdam Ave

Eat in and take out lunch and dinner. The restaurant/cafe serves a daily fixed menu ideal for vegans, vegetarians and celiacs. Exceptionally friendly and warm, while light and charming.

phone: +1 212 787-6631

address: 355 Amsterdam Ave

phone: +1 212 864-5648

address: 764 Amsterdam Ave

A Dominican restaurant known as one of the best places for pollo a la brasa (rotisserie chicken) in Manhattan. They also serve a number of daily specials for lunch and dinner.

phone: +1 212-663-5521

address: 2651 Broadway

This is a Peruvian-Chinese restaurant, owned and staffed by Peruvian immigrants of Chinese descent. However, because there are way more Dominicans than Peruvians in the area, they have catered to the Criollo taste. They have long been known in the neighborhood for reliably tasty pollo a la brasa (rotisserie chicken), served with a delicious garlic sauce (if they don't automatically bring it for you, ask for it). More recently, they added a section of specifically Peruvian dishes, which are well worth your trying if you are not in the mood for the chicken. Their Chinese dishes are in a style similar to the American-Chinese restaurants of the 1970s - perfectly acceptable, though perhaps a bit oily. They have another location at 484 Amsterdam Ave, between 83rd and 84th Sts, which some people prefer.

phone: +1 212 799-0243

address: 2090 Broadway

One of the best hot dog joints in Manhattan (the "Recession Special" is a popular favorite), Gray's also serves up some excellent tropical drinks.

phone: +1 212 866-7035

address: 2867 Broadway

Tex-Mex. The bar is the best part. A rooftop terrace is open on warm days for al fresco dining.

phone: +1 212 865-2295

address: 2715 Broadway

Serves very tasty shawarma and falafel, and also very worthwhile spinach pies and grape leaves. The place is a little hole-in-the-wall, but you're there for the food. They also do a brisk takeout business and deliver in the area.

phone: +1 212-222-1566

address: 2848 Broadway

A very good pizza parlor serving the Columbia University area. They specialize in large pies and large slices, amongst the largest in the city.

phone: +1 212 531-3939

address: 2885 Broadway

Faux French food but a great international beer selection and good burgers.

Metro Diner

phone: +1 212 866-0800

address: 2641 Broadway

Has everything you could look for in a diner breakfast menu.

phone: +1 212 666-7653

address: 2895 Broadway

Started life as a diner many years ago but when the owner started adding a few of his native Korean dishes, they caught on and now it is an excellent Korean restaurant.

phone: +1 212 663-0505

address: 1239 Amsterdam Ave

One of the oldest Ethopian (Eritrean) restaurants in the city, recently renovated. Good food, service, and a well stocked bar.

phone: +1 212 877-2298

address: 2425 Broadway

Workday Chinese. Fast and cheap lunch or dinner, but don't expect anything close to average Chinatown quality.

phone: +1 212 362-2266

address: 460 Amsterdam Avenue

Vegan food only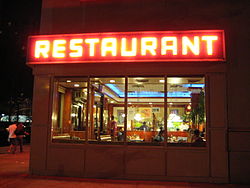 phone: +1 212-864-6137

address: 2880 Broadway

The restaurant from the comedy series Seinfeld. This place is a shrine for many TV pilgrims; for the locals, just a diner.
Street food
Halal Cart

address: 116th and Broadway

Good chicken, veggies, lamb with rice combos for lunch. Coffee and bagels in the mornings.

Italian Ice Lady

address: 110th and Broadway

Late Spring to early Fall only.

Fruit Stands

address: 110th and Broadway, and 112th and Broadway

Spring to Fall only.

The Taco Stand

address: 96th and Broadway

A popular stand with good tacos. Nights only.
Mid-range
phone: +1 212-724-4707

address: 541 Amsterdam Ave

Barney Greengrass has been known as the "Sturgeon King" for a very long time, having opened his original store in 1908. The smoked fish that this establishment is known for is not cheap: Smoked fish platters in the restaurant range from $28-58, not counting the "deluxe platter for two," which will set you back $95. You can save some money by having eggs with a side of smoked fish; that'll still cost you between $14.50 and $20.75, but you won't regret it. This place is a real New York institution, and the only place in Manhattan that is generally considered to rival it for what's traditionally called Jewish "appetizing" (that is, pareve products that are neither meat nor milk but include fish) is Russ & Daughters on the Lower East Side.

phone: +1 212 873-0200

address: 505 Columbus Ave

A high-quality and very popular Greek restaurant (not a diner in any sense). Reservations strongly suggested, especially for dinner.

phone: +1 212 222-9222

address: 2636 Broadway

A classy Northern Indian restaurant that serves excellent food. Their lunch special is a bargain; dinner is a little more, but still a fine value.

phone: +1 212 665-3000

address: 702 Amsterdam Ave

A Manhattan outpost of a very popular upscale Peruvian chain. Serves great rotisserie chicken, and tends to be very loud due to the large crowds of locals that come here.

phone: +1 212 877-4800

address: 283 Amsterdam Ave

The cuisine of this restaurant is based on excellent salumi (cured meats), and the other ingredients are fresh and high-quality. The "small" selection of salumi is quite substantial, and the salads are large and quite good. The antipasti, while tasty, are rather small, so they're worth getting but can add up more quickly. Good cheeses, too. The front of the shop is a counter that sells salumi and cheeses to take out. Informal atmosphere, serious cuisine, and good service. It isn't cheap, but it is a very good value, especially for the neighborhood.
Splurge
phone: +1 212 787-4663

address: 49 West 64th Street

Seafood; sushi, oysters and simply grilled fish a la carte.

phone: +1 212 823-9800

address: 10 Columbus Circle

Probably the most expensive restaurant in New York, so go only if money is no object. Those who have been there strongly recommend that you sit at the sushi bar in order to have the best experience. Reservations necessary.

phone: +1 212 823-9335

address: 10 Columbus Circle

The New York outpost of Chef Thomas Keller of the French Laundry in Yountville, which is in the Napa Valley of California. Chef Keller is one of the most famous and highly praised chefs in the United States. It used to be necessary to call months in advance for reservations, but due to the recession, same-day reservations may be worth attempting.
Markets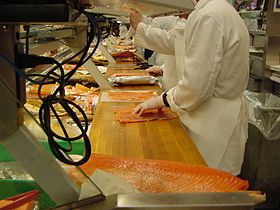 phone: +1 212-874-0383

address: 2135 Broadway

Started out as a fish market, then added an increasingly large meat section. They also sell some prepared items. Can be pricey.

phone: +1 212 595-1888

address: 2127 Broadway

Probably the best-known supermarket in New York, Fairway sells a wide variety of specialty and prepared items, in addition to usual supermarket fare, and has large produce sections. Lots of good values to be had, but watch out for elbows and aggressive shopping cart drivers at peak times.

Milano Market

phone: +1 212 665-9500

address: 2892 Broadway

Italian products with a good deli, reasonable cheeses, and a good selection of international beers.

phone: +1 212-410-1555

address: 2665 Broadway

Totally friendly, great meats, great butchers, order by phone, and cheaper than Citarella. And they will cook dinner for you if you like.

phone: +1 212 222-3367

address: 2840 Broadway

An old neighborhood establishment gone upscale. Amazing choice of prepared foods and good fruits and vegetables. The cheese section is outstanding, as also are the meats and fish.

phone: +1 212 787-2000

address: 2245 Broadway

A very well-known store in New York, with an enormous selection of delicious (and often expensive) foods. Foodstuffs (cheeses, olives, smoked fish, prepared foods, breads, etc.) are sold on the first floor. The second floor is where you will find all sorts of devices related to cooking and food processing at price points ranging from inexpensive bargains to very expensive luxury items. As with Fairway, do not go the day before Thanksgiving, and think carefully before going on a busy weekend. They also have a small cafe at the corner of 80th St. that has quite decent offerings (for example, frozen yogurt and sandwiches with some the good products sold in their store) and is not expensive.
Drink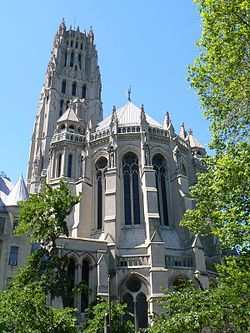 Cafes
The Upper West Side has many idiosyncratic cafes, some of long standing in the neighborhood. Of course, there is no shortage of Starbucks in the area, but for something different try one of the following:
Cafe Lalo

phone: +1 212 496-6031

address: 201 W 83rd St

Around in the neighborhood for almost twenty years, Cafe Lalo is packed with a mostly young crowd until late in the night. Excellent cakes and pastries, coffee and tea in many varieties, and digestifs. Featured in You've Got Mail.

phone: +1 212 531-1210

address: 1262 Amsterdam Ave

A laid back place for coffee, tea, sandwiches, and free wireless in the Columbia University neighborhood.

phone: +1 212 749-8779

address: 2882 Broadway

A local chain with good coffee and excellent teas.

phone: +1 212 799-3006

address: 102 W 73rd St

Good tea selection, excellent scones and an Alice in Wonderland theme. Very popular with families with daughters

phone: +1 212 874-6080

address: 167 W 74th St

Bakery best known for their big, dense cookies.

phone: +1 917 410-5896

address: 775 Columbus Avenue

Bakery specializing in cupcakes, including the Oreo cupcake and the Hostess cupcake cupcake

The Hungarian Pastry Shop

phone: +1 212 866-4230

address: 1030 Amsterdam Ave

Coffee and super-rich pastries in a "bohemian" setting. A Columbia University neighborhood fixture, the cafe has been in business since 1963. Be warned, no WiFi, but that doesn't stop it from being perpetually crowded.

phone: +1 212 724-8101

address: 200 Columbus Ave

Part of the cupcake bakery chain
Sleep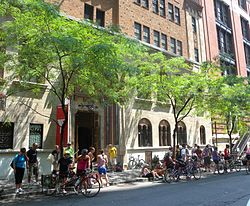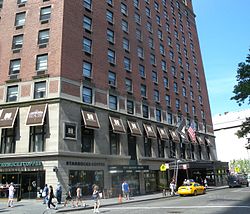 Budget
Mid-range
Splurge
Connect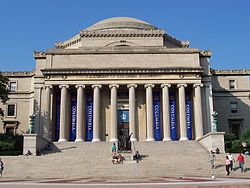 Columbia UniversityFree open wireless service in the neighborhood (best on campus).

New York Public LibraryThe NYPL branch libraries at Morningside Heights (114th and Broadway); Bloomingdale (100th Street between Columbus and Amsterdam); St Agnes (Amsterdam Avenue and 81st Street); Riverside (Amsterdam Avenue at 65th Street); and the Library for the Performing Arts at Lincoln Center (Amsterdam Av. between 64th and 65th Sts.) all have computer terminals for public use (library membership is not necessary).
Go next
Other than visiting
Central Park
, obvious places to go next are
the Theater District
and
the Village
, easily reachable via all subway lines that run through the Upper West side; and the
Upper East Side
, for visits to the Metropolitan Museum and any number of other museums along 5th Avenue. In addition,
Harlem
is easily walkable from the northern reaches of the Upper West Side, and well worth exploring.