Manila
Manila
(
Tagalog
:
Lungsod ng Maynila
) is the capital of the
Philippines
and a major attraction in terms of culture and heritage in the country. Sprawling, congested and polluted will likely be the first words to enter your mind when you think of Manila but don't let that impression stop you from exploring its places of interests: its churches; its diverse and complicated culture; colonial history; gigantic malls; bustling markets; hidden architectural gems and vibrant nightlife. Take the opportunity to explore Manila and make your own personal connection with the city.
Manila is part of the huge
Metro Manila
metropolis which has many attractions beyond those in Manila's administrative boundaries. This article covers only the city proper.
Districts
Manila is distributed into
16 territorial districts
, which are all original towns except one, the Port Area District. Each district is glorified through its history, culture and cuisine. This guide provides 9 districts instead for the traveller's interest.
Understand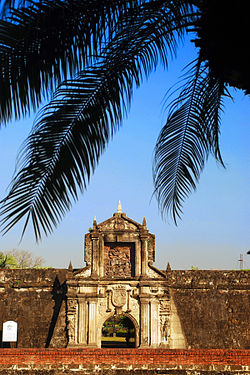 The City of Manila is in the western part of
Metro Manila
, facing the Manila Bay. It is bordered on the west by Manila Bay, to the north by
Navotas
,
Quezon City
and
Caloocan City
, to the east by San Juan and
Mandaluyong City
and to the south by
Pasay
and
Makati
. It is the oldest part of Metro Manila and the seat of the government of the
Philippines
.
However, despite its historical and administrative importance, the City of Manila is not effectively the "Downtown" or "City center" of Metro Manila in the traditional sense. Metro Manila is a multipolar city, with other cities of the urban area such as
Quezon City
,
Makati
,
Taguig
and
Parañaque
rivalling or exceeding Manila in business, education, shopping, entertainment and tourism.
In contrast to other parts of the Metro area, the City of Manila is a place for travellers rather than for tourists. Even the so-called "tourist areas", such as
Intramuros
,
Binondo
,
Ermita
and
Malate
, may feel a bit gritty and chaotic, and the beauty of the city is not obvious, as the World War II has wiped out much of Manila's historical architecture.
However, there's much more to Manila than meets the eye. The immaterial heritage, the unique blend of Spanish, American, Chinese and native Filipino culture, remains present, and can be felt even without going to the
Intramuros
historical district. The City of Manila remains the cultural centre of the Philippines, containing many of the country's best museums and cultural performances. And there are many hidden gems to be discovered, such as the colonial churches, the intricate mausoleums of the
Manila Chinese Cemetery
, the stunning modernist architecture of the
Cultural Center of the Philippines
, the fantastic food of
Binondo
, making Manila an "off the beaten path destination" despite being a country's capital.
History
For over three centuries Manila was colonized and administered by
Spain
which left an enduring architectural heritage throughout the Philippines, especially with respect to churches, forts and other colonial buildings which can still be seen in the ruins of Intramuros, built in the late 16th century. Manila began as a settlement on the banks of the Pasig River, and its name originates from "Maynilad," referring to the mangrove plant known as
nilad
, which was abundant in the area. Prior to the arrival of the Spanish in the 16th century, Manila was home to Muslim-Malays. In 1571, 50 years after
Magellan
's visit to the islands, Spanish conquistador Miguel Lopez de Legazpi claimed the Philippines as a colony and established Manila as its capital. Manila was also colonized by the British for two years. Manila was part of the Spanish East Indies until 1898, when the U.S. took over the Philippines after the Spanish-American War.
Manila was first sought by the Spaniards, then the Americans. The Spaniards wanted a counterbalance to the expanding Portuguese empire which had almost taken a big slice of the pie in the lucrative Spice Trade. They got it through Manila, so strategically placed between China together with the rest of Asia, and Mexico - the next closest transit point for goods from Asia to Europe.
Its location seemed a well thought out choice. Legazpi took five years after arriving in the Philippines and settling in Cebu in 1565 to mull over before deciding to finally move up north to Manila in 1571 and make it the capital of the new territory. By numbers, it shortened the traveling distance to the other side of the empire in Acapulco. Manila is also in a much easy and straighter drafting reach for sailing ships to catch the Pacific Trade Winds as they blow northeastward to Japan for Acapulco and blow precisely at San Bernardino Strait for the westward-bound return trip without being diverted any farther. Most importantly, Manila is much closer than Cebu to China.
When Mexico pushed for its independence from Spain and finally shoved her out, the Philippines' glittering importance began to dwindle due to the discontinuance of the Manila-Acapulco Galleon Trade, cutting off the Acapulco to Vera Cruz segment and it accelerated more when the Suez Canal was opened enabling the Chinese exports to go in the opposite direction and making Singapore the most important transit hub to Europe in the region. Just a token administration was maintained in Manila since the Philippines had been confined to the doldrums as one of the unreachable and hard to maintain colonies of Spain. That obscurity lasted until a new imperialist era dawned, with countries embarked on a new competition for raw materials and market.
Netherlands, Britain, and France were already there now with Germany, lurking somewhere and ready to fill in the voids about to be vacated by waning superpowers. Germany was already sniffing its way around the Pacific Ocean like a shark smelling a kill when the US, spurred by the windfall of acquiring Hawaii and which desperately wanted a toehold in Asia for her trade, notably with Japan and China, grabbed the first opportunity of grabbing the Philippines. The Philippines once more, so strategically placed as the soon-to-be-linchpin of American imperialism, extended her colonial servitude to the US.
With dynamic geo-politics working, the Philippines, and Manila in particular, proved to be manna from heaven as Japan began to flex her muscles. The result was that the Philippines served as first line of defense for Australia and the mainland US to buy time and it really proves more beneficial as another realignment was in force after World War II when communism comes into the scene and is threatening to swallow the whole of East Asia except Japan, putting the Philippines as a buffer zone for whatever adverse contingency and as long as the Manila leadership sides with the US, things will be OK.
Now that communism is under control and every country on both sides of the Pacific seemed to be embracing free market economy, all of Southeast Asia are grinding strong and busy buzzing. The factors of time, location, and distance are not a consideration anymore and what needs to be important is that Manila is as peaceful, orderly, productive, and creative as all her neighbors to win visitors' attention.
Being a city with its ears and antennae acutely tuned in to American and some European trends, and in the forefront of modernization and constant cultural refinement more than any other city in Southeast Asia or Asia as a whole, Manila witnessed or hosted innovations - political, cultural, civic etc.
Get in
For more information check the
section on airports
in the Metro Manila article.
For travel by ferry, mainly from other parts of the
Philippines
but also from a few other ports, see the section on
boats
.
Get around
By train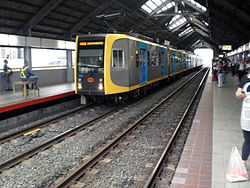 Manila is served by
LRT Line 1
(the green, or formerly, yellow line on maps), operated by Light Rail Manila Corporation, and
LRT Line 2
(the blue, or formerly, purple line on maps), operated by the Light Rail Transit Authority; both cross through Manila city proper, converging at the intersection of Rizal Avenue and C.M. Recto Avenue. Line 1 uses light-rail type rolling stock and serves
Malate
,
Ermita
,
Quiapo
,
Binondo
and
Santa Cruz
, while Line 2 uses longer commuter-grade roling stock and serves Quiapo,
Sampaloc
and Santa Mesa. Most tourist sites are along the Yellow Line.
Metro Manila's main regional passenger train station is
Tutuban
in Tondo. From Tutuban station, the Philippine National Railways (PNR) operates the
Metro South Commuter
line, mostly using ex-Japanese equipment. Fifty trains serve the commuter service daily, with the line crossing through Tondo, Sampaloc, Santa Mesa,
Paco
and San Andres before extending to southern Metro Manila. There is an interchange with the Line 1 at Blumentritt station, and with the Line 2 at Santa Mesa station (the latter, however, is an indirect connection).
The metro is insanely packed during rush hour and should be avoided if possible. On the metro, partly due to space constraints and partly due to safety, everyone wears their backpacks/bags on the front.
By bus or jeepney
Several city and provincial bus routes either cross through or terminate in Manila. Most buses which serve Manila proper will cross through the Lawton Bus Terminal, which is in front of the LRT-1 Central Terminal station. Routes include points in Metro Manila, Laguna,
Cavite
and
Bulacan
; bus fares normally begin at for city buses and for provincial buses (as of 2019).
The bus routes in Manila are
not
numbered. However, the bus route is prominently displayed on the side of the bus and on the dashboard, listing both the route's endpoints and major points in between which will be served by that particular route. When in doubt, ask the bus conductor if a particular bus will go to a particular destination.
Manila is also served by several
jeepney
routes, some of which ply the routes previously served by Manila's pre-World War II tram system. The Lawton Bus Terminal is also a major jeepney terminal, with several jeepneys either crossing through, terminating or originating here. Fares begin at (as of 2019) for the first . Like buses, jeepney routes are not numbered, but the route is prominently displayed on the sides of the jeepney and on the dashboard, and drivers, or specialized barkers announce their destination and departure at route origins.
By taxi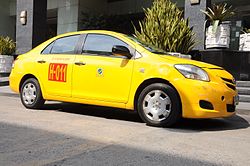 Taxis (usually marked by the words 'taxi' on the sides of sedan cars) are plentiful and easy to find. During peak hours, it will be difficult to find an empty one, so find a taxi-stand where people form orderly lines and wait for empty taxis to pull up. Have a general idea of how much your trip would cost, and ask the taxi driver as you board how much will it cost (approximately) to get to your destination. Taxi drivers have been known to not switch on their meters as the journey starts, only to tell passengers to pay a fare that is two or three times the normal rate. And beware of taxis with dishonest drivers, especially those using a device that allow the driver to double the fare through the meter, such as in some airport taxis.
In general, be prepared with the name of your destination, a rough map with landmarks and an estimate of the fare before attempting to board a taxi on Manila roads.
By tricycle or pedicab
Tricycles and pedicabs are, in the City of Manila, limited to short distances as it can access hard-to-reach areas. Tricycle and pedicab terminals are found throughout the city: major points for taking tricycles and pedicabs within the downtown area include the Lawton Bus Terminal, the area around LRT-1 Doroteo Jose and MRT-2 Recto Stations, Tutuban Railway Station, Plaza Lacson in Sta. Cruz, and Plaza Lorenzo Ruiz in Binondo. Tricycle and pedicab terminals are normally beside jeepney terminals and railway stations.
By law, tricycles and pedicabs must display a fare matrix which displays fares to areas served by the vehicle, and is normally adhered to for short distances. For longer distances, it is not uncommon to negotiate the fare beforehand with the driver.
By calesa
In Ermita, Intramuros and Binondo, it is still possible to ride a
calesa
, traditional horse-drawn carriage. While no longer used as a meaningful form of transport by most locals, calesas are useful for navigating through narrow streets (similar to tricycles and pedicabs), and for getting a feel of transport in colonial Manila. Fares are negotiated beforehand with the
cochero
(driver), and a one-hour ride for two people normally costs around .
See
The main tourist sites of Manila are mostly along Manila Bay.
Landmarks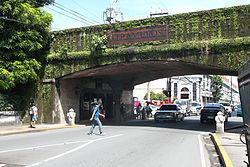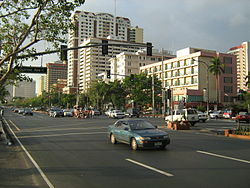 Bonifacio Shrine - A shrine in honor of Andres Bonifacio who was one of the Filipinos who struggled and fought for freedom for the country against the Spanish forces.
Chinatown - Manila has one of the largest and oldest Chinatowns in the world, where one can find exotic Chinese goods and delicious cuisine.
Coconut Palace - a residence commissioned and built along the waterfront by First Lady Imelda Marcos for Pope John Paul II's visit in 1981. It is occupied by the Vice President and open for public visits (by appointment by calling the Office of the Vice President, leaving a return call number and waiting for a confirmation).
Intramuros - At the northern end of the bay lies the remnants of the old walled Spanish settlement of Manila, Intramuros (Spanish for 'within the walls'). Intramuros contains some of the city's most interesting museums, ruins, and churches including the Manila Cathedral and San Agustin Church one of the most finest churches in the city.
Mabini Shrine - Apolinario Mabini's former home. Mabini was a Lawyer and fought for Philippine Independence. During the American Occupation, this home became the first intellectual headquarters of the First Philippine Republic.
Malacañang Palace - Manila is the host of the official residence of the president of the Philippines. While heading your way here, you will see wonderful places. People can roam the garden afterward.
Manila Hotel - Just outside Intramuros and on the edge of Manila Bay is the beautiful and historic Manila Hotel, a legacy of the American colonial era and the place where General Douglas MacArthur made his home before World War II.
Plaza San Luis - A commercial complex consisting five house; Casa Manila, Casa Urdaneta, Casa Blanca, Los Hidalgos and El Hogar Filipino. Plaza San Luis showcases Filipino-Hispanic Architecture. Other than Souvenir shops there is a museum in Casa Manila.
Roxas Boulevard - A wide boulevard which runs along the shores of Manila Bay, it is known for its view of Manila's famous sunsets and stretch of coconut trees. The boulevard offers a wide selection of hotels, restaurants and significant cultural landmarks.

University of Santo TomasThis university is oldest and first university in Asia and the Philippines. It was used as a camp by the Japanese during their occupation where the imprisoned about 10,000 people even though it only can hold 4,000.

Manila Metropolitan Theater - The Manila Metropolitan Theatre or MET is an art deco building designed by the Filipino architect Juan M. de Guzman Arellano, and inaugurated on December 10, 1931, with a capacity of 1670. The theater is on Padre Burgos Avenue, near the Manila Central Post Office. Renovated under the auspices of Imelda Marcos, it now falls back under the management of neglect and decadence.
Manila Central Post Office - Designed by Filipino architect Juan Marcos de Guzman Arellano, in a very prominent visual and commanding spot of the first Civic Center in Manila and could have been perfect location for a Senate building, the Post Office building was built in neoclassical architecture in 1926. It was severely damaged in World War II, and rebuilt in 1946 preserving most of its original design. It is in the Intramuros district of the city, at the bank of the Pasig River. The front of the building faces the Liwasang Bonifacio plaza (now known as Plaza Lawton).
Museums
Manila's museum offerings have improved dramatically with the renovation of old favorites such as the
National Museum of the Filipino People
and the
Ayala Museum
. Other must-see museums in the city are the
Bahay Chinoy
(Chinese House),
Casa Manila
,
San Agustin Museum
, the
Museum of Filipino Political History
, and the
Museo Pambata
(Children's Museum).
National Museum of the Philippines

phone: +63 2 527-1209

address: P. Burgos Ave

Built and opened in the 1900s, the museum showcases significant collections from archaeology, arts, cultural properties, zoology, botany and many more. The National Museum of the Philippines is a government institution in the Philippines and serves as an educational, scientific and cultural institution in preserving the various permanent national collections featuring the ethnographic, anthropological, archaeological and visual artistry of the Philippines. Since 1998, the National Museum has been the regulatory and enforcement agency of the National Government in the restoring and safeguarding of important cultural properties, sites and reservations throughout the Philippines. The National Museum operates the National Museum of Fine Arts, National Museum of Anthropology, National Museum of Natural History, and National Planetarium, all in the vicinity of Rizal Park.
The National Art Gallery is the repository of works by Filipino masters. The more than life-sized painting of Juan Luna titled "Spolarium", a powerful image in the mould of classical themes and Romanticist in style, is the museum's version of "Mona Lisa", meaning the most prized Philippines artwork.

Museum of Philippine Political History

address: T.M. Kalaw Ave

Includes documents such as the signing of Independence displayed in a holy grail-like showcase.

phone: +63 2 521-1517

address: Bangko Sentral ng Pilipinas Complex, Roxas Blvd

Inaugurated during Imelda's heyday, it used to display works by Caravaggio. This, the premier art museum of Manila, showcases both traditional, Hispanic and modern art with its exhibits.

Bahay TsinoyOne of Manila's well-known museums; see Chinese biographies and their contributions in the history of the Philippines.

phone: +63 2 523-1797

address: Roxas Boulevard cnr South Drive

A children's interactive museum, the first of its kind in the Philippines. Opened in 1994, Museo Pambata is the dream come true of Nina Lim-Yuson, who was inspired by the Boston Children's Museum to open up a similar facility in Manila.
Parks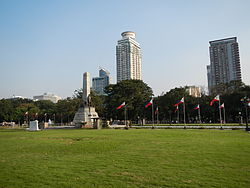 Rizal Park Right outside the walled city is Rizal Park more widely known as the Luneta. The Luneta is the venue for the national museums, bayside restaurants, an open-air theater featuring free classical music concerts and acclaimed international films, a planetarium, an open gym for early morning jogging and tai chi enthusiasts, or a night ballroom. It offers Japanese, Chinese, Filipino gardens, an orchidarium, an aquarium, and a children's museum. It is a popular meeting spot for family picnics and lovers' trysts, and was the site of the execution of Jose Rizal, the national hero of the Philippines, and the inaugural grandstand for the incoming President.
Paco Park was built as a final resting place for Spanish families residing in Manila. After Jose Rizal's execution, his remains were sent and buried here, which is today commemorated by a monument in the park. It is now a public park with jogging lanes and open air concerts, and is also a popular venue for weddings. It is accessible by taxi and bus, or by a 10-minute walk from the LRT-1 United Nations Station.
Arroceros Forest Park In the heart of downtown Manila, Arroceros Forest Park is a 2.2-hectare piece of land behind the old art deco Metropolitan Theater. Arroceros got its name, which means "rice dealers," from the rice trade along the Pasig riverbank during the early colonial period.
Nature and wildlife
Manila ZooRather decrepit, and in need of drastic renovations. The Manila Zoo covers an area of 0.055 km². Accessible via LRT-1 Quirino station.

Manila Ocean Park is a much better maintained marine wildlife facility which is behind the Quirino Grandstand at Rizal Park. The 8,000 m² (86,000 sq ft) oceanarium is larger than the Sentosa Underwater World oceanarium in Singapore, and features a 25-m (82-ft) underwater acrylic tunnel. Mostly accessible by taxi, but can be walked if you are in the vicinity of Rizal Park.
Balara Grounds
Churches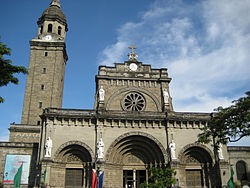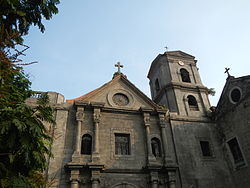 Spanish colonial churches
Baroque colonial churches where once proud showcases of the past especially before World War II but the wanton destruction of the Japanese and the equally guilty American soldiers during the Battle of Manila in 1945 dissolved all that except for a handful remaining. Lack of maintenance, vandalism, theft, and no proper awareness, guidance, or education by administering priests and architects who undertook renovation blunders (multiplied more incidents in the provinces) complicated the already pathetic state of remaining churches.
San Agustin Church
Manila Cathedral
Malate Church
Santa Ana Church
Binondo Church
Santa Cruz Church
San Nicolas Church
Tondo Church
Basilica of San Sebastian - The only all steel church of the Asia, the Europeans were tired of building the church over and over again after fires and earthquakes, they finally decided to build the cathedral in solid steel. The materials were ordered from Europe while the architect is Gustav Eiffel; the architect of the Eiffel tower in France. Its Gothic architecture might make you think you're somewhere in the middle of Europe.
Iglesia ni Cristo Churches
Aside from the interesting Spanish colonial churches, there is one group of church-structures belonging to the
Iglesia ni Cristo
, a homegrown reformist church established by a Manileño named Felix Manalo in 1914 that is uniquely Filipino somewhat parallels with the Latter-Day-Saints Mormons (its cultish-ness and disciplined regimen demanded from its congregation), that merit some curiosities. These unique churches have two outstanding features: that they are kept in pristine white condition (with some little color highlights), and they soar to the sky like those gothic cathedrals, or Sagrada Familia in Barcelona, or the Salt Lake Temple in Utah. In some cases, they jot out in the middle of a green countryside off the suburbs of Metro Manila. But even in the midst of urban jungle in Manila, one can't help but notice its towers and spires projecting through the clouds among the busy skyline.
No name yet is given to this architectural style but it may safely be called Philippine Gothic Revival and the churches show the usual suspects of Gothic tracery, lacework, and rosettas, with the emphasis of verticality and noticeable indigenous geometric motifs as substitute. The detailing is tasteful and awesome.
Its "Vatican" is in the New Era District of Quezon City and can be easily seen from about two to three miles away from all directions heralding in a Cinderella-like castle fashion, their main shrine and headquarters.
Saint days
Manileños are mostly very pious Catholic people. On a different angle, being afflicted with problems and ailments, Manileños may not have much alternative and feel that some things are just out of their control and the best way is to ask for answers and solutions to their favorite saints. Some streets leading to a patron saint's home church are extra tight during their special days.
For the anthropologically curious, it also provides a good peek into the daily life of the locals, young and old, men or women.
St. Jude Thaddeus Shrine, San Miguel District, Manila - Near Malacañan Palace, this church is the busiest on Thursdays.
Our Lady of Perpetual Help Shrine, Baclaran District, Pasay City. - Near the border of Parañaque and served by LRT Line 1, this Church is the liveliest on Wednesdays much more especially so because the surrounding area is carpeted by a flea market.
The Black Nazarene Minor Basilica, Quiapo District, Manila - Its feast day is on January 9 but its special day of the week falls on Fridays.
Do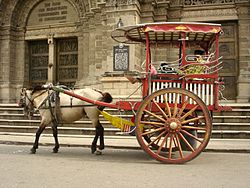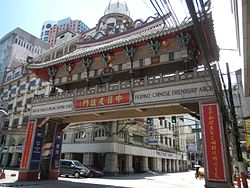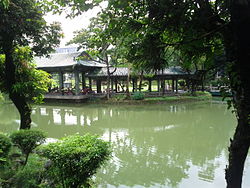 Tours
Tour Manila's historical heart in a historical fashion. Watch out for touts, especially around Rizal Park, and negotiate prices with the
cochero
to avoid being ripped off.
Manila's most populated district, Tondo, can be explored with a guided tour. There are no organized tour agencies, but you can ask many locals who know the life inside this giant slum. Beware of the hassles like gangs and thugs though, but your tour can go well if you don't provoke suspicious men in this .
Fiestas & festivals
Manila is just a bit of experiencing the Philippine fiestas, and if you have time to waste, it can help you connect with the diversity of the Philippine's cultural capital.
New Year celebrations are marked with noise, and it's celebrated twice. The
traditional New Year
based on the Gregorian calendar is celebrated almost anywhere, from earsplitting firecrackers on the streets to glamorous fireworks displays on Rizal Park. January 1 is a nightmare though to many locals, with all the smoke, trash and the worse, injured merrymakers coming around, as well as a lot of drunk locals and expats. New Year comes again in Binondo, and the streets become alive with the popping of firecrackers and the Dragon and Lion dances.
The second week of January is highlighted by the
Feast of the Black Nazarene
, drawing a huge crowd swarming the old city streets from Binondo to Quiapo. The festivities last about a week, beginning with moving the black wooden image of Jesus to the Quirino Grandstand, where the ritual of kissing and wiping towels on the image (
pahalik
) begins, followed by the procession of replica Nazarenes and the climactic
Traslación
. Security becomes a major concern, and it can be a hassle for some opportunistic tourists who want to join the crowd in this sacred festivity, as all space is occupied. If the crowd on January 9 is not enough, there are the Santo Niño festivals in the worker-class districts of Tondo and Pandacan. Streets of the mentioned districts become venues for dance parades and the procession of an image of the child Jesus. All Saints' Day in Manila is a solemn celebration, with families visiting the graves of their loved ones in the city's main cemetery, the Manila North Cemetery, but it's not advisable to join the crowds of Manila folks to visit some graves of historical figures.
Learn
Manila is an educational center, and is home to many of the Philippines' prestigious universities. Most of the well-known tertiary education institutions in the city are found within the
University Belt
, or the
U-Belt
, like the University of Santo Tomas, Far East University, University of the East, National University and San Beda University, while some are found inside
Intramuros
(e.g. Colegio de San Juan de Letran, Lyceum Philippines University) or along the
Taft Avenue corridor
between Ermita and Malate (e.g. Adamson University, De La Salle University). Manila's universities have significant numbers of foreign students; tuition fees are much lower and the educational system is much like of the United States.
Buy
Public markets
Public markets are one microcosm of Manila. Practically, Manileños from all walks of life come here to buy their everyday needs. They are as lively and colorful as any market in Thailand, Laos, Cambodia, or Vietnam. Generally, they are divided into wet and dry sections and another section for dining. Dining is very cheap and can be wholesomely hygienic. Just look out for the huge block of ice dragged along the floor on its way from the delivery truck to a stall. If you see one delivered in that manner, never mind, don't eat there, ever. Joking aside, a filling meal will cost you as little as .
Shopping centers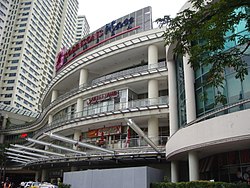 One of the experiences that you must try in Manila is shopping and the best way to get a feel for Manila shopping is to go to a 'tiangge', a market of stalls where everything can be bargained. There are a lot of flea markets scattered around the city catering to handicrafts, clothes, antiques, and curio souvenirs. These flea markets offers almost everything: gadgets, clothes, bags, shoes, food, furniture, antiques, jewelry and even books which are all often sold at cheaper prices.
Aside from flea markets and bazaars, Manila is also home to modern and western-type shopping malls which offers branded products, these are mostly in the commercial, financial and cultural districts of
Ermita
and
Malate
which are known for being a premier shopping destination in Manila.
Robinsons Place Manila
is the largest shopping mall in the city, it is a modern shopping mall in the district of
Ermita
and is home to a wide collection of international and local retail shops, restaurants and entertainment facilities.
Harrison Plaza
is also in the district of
Malate
, it is considered to be the first and oldest shopping mall in the country.
Other major shopping malls in the city are
SM City Manila
,
SM City San Lazaro
,
Robinsons Otis
and
Lucky Chinatown Mall
. Manila is known for being a major shopping hub of the Philippines, from modern shopping malls to colorful and traditional markets, its all here in Manila.
Ukay-ukay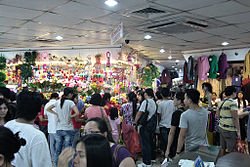 If you happen to see just about every Tom, Dick, and Harry in a blighted neighborhood in Manila wearing Abercrombie & Fitch get-up and Levi's jeans, chances are its original and bought at ukay-ukays. How can they afford it? Ukay-ukay is the answer. It's the Philippines' answer to Salvation Army. Nowadays, they are everywhere and Manileños love them. It's actually a contraction of the Tagalog word "Hukay" meaning to dig, the description for the exact action done while rummaging through the bins of clothes. But there are actually no bins installed in those stores, only clothes neatly hanged on the racks. For less than , you can find hand-me-down qualities of labeled apparel. The more enterprising provide home delivery and roaming services by hanging them on racks installed on pedicabs, as they make the run on neighborhoods. Judging by the high cost of living to most of the middle class and the soaring gasoline prices, they may be here to stay.
It's also great for the budget tourist who would not want to have the hassle of packing and carrying tons of clothes by simply buying them here, then discarding them somewhere as his piles of souvenirs accumulate.
Eat
Street food
Street food is often described as "
pantawid gutom
" or food to tide over, something to temporarily hush a stomach growl, sold at small food stalls, food stands, or food carts set up in places with high amount of pedestrian traffic. Cheap and rushed, it could be something commuters can chew and swallow, or gulp in seconds while transferring from one route to another, or from station-to-station, with a quick standing stop at a sushi, siomai, barbecue, or hotdog stall.
The variety of street food available is tremendous and may reward the truly adventurous traveler. Some notable examples are
balut
(boiled duck embryo),
fish ball
,
kwek-kwek
(boiled duck, chicken or quail egg covered in an orangy batter and deep fried in hot oil) ,
isaw
(grilled chicken intestines), and
banana cue
(Philippine plantain fried in hot oil coated with caramelized brown sugar).
Low-income workers and students patronize them the most as they commute to their homes, often taking two-hour trips. These are noted in the open streets where they are the cheapest and these are what most bloggers and media immediately see. But there are ones that are as even cleaner as those found in
Bangkok
or at par with those in hawker centers in
Taiwan
,
Singapore
and
Malaysia
, or
Japan
and
Korea
. Mall walkways and Food Courts also offer a wide selection of Street Food menu and that is some notches less in worrying about hygiene. Expect the cost to be a little bit higher, although that would just come up to be in cents difference. For a taste of street food without the accompanying risk, try out
Balut Eggspress
, which serves
balut
, kwek kwek and
one day old chicks
, which are quite literally day old chicks marinated and fried in hot oil; and
Nanay Q
which serves special pork and chicken BBQ, liempo, grilled fish and shrimps
Comfort food
Carinderias
sound like Spanish style cooking but there is no relation to it. It's simply a collective term for a working class type of eating stall, now with table and seats for sit-in meals, more as a hole-in-the-wall or a makeshift school canteen (some may have wheels) for the lowly construction worker, the jeepney driver, or the student low and tight on budget. The style of presenting the food (no menus but some have posted menus) is laid out on a glass-covered or open counter in pots or deep square aluminum platters (for the more classy ones) and where the customer can just scan his eyes and choose what he wants.
Panaderias
are bakeries dispensing bread and pastries. But the line is not clear if they are a separate class of their own or as Street Food. Goldilock's Bakeshop operate as a full-time restaurant but they can have some presence in malls as food stand types. Dunkin' Donuts or Mister Donut also establish their presence as either a shop with dining tables or as a stand-alone stalls.
Ambulant food
This is a special class of street food distinguished from the stationary ones. Vendors roam around in their carts in a certain route and a specific time, as some food that are sold are time sensitive, meaning they can only be eaten say, in the morning, or as afternoon snack. Some of their itineraries are neighborhoods, where their target clientale are pre-school or school age children, and some are office blocks, where their prime targets are lady workers. There are only a few types of these food that are mobile.
Taho - this ubiquitous mushy tofu, found in the whole Southeast Asia has this Philippine version topped with sugar syrup and tapioca balls. It's patronized by everyone, like children in the morning.
Mais - boiled corn-on-the-cob sold in the early to late afternoon.
Binatog - boiled glutinous corn topped with coconut milk, sugar, and fresh coconut gratings.
Bola-bola - fried fish balls, small hotdogs, etc.
Assorted Fruits
Dirty ice cream - sold in folksy carts, it announces its presence with a bell that looks more like a collector's item. Flavors are as native themed as its cart - mango, carabao cheese, pandan, and violet yam (ube).
Breakfast
Breakfast in the city is described as dry - meaning not wet as in noodle and soup or porridge like what is taken in the morning in most Southeast Asian cities. More like an amalgam of the East and the West, specifically the American, Hispanic, and Malay, somehow as if McDonald's and Cuban entrees collided with
nasi lemak
to form these creations that are very catchy to begin with for they all end with "
silog
".
First, these are the key words in Tagalog:
Sinangag
for fried garlic rice and
Itlog
for egg more often sunny side up and rarely scrambled. They combine to form the portmanteau "SILOG". Along with these is the main item - meat or fish plus the given mainstays -
Set A
: lettuce, sliced tomatoes, sliced cucumbers,
Set B
: carrots and peas toppings over sinangag,
Set C
: achara or pickled unripe papaya and carrots,
Set D
: fried garlic or shallots over sinangag, or Set E: onion rings.
Of course, this is assisted with hot coffee, tea, or juice and a couple of morning bread called Pan de Sal (salted bread).There are stalls or
carinderias
that specialize in this breakfast "silog" fare called
"tapsihan"
named for the first type of these combo ever concocted, the
tapsilog
.
Restaurants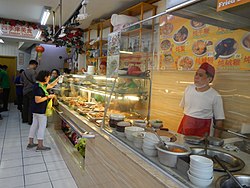 Filipino food is safe to say more as a comfort food, a peasant food concocted at a time when all Filipinos were all living on agricultural-fishing existence, contented to eat simply on rice and one or two-dish meal - one dry and the other wet or soupy. Even if Filipinos have attained a higher degree of sophistication, the same ingredients are used and the same flavor is maintained.
Most sit-down and casual dining restaurants in Manila would fall under the mid-range category. But there are budget ones as well. For budget dining, just follow the office workers making a beeline to building basements, canteens, or
carinderias
(road side stalls) during lunchbreak almost everywhere in the city and even in high class
Makati
area. The men usually wear short sleeved Barong Tagalog and the ladies, like bank teller attires. These are not lowly workers but they pay lunch as cheap as complete with a clear broth, a dish, and a cup of rice enough to energize the office worker for the rest of the day. University canteens open to the public offer student meals and have resident nutritionists too. Along Recto and Nicanor Reyes Sts., the epicenter of downtown university belt cosmos, there are dime a dozen shops that offer complete and filling budget meals as low as .
Manila as a national hub of regional cooking, has almost all its regions represented in eating establishments either exclusively or featured with the others. General restaurants, either catering for the working class or the elite, can offer varied dishes coming from every region and have assimilated in every one's palette taste. For example the northern region called Ilocos has its favorite fare called
pinakbet
approved by practically everyone and has melted in every local's daily diet although it still sticks to be identified as an Ilocano fare.
Fast food
Even while the 'enlightened' world hates McDonald's and Pizza Hut, Filipinos are great lovers of its dining style and menus - hotdogs on stick, hotdogs on bun, hamburgers, or cheeseburgers, pizzas, and spaghettis. Their pictures proliferate everywhere, be it as street food or sit-in meal. Manileños also love donuts in the personification of which began with Dunkin' Donuts and Mister Donut, which were dethroned by the J. COs and Krispy Kremes. Philippine-style spaghettis are made sweeter than usual.
Manila has most of the usual American fast food chains such as McDonald's, Burger King, Wendy's, Pizza Hut, Subway, Dairy Queen, Shakey's Pizza, Taco Bell, Dunkin' Donuts, TGIF, Italianni's, Outback, and KFC. Jollibee, the Filipino counterpart of McDonald's who now eclipses it's once held dominant position, is very common in Manila. It started out as a spoof spin-off of McDonald's, copying its menu and business model but substituting it with local ingredients (ex. mango pie for apple pie) and taking consideration of the local palate, now has become a billion dollar peso-franchise business empire. Another spin-off of this business is
Chowking
, the same business model and packaging (styrofoam, plastics, and cardboard) but with Chinese influenced menus and has become as ubiquitous as
Jollibee
and McDonald's. Another spin-off to the spin-off is
Mang Inasal
, this time the theme is country or provincial style menu with packaging this time using banana leaf and cane and bamboo baskets as plates, and claypots as serving plates catering to native food lovers.
Coffee shops such as Starbucks and Seattle's Best are quite common in malls and commercial centers. Meals could be as low as US$2 to US$3 in most fast food joints. A typical burger meal with fries and a drink would fall under this range.
Desserts
Some of the food offered by these dessert establishments may also be on restaurant menus (since these are categorically dessert items), those that specialize in local cuisine. But these parlors are also a separate category of their own. Goldilocks and Red Ribbon, super hygienic Americanized establishments stand out from the rest usually found in malls, and from the humble food stalls in the public markets where they originated. These two are basically bakeshops but they function as native ice cream parlors, serving more or less the following which are authentically or adaptively Filipino desserts such as
sago parfait
,
halo-halo
(the queen of Philippine desserts),
leche flan
,
mais con yelo
(iced sweet corn porridge in syrup),
saba con yelo
(iced stewed plantain in syrup) and
polvoron
Pulutan
The Philippines has its own version of the Spanish Tapas but little is known about it outside the country even if Filipinos have invaded almost all corners of the globe, employed and even permanently residing in their host countries. Anyway, it's more or less the same kind of presentation - as a finger, toothpick, or fork food, and relevance - to accompany any alcoholic drink, mostly beer, on a social gathering between neighbors, relatives, work colleagues, peers, and clients and mostly fall under male-bonding or camaraderie social dining. It comes from the root word "
pulot
" meaning "to pick up".
It is always served in a communal plate or bowl with plenty of forks (if it needs to pick up the food, otherwise finger is OK) arrayed on a plate like oars on a boat. If there's a need for a dipping sauce, then a bowl is also served with it to be used communally.
Drink
A very local drinking experience in Manila meant going to beer gardens or beerhouses as is commonly called. They are scattered mostly around the working districts of Sampaloc, Santa Mesa, Quiapo and even the tourist belt areas of Ermita and Malate. Every city in the metropolis has practically its own adult entertainment strip, block, or district where these establishments can be found. These are heavily sexualized. It's mostly working class men and those working in the military and police establishments who are the clientele with young sexy and provocatively dressed waitresses or euphemistically called GROs (Guest Relations Officers) serving the customers. Some beer gardens take it up a level higher and have entertainment on the sides with scantily two-piece suit dancers taking turns on the stage. The kind of food served somewhat resemble the Spanish Tapas style ranging from the simple such as peanuts, corn, and peas - boiled or deep fried to mundane such as fried pork, beef, chicken to the adventurous such as other body parts - ears, gizzards, livers, hearts, intestines, brains, balls, blood, and what have you. They are categorized under the subject
Pulutan
.
For establishments resembling the Western version of a pub, these establishments are concentrated in
Remedios Circle
in
Malate
district, a very important hub of nightlife. Bohemian
Malate
, the older
Ermita
neighborhood that stretches between them contains a variety of venues serving a combination of food, comedy, alcohol, and live music.
Karaoke and videoke bars are also very common as majority of Manileños are American Idol fans as one's living room can be easily converted into one.
Work

The workforce in Manila covers everything from daily, minimum wage earners to expats being driven in BMWs. Standard working time varies, especially with the proliferation of contact centers, but the usual working hours are 8AM-5PM. Given that the traffic within the Manila escalates exponentially as the day begins, it's always better to leave early for meetings.
Punctuality is formerly less valued on business meetings; things go by "Filipino time" – in contrast to the more punctual "American time", and it was expected that the attendee would be late by up to one hour. However, this has been significantly reduced through the years, although the bad traffic is usually (and realistically) cited as the main cause for missing one's appointment.
Makati City is the country's main Central Business District, and, on every given weekday, it seems that all roads lead here. Multinational firms and big businesses hold offices here.
Ortigas Center, which cuts across the borders of Mandaluyong City, Pasig City and Quezon City, act as to be the alternative business districts with companies such as the Asian Development Bank headquarters and the World Bank Manila office in this vicinity.

Sleep
Check for hotel listings in the appropriate districts
Prior to asking
where
to sleep in Manila one should ask
whether
to sleep in Manila. Manila is the government center of the Philippines, but not necessarily the most central location for business travellers or tourists inside
Metro Manila
, neither the most safe or pleasant area of the city. Check the
Metro Manila
article for other options on where to stay in the city.
On the other hand, staying in Manila is definitely an affordable choice, more so than in affluent business areas of the 4th District. You can sleep in a Manila Hotel for as cheap as per night if you wish. Don't expect many luxuries at this price though!
Manila has a lot of hotels, inns and apartelles. Most of these accommodations can be found within Roxas Boulevard overlooking Manila Bay, or in the districts of Ermita and Malate. Manila's hotel accommodations are 20 to 30 minutes away from the international and domestic airport.
There are many major international hotel chains which have a presence in Metro Manila. Rates are still generally cheaper here compared to the same class of hotels in western cities. A stay in these hotels however, would be considered a luxury by Philippine standards particularly since the cost is a month's income for some Filipinos.
Connect
Payphones are very common in the city center. The use of mobile phones is also very extensive. To use your mobile phone, it has to be at least a dualband GSM phone. Globe and Smart are the Philippine's largest mobile carriers and they invite you to use them as a roaming partner (inquire from your home carrier if they have Globe and Smart as a roaming partner).
To call anywhere within Metro Manila, simply dial the 7-digit telephone number from a payphone or a landline. If you need to call anywhere else within the Philippines, dial 0 + area code + telephone number. To make an international phone call, dial 00 + country code + area code + telephone number.
Internet cafes have become a common sight in Metro Manila. Most malls would have at least one internet cafe. Most internet cafes provide broadband speeds. Netopia and Pacific Internet are common chains. Netopia also has a branch at the MRT-3 Ayala Station. Cheap overseas calls can be made at Netopia branches via their VOIP service.
Most coffee shops now also have WiFi services available so you can surf the net while sipping a cuppa. Airborneaccess.net and WIZ are the most common WiFi providers. Ask around if usage is free of charge, otherwise, as the case is often, you will have to buy an internet access card at the counter.

Stay safe
Despite a reputation for crimes and congestion, Manila is relatively safe if you follow basic precautions. Touristy areas are well patrolled by police or private security, and most trips are done by public transport. Driving is surely the worse way to get around if you do not know large city driving.

Crime
Petty crimes are one risk, but you may get around without any hassle if you maintain common sense. Drugs, generally shabu and marijuana, are rife on crowded residential communities, but drug dealers generally hide inside homes while police and anti-drug agents are routinely searching houses for suspected drugs.
Theft is common, especially pickpocketing. You should act cautiously as you would in any other developing country, especially considering if you do not look Filipino. Thieves and con artists are likely to see you as an easy target. However, most travelers from other Asian nations, especially from southeast Asia, should have no problem blending in with the crowd.
Violent crimes are just another story; locals are more likely to be targeted by robbery at gunpoint. Bag snatchers can turn violent: some women are dragged on the streets with leg injuries when attempting to take back the bags from motorcycle thieves. Tondo is notorious for the most violent crimes as a gang capital.
Get away from slums to avoid becoming targets of impulsive attacks by drunk thugs and drug addicts, though locals generally fall victim. Dressing like a local can help, but avoid wearing clothes that may cause unwanted attention, like sleeveless shirts and shorts that lowlifes often wear.
During rush hour, watch out for pickpockets on the crowded trains. Be vigilant when taking jeepneys; the next passenger beside you can be a pickpocket, but students in uniform are the most common victims. Groping is also another issue, especially during rush hour.

Scams
Watch out for people who approach you and pretend they recognize you. They will say they work at your hotel (such as room service or security) and that they know you from there. They then say it is their day off and since they just happened to bump into you they want to show you something nice that is nearby. They may be very convincing even to experienced travelers. It is always a scam.
Another popular scam is for a con artist to befriend a tourist and offer to show them around, hang out, etc. After gaining the tourist's trust, the con artist then slips drugs into the tourist's food or drinks. The con artist then leads the drugged, groggy victim to an ATM and watches while he/she enters her pin. The con artist is then free to withdraw all the money from the account.
Get into a car or go anywhere with people only if you know them (even if they say that have helped you at the hotel on a previous occasion). They are best fended off if you just ignore them. If they persist, say, "Are you going to leave me alone or should I call the police?" That makes them leave quickly.

Bars and nightclubs
The Ermita and Malate areas are popular for its bars and nightclubs, particularly the girlie bar aimed to foreigners, and some aspects of prostitution (e.g. stripping, pimping) that follows them. But the nightlife goes beyond the tourist zone; even the University Belt around Sampaloc has a vibrant nightlife scene with an abundance of beer houses, clearly targeted to students despite zoning restrictions that prohibit their establishment within the radius of schools and universities, and it is not uncommon for some groups of uniformed students, commonly boys, to sneak out of campus and hang out during class hours along with grown-ups seeking a drink and scantily clad women.
The legal drinking age is 18, the age of consent is 12 as of 2017, and students in uniform, even those already at the legal drinking age, are prohibited from going to any bar and nightclub during school days. Manila police raid watering holes for routine checks for prostitutes (in girliebars), and young patrons and uniformed students (in beer houses and night clubs). Adult locals must present an identity card or any other valid government-issued photo ID, while foreign travellers must always bring a passport (or a photocopy of it) as police raid drinking establishments to check for expired visas. Students in uniform must risk disciplinary hot water if caught.

Slums and rough areas
Manila has its notoriety for slums and seedy communities.
Tondo, while it has a diverse culture, can be just as dangerous, with its history of violent crimes led by gangs; it is considered the gang capital of the Philippines. Many residential areas are just as rough as Tondo, of note is the San Andres Bukid district to the southeast. Both are some of the largest slum communities in the Philippines.
A walking tour can just lead you to a rough area. Nuisances that impedes a pleasurable walking tour are dirty and malnourished children who freely use the streets as their playground, manholes that were left open (or probably its cover stolen to be sold as metal scrap), dog feces, uncollected garbage, undisciplined cars and mostly jeepneys weaving in and out of the lanes as they pick up passengers, and political billboards.

Public demonstrations
Areas of Manila, the Mendiola Bridge in San Miguel and the US Embassy in Ermita, are hotbeds for public unrest, and they are frequent venues for large public demonstrations. Leftist groups are the most notorious for causing public unrest; peaceful protests in those place can turn violent, with protesters clashing with anti-riot police. Always be informed by tuning into the local news and avoid joining demonstrations. Philippine immigration laws prohibits foreigners from joining any protests, and there is the risk of getting injured when demonstrations turn violent.

Stay healthy
Manila Social Hygiene Clinic. 208 Quiricada Street Santa Cruz (in front of San Lazaro Hospital). Free STD and HIV testing and treatment. Monday - Thursday 8am - 3pm.
Go next
Within the metro
You may take day trips to Manila's neighbors next door.
Makati – Bustling skyline, classy shopping and a vibrant nightlife.
Pasay – While it is just another chaotic suburban neighbor, Manila's "tourist belt" extends to areas built on land reclaimed from Manila Bay. It houses Ninoy Aquino International Airport, so you can take some time before going onto an onward flight.
South Luzon
North Luzon
Routes
For rapid transit routes, consult the district guides. More detailed routes of numbered highways can be found on the district pages.