Manipur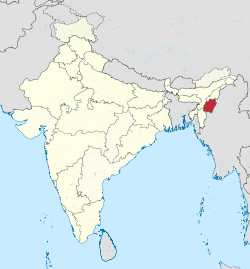 Manipur
is a state in
North-Eastern India
. It is bordered by
Assam
in the west,
Nagaland
in the north,
Myanmar
(Burma) in the east, and
Mizoram
in the south.
Regions

Manipur is broadly divided into plain districts (Imphal East, Imphal West, Bishenpur, Thoubal) and hill districts (Ukhrul, Tamenglong, Chandel, Churachandpur, Senapati).

Cities
— the capital city of Manipur state


(Bishenpur) — a district


—


— Ukhrul/Hunphun is a small town in Ukhrul district, the home of the Tangkhul Naga. It is the administrative headquarters of the Ukhrul district.


— Start of the Trilateral Highway aka Asian Superhighway towards Thailand

Other destinations
— a floating park because of decomposed plant materials and part of the Lohtak Lake ecosystem. It provides the natural habitat for the endangered Eld's deer or brow-antlered deer (sangai). It is also home to a variety of mammals, birds, amphibians and reptiles.


(Shirui National Park) — located near Ukhrul, is home to the tiger and leopard and a variety of rare bird species such as the Blyth's Tragopan. The Shirui peak during monsoon season is covered with the blooms of the exotic Shirui lily flower

Get in
Travellers used to have to have an Inner-line permit, but it may no longer be required; check before you go.

See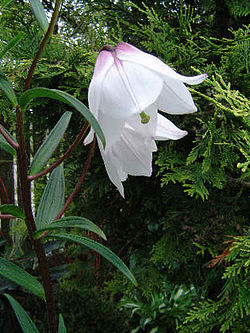 Loktak Lake, Kangla
Keibul Lamjao National Park
Siroy Lily Flowers in Ukhrul
Do
loukoipat

address: bishnupur
Eat
Chamthong or Kangshoi is a stew preparation of any seasonal vegetables with coarsely chopped onions, maroi, ginger and salt, topped with ngari, fried fish pieces (optional)and water. It's soupy in nature and is eaten with rice.
Eromba- Vegetables and potatoes boiled with a lot of red chillies or Umorok with ngari (fermented fish), dry fish and mashed together.
Morok metpa is a coarse-paste prepared with green or dry red chilies. The chillies should be boiled with ngari in a pan and then it should be mashed with salt; fried fish pieces can also be added to it. chopped onions and coriander leaves should be added to it and mixed. Other dishes are- kang-hou (various vegetables fried dry in oil with traditional spices), paknam (fish cake), nga-thongba (fish curry), ooti, pakora thongba, chagem pomba, keli chana, alu kangmet (boiled potato mashed with fried red chilli and salt and dressed with mustard oil), sana thongba which is prepared with paneer in Manipuri style, a-nganba (steam vegetables, such as pumpkin, sweet pea, carrots, and French beans).
Singju is a salad prepared with finely chopped cabbage, onions, lotus stems, tree beans, coriander leaves, sinju pan,ginger, heibi mana and lots of seasonal vegetables mixed with ngari. Boiled kidney beans are optional and the dish is seasoned with red chilli flakes, salted to taste, with red roasted sesame powder and roasted chick peas powder.
Umorok – literally 'tree chilli' u=tree; morok = chilli. It is garnished with maroi (maroi namakpi, maroi nakuppi, awa phadigom, mayang-ton, toning-khok tilhou, coriander leaves).
Stay safe
Many plains people (the Meiteis or Maytays) resent the Indian government. The hill tribes (Nagas, Kookis, Zomi/Chin) resent the Indian government, the Maytays and each other. The Zomi/Chin would like to be united in an independent state with their tribespeople in Myanmar. There are multiple competing tribal militias that extort money from their countrymen, block roads, and occasionally erupt into warfare/killing.
Imphal is generally safe (see the UK Foreign and Commonwealth Office website and similar sites), but other areas should be visited only on the basis of good local information, and the word 'disturbed' means no-go.