Manizales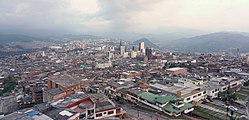 Manizales
is the capital of the Department of Caldas in
Colombia
's
Zona Cafetera
.
Understand
Manizales has a population of 431,760, and is at the western end of the Andes mountains. It is best known for being at the heart of coffee production in the region. Manizales is a beautiful university city, famous throughout Colombia for its numerous private and public universities. So students can be seen everywhere, either walking to classes along Avenidas Santander or Parallela, or sitting in the myriad cafes along Avenida Santander after class while chatting with friends and watching others strolling along the avenue. The city has a very young and vibrant atmosphere and good nightlife in the Zona Rosa.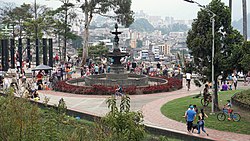 The city has a real European, small city feel to it, like being in Switzerland or the Alps. In winter season it rains a lot (almost every day, but not for too long), but you can find very dry days in the summer. In this city it's easy to see why the Spanish would choose locations high up for establishing cities, and why the later colonists from
Medellin
and
Antioquia
who founded this city chose this relatively high location to mount a new city 150 years ago. The climate is moderate and very healthy, nothing like the humidity and heat you'll find in valleys down below!
The city is also famous for having 8 separate micro-climates, depending on which elevation and barrio you're in. For example, it's possible in just 10 minutes to go from a spot that's cool and foggy (for ex. the
Chipre
district that is higher up and overlooking the valley floor below) to one that is warm and balmy (like
La Linda
district).
Get in
By plane
La Nubia Airportreceives domestic flights of Avianca, Aires, ADA airlines. There are non-stop flights to Medellín and Bogotá. It features WiFi access to the Internet from almost every location.
Taxis are regulated, reasonably priced and safe from the airport. A taxi ride from the airport to the center takes approximately 20 minutes, and can cost US$5.
By bus
Manizales Bus Station (Terminal de Transportes) is a modern facility located next to the lower cable car station. The cable car can take you to the city centre for COP$1900 (great views). Shared taxis to Chinchina cost COP$3000 per person and take about 40 minutes. Service in the 'upscale' buses is very good and they are very comfortable. Pick the most expensive service (just a couple of dollars extra) as these buses tend to be newer and better mechanical condition.
Some common bus companies in Colombia that are found in this Terminal are:
Expreso Bolivariano Expreso Bolivariano- This company has one of the most extensive networks. Some international destinations as well.
Coomotor Mostly destinations in Southern Colombia
Get around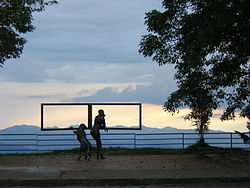 There is an extensive network of busses running around Manizales connecting most parts of the city. Minimum Cost is COP$1,950 (for one way trips). 3 miles main Avenida Santander, including the numerous neighborhoods (barrios) and surrounding barrios, use caution when visiting lower-income barrios (as you should have in any other city). Types of buses (to travel in the city ranges from COP$900 to COP$1,300) range from large buses to smaller vans, and Willys jeeps are also available for side trips to outlying areas including local mountains and valley floors, prices vary depending on destination, prices are very cheap.
Taxis are relatively cheap, make sure the meter is on. Some taxi drivers are dishonest and try to take advantage of foreigners. For example, they may use standing charges while waiting or take circuitous routes to your destination. Some don't have meters, so ask for cost in advance. If you stop along your route, the driver will reset the meter for a new fare, with you paying the sum of all the fares once you reach your final destination. It's possible to negotiate as well, but standard daytime fare is COP$2,200, and higher after 8PM and weekends, holidays, when it's COP$2,500.
As of December 2006, you could hire a taxi by the hour; the fare is COP$15,000.
See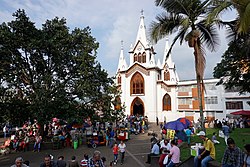 Chipre
is a district in the west of Manizales with Manizales' highest altitude. On top of a hill you find a beautiful park called 'Los Colonializadores' with some human-sized sculptures from 2002, representing the colonists who set up Manizales. The same hill serves as viewpoint as well, where you can overlook the city and beautiful coffee rich valleys down below. The view is 360 degrees, and to east, north and south are views of city that's nestled up against the western side of central Cordillera (Colombia, in the western part of country, is basically divided into sections by three large, wide mountain ranges) and to west are views of the valleys, rivers and coffee plantations down below which contain the famous coffee cities of Chinchina and Palastina (where a new, modern international airport is now under construction).
300 m away is
Parque Observatorio de Chipre
where you can find a watchtower to enjoy a beautiful view over the city of Manizales as well. This watchtower costs entrance fee, however.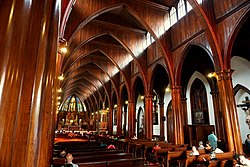 The city has two main plazas,
Plaza Bolivar
and
Parque Caldas
.
Parque Caldas
is a place for the local people to sit and to chat with friends, or to shop and to watch others in afternoon and evening. During the day you always find people selling street food, sweets or balloons. On the East side of
Parque Caldas
you find the
Basílica Menor Inmaculada Concepción
, a church, constructed in 1921. Don't miss the beautiful wooden interior and the daylight shining in through the skylights. The church is very popular among the locals.
Plaza Bolivar
contains the State Government of Caldas administration buildings, as Manizales city is also the seat of Caldas state. On the other side of the plaza stands the impressive, beautiful Cathedral of Manizales, built by people of the city. It's massive size is impressive and famous for it's elaborate gold canopy and beautiful, large stained-glass windows. The cathedral is also the third tallest in Latin America, at 113 meters. Many people visit this plaza during trips to city center to conduct personal or municipal business, as this area contains most of important government and banking buildings, and is oldest part of city.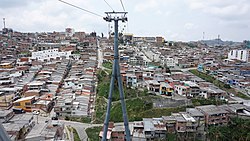 Villamaria
is a suburb of Manizales, located in the south. It has a nice market square, a relaxed atmosphere and is worth a visit. If you go there, make sure to take the Cable car all the way from Station
Fundadores
to
Villamaria
to get spectacular views over Manizales and Villamaria from a bird's-eye perspective.
The city has a large eco-park called
Los Yarumos
, named after a large tree species,
Yarumo
. It contains beautiful views overlooking the city and affords views of mountains and a volcano encircling the city above. There are many hiking trails and nature walks, and city just completed a new indoor ice skating rink, which has a great music system! Also, there is also a large conference center and restaurants.
The Universidad de Caldas has many museums (Natural History, Art, and Archeology) and a botanical garden.
Do
The city has a municipal auditorium and theatres where you can attend concerts, operas, and listen to symphonic music. There are lots of night clubs, discos, and bars that serve up lively house, trance, rock, salsa, and tango music.
The Zona Rosa is where most of night clubs, discos, restaurants and coffee bars are located, and 'Luker Plaza' is city's newest, ultra modern commercial development. It is also the safest and most exclusive area of town. Next to it is 'Cable Plaza', the city's hottest new entertainment destination. It houses a 5-floor state of the art shopping and entertainment center, housing an upscale luxury supermarket, expensive fast food restaurants, and the latest Hollywood movies.
The city offers an exciting nightlife along the main avenue Santander, where you will find many of best discos and restaurants, but there is another smaller in upscale residential neighborhood located in south part of city, called Batallon and Milan. On weekends, starting on Thursday night, this is where many of younger crowd and students like to gather. There are many fast food restaurants in this area also.
The city is also home to famous football (soccer) club, 'Once Caldas', who won the South American Championship 'Copa Libertadores'. Viewing football is a very important activity here and Once fans pack the 40,000-seat stadium to cheer for their team.
If you are a football fan you will appreciate the dedication of fans and large, beautiful stadium that sits in center of Palogrande, one of best neighborhoods in Manizales, and close to many universities.
Then there is the famous mountains surrounding the city called 'El Nevado Ruiz', with its three volcanic formations. Early in morning is best time to view it as clouds then move in a make viewing difficult, but if you get up early you won't be disappointed. The mountains contain glaciers and it snows a lot up on mountain, where the temperature can be chilly and cold, but the solitude and peace you'll experience up on mountain make all the inconvenience and difficulty in reaching it, worth it.
Another nice place, but very different one is Santagueda which its about 40 minutes from Manizales. There you will find estates of warm land, the temperature is from 23 to 28 °C for which they are many places to enjoy the sun and swimming pool. The most popular part is "la fonda" where people of all the ages enjoy the weather while drinking a beer or any type of liquor, especially the unmatured brandy Crystal (
aguardiente Cristal
) or the old Rum of Caldas (
Ron viejo de Caldas
). To come to Santagueda you can take a jeep from terminal, this alone trip costs COP$7,000.
Also, the region is famous in Colombia for its
hot springs
and resorts such as 'Termales del Otoño' and 'Termales del Santa Rosa' and 'Termales del Nevado'. Each contains not only hot pool where the public gather to soak and relax, but many levels of hotel accommodation. Prices are COP$16,000-20,000 per day, and all stay open till midnight. The 'Termales del Santa Rosa' lower and upper locations, as does the hot springs at 'Termales del Nevado.' At both locales, the upper pools are closer to water source and so have hotter water, but water temperature also fluctuates depending on which season it is, winter or summer. Worth seeing is the 'Termales del Santa Rosa' Hotel, it is a four-star hotel and very nice if you can afford the COP$150,000 price (per person), however, included is all meals and entry fees to pools, as well as use of private, exclusive wading pools. Also, both sites at Santa Rosa have incredible, breathtaking waterfalls that are lit with multi-colored lights, visiting at night is best, or if you have time, stay all day as price of entry is for all day!
Eat
The traditional food comes from Antioquia, the region to northwest and famous for the city of Medellin. Lunch-time meals usually consist of a soup made from plantain (a variety of green bananas), followed by a plate of rice and selection of fried pork, beef, or chicken, with small cabbage salad in vinegar dressing. To drink there is a natural juice drink made from mango, or if you are adventurous, try one of native fruit flavors, they are delicious but hard to pronounce. This will usually be followed by a coffee. Sometimes, you might be offered a dessert called mazamorra, which is corn and milk with local sugar, called 'panela'. They also use panella and water in making coffee that can make the coffee exceptionally sweet. Unless you are a fan of sugary tasting coffee, ask for coffee made from plain water.
The water quality here is excellent (Manizales' water is on the top 10 of best quality drinking waters in the world). It is very pure and possible to drink straight from the tap (not true in all parts of Colombia).
If you're visiting the 'Los Nevados' Natural Park ask for 'aguapanela con queso' while going there. It's a hot beverage made of sugar cane served with cheese. Also look for cheese icecream, chorizos from Santa Rosa and obleas.

Drink
Pit Stop Bar (same directions as the Pit Stop Hostel in the Sleep section of this page). This bar is below the Pit Stop Hostel and is beautifully decorated with reclaimed old Spanish Colonial style windows and doors for a spectacular entrance. Bar is also equipped with a DJ booth and DJ equipment which features local DJ talent in the area. Pit Stop also has two huge flat screen TVs with show European and American sporting events. Nightly drink specials. Call ahead to find out if we can find your particular hard-to-get sporting event at + 57 310-597-1214 or just come and mingle with other foreigners on the backpacking trail .
Bar C (taxidrivers should know to find it). Nice place to dance the night away on a mix of electronic and local music (CrossOver). It has a nice view over Manizales and is open until 5AM. Beautiful people.
POP Bar Very good place, has mixed music as BarC but it is located in a more accessible location (in the Rose Zone), and it closes earlier (2AM).
Paramo Coctales Bar in the "El Cable" sector. Frozen cocktails with tropical flavor. In Paramo you can see all the night life of the zone whilst drinking.
Cross Over Music Bar C, Vertigo, Britania, Mango Biche. Moliendo cafe, La Bombonera.
Salsa Music Salomon, Son Salome

phone: +57 312-7754617

address: Carrera 23 # 60-05 Avenida Santander

RocKKelleR is an exclusive Bar-Restaurant of Manizales city. Located in a very accessible and comercial area beside the "Universidad Catolica". It offers a very wide international choices of beers and drinks, as well as live band shows and a very warm and friendly environment. A very recommended bar you have to visit while being in Manizales.

address: Calle 61 # 23-03

Plug & Play is a rock and punk bar located at the northern end of the Zona Rosa. Sometimes there also live concerts.
Sleep
phone: +57 8714416

address: vereda Cuhilla de los Santa

offer rural accommodation, quiet close to town, easy access, city bus, taxi, particularly, ecological trails, room for events.

address: Carrera 23 # 35A 31

Three-star hotel, near downtown. Foreign exchange service, car rental, tourist travel service.

phone: +57-6-8870871

address: Calle 67# 23b

Friendly clean hostel with good kitchen and sitting area with hammocks. Great relaxing experience. Good tourist information with tour booking. WiFi, landury service, cable TV, bike rental, breakfast included. Dorm, single and double rooms available.

phone: +57 6-8703335, +57 310-423-62-06 (Cel)

address: Km 23 via la cabaña

English spoken, country side hotel

Hotel California

phone: +576 897 3487

address: Calle 19 #16-39

Inexpensive but clean and safe hotel located downtown. Located across from the Antigua (downtown) bus terminal. Friendly manager speaks English and has information about the area. An internet cafe is attached. Rooms are small but nice with modern bathrooms, full cable TV, some have views.

phone: +57 6 8811122

address: Calle 62 No. 23C-18

Located close to shopping malls, banks, coffees, and clubs. Suites with the latest technology, event rooms, food and cocktails in the bar-restaurant.

phone: +57 6 885-49-80, +57 315-479-70-70, +57 315-514-18-73

address: Carrera 23 # 60 - 13 , Avenida Santander

Nice and calm hostel within the Zona Rosa. The staff are friendly and give useful tourist information. The hostel offers a shared kitchen, laundry facilities, internet, TV/DVD-room and free coffee.

Las Colinas

address: Carrera 22 # 20-20

Located downtown. Foreign exchange service, car rental, tourist travel service.

phone: +57 300-439-7387

address: Calle 66 # 23 B 137, calle larga de Palermo o calle de los Faroles Barrio Guayacanes,

Mountain house is the first hostel that opened in Manizales. It is 3 blocks away from Cable Plaza mall with a movie theatre. To get there from the centre, take a blue bus that says "Cable - Batallon" and get off at Cable Plaza mall, walk 1 block east and then 2½ blocks south (down a very steep hill)

Hostal Mirador Andino

address: Carrera 23 #32-20

Very clean hostel with great facilities, including well stocked kitchen, and helpful staff in downtown area. Nice communal area, free wi-fi. Can organise tours. Beautiful view from the terrace. Take the cable car (from the bus station)to Centro, exit, turn right and walk about 30 metres down the main street. The hostel is on the right hand side (It has a large wooden front door with the word HOSTAL in red lettering above. You will see a couple of flags above the door, very easy to find. Dorm bed COP$20,000. Double room COP$60,000. Breakfast COP$5,000. Free coffee all day.
Go next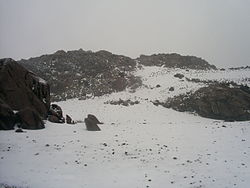 Nevado del Ruiz It's possible to hike to the snowline at 5200 m of this volcano. You can take a lechero to the park entrance (Las Brisas, COP$58,000 for non-Columbians) and from there walk all the way with a guide. There are also organized tours which take you to 4800 m to hike only the last few hundred meters and visit a thermal afterwards. Alternatively, you may consider renting a car (from COP$100,000 per day) and drive up to the 4800-m point (El Refugio) and walk from there. The road is in a decent enough condition to allow Twingos and such-like to safely complete the tour. Do not forget to bring sunscreen and warm clothes.
Reserva Ecológica Río Blanco -- Permission is required to visit this cloudforest park. From the park entrance it is a 4-km walk through the park to Fundación Ecológico Gabriel Arango Restrepo. It is possible to see 'Anteojos' bears there and hundreds of hummingbirds sipping sugarwater at the 'finca'. A few hundred meters further is a mirador with views over Manizales.
Ecoparque los Yarumos -- This is a rain forest. Los Yarumos offers several things such as, a walk along an ecological footpath and spectacular views of a forest reserve inside Manizales City. It is possible to see 26 species of birds and different types of flowers and trees. It is also possible to undertake extreme sports; rock scaling with a cave, canopy, aerial cable, rappel. As well, every day they have concerts outdoors, cinema functions, nice viewpoints of the city, lecture rooms, environment library and natural history museum.
Ecoparque los Alcázares
Chinchina -- This city is called the "Colombian coffee heart". It's possible to visit or stay at a coffee 'finca'. It's 30 minutes by bus from Manizales
Villamaria -- Known as the Colombian Garden due to the variety of its flowers and the fertility of its soil. The Roble Hill; this is a natural observatory, covered with pine trees and with nearby waterfalls that can be visited. It´s more or less a 2½-hour walk through the forest until you reach the waterfalls.
Stay safe

The city center and areas around the bus terminal are not safe at night. Visitors should be careful during the day as they would in any city center; it is relatively safe then with many good sites. Avoid the area after sunset.
The safety of bus travel in Colombia has greatly improved in recent years. However, foreigners should take precaution of not traveling to areas of unrest and travel only during the day. Do not carry large amounts of cash with you as robberies occur along some routes.