Mansfield (Ohio)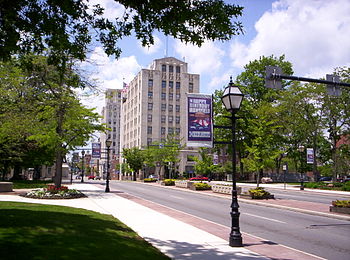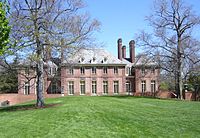 Mansfield
is a city in
Richland County
,
Ohio
,
USA
. It is home to the Miss Ohio Scholarship Program Pageant.
Understand
Named after Jared Mansfield, Surveyor General of the United States in the early 19th century, the city sits on a fork of the Mohican River in the western foothills of the Allegheny Plateau, a hilly region surrounded by fertile farmlands, and its elevation is among the highest of Ohio cities. The highest elevation in Mansfield is at the Woodland Reservoir (1,493 feet or 455 meters above sea level), which is on the southwest side of the city. The elevation of Central Park, which is on the square in downtown Mansfield, is 1,243 feet or 379 meters above sea level. Mansfield is known as
The Heart of Ohio
but is also known as the
Carousel Capital of Ohio
,
Danger City
,
The Fun Center of Ohio
and
Racing Capital of Ohio
and also the filming location of
Shawshank Redemption
.
Tourist information center
Mansfield/Richland County Convention and Visitors Bureau

address: 124 N. Main St

The Mansfield/Richland Convention & Visitors Bureau also offer free brochures and separate website at ShawshankTrail.com regarding the filming and their locations in the 1994 film, Shawshank Redemption for a self guided tour to the sites. The filming sites have been marked with an orange/white "Shawshank Trail" sign and identified in this and in the Upper Sandusky and Ashland articles.

phone: +1 419 522-0099

address: 55 N. Mulberry St
Get in
By plane
phone: +1 419 522-2191

address: 2000 Harrington Memorial Rd

Locally, Mansfield Lahm Airport is a city-owned, joint civil-military, public-use airport, on the north side of the city.
The nearest airports for commercial flights are:
By car
Interstate 71 (I-71). Mansfield can be accessed by I-71 which provides connection to Cleveland to the northeast and Columbus and Cincinnati to the southwest, ultimately running its course into Kentucky southwest to Louisville. From I-71 Mansfield is accessed via SR-13 at Exit #169 and SR-39 Lucas Rd at Exit #173.
U.S. Route 30 carries the Martin Luther King Jr. Freeway along it length through Mansfield. The freeway provides connection to Wooster, Canton and Pittsburgh to the east and Ontario, Bucyrus and Fort Wayne to the west.
U.S. Route 42 goes through Mansfield and the downtown district. It provides connection to Ashland to the northeast and Lexington and Mount Gilead to the southwest.
Ohio State Route 13 goes through Mansfield and the downtown Historic Carrousel District. It provides connection to Bellville to the south and Norwalk and Sandusky to the north. At Exit #169 of I-71.
Ohio State Route 39 goes through Mansfield and by the downtown Historic Carousel District. It provides connection to Shelby to the northwest and Lucas and Amish Country to the southeast. At Exit #173 of I-71
Ohio State Route 309 starts out at U.S. Route 30 near the Home Road overpass in Mansfield. It provides connection to Ontario and Galion to the west.
Ohio State Route 430 goes through Mansfield and the downtown business district. It provides connection to Ontario to the west and Mifflin to the east.
Ohio State Route 545 starts out at Ohio State Route 39 in Mansfield. It provides connection to Olivesburg and Savannah to the northeast.
By bus
The on 2424 O'Possum Rd, on SR-13 & I-71 (Exit #169 of I-71) in the south of town serves as a de-facto bus station for:
address: (bus stop) 7-Eleven at 2424 O'Possum Rd

Travels primarily on Interstate 71 (Cleveland, West Salem, Mansfield and Columbus)

address: (bus stop) 7-Eleven at 2424 O'Possum Rd

Travels on US Hwy 42 and I-71 between Wooster, Mansfield, Mt Gilead and Columbus.
RCT #3 (South Main/Southside) bus connects the nearby Wal-Mart and the 7 Eleven store (Greyhound & Go bus stop) to downtown Mansfield.
Get around
By bus
phone: +1 419 522-4504

address: (bus transit center) 74 S Diamond

RCT operates local bus service five days a week; no service on Saturdays, Sundays or national holidays. RCT offers local bus services within Mansfield and to Ontario, Shelby, and portions of Madison Township, in Richland County on 12 fixed routes.
By taxi
C & D Taxi

phone: +1 419 756-3333

address: (dispatch office) 272 Newman St
See
The Miss Ohio Scholarship Program

phone: +1 419 522-MOSP

phone: +1 419 524-0139

address: 500 Tingley Ave

Ohio's only life-sized wax museum, with over 70 scenes and more than 300 wax figures featuring original music and narration to bring Biblical scenes to life. Also features a live Christian dinner theater and other attractions.

Bissman Building

address: 193 N Main St

Peter Bissman built the Bissman Building in 1886 for his expanded wholesale grocery store. In the early 1930s, residents of Downtown Mansfield would wake up to the rich aromas of the store's personal coffee blends and return home to the smell of roasting peanuts. The building possesses an early Romantic Gothic style that closely resembles the Ohio State Reformatory. Both were designed by same architect, built the same year and both are believed to be haunted by spirits. In Shawshank Redemption the exterior shots served as the Brewer Hotel halfway house where Brooks and Red went to after their release from prison. It also served as the offices of the Portland Daily Bugle in the film where the editor received the warden's accounting ledgers accompanied by a letter explaining the warden's shady activities. The room where Brooks & Red stayed in was filmed back at the Mansfield Reformatory. It is vacant and believed to be haunted.

address: 29 Park Ave E

Seen in The Shawshank Redemption, this 2-acre park features a playground, gardens and a gazebo which still functions as a city park for all. In Shawshank Redemption, Brooks sat here to feed the pigeons in hopes of seeing "Jake", a crow he reared while in prison. The bench where Brooks sat on is marked with an orange/white "Shawshank Trail" sign.

phone: +1 419 522-0211

address: 900 Park Ave. W

47 acres of gardens on former estate, a favorite spot for orchardists, gardeners and photography.

Mansfield Reformatory Preservation Project

phone: +1 419 522-2644

address: 100 Reformatory Rd., (just off SR 545)

The cornerstone for this building was laid in 1886. The Reformatory has been closed as prison since 1990 and the building is being preserved. Scenes from several movies such as Shawshank Redemption (1994); Air Force One (1997)'; Tango & Cash (1989); Escape Plan 3: The Extractors (2019), amongst others have been filmed there and other activities and tours take place throughout the year.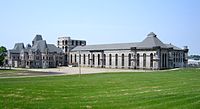 phone: +1 419 892-2784

address: 4050 Bromfield Rd, Lucas OH

In 1976, Malabar became an Ohio State Park. Dedicated to perpetuating Bromfield's farming philosophies, preserving the Big House artifacts, providing a place where visitors can explore life on the farm and beauty of nature. The following are some historic places of interest within the park, a couple of which were filming locations for Shawshank Redemption in 1993 (the marker is at Bromfield & Pleasant Hill Rd, the main entrance into the park from the north):
"Big" HouseA 32-room house Western Reserve style house built in 1939 Pulitzer Prize-winning author Louis Bromfield who lived there till his death in 1956. He wrote many of his books, attracted film stars, artists, politicians, writers, and conservationists. Bromfield also hosted Humphrey Bogart and Lauren Bacall's wedding and honeymoon at Malabar Farm in 1945.

Ceely Rose HouseThe Miller's house, mentioned in the Pleasant Valley collection of ghost stories, was the 19th Century home of a young, mentally challenged girl named Ceely Rose. In 1896, Ceely Rose murdered her three-person family by poisoning their food with arsenic. Annually in October, the Ceely Rose Play is performed in the park's timber frame barn, as part of a ghost story trilogy. The other two plays are Phoebe Wise and Louie. In 2014, an episode of Ghost Hunters was filmed at the Ceely Rose House

This authentic, rustic log-cabin style home was built in the 1940s by Bromfield's neighbor, Jim Pugh, within the modern-day park. The cabin is available for rent, for weddings, reunions, company holiday parties and other private gatherings. It was used in the opening scene in Shawshank Redemption, in which Andy Dufresne's (Tim Robbins) wife and her lover had their last rendezvous (before being murdered) while Andy sat in his car with a gun on his lap and getting drunk.
Used every spring during the Maple Syrup Festival when the maple sap is boiled into pure maple syrup and sold at the giftshop.
Location of the park administration, museum, educational exhibits, guided tours, library, gift shop, restrooms and a conference room for rent.

"Shawshank Tree"

The white oak tree became a major tourist attraction following the filming of Shawshank Redemption. In the film the tree is in a hayfield "near Buxton", where Red (Morgan Freeman) went to find the box containing a letter and some money Andy had left for him after Red's release. A lightning strike cut the tree in half in 2011, and it toppled over in 2016 in a windstorm. The tree stood on private land across the road from Malabar Farm State Park so whatever is left of it can only be seen from the main public road. It's located across the street from the main entrance into the park along Pleasant Hill Rd.
The following are a couple of sites along country roads 2 mile south of Malabar Farm State Park near the town of Butler that were additional filming locations of
Shawshank Redemption
that may be of an interest to movie buffs. The locations are marked with an orange/white "Shawshank Trail" sign.:
Towards the end of the film Red was dropped off here by a pick-up truck where he walked towards Buxton to find the box Andy hid for him.
Second to the last scene where a bus is seen leaving town with Red on board going towards Ft Hancock, TX. The bus went north on SR-95 from Hagerman Rd for the filming. The last scene and end credits where Red (Morgan Freeman) and Andy (Tim Robbins) met again as free men on a beach in Zihuatanejo was filmed at Sandy Beach National Wildlife Refuge in St Croix, USVI.
address: 5127 O'Possum Run Road

Warren Rupp Observatory is one of the world's largest amateur-operated telescopes. It is nestled in a pastoral setting that boasts some of the darkest skies in the state. The Rupp Scope and the Richland Astronomical Society dedicate themselves to public awareness of astronomy. Public Nights are held on the first Saturday of each month, from March through November and special programs are offered on alternative weekends. If weather permits, you can look through the big telescope and smaller ones that people bring.
Do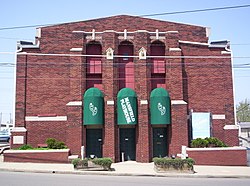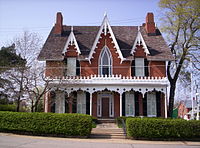 Annual events
Learn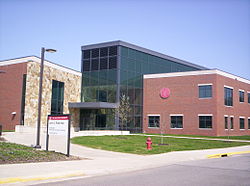 Buy
phone: +1 419 529-8152

address: 1200 Rock Rd

Alpaca Meadows Farm & Fiber Studio is a local alpaca farm that offers alpaca products including yarn, fiber, and fiber art equipment. They also host various events, including tours and art classes.

Historic Carrousel DistrictFeatures eateries and coffee shops, small antique, craft and gift shops and more. It is what turned the downtown around.
Carrousel Antiques

phone: +1 419 522-0230

address: 118 N Main St

Open today as a boutique shop where you can find a variety of antiques, decor, furniture, and other upscale resale items. It was a filming location of Shawshank Redemption where Red came upon a pawn shop window offering guns and compasses. Red was tempted to buy a gun but instead he bought a compass which would later help him find the red box Andy hid for him in a 'hay field near Buxton'.
Eat
Bakeries
Buckeye Bakery Inc.

phone: +1 419 522-2341

address: 21 E. 4th St

Buckeye Bakery Inc.

phone: +1 419 589-5174

address: 866 Ashland Rd

Schneider's Olde World Bakery

phone: +1 419 522-2212

address: 146 Orange St

phone: +1 567 231-9709

address: 105 N. Main St

Very nice and friendly bakery . You can eat in or have baked goods delivered. Cookies, pretzels, scones, cake, etc.
Grocery stores
phone: +1 419 522-6331

address: 660 S. Diamond St

KrogerThree stores in Mansfield. Ask for discount card.

KV Market

phone: +1 419 709-9235

address: 359 W 4th St

When Shawshank Redemption was filmed in 1993, this location was the E&B Market. It has since undergone extensive renovation and is once again home to a full-service supermarket offering fresh produce, meat, deli and hot foods located near downtown and more convenient for travelers staying closer in town. Once paroled from the Shawshank Prison, both Brooks and Red struggle to adjust to life on the outside while bagging groceries at the Food-Way.

phone: +1 419 747-8364

address: One store in Ontario at 1355 N. Lexington-Springmill Rd

Ask for discount card. There's also a Starbucks, CiCi's Pizza, Game Stop and a IHop Restaurant in separate buildigs along the south end of the premises on Walker Lake Rd in separate buildings.

Walmart Supercenter

phone: +1 419-756-2850

address: 2485 Possum Run Rd.

Walmart Supercenter

phone: +1 419-529-2950

address: 359 N. Lexington-Springmill Rd., Ontario
Restaurants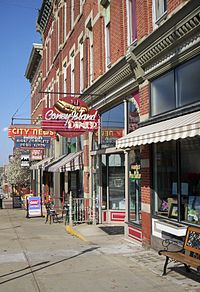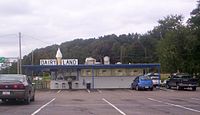 Asian Buffet

phone: +1 419 774-1689

address: 1296 Lexington Ave

Athens Greek Restaurant

phone: +1 419 524-5620

address: 41 N. Main St

City Grille and Bar

phone: +1 419 709-9199

address: 37 E. 4th St

Coney Island Diner

phone: +1 419 526-2669

address: 98 N. Main St

Coney Island Diner is Mansfield's oldest restaurant and is famous for its coneys and pea salad. The downtown eatery has been around since 1936 and has become famous among filmmakers and politicians.

phone: +1 419 525-1406

address: 20 South Park St

Dairy Land

phone: +1 419 525-2168

address: 800 Springmill St

The drive-in restaurant has been serving Mansfield since 1947 and its menu serves ice cream, sundaes, shakes, sodas (Pepsi products), fries, burgers, hotdogs, coneys, chicken and more. When you arrive at Dairy Land, you just park and one of the servers will help you in taking your order. Before you go, you may want to ask for a menu (a yellow paper menu full of good food and ice creams with prices listed) to take with you so you know what to order on your next visit. They are locally famous for their excellent shredded chicken sandwiches.

El Campesino Restaurante Mexicano Cantina

phone: +1 419 522-7226

address: 80 W. Hanley Rd

This Mexican restaurant with the best combination platters around is known for their fajitas, quesadillas, enchiladas, tacos and burritos. El Campesino also has a full bar that serves Margaritas,flavored margaritas and daiquiris, domestic and Mexican beer, wine, and mixed drinks.

Empress Express Chinese Cuisine

phone: +1 419 524-4200

address: 1041 Park Ave. West

Fork & Fingers Fine Mexican Food

phone: +1 419 526-2321

address: 54 Park Ave. West

Mansfield Restaurant, Southside

phone: +1 419 756-0479

address: 948 S. Main St

Mansfield Restaurant, Westside

phone: +1 419 529-8238

address: 1090 Park Ave West

Rancho Fiesta

phone: +1 419 774-1774

address: 1360 S. Trimble Rd

Mexican restaurant that serves authentic Mexican cuisine and cantina.

phone: +1 419-525-3462

address: 180 Lexington Ave

phone: +1 419 522 2211

address: 103 N Main St

Friendly local pizza place.
Drink
There are plenty of choices for alcohol. Most grocery stores carry it, as well as the gas stations, drive-throughs and convenience stores.
phone: +1 419 528-0050

address: 1400 W. 4th St

Cornerstone Bar & Grill

phone: +1 419 522-5523

address: 586 Park Ave. E.

Cornerstone has some of the areas best talented dart throwers. If you want some competition, then this is the place to go, plus they have $1000 Blind draws on a regular basis.
Fresh Apple Cider This area is to apple cider, what Florida is to orange juice. In the fall, through late spring, fresh squeezed, unadulterated cider flows freely at the local orchards. Some freeze it for year around use. (It only makes it sweeter).

Good Fellows Pizza & Sports Pub

phone: +1 419 529-2499

address: 1349 Park Ave. W.

Kosta's

phone: +1 419 529-3844

address: 924 W. 4th St

Lew's Tavern

phone: +1 419 589-9600

address: 1188 Park Ave. E.

Live music every Wednesday night, D.J. Tuesday, Friday and Saturday, darts every Thursday night.

Martini's on Main, Taverna e Pizzeria

phone: +1 419 775-5936

address: 108 N. Main St

phone: +1 419 522-1342

address: 22 S. Park St

phone: +1 419 522-2552

address: 131 N Diamond St

phone: +1 419 522 1521

address: 105 North Main st

Great coffee. Great people. Great atmosphere.
Sleep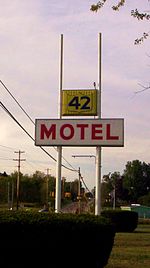 Stay safe
The non-emergency number of the police department is 419-755-9724.
Connect
Cope
Hospitals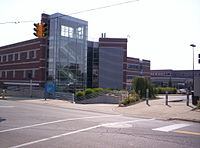 Gym
Laundromat
Library
Newspapers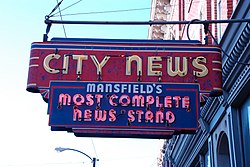 Go next