Mantralayam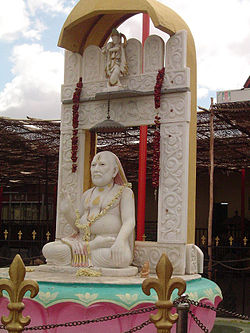 Mantralayam
is a town in
Kurnool district
in
Andhra Pradesh
.
Understand
Mantralyam is a Hindu religious place where the Moola Brindavanam of Sri Guru Raghavendra Swamy is located.
Sri Guru Raghavendra Swamy (1601-1671) was an influential saint in Hinduism. He advocated Vaishnavism (i.e. worship of Vishnu as the supreme God.) and Dvaita philosophy advocated by Sri Madhwacharya. He is considered to be a reincarnation of Prahallada, the devotee who was saved by Vishnu, in his avatar of Narasimha. Shri Raghavendra Swamy is said to have performed many miracles during his lifetime and is believed to continue to bless his devotees to this day and will continue to do so.
The town is located in Karnataka border of Andhra Pradesh on the southern bank of Tungabhadra river. Majority of people here are conversant with both Telugu and Kannada languages. You can also find people speaking Tamil.

Get in
Mantralayam is around 250 km from
Hyderabad
, the journey from Hyderabad takes about 6-8 hours by road. It takes about 10 hours by road from
Bangalore
.
To reach Mantralayam from Bangalore, KSRTC has introduced a new bus called "Vaibhav". It is similar to "Rajahamsa". Apart from these,there are Volvo buses ("Airavat") as well.
If you are driving from Hyderabad, you need to take the NH7 - the highway to Bangalore and take a diversion at Jadcherla. Various state roads will take you to
Mahboobnagar
and
Raichur
in Karnataka.
Mantralayam is around 600 km from
Chennai
. It can be reached through the route of Chittor. It is around 650 km from
Mangalore
. By road, one can take private buses from Mangalore to
Bellary
and from Bellary one can get ample number of KSRTC buses to Mantralayam. The journey takes almost 15 hours.
The nearest rail head is Mantralayam Road. It lies on the
Mumbai
-Bangalore,
Delhi
-Bangalore and the Mumbai-
Chennai
train routes. Regular rail service is available for this route. Apparently, many trains like Karnataka Express and Rajdhani, stop at Mantralayam Road to refill water, even though the station is not on their official list of stops. Mantralayam is a technical stop for all long distance trains going through the Mumbai-chennai, Mumbai-chennai, and all towards the down south routes . Trains stop there to fill up water, since The station is jst near the tungabhadra river, This is the only source of fresh drinking water on the entire 900 km route. Even if the train doesn't have a scheduled passenger stop, but it has to stop for refilling there water for passenger compartments. It a reliable source.
There is one train that goes from
Hyderabad
Deccan station to Mantralayam Road
en route
Tirupati
. Mantralayam Road is about 16 km away from Mantralayam. You can travel to Mantralayam from Mantralayam Road station by private Jeeps, taxis, autorickshaws or public bus. Approximate cost of travel per person is ₹50 for private transport and ₹10 for public bus.
Get around
The place is small enough to be covered on foot. If you drive into the temple complex, there is a charge of ₹15 for parking. The collection of parking charges is inconsistenly done, however. Rickshaws are available all over the place.

See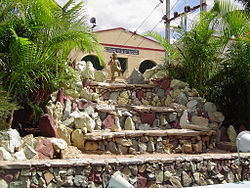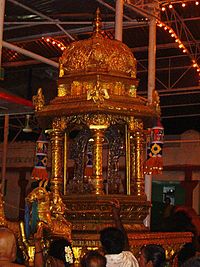 Raghavendra Swamy templeDressing up shows respect. Men are expected to wear dhoti to enter the religious areas. Women should wear a sari; a salwar kameez may be judged too informal. For some things, you may need to buy a ticket in advance. Food is offered for sale in the evenings.
The temple and "Mutt" complex is the main attraction here, but most people here are believers, not sightseers. If you go in the evening on special occasions (it is a regular event around 8PM), you can see chariots carrying the deity being drawn around the temple and the temple elephants paying obeisance to the deity. It is quite a spectacular sight. There are three chariots, one plated in gold, the other in silver and the third in sandalwood. Behind the temple the Tungabhadra river flows, which is also worth seeing.
Before entering the sanctum sanctorium of Mutt, you are advised to take a bath (or at least wash your feet) on the banks of Tungabhadra river (or at the tap in front of the mutt). Have the darshan of Manchalamma, the goddess who blessed the place for Shri Raghavendra Swamy's Vrindavanam. Then, you need to enter the sanctum of mutt through the queue complex in front of mutt. If you are lucky enough and there's no rush for the darshan, you can enter the sanctum directly (of course, you have to bear with queue of smaller length). After the darshan, you can quietly move around the sanctum chanting the stotras of Sri Raghavendra Swamy or simply chant OM Sri Raghavendraya Namaha.
If you are offering sevas exceeding ₹50, you are required to assemble in the seva hall on the right side of the sanctum before 8AM. Hence you are required to purchase the seva tickets the previous day. Please note that the seva timings might vary or sevas might be cancelled on auspicious days like Rama Navami, Madhva Navami, Aradhana days and on the days of eclipse. Parimala prasadams are unique kind of prasadams prepared and offered to deity in Mantralayam only which are available in the counters outside the sanctum.
Mass feeding of meals takes place in a large dining hall on the left side of the sanctum during afternoons. During nights you can purchase food items like puliogare, pongal from Annadaata counter in front of the mutt by paying a small amount. A new scheme is introduced with the offerings from one of the devotees. During night (sometime after 8PM), outside the temple, they provide two different rice items (rice bath, curd rice) which each plate of rice costs ₹2. The quantity and the taste are good. Two plates will be sufficient for one member.
Eat
Good food is available easily and at affordable places. Please take care, as the cleanliness is missing on various eating places.
Hotel Pannaga, +91-8512- 279460
SR Tiffins - Fast food beside the temple (front view) is good, especially for breakfast & dinner.
Sri Udipi Krishna Hotel on the main road. This hotel is quite good.
There's also MTR just opposite to the temple entrance, but there are no chairs to sit. One has to stand and eat. But the taste is very good.
Sleep
Lodges & hotels are available in Mantralayam easily but it is always better to book in advance especially if visiting during weekends, Thursday and public holidays.
Devasthanam (Temple authorities) - provide cottages (₹200-750) to those who are performing special sevas.
Hare Sreenivasa Lodge, +91 8512 279446, +91-9440591707.

Holiday HomeA decent lodge

phone: +91-8512-255461

AC and non-AC deluxe rooms
Pankaja Lodge A/C and non-A/C rooms available. +91 8512 280077, +91-9885247362, +91- 9885247216

Pannaga International

phone: +91 8512279460,+91 8099399175

A/C and non A/C rooms.
Pavamana Udupi Residency for AC and non-AC deluxe rooms, +91-(0)8512-280062.
Prasuna Lodge, +91 8512 279594.

Sreekar Paradise

phone: +91 9985812472

A/C and non A/C rooms.

Sreeniketanam

phone: +91-9885247362, +91-9885247216

Sri Guru Sarva Bhouma Lodge, Mantralayam Office - 08512-279898
Sri Upendra Theertha Nilayam - Sri Raghavendra Swamy Mutt +91 8512 280071, 09440591611, A/C rooms from ₹750.
Go next