Maplewood (New Jersey)
Maplewood
is a town in
Essex County
.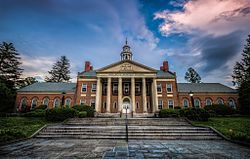 Understand
Maplewood is a bedroom community of Manhattan located in Essex County. Known for its thriving economy and beautiful small village, this is a place you'll definitely want to stop by if you have the opportunity.

Get in
There are multiple ways to get to Maplewood.
By train
Maplewood Station is located in Maplewood's downtown business district on Maplewood Ave. It is served by the Morris and Essex Line, with NJ Transit trains coming from
New York City
's Penn Station and
Hoboken
.
By car
The most common exit to Maplewood is exit 50B on Interstate 78. This can be reached from the Garden State Parkway and Interstate 95 (New Jersey Turnpike).
Get around
There are two commercial districts in Maplewood:
"The Village" is to the immediate north of the railroad station with stores and restaurants along the Maplewood Avenue strip and some side streets.
Springfield Avenue, a thoroughfare that runs from Springfield, NJ to Newark and includes in the Maplewood section stores and restaurants.
See
Memorial Park, A large park with multiple sports fields, playgrounds, ponds and rivers located just outside of the business district. Many people come to this park on nice days to enjoy the weather, have picnics, walk dogs, etc. The park hosts many different events on days such as the Fourth of July, Memorial Day, etc. Including Maplewoodstock, an annual two-day town event. There is no fee to enter the park.
South Mountain Reservation, a nature reserve managed by Essex County that covers parts of Maplewood, as well as Millburn and West Orange. Trails and paved walking paths cover large areas of the reserve, and sightings of deer, wild turkey, and other wildlife are common.
Buy
Maplewood Village has a no-franchise ordinance.
Maplewood is known for its many small boutiques. These stores are unique to the town and sell merchandise that usually cannot be purchased in malls. Sweatshirts, t-shirts, shorts etc., can be purchased at the train station, 145 Dunnell Rd.
Branching off from Maplewood Ave. are many quaint shops, such as:
Perch Home

address: 9 Highland Place

Which sells interesting household items as well as jewelry, kitchenware, art and more.
Little One & Co., a great clothing store for gifts for children from infants to elementary schoolers. Stop by for some great stuff, plus some toys for children to play with while you're there!

No. 165

address: 165 Maplewood Ave

With cool wares including clothes, jams, chocolates, glassware and more!
Eat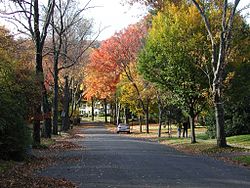 The Village Trattoria

address: 2 Inwood Place

This is a local family run Italian restaurant. The restaurant features a wide selection of pizzas as well as having a sit down dining area. Prices range from $2 for a slice of pizza, to $19.95 for seafood specials. The service is fast and friendly. Located in the heart of Maplewood Village, with both indoor and outdoor seating.

Maplewood Deli

address: 149 Maplewood Ave

A casual deli with take out and dine in options. Prices range from $4.95-$10.95. Menu features basic deli food as well as "house specialties". Located in downtown Maplewood.

Lorena's

address: 168 Maplewood Ave

A Zagat rated French restaurant. Must have a reservation (make a few weeks in advance). Prices range from $11.00-$48.00. Indoor and outdoor seating available.
Drink
St. James Gate

address: 167 Maplewood Ave

A local "Publick House" located in the business district in Maplewood. "The Gate" serves lunch and dinner and at night the bar life begins. A wide variety of beers and wines are available. "The Gate" has a laid back atmosphere with live music and entertains all age groups, as well as great food for everybody.

Highland Place

address: 5 Highland Place

Fun atmosphere for a night on the town with your friends. More of an adult-oriented place, live music is scheduled many nights. Be sure to check ahead to reserve a night for music!
Go next