Mar del Plata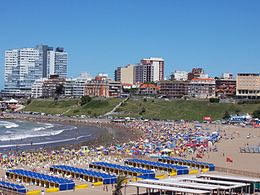 Mar del Plata
is on the southwest cost of the Argentinian sea. It is the second most touristic city in the country after Buenos Aires. You can go to Mar del Plata by plane, by bus, by train or by car. It is 400 km from Buenos Aires approximately. You can take route 2 if you are driving, but you must pay toll.
There are magnificent beaches, wide bays and wonderful cliffs, which alternate in 47 km of coast line. At night you can go to the theatre and then choose a good restaurant. If you want to dance, the city has several discotheques in the 'Playa Grande' area.
During the day, you can walk along the coast and you can walk to the fort too. Walking and going shopping on Güemes street during the night is nice too. You can walk around the famous neighborhood called "Los Troncos" as well. You can spend the day in Sierra de los Padres and, of course, you can enjoy the beach!
In the summer months, December through March, the beaches are crowded with Porteños on holiday. Outside the summer months, the city is much less crowded. However there are 700,000 residents who live there year round. It is a very large city with lots to do, and not only in summer months.
Understand
Climate
The most popular time to come to Mar del Plata is from December to March. In January and February there are a lot of tourists and the weather is hot. People visit the beaches, theatres, casino, port, aquarium, museums and restaurants. It is also a good place for fishing and for sports. The weather in Mar del Plata is variable. In summer it is hot and windy, in the evenings often the temperature lowers and the people need shelter. In autumn and spring it is warm and humid. In the winter it is very cold and very humid.

Get in
By air
Aerolineas makes the 90 minute flight several times a day during the high season.

By train
Three trains daily arrive from Buenos Aires. The train station is about 2 km from the boulevard.

By road
Buses are faster than trains, and incredibly clean. It's 5.5 hours from Buenos Aires (Retiro Station) and costs 1275 pesos (about 35 U$D in January 2019).
Manuel Tienda Leon Colectivo service is available at the Buenos Aires Airport for around 1000 Pesos one way (around 25 U$D as of January 2019). The trip is 5 hours through the Argentine Pampas and scenery wise it is very boring - bring a book or a pillow.

Get around

Taxis are very cheap,is about 5 USD each 4 kilometers (year 2010) take into account that Argentina has +/- 20% annual inflation, prices change in ARS but remain the same in USD. Cabs drivers are plentiful, and pretty honest.
There is a local bus network very large, you need a bus card in order to use it, it can be bought in terminal bus or in bus office (usually in downtown) and reloaded in drugstores.
Another transportation service is Remisse, is like a cab with a discount, you have to call "the remiseria", a sort of small terminal with an operator at phone.
Almost for sure, no one speaks English, so be ready to make signs or talk in Spanish with the drivers.
If you want to walk, Mar del Plata is perfect, it has 28 kilometres of coast with lights and pavement and is pretty safe.

See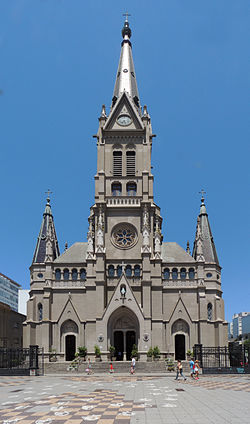 The main activities are the port, fishing, tourism and textiles. The main activities in the port are fishing, oil ships and grains. The city has a new passenger terminal for cruise ships and a naval submarine base. It has a lot of industries such as horticulture, construction and mechanical industries.
Mar del Plata has a sports complex, which co-hosted the World Cup in 1978, where the Pan American games in 1995 were based and where the final of the Davis Cup was played in 2008.
The city coastline extends for over 28 km. The most popular beaches in Mar del Plata for tourist are primarily those located in the south of the city and downtown.
Museo MAR Av Felix U. Camet e/Lopez de Gomara y F.Acosta.Monday, Tuesday and Thursday 10am- 6 pm.Friday, Saturday, Sunday and Holidays 10am-8pm. Wednesday closed. museomar.gob.ar. Free entrance
Aquarium Mar del Plata Av. Martinez de Hoz 5600. +54 223 467-0700.
Museo Municipal de Ciencias Naturales Lorenzo Scaglia Av. Libertad 3099 (at Plaza España). Natural science museum and aquarium featuring local sea life. AR$2 adults, aR$1 for children under 11. Open Monday - Friday 9am - 5pm; Saturday- Sunday and holidays 4pm - 8pm.
Museo Archivo Histórico
Zoológico El Paraíso Ruta 226 km. 16 (C. de Acceso a Sierra de los Padres) +54 223 463-0347. 300 species of exotic and domestic animals roam free (with a few exceptions) over an 8 hectare nature park. Night and day tours available.
Banquina de Pescadores
Historic homes Mar del Plata is chock full of Victorian summer homes, including some very eclectic choices in design and materials. Try strolling around Barrio La Perla or the waterfront Patricio Peralta Ramos Boulevard.
Museo del Hombre del Puerto Cleto Ciocchini
Do
Get to the beach early to beat the crowds, and once you are there do not be offended by the Argentinian tradition of kicking sand on your blanket and face :)
Tango shows at Teatro Colón are fantastic and at only 15 pesos for Buenos Aires dance companies, they are a steal.
Enjoy mate, the very bitter and caffeinated but addictive beverage. Buy a mate gord, thermos, yerba and ask for agua caliente almost anywhere. No one in MDP leaves home without their mate.
Make the trek to Waikiki beach on the outskirts of town. It's a more relaxed environment than Punta Iglesia or Playa Grande and provides enough room to spread out. They have an excellent surf school there.
Capurro Helado, near Punta Iglesia, is always great on a hot day after cooling off at the beach. Some of the best ice cream in the world.
Take the 221 bus south of the city to hit the nicest beaches, such as Playa Serena.

Go window shopping on Güemes. You'll find the trendiest fashion and some nice cafés to sit and sip coffee while you rest your feet.

Visit the Casino. Even if you don't like gambling, the building is just beautiful - from a different era. The nice promenade along the coast is a great place for exercising or just enjoying a nice view of the sea and the city. You'll find the Casino and very traditional Hotel Pronvincial as you walk on it.

Go see a show! Mar del Plata has a wide range of theatre shows to offer. Get your tickets as soon as you arrive 'cause they run out fast!
Buy
Avenida Juan B. Justo
Diagonal de los Artesanos
Calle Guemes
Peatonal San Martín
Eat

The most important restaurants are Trattoria Napolitana, Taberna Baska, Mando, Casimiro Restaurante, Parrilla La Gringa, El Jarrillo, Papá Gino; in the port: Sarasanegro, Sur Restaurante, Justiniano, La Casa Vieja, Alito and the others, when you can eat seafood.
In the Avenida Costanera where is the Casino and the San Martin Street, there is a pedestrian street. The modern city center and shopping area is on Güemes Street, where there are restaurants, bars and shops. In this city you can enjoy yourself day and night, that is why it is called "The happy city".
Great fish. The "Puerto" of Mar del Plata is a nice zone to know and try "mariscos", "rabas" and as many possibilities as you can.
"Alfajores" (a cake sandwich with dulce de leche)are found all over Argentina, and go perfect with cafe
con leche. Many say the best are at the Havanna shops that are all around MDP. They make great gifts to bring home.
The Argentines love dulce de leche, which is a cream caramel, and put it on almost anything sweet. Medialunas (mini-croissants) and dulce de leche are a staple breakfast. Dulce De Leche Granizado Ice Cream (Helado) combines chocolate flakes into caramel ice cream. The best by far is found in the Alem section of town.
Parillas (mixed grills) are also ubiquitous and with the great exchange rate, eating steak almost every day is very possible. Sirloin Steak is referred to as Bife de Chorizo, not to be confused with the sausage of the same name. One of the best parillas in MDP is Palacio del Bife. Palacio del Bife is excellent, although pricey. Bargain bites can be found in casual restaurants, such as those found on the pedestrian strip, San Martin .
Empanadas in Argentina are great for the first few days, but once you realize that unless you plan well in advance, this is the only food you can get during the daily siesta for lunch. Bariloche on Calle Mitre has some of the best around.
After you've entered a beef coma and can't take any more steak, Amigos Del Mar sushi restaurant is the only Japanese food in Mar Del Plata. There are several oriental "Tenedor Libres" (cheap buffet style restaurants) and some trendier restaurants in Alem that claim to do Chinese or Japanese food but just don't cut it.
The most traditional place to eat in the "Happy City", as Mar del Plata is also called, is "Manolo". This low-key restaurant has three branches (one on Rivadavia street, one right on the coast, and the newest one on Alem). Food quality is great and almost anything you order is to share. Great seafood too. A very nice alternative to the pier... especially if you're on foot. You can't leave Mar del plata until you've tried "churros" from this establishment. They are the best!!! Don't expect anything fancy (tiny paper napkins and waiters always in a rush), but be sure to leave with a full, happy stomach.

Drink

Alem street is full of high end restaurants and some pubs. If what you want is to drink beer and/or some cocktails you should go to Olavarria street, near Guemes. Almost all discos, such as Bruto, Mr Jones and Quba, are located in the 'Playa Grande' area.

Sleep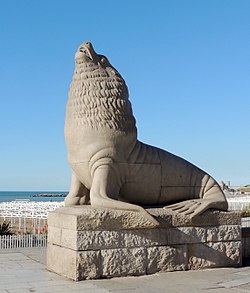 Mar del Plata boasts over 500 hotels, the majority falling into the two- and three-star category. As usual, things get cheaper the further inland you go, but you can still get a reasonable rate two or three blocks from the beach.
Budget
Hotel Ramos Mejia

phone: +54 223 495 5949

address: Entre Rios y Moreno

Hotel Galeon

phone: +54 223-4910877

address: Buenos aires 2431

Family owned hotel, helpful staff, very pleasant stay.

Hotel Mar del Mundo

phone: +54 223 493 0245

address: Catamarca 1239
Mid-range
phone: +54 223 495-6660

address: San Luis 1362

Basic two-star, four blocks from the beach.

phone: +54 223 494-0878

address: Arenales 2347

Offers quiet rooms three blocks off the beach behind the Casino. The trade off is no exterior windows. Nice lobby, friendly bi-lingual staff. WiFi in the lobby. Single ar$94, double $134, apartments starting around $300. Breakfast included.

phone: +54 223 494-1618

address: Arenales 2477

Three-star hotel with mid-range prices has a gym, a stylish lobby, WiFi and breakfast. Often booked during the high season, so call ahead.
Splurge
phone: +54 223 491-0033

A faded four star with gym, pool, spa, some rooms with views, just off the beach. Some bilingual staff. Triple AR$320.

phone: +54 223 414 0000

address: Alem 4221

One of two modern 5 star in town, or, on the edge as it's located behind the port 4 km from the casino beaches. Nice view towards the famous Golf Club and the Port. This hotel was home to George W Bush during his visit to the city in 2006. Indoor spa (AR$40 extra charge, 16 and up age limit strictly inforced), large outside swimming pool, 2 restaurants and extensive conference rooms. Some services not available outside of high season (Jan-March 1, Easter week).

Gran Hotel Hermitage

address: Boulevar Marítimo 2657

phone: +54 223 4995900

address: Av Peralta Ramos 2502. B7600JUZ Mar del Plata

This recently renovated hotel was originally designed by architect Alejandro Bustillo in 1946. The beach is right outside the hotel and very easy to access. The hotel offers high quality rooms, a swimming pool and many useful amenities.

Costa Galana

phone: +54 223 486-0000

address: Boulevar Marítimo 5725

The most expensive hotel in town, in a tower designed by renamed architect Mario Roberto Alvarez. Located across the street from trendy Playa Grande beach, and just a few blocks away from Alem street, the city´s best nightlife area.
Go next
If the crowds and thumping beats of Mar del Plata are too much for you, head up or down the coast to some more sedate coastal towns.