Maracaibo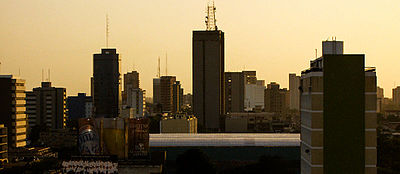 Maracaibo
is the capital of
Zulia
state in western
Venezuela
, and is the second largest city in the country after
Caracas
. It has more than 2 million people and it's famous for its typical music, big shopping malls and beautiful parks. It is called "La Primera Ciudad de Venezuela" (The Most Important Venezuelan City) because of its development.
Get in
By plane
La Chinita International Airport
Aeropostal, Aserca, Venezolana, Avior and Conviasa have frequent flights connecting Caracas and other Venezuelan cities with Maracaibo.
American Airlines flies daily to and from Miami (about 3 hours).
Copa Airlines flies daily to Panama City with connections to other cities in Latin America and the US.
Venezolana flies daily to and from Panama City and to Aruba
Aires flies daily to and from Bogota, and twice a week to and from Cartagena and Barranquilla to Maracaibo
Insel Air flies to and from Curaçao
Avior Airlines flies to and from Curaçao
By bus
Maracaibo is your arrival point in Venezuela if you take the most direct route from
Santa Marta
in
Colombia
.
Night buses go to/from
Caracas
,
San Cristobal
and
Mérida
. The cheap bus to Mérida is much less comfortable.
Get around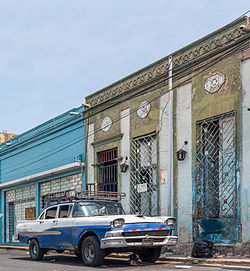 Taxi: Taxi service is generally cheaper in Maracaibo than in other cities in Venezuela including Caracas due to high offer and lower demand. Always use a taxi from a taxi service, either by requesting it directly through the phone or walking to a taxi service spot. Never take a taxi off the street, no matter how 'legit' it might look. Anyone can put a taxi sign on their car (the plastic dome is attached by a couple of elastic strings). Most businesses in Maracaibo will aid a tourist searching for a taxi so don't be afraid to ask in a McDonald's or another shop for help locating one. Hotels have their own taxi services.
Subway: It's the most modern and secure way to get around in the city. It is a new system so it has only 6 stations that connect the southwest to the center. Libertado station is 200 m north of the bus terminal (but be careful if you walk).
Bus: Mugging is very common in bus routes, general advice is, if you can afford a taxi, take a taxi. If you cannot, use common sense, do not wear watches, chains or anything that might incite muggers.
Walking: Maracaibo has a good layout and good sidewalks, caution should be taken if walking during the day because of the extreme heat and solar radiation. Extreme caution should be taken if walking during the night, it's advised to take other forms of transportation if possible.
See
Maracaibo has a nice but sterile centre, that they try to posh up with old European styled parks - not very successful.
The bridge over Lake Maracaibo. Built in 1957 over Lake Maracaibo, is recognized as one of the most impressive buildings in Venezuela. It's also the largest concrete bridge in the world.
Basilica de Nuestra Señora de Chiquinquira. In downtown Maracaibo dedicated to the apparition of the Virgin Mary to a native Venezuelan in colonial era.
Palafitos in Santa Rosa de Agua. To the north of Maracaibo, these buildings are created by native Venezuelans on top of the water with wood.
Santa Lucía. The most beautiful colonial area in the city with a European style and narrow streets.
Do
Try the local cuisine, places like:
Chop's: In Ave 10 at 65 St, with their famous tequeños and patacones.
El Budare de Juana. Located in Santa Rita avenue. Near Hotel Kristoff. Open 24/7.
Arepas Santa Rita: In Santa Rita avenue, sells arepas with an American style.
Arepas San Benito: In Santa Rita, known for their famous 'aguita de sapo' (frog water, this is how it´s called the juices that come out when the "pernil" is roasted, "pernil"= Roasted pork shoulder) arepas.
Cachapas Frank: In 72 Ave with Delicias, famous for their cachapas.
Los Dulces de Alicia In Doral Center Mall, local deserts such as limonson, dulce de leche and on.
Jog in the late afternoon/night at Vereda del Lago, a big urban park along the lake border, located in El Milagro Ave. One of the meeting places for the population.
Get in Tranvia, a touristic transport sistem that takes you around the downtown and tells you the city history. There's also a night trip with several stops in the most famous night clubs. Main station is at Vereda del Lago urban park.
Changing moneyThere is a wide gap between the official and black market exchange rates. It is illegal to advertise or publish the parallel rate in Venezuela. This makes converting the prices of goods particularly difficult.
Vereda del Lago / AquamaniaA park next to the lake with good security. It contains a waterpark called Aquamania, which is a good way to cool off in this extremely hot city.
Buy
Sambil Maracaibo. In the Ave Goajira. With A/C, security and parking. Has several national banks that operate off-hours. A food court including McDonald's, Church's Chicken, Marhaba Express, Burger King, Subway, Cinnabon, Mr Pretzel and a TGI Friday's. The biggest movie theater in Venezuela with 13 projection rooms. And clothing stores including: Zara and Lacoste.
Lago Mall. Located in the Milagro Avenue, next to the Hotel del Lago. A/C, parking and security. Has several banks, jewelery stores and a food court including McDonald's, Wendy's, Panda Express and CHOPS. Also has a movie theater with 4 projection rooms.
Doral Center Mall. In Ave Fuerzas Armadas, has A/C, security and paid parking, with a 6-room movie theater and food court.
Galerias Mall. In la Limpia, has A/C, paid parking and some security. Has an 11 room-movie theater, an ice skating ring and a small food court. Caution should be taken when visiting this mall since it's next to a 'Red zone'.
Centro Comercial Costa Verde. Old shopping center, has no A/C and no working movie theater. There is a bingo in the lower level and a Church's Chicken, Subway and Burger King in the top floors. You can also find some famous stores as Oscar De La Renta and a super market.
Mall Delicias Plaza. Has A/C, parking lot and security. It is a luxurious shopping mall in the commercial Delicias Norte avenue. Latin American designers have stores here.
Babilon Centro Sur, C2 Avenue. Has A/C, parking and security. Its principal attraction is the movie theater consider the best one in the city and the Colombian department store Exito.
Eat
Ciao, Dr. Portillo avenue. Italian cuisine in a cosmopolitan way.
Mi Vaquita, 5 July St. The best steak house in Maracaibo, very popular.
Angus Grill., Av.13 con calle 69-A. A great steak house with great cuts and side dishes.
Mi Ternerita. Also a steak house in the Aventura Mall, and now has a new location at Fuerzas Armadas avenue.
Da Vinci, 11-Ath Avenue near 5 July St. Italian.
Salon Canton, 9th Avenue with 71st. Cantonese and Oriental cuisine.
Te con Te, Bella Vista Avenue and C2 Avenue. Salads and crepes.
Zaga. El milagro Avenue in Lago Mall. Sushi and Asian food restaurant with a spacious bar.
Drink
Mi Vaquita. Mi Vaquita is a club on weekends during night. Have to get there early if you want a good table.
Mi Ternerita. The best club in Maracaibo, some say Venezuela. Excellent music, drinks, and ambience. A must go.
Zeta bar. In Bella Vista behind the Governor's Mansion. Shares the block with other bars.
H2O. Next to Zeta Bar in Bella Vista.
Crobar. At the end of Bella Vista. It's the biggest night club in the city with four different areas.
El Girasol. In the hotel El Paseo, El Milagro. A fantastic spinning restaurant that celebrates its 24 years.

Solo

address: Casco Central Calle 94 #5-82

Multifacted electroestatic rock nighclub - electronic- new rav - punk- indie-progressive-funk - house- nu jazz - minimal - maximal - electro - tech - drum and bass and more good music.
Sleep
Budget
Hotel Union. 84a calle 4 - 60. US$11 per double per night.
Mid-range
Maracaibo Suites

phone: +58 261 783-4533

US$35 a night a room. Very good service.

Gran Hotel Delicias

phone: +58 261 797-6111

US$120 a room.

Hotel Aeropuerto

phone: +58 261 787-5881

Fairly good mid-range option with a pool, restaurant, rooms have a/c. Not very close to the airport or to downtown Maracaibo, but 300 m east of El Varillal metro station.

phone: +58 261 722-2224

Calle 86-A, between Av Santa Rita and Bella Vista. Another costly option.
Splurge
Crowne Plaza Hotel

phone: +58 261 730-2700

Av Circunvalacion 2, Zona Industrial. Luxurious 5-star business hotel in the industrial area near the airport.

Venetur Hotel Del Lago

phone: +58 261 792-4422

Avenida 2, El Milagro. An aging 5-star hotel, in a much more central and commercial point.

phone: +58 261 796-1000

Av 8, (Santa Rita) and Calle 69, Maracaibo. Quite costly.
Connect
13 Subway restaurants around the city.
Sambil Mall in Guajira Avenue
La Chinita International Airport in Manuel Belloso Highway.
Go next
The bus station is 200 m south of Libertador metro station (don't walk at night). There are air-conditioned buses to most cities in Venezuela.
To Colombia
From the bus terminal, there are old American cars called "por puestos" that will take you to the bus station in
Maicao
,
Colombia
(3 hours, from there you can take a bus to anywhere in Colombia). They leave when they fill up. If you want one with air conditioning (recommended), don't mention this but just wait for one that looks a bit newer (otherwise they will want to charge you extra for it and they can be quite aggressive). On the way to the border you will pass through about 10 military or police checkpionts where you have to show your passport. If there are any illegal immigrants in your car, they will have to negotiate a bribe with each of these guards (normally US$2-10 at each checkpoint) and this will add about an hour to the journey. Amerlujo and Expresos Brasilia have direct buses to Colombia but they cost about twice as much as going via Maicao and they leave very early in the morning. Expect to take about 12 hours in total to get from Maracaibo to
Cartagena
.