Marathon (Florida)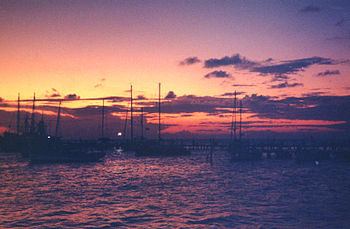 Marathon
is a city in
Florida
located in the
Florida Keys
, with the Atlantic Ocean on one side and the Gulf of Mexico and Florida Bay on the other. It is on somewhat of a long narrow island (Vaca Key). You will find all of the amenities of a small town including an excellent hospital, shopping and small airport. Mosquitos are less common than in some parts of the Keys, as they spray them. The waters are warm, clear and inviting. If you are visiting the Florida Keys, Marathon is a great choice to make your base. Marathon has more of a permanent population than some of the other Keys and a good base of services.
Get in
Marathon is located about two hours south of
Miami
and only accessed by driving South along US1, the
Overseas Highway
. There are several shuttles or private car services that can take you to your doorstep destination such as the Keys Shuttle. The town can be accessed by water, of course, and several marinas are available.
By plane
The local airport supports general aviation with a 5000' runway. Unfortunately, there is no scheduled air service to Marathon.
There is a seaplane base on Marathon Key. Travelers who fly commercially will typically fly into
Fort Lauderdale
or Miami, and drive the rest of the distance (2-3 hours depending on traffic) to Marathon. Key West airport is also an option and is only one hour South down US 1.
By boat
Boaters can reach Marathon on the Atlantic side of the Keys or Florida Bay on the Gulf of Mexico side. Specially-marked Intracoastal Waterway takes you as far as Long Key. Numerous marinas are waiting, but make reservations ahead.
Marinas
Marathon Marina, +1 305-743-5367, 1021 11 St.
Pancho Fuel Dock and Supplies, 1+ 305-743-2281, 1280 Oceanview Ave.
Shelter Bay Marina, 1+ 305-743-7008, 77 Coco Plum Dr.
Sombrero Marina, +1 305-743-0000, 35 Sombrero Blvd.
Boot Key Harbor City Marina, +1 305-289-8877, 35th Street, Oceanside
Captain Pip's Marina, +1 305-743-4403, 1410 Overseas Highway
Hawk's Cay Marina, +1 305-743-7000, MM 61 Duck Key
Key Colony Beach Marina, +1 305-289-1310, Key Colony Beach.
By bus
Greyhound Lines +1-800-231-2222 or +1 305-296-9072 Service along the route between Miami Int. Airport and the Florida Keys.

phone: +1 305 289-9997

Door-to-door service between the Keys and Miami/Ft. Lauderdale-Hollywood Int. Airports.
TransFloridian +1-877-246-4786 Luxury motorcoach service, door-to-door shuttle service, betweeen Miami Int. and Fort Lauderdale-Hollywood Int. Airports and the Florida Keys.
Get around
The best way to get around is to rent a car. The many attractions are not close together and public transportation is scarce and can be inconvenient and costly with families. The island is flat and lends itself well to a bicycle. Although there are few beach areas, the area is loaded with marinas catering to most water sports. Charters are available for all activities.
When driving near the southwest end of the Key, be aware that once you pass Knights Key Blvd, you begin crossing the Seven Mile Bridge, and there is no place to turn around for about 7 miles. Missing your turn can therefore mean a 14-mile detour!

See
Crane Point Museum and Nature Center

phone: +1 305-743-9100

address: 5550 Overseas Highway

Here you can learn about the native key inhabitants as well as native animals. There is also a simulated coral reef cave that everyone will be able to enjoy. Children of all ages can enjoy a touch-me-tank that houses different aquatic life.

phone: +1 305 289-0002

address: 58901 Overseas Highway

Learn about dolphins in a natural environment. There are many programs offered here to get participants encounter dolphins on a one on one basis or in a group setting. If you want to go to the research center for a tour, you can just show up, but if you want to participate in an interactive program, booking should be done in advance.

phone: +1 305-743-5999

address: 1 Knights Key Boulevard (ferry departure point)

A historic district on the National Register of Historic Places. This was the site of one of the work camps in the early 1900s used during the construction of Henry Flagler's Overseas Railway. Many of the original buildings still stand. Get a unique closeup view of the old Railway, which was converted to a highway in 1938, then closed in the 1980s after US 1 was rerouted.

Seven Mile BridgePart of the Overseas Highway, just south of Marathon, it is one of the longest segmental bridges in the world and spans the shallow channel between Key Vaca and Little Duck Key. The area around the bridge is one of the most popular Tarpon fishing areas in the United States. Portions of the old rail/road bridge are open to the public to allow fishing.

phone: +1 305-743-2552

address: 2396 Overseas Highway

This attraction provides educational tours through the facility letting each of its participants learn about the life of turtles in Florida. Reservations recommended, but if you don't have one, don't let it stop you turning up at tour time. There is usually room for one or two more on a tour.
Do
Snorkeling
There are many different charter boats that take groups out to the various aquatic reefs. Spirit snorkeling is one of the reputable companies that can take you to sombrero beach reef. Through this company, it is $30 for an adult to snorkel and children under 5 are free with a paid adult. If you are not into snorkeling, you can still go out on the boat and enjoy the views from the deck and chat up with the boat crew. Coolers are allowed for lunch or snacks as they are not provided for you. Reservations can be made by calling +1 305 289-0614.
Diving
As with snorkeling there are many different charter services that you can go through. Even if you are not a certified scuba diver, many of these services offer time of instruction and a chance to get acquainted with the equipment, and later on in the day a chance to go out on a dive. One of the larger companies in the area is Tilden's Scuba Center which has two locations, one of them being in Marathon at Mile Marker 49.5. Reservations and rates vary depending on what activity you want to participate in and how experienced a diver you are. For reservations or inquires call +1-888-728-2235. Open seven days a week.
Fishing
Fishing is always popular and charters are available.
Other
phone: +1 305 395-0355

The waters around Marathon are great for both beginner and experienced kayakers to explore. The most experienced kayaking outfitter in the middle Keys is Marathon Kayak. Guided eco-tours are available each day and rentals are available by the half day, full day and week, with free delivery.

Sombrero Beach

address: Mile Marker 50, Oceanside

There is free parking at this beach, so bringing a car will not be a burden or added expense. The beach and picnic area was recently renovated in 2003 and now provides an excellent picnic lunch stop for the whole families. Shady trees and warm breezes will allow everyone to relax. There is a roped off area for swimming and a nice public restroom with outdoor wash facilities. The hours are from 7AM until dusk.
Buy
Marathon is not really a shopping mecca, however this may be the spot to look for marine, hardware, grocery and other travel needs. In Marathon, if you find yourself in need of bathing suits or other sun essentials just drive down US1 which is the main highway and you will be sure to find many shops to fulfill your needs. You will find better prices and selection here than less populous areas of the Keys.

Eat
Fresh seafood is abundant, stone crab claws when in season are a great local favorite and can easily be found cooked, chilled, ready to eat and give a new meaning to
fast food
. Stone crabs only give up one claw, then are returned to the water to give another day and allow for regeneration of the missing claw. Yum. Be extra careful when buying fish and shrimp off of pick up truck vendors along the road. If you have any doubts about the freshness of the offerings, move on. Another local favorite to look for is the Key Lime pies, available throughout the area. Numerous fish houses are to be found, offering fresh seafood plates at reasonable prices, at less than fancy places. A key to quality may be the number of local automobile licenses in the parking lot. Many restaurants will also
cook your catch
, if you are fishing. The price is reasonable, they provide the side dishes and clean up the mess for you.
Hideaway Cafe

phone: +1 305 289-1554

Located at the Rainbow Bend Resort Mile Marker 58. This restaurant is on the more expensive side and would be nice for a romantic evening for two or a family dinner overlooking the ocean. Seafood, poultry, and beef are the main staples at this restaurant. Since it does over-look the ocean and tends to get crowded early, make reservations.

Herbie's

phone: +1 305 743-6373

Located at Mile Marker 50.5 6350 Overseas Highway. This is the local hangout for many people that live here year round. This is a great place to eat for burgers and fries. Seating is limited and it tends to get packed in the evening. Reservations are not required.
Sleep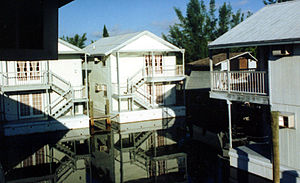 There is a real variety of places to sleep. If you have reservations and show up to find the accommodations unacceptable, do not hesitate to complain or check out. There are some beautiful accommodations to be found in the marina areas that are floating, two story efficiency rooms with bath, kitchen and balcony that can be rented by the day or week at reasonable cost. These are a great choice and offer a fantastic view and privacy. Some of the
cottages
being offered are very old, have had little repair and may have moisture/humidity problems due to being in shaded areas. Again, if you find it unacceptable, move on. There are few times you will find rooms unavailable, exceptions may be when the weather is bad and forces the bigger pleasure boats into port, and during the Fantasy Fest in
Key West
, when the rooms fill up fast.
address: 58080 Overseas Highway

Guest rooms, efficiencies, deluxe efficiencies (some with ocean view), pool, paddle boats & kayaks available for rent.

address: 5874 Overseas Highway

Guest rooms, efficiencies, 1- and 2-bedroom apartments, all nonsmoking, pets allowed. Pool, putting green, aviary, hammocks, bicycle rentals, complimentary paddle boats/canoes/kayaks, boat dock available.
Camping
Gulfstream Trailer Park +1 305-743-5619, 880 37th St. Gulf.
Jolly Roger Trailer Park, +1 305-289-0404, 59275 Overseas Highway.
Key R.V. Park +1 305-743-5164, 6099 US1 Hwy.
Knight's Key Campground +1 305-743-4343, P.O. Box 525.
Lion's Lair Travel Park +1 305-289-0606, Rt 2 Box 390.
Stay safe
Theft can be a problem in this area, keep all valuables out of sight in parked cars. If you are bringing, or on a boat, keep an eye on it. There are more outboard motors stolen here than anywhere in the state, some say they end up in Cuba.
Pay attention to the weather. The Keys are a narrow band of islands that offer little protection from tropical storms. In the past storms have generated waves with enough strength to demolish bridges and topple freight trains and engines sitting on tracks. The locals seem immune to these dangers, rely on National Weather reports, rather than the opinion of locals. If it is suggested you go back to the mainland, do so immediately. There is only one highway out and it can become clogged quickly. The Overseas Highway can and will be closed for a period should a car or truck accident occur. Always allow extra time if traveling back to the mainland to meet a flight or cruise.
Go next