March of the living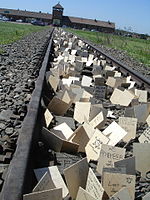 The
March of the Living
celebrates those who survived the Holocaust, commemorates those who were murdered, and attempts to learn something by going to the country where the largest number of Nazi murders took place and the site of the most notorious Nazi death camp.
Understand
March Of The Living is an annual educational program, which brings people from all over the world to
Poland
, to study the history of the
Holocaust
, and to examine the roots of prejudice, intolerance and hate.
Since the first March Of The Living was held in 1988, over 200,000 participants, from 35 countries, have marched down the same path leading from
Auschwitz
1 to Birkenau on Holocaust Remembrance Day.
Itinerary
The March Of The Living educational program consists of a group trip starting from Poland and ending in
Israel
, symbolically going through the hardest times of Jewish history to the revived Jewish national home in the present.
It is an emotionally-charged trip, in which you experience certain things that you are unlikely to ever forget.