Mardin
Mardin
is a historical city in
Southeastern Anatolia
,
Turkey
. A city situated on the top of a hill, it is known for its fascinating architecture consisting of heavily decorated stonework cascading from the hilltop, although occasionally pierced by new, ugly construction.
Understand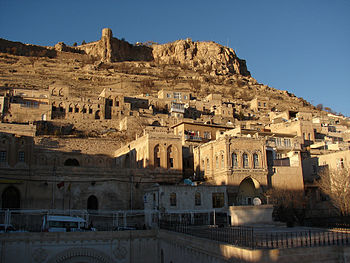 Mardin lies at the heart of homeland of
Syriacs
(
Süryaniler
), an ancient people who trace their origin to Akkadian Empire, established in
Mesopotamia
around 2200 BC. Syriac is a Semitic language directly related to the native tongue of Jesus Christ, Aramaic. Syriac Orthodoxy was established after the first division in Christianity in 431, much earlier than the Great Schism of 11th century between the churches of
Rome
and
Constantinople
. While the Syriac population in Mardin dwindled due to emigration (nowadays Assyrians are more numerous in
Sweden
than in all of Turkey), they are still very much present in the city, along with more or less all other regional cultures, including Turks, Kurds, and Arabs.
Mardin served as the capital of Turkic
Artuqid
dynasty between 12th and 15th centuries, which resulted in much of the Islamic heritage (
madrasah
s and mosques) visible in the city today.
It was effectively closed to tourism throughout the 1990s by the on-going Turkey-PKK conflict in the surrounding countryside, and was omitted from most of the guidebooks to the area). Mardin has started to catch up with tourism, but don't expect hordes of package tourists. It rewards the intrepid traveller who took the effort to go there with a sense of discovery, along with plenty of beautiful architecture and vistas.
Orientation
The main street of old city, which traverses the town from one end to another through its centre, is called
1. Cadde
or
Cumhuriyet Caddesi
for part of its route. At the eastern end of the old town, it makes a sharp U-turn, and runs along the entire southern edge of city, making another U-turn at the western end of the town and thus completing a loop.
While the maps and aerial photos of old city may look like a labyrinth, it is pretty hard to get lost in narrow alleys—depending on which side of main drag you are on, take downhill or uphill alleys you will come across one by one in a succession, and within 15 minutes at most, you will be back at main street.
The main avenue of the separate northern suburb of Yenişehir is
Vali Ozan Bulvarı
, which eventually turns into the street zigzaging on the side of the hill while climbing up to old city. You will possibly not spend too much time in Yenişehir (unless you chose to stay at one of the hotels there), but whether coming in from west (
Urfa
) or northwest (
Diyarbakır
), Vali Ozan will be the first road you will set foot in Mardin.
Get in
Although there are roads leading to city from roughly all cardinal directions, your most likely point of entry to city will be
Urfa
. Upon getting close to Mardin, the hilltop old city will greet you from a distance, and as you get closer, the road will swing north, and will eventually lead to the modern suburb of
Yenişehir
, at the other side of the hill of old city.
There are daily flights from Istanbul.
There are
buses
from Urfa, which take around 4 hours and cost 25 TL. Minibuses (
dolmuş
) from
Diyarbakır
take 2 hours and cost 9 TL.
Although there is a small train station just south of the city, it is not used. The nearest cities with a regular passenger
train
connection to the rest of the country are
Gaziantep
to west and
Batman
to north.
The city is connected to the surrounding region with well-paved
highways
, except for a 100-km section east of Urfa which is full of potholes.
Hitchhiking
from Urfa (the ride should take around 2½-3 hours) is very easy, thanks to the hospitality of the local people.
Get around
Blue minibuses (dolmuş) connect the Yenişehir suburb (lit. "New City", newer and lower suburb at the entrance of the city) with the old city (Eski Mardin). They cost 0.90 TL/person. The steep road between new and old cities might be taken in 30–40 minutes on foot, however it will be a very demanding walk for sure, especially during the peak of summer heat.
Old city is small enough to be negotiated on foot, with the distance between one end to another not exceeding half an hour on the main street. And you will certainly not find any vehicle of any kind on twisty and staired narrow alleys.

See
All sights of Mardin are located in old city.
Church of FortiesA Syriac Orthodox church dating back to 10th century.

Zinciriye MedresesiA madrasah (Islamic school) built by the Artuqids, rulers of the area then, in 1385. Rooms surrounding the central courtyard have some beautiful wall and ceiling decorations, having similarities with Seljuq art of central Turkey. Definitely a must-see while in Mardin.

CitadelWhile the citadel is located inside military zone and is closed for visitors, ascend the alleys of the old city to get to as near as possible to have the fascinating view of the Mesopotamian plains lying below. However, never ever try to cross the heavily barbed wire, as it equals suicide according to locals.
Do
Walk the alleys of old city to grab more of local atmosphere and architecture.
Watch the Mesopotamian plains everywhere you can grip a good sight. The plains look as if lying flat till the end of the world.
Enjoy one of the closest shaves in the Middle East. There are several small barber shops along the main street through the old city centre. Most offers include double shaving, head massage, a good conversation and of course a cup of tea. Though be wary of those that will try to rip you off—the first barbershop on the uphill street from the main square will ask 20 TL for the service, which is a totally unacceptable price in this part of the world.
There is a traditional hamam (bathhouse) in town, along the main street in the old town.
Buy
Several banks have branches on the main street of old city, complete with ATMs on the exterior walls.
There is a big-box type store (
Migros
) in Yenişehir, right at the beginning of the ascent towards the old city.
Stores in old city are closed by 21:00-22:00 (even those few that are offering alcoholic beverages, which are typically open till late at night in western Turkey), so make sure you have enough supplies of snacks and drinks (especially water!) for the night.
Colourful keffiyehs (locally known as poşi) can be a good buy while in Mardin. There is a store on the main street of old city where you can get 4 scarves for 10 TL. The red, yellow, and green kuffiya is the traditional and politically loaded colors of the PKK/Kurdish, and will get you lots of friends in the Kurdish areas (but don't wear it in the Turkish areas).
Eat
Damak SofrasiGreat cafeteria-style dishes for good prices, ranging from 5-8 TL per dish. They don't mind how long you stay for tea afterwards. The owner is jovial and will probably sit down and talk with you. Good sweet couscous desert. Breakfast of lentil soup for 3 TL.
Drink
Local tap water is far too chalky to be tasty and may be unsafe to drink. Buy bottled water instead.
Mezopotamya Cay BahcesiAn open-air tea garden shaded by trees with a good view of the Mesopotamian plains below (though not as wide as you can see near the citadel because of a neighbouring building).
Sleep
Booking in summer months, especially at weekends, is important since Mardin attracts more and more travellers day by day but there are not lots of places to stay.
Basak Hotel

phone: +90 482 212-62-46

address: Cumhuriyet Cad. Kışla Sok. 2

The rooms have mildew on the ceiling, which causes an awful smell that cannot be removed with opened windows. They also have a fan, a TV and a heating that is not working during the night. The shared bathrooms are dirty, with showers providing water that can be described as "warm" at best (in summer). Check the windows first—to see if the crank is not broken—before deciding which room to stay, because it is almost impossible to sleep without an open window in summer months, even when the fan is on. In winter months the temperature can drop a fair bit below 10° in the rooms and the light covers are not sufficient. Rooms facing the street has a lovely view of the minaret across the street. One of the cheapest places to stay in Mardin with a very central location in the old town. If you sleep on the roof (teras), you should keep your things locked in the shed so that roaming kids aren't tempted to take anything.

Bilen Otel

phone: +90 482 212-55-68

address: Vali Ozan Caddesi 72, Yenişehir

A three-star hotel mostly getting good reviews, although some of the rooms are in need of a renovation. Rooms with en suite bathrooms, satellite TV, and central heating. The downside of the hotel is that it's located in Yenişehir suburb, not in the old city. (Edit: August 2019,the hotel has changed it's name but you can still find it as 'Bilen' on Maps.me and Google Maps. The rooms are clean, modern and the price is 100L for an ensuite room, possible to haggle but only to 180 for two nights. Breakfast seems to have improved since the name change as well.)

phone: +90 482 213-96-00

address: Barış Caddesi 29 Sokak No: 34, Yenişehir

Rooms with internet access and LCD TV. Free carpark.
Stay safe
The safety situation has been vastly improved since the 1990s, and Mardin and its surrounding area seem to be very safe with an overly heavy presence of policemen in the old city.

Connect
Mardin's telephone code is (+90)
482
.
Internet
Kültür Internet

address: Cumhuriyet Caddesi

Internet cafe.
There are also a couple more internet cafes on the main street of old city.
There is a tourism information office (
Turizm İrtibat Bürosu
) on the main square of old city, run by students of a local high school. They also offer free internet.
Go next
phone: +90 482 219-30-82
(The monastery is located 5 km east of Mardin on a hillside overlooking the plains, is a large and intact monastic community. Built on the site of a 4500-year-old pagan temple dedicated to solar worship (
Güneş tapınağı
, a gallery made of huge rock walls with no use of mortar; still intact and visitable at the underground floors of the monastery) in 5th century, Deyrulzafaran was the seat of patriarchate of all Syriac Orthodoxy until 1932. True to its original purpose, the monastery has 365 rooms in total, each symbolizing a day the Earth spends on its full cycle around the Sun. The impressive complex—which is more like a small village than a stand-alone religious edifice—is open (and indeed, friendly) to visitors (except, of course, its residential and the most sacred sections that are closed to all but monks; a young host will guide you through the open sections in groups, so you may have to wait in the café at the entrance until he returns the preceding group), but as this is actually a religious site, and not a simple tourist sight, respectful clothing (cover your legs and arms; in addition to your head if you are female) is a must. Eating, smoking, speaking loudly, and chattering on a cell phone are also out.
Midyat, about 40 min by minibus to north is also known for its stonework architecture, with even more ornaments than Mardin's.
Hasankeyf further north on the banks of Tigris River is a fantastic village with its cave houses, citadel, and other monuments from Middle Age. You'd better hurry on visiting the place as the whole town might be submerged in as near future as 2013 due to a proposed dam project.
Hitchhiking
If you are hitchhiking toward
Urfa
, it will be easiest to take an inexpensive dolmus/minibus from the Mardin otogar/bus station to Kiziltepe, a town just south of Mardin. The bus station in Kiziltepe is right near the dusty highway toward Urfa. You may have to walk a bit to get out of town, or just start flagging and try to get a ride to the edge of town (if the ride isn't going the whole way). If you wear a Kurdish kuffiya, you won't have any problems finding a ride and plenty of goodwill.