Marfa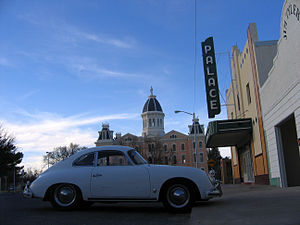 Marfa
is a town in the
Big Bend Country
region of
Texas
. It's known for two things: innovative art and mysterious lights.
Get in
Marfa sits at the intersection of Texas Routes 67 and 90.
Coming from the east, Highway 90 makes for an interesting, scenic drive to Marfa. Plan your fuel stops wisely, as it's possible to go almost 200 miles between cities. Highway 90 takes in a couple of all-but-ghost towns along the way, as well as the Trans-Pecos crossing and some breathtaking scenery. Travelers in more of a hurry may prefer to take Interstate 10 to Highway 67 (from the east) or Highway 90 (from the west) straight into Marfa.
For those flying, the nearest airport is in
El Paso
, which is roughly 190 miles west. Midland International Air and Space Port in Midland, TX is roughly the same distance. Marfa is roughly six to seven hours from Dallas, Austin and San Antonio.
Get around
Visitors will need their own transportation to reach most of the sights in Marfa, although many of the art galleries and restaurants are within walking distance of each other on the main drag in town, between the Presidio County Courthouse and the Marfa post office.

See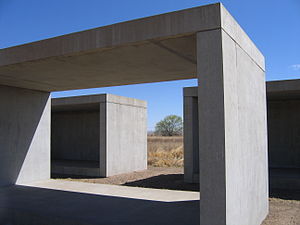 phone: +1 432-729-4362

address: 1 Cavalry Row

The Chinati Foundation is a museum founded by the artist Donald Judd, presenting large-scale, permanent installations by twelve artists: Carl Andre, Ingolfur Arnarrson, John Chamberlain, Dan Flavin, Roni Horn, Donald Judd, Ilya Kabakov, Richard Long, Claus Oldenburg and Coosje Van Bruggen, David Rabinowitch, and John Wesley. The museum also presents one or two special, temporary exhibitions each year. Fifteen outdoor concrete sculptures by Donald Judd are accessible Monday through Friday, 9AM-5PM. The rest of the collection is seen by guided tour; several options are offered throughout the day Wednesday through Sunday. Reservations are recommended and can be purchased on-line.

phone: +1 512 695-3168

address: by appointment

Studio of Marfa-Based Artist and Photographer LéAna Clifton.

phone: +1 432 386-0044

address: 208 E San Antonio

Exhibits works on paper and limited editions by Donald Judd and Dan Flavin. This provides additional insight into the artwork of these two great artists. In addition, the inde/jacobs represents Nelleke Beltjens, David Hirschi, Hadi Tabatabai and Erik Tillinghast. Exceptional artwork in the minimalist aesthetic-reductive style.
Do
Visitors should consider planning their trip when the town is most active - between Wednesday and Saturday, when many local shops, restaurants and attractions are open.
For many visitors, the mysterious Marfa Lights are the main attraction. There is a viewing platform several miles east of the city on Route 67. After dark, the famed lights may appear...or they may not. Theories have been put forward as to their origin, but none have been conclusive; there is no way to predict whether they will appear on any given night. Visitors determined to catch a glimpse of the eerie, dancing orbs may have to set aside a couple of nights and wish for luck.

Buy
Marfa Photography

phone: +1 512 695-3168
Eat
phone: +1 432-729-3838

Attached to the Hotel Paisano (see below), is named for James Dean's character in "Giant". In addition to a full menu, they offer an outstanding bar selection, including famous margaritas.

phone: +1 432-729-3377

Located at the intersection of Route 67 and Route 90, across from city hall. They serve big slices of thin-crust pizza ($1.75 a slice or $12 for the whole pie) with a wide range of toppings. The menu also includes limeades and salads.
Drink
phone: +1 432-729-4425

address: 209 W El Paso St

Bar and live music venue.

Alice's Cafe

phone: +1 432 729-4188

address: 906 W San Antonio St

Sandwiches, cafe, American
Sleep
Stay safe
The crime rate in Marfa is incredibly low compared to other nearby cities and towns. However, visitors are advised to check into their motels before 10PM as the street lights in Marfa turn off at this time, or carry a flashlight or firearm. Once it gets dark, coyotes and pumas come down out of the Davis mountains looking for prey.
Law enforcement is provided by the Presidio County Sheriff's Department and the Texas Highway Patrol, after the disbanding of the Marfa Police Department in 2010.

Connect
Verizon AT&T and T-Mobile all have cell phone coverage in the whole town. Sprints coverage only covers the western part. The town is covered by a few broadband internet providers. .

Go next