Margate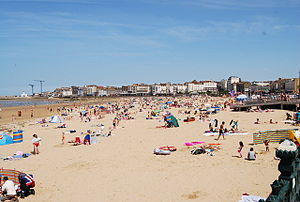 Margate
is a town in the Isle of Thanet in
Kent
and sister town to
Ramsgate
and Broadstairs. It has seen a revival since the Dreamland amusement park reopened in 2015, and the development of an art scene including the Turner Contemporary gallery.
Understand

Margate is on the whole a rather depressing mixture of fading Georgian and Victorian seaside grandeur and squalid 'bedsit-land' although there are new developments and some pleasant residential suburbs. Margate has a severe problem with litter, which adds to the 'squalid' feel. There has been a decline in the tourism industry for which Margate was famed until the 1980s when many families opted for overseas holidays as living standards rose. Since the completion of the Turner Contemporary Art Gallery, the Old Town area has developed a thriving retro retail presence.

Get in
The best way to make the comparisons is by bus if you do not arrive by car. There is a bus called the 'loop' which runs a circular route around the Isle of Thanet, including Margate. Fares are cheap and the service runs in the main daytime every 7-10 minutes in each direction linking with Broadstairs and Ramsgate and the Westwood Cross shopping centre.
Margate railway stationMargate is easily reached by train from London Victoria in under 2 hours or from St. Pancras International HS1 in under 90 minutes.
The nearest major international airports are at London Gatwick (approx 84 mi/135 km) and London Heathrow (approx 104 mi/168 km).
See
The seafront and clock tower area are close to the seafront, beach and Margate rail station and is a typical example of a busy but 'tacky' English seafront with a string of amusement arcades, coffee houses, pubs and bingo establishments.
Further along the seafront towards the Turner Contemporary, there are more bars and cafes, souvenir shops and restaurants.
The beach has dry sand even at high tide and proves popular with Londoners who often come for day trips.
There is a link with the artist J M W Turner and a visitor centre close to the harbour where you can examine the facts behind his links with the town.

address: Grotto Hill, CT9 2BU

Tucked away in one of Margate's most squalid back streets is the shell grotto, a mysterious cave decorated from floor to ceiling in shells.

Turner Contemporary Art Gallery

address: Rendezvous, CT9 1HG

Modern art gallery (opened in 2011) near the harbour, with a small selection of paintings by J.M.W. Turner (1775-1851), who for a while stayed on the site of the gallery. A good gallery with changing exhibitions that takes an hour or so to see.

address: Fifth Avenue, Cliftonville, CT9 2JJ

A whacky collection of 20th-century everyday objects are dotted around this hotel. Open to non-residents during the daytime.

address: Westwood Industrial Estate, CT9 4JX

Exhibition of Hornby model railways, Airfix models and Corgi car models. See traditional British children's toys.

Draper's MillWindmill open to the public

address: 1 Northdown Rd, Margate, CT9 1HQ

Although given the name caves, these underground passages were originally 18th century chalk workings, and re-opened in 2019.
Do
Apart from visiting the beach, you can enjoy the British standard arcade amusements, venture into the old town and up the high street to visit the shops, or simply head to a different beach along the coast. Botany Bay and Joss Bay are popular with locals.
phone: +44 1843 295887

address: 49-51 Marine Terrace, CT9 1XJ

Amusement park with over 10 rides, including the Scenic Railway, a listed wooden coaster. There are many minimum height restrictions which limit the interest for young children.
Buy

Margate is famous for being the first sea bathing resort, its stick of rock (a boiled sugar confectionery) and novelty items.

Eat
There are many places to eat near the seafront and on the harbour arm. For further choice of food, head into town. The Old Town has pubs, a Thai restaurant and Mullins Brasserie. Sadly, the Mad Hatter's tea rooms has now closed.
phone: +44 1843 231504

address: 10 Fort Hill

Notable Indian serving a fusion of English and Indian 'haute cuisine'.

phone: +44 1843 293698

address: 49 Northdown Rd

Kerala and Sri Lankan restaurant

Peter's Fish Factory

phone: +44 1843 292485

address: 12 The Parade, Margate CT9 1EZ

Popular fish and chip shop - usually has a queue. Takeaway only so eat it on the beach.
Drink
There are many pubs and clubs throughout the town but beware of rowdiness and aggressive behaviour late at night in the town centre.
Harbour Arms Micropub

phone: +44 07776 183273

address: Stone Pier

Small pub on the far side of the harbour, with local ales and views back to the "mainland".
Sleep
Many bed and breakfasts line the shore. With expensive hotels on the high street and a budget one near Margate Train Station.
Go next