Margoon Waterfall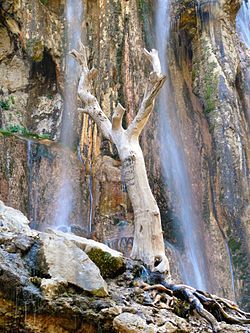 َMargoon Waterfall
is in
Sepidan
of
Iran
. This waterfall is the main attractive of
Abshare Margoon protected area
. Margoon waterfall falls from the heart of a rocky mountain and has about 70 m height and 100 m width and is considered as the biggest waterfall in Iran.
Understand
Most of the people know Abshare margoon protected area just because of its famous waterfall and almost all visits of ordinary people to this area happen in hot months of the year when the temperature of this area hardly reach to 25°C (but temperature reach 40°C and more in most of the country). This protected area has lots of attractions, and you can enjoy mountain climbing, rock climbing, camping, and landscape photography.

History
Landscape
Flora and fauna
As Abshare Margoon protected area is a part of Zagros Mountain range, it has diverse flora and fauna. Oak is the main plant of the forests of the area and brown bear, Persian leopard, wolf, fox, wild boar, wild goat, and porcupine are some of its wilderness.

Climate
The area has a cold climate between November and April as sometimes the parts of the waterfall gets frozen. The weather is mild during the summertime.

Get in
A road comes to Margoon Village-a village just near the waterfall-, to reach the road Sepidan and
Yasuj
are the start points.
Fees
There is no fees for entrance, hiking, etc.
Damaging the flora, fauna or polluting the water is forbidden in the area.

Get around
If you are not a skilled mountain climber, personal cars are the best to reach the area.

See
In the gorge which waterfall falls, there is another stream which people can follow it to reach to the end of the gorge where there is a cave which the stream flows out of it. A horrible sound is heard from inside the cave which is from another waterfall at the end of the cave. visiting the waterfall at the cave is proposed to visitors who can swim.


Sleep
Lodging
Camping
Backcountry