Mariánské Lázně
Mariánské Lázně
("mariaanskae laaznjae") is a spa town in
West Bohemia
in Western
Czech Republic
with a population of 13,300 and is close to the
German
border.
Understand
The town is popular with German and Russian tourists and it can be difficult to communicate in English. The town is renowned as a spa town and hosts a number of springs. Accordingly, many hotels offer relaxation packages.
address: Hlavní 47
Get in
Mariánské Lázně is served by direct trains from
Prague
via
Pilsen
every two hours during the day. The journey from Prague takes 3 hours. Regular fare is 247Kč, second person in a group (of 2 or more) pays 149Kč, extra people in a group pay 124Kč,
SporoTiket
is 170-220Kč.
Get around

The town is walkable, although there are trolley buses available as part of the town's public transport. The fare is 12Kč (as of August 2014) payable through a machine when you enter the bus (exact change only). Handy if your hotel is further from the centre, or you don't want to walk 20-30 minutes from the main station to Kolonada.

See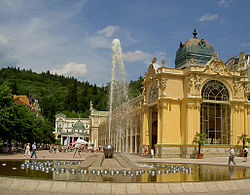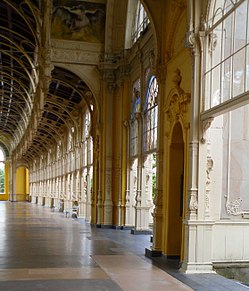 The Singing FountainA spectacular fountain with a ten-minute recorded music show to accompany it every other hour.

The ColonnadeThe new Baroque Colonnade is an icon that could be said to represent the Czech spas.

address: Krakonoš 665

Models (on 1:25 scale) of important historical buildings and technical monuments.
Do
address: Hlavní 47

Sightseeing ride.
Buy
address: Chebská

Shopping centre.
Eat
address: Nehrova 26

address: Anglicka 116/23
Drink
address: Kollárova 7

address: Chebská 255
Sleep
Budget
Mid-range
phone: +420 354 403 811

address: Karlovarská 334/9

Apartment house.
Splurge
Go next