Mariana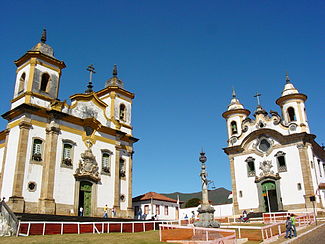 Mariana
is a colonial mining town in
Minas Gerais
.
Understand
Mariana, originally known as Nossa Senhora do Carmo, came into existence with the discovery of gold along the Ribeirão Nossa Senhora do Carmo river in 1696. Known informally as the Primeira Cidade (First City), it is indeed a city of firsts: It was the first vila established in the state and soon became the first state capital, and a major center for the burgeoning gold trade. In 1745, the Portuguese king, Dom João V, renamed the city after his wife, Maria Ana D'Austria. Around the same time, the city became the seat of the first bishopric in the state and hence became an important religious center for the region. In response to the influx of people, streets and rectangular plazas were planned, making Mariana the first planned city in the state. These days, Mariana preserves many of the original colonial buildings and churches in such a thorough way that the traveller almost feels he has stepped back in time.

Get in
By plane
The nearest airport is in
Belo Horizonte
.
By bus
Local buses ferry between Ouro Preto and Mariana every thirty minutes, dropping passengers at the tourism office on Rua Antônio Olinto. The ride takes 35 minutes and costs R$1.
Long distance buses from Belo Horizonte, Rio de Janeiro, São Paulo, Victória and other cities arrive at the bus station on the outskirts of town.
See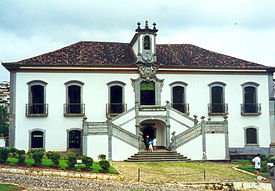 Ateliê de Marionetes Catin Nardi

phone: +55 31 9601-7661

address: Rua do Seminário, 290 - Centro

Argentinian marionettist Catin Nardi has gained some fame across Brazil for some television shows he has created. He gives weekly shows for tourists every Saturday at 19:00, or by appointment.

Cachoeira do Brumado

Casa da Câmara e Cadeia

address: Praça de Minas Gerais

In colonial times, this building housed offices of public officials, the city council, and the jail. At other times in its history, it has held a hospital, a butcher shop, and various other things.

Gruta da Nossa Senhora da Lapa

address: at the end of Rua da Lapa

Rua DireitaThe oldest and best-preserved houses of the town line this beautiful street, the second oldest street in town. Some highlights include the Casa do Barão de Pontal, (former state governor's house), the Casa Setecentista, (a 18th-century archive building), and the house of poet Alphonsus de Guimarães, now containing a small museum dedicated to his work.
Museums
Museu Arquidiocesano de Arte Sacra

address: Rua Frei Durão - Centro

Installed in a colonial building whose construction began in 1770, this is one of Brazil's best sacred art museums, with over two thousand objects, including a golden reliquary considered to be the richest in the state and second in Brazil. The collection includes works in soapstone, porcelain and wood, Portuguese paintings, paintings by Ataíde, and many other objects.

phone: +55 31 3557-2778

address: Rua Cônego Amando, 161 - Centro

Located inside the former Palácio dos Bispos, the old Bishop's Palace. Its permanent exhibit includes a hands-on music display, and a collection which contains scores, documents, and other printed material from the 1700s forward.

phone: +55 31 3557-2778

address: Cônego Amando nº 161 - Centro

Houses many rare books from the 18th century, including a number of volumes related to the Inconfidência Mineira. If you cannot read Portuguese, you might give this one a pass.
Churches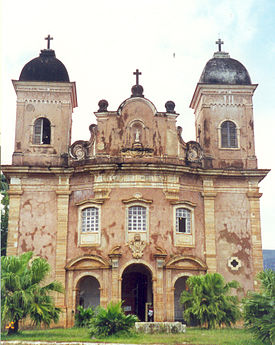 Catedral de Nossa Senhora da Assunção

address: Praça da Sé

The city's largest and most important church was constructed between 1709 and 1750. Many famous artists contributed to its construction, including Aleijadinho, his father, and Manuel da Costa Ataíde. On Fridays at 11:00 and Sundays at 12:15, concerts are given on the beautiful German organ which was built in 1701.

Igreja da Arquiconfraria

address: Rua Dom Silvério - Centro

Constructed in 1784, this church has a uniquely simple design compared to the many baroque churches typically built in the region in that era.

Igreja Matriz Nossa Senhora da Glória

Igreja de Nossa Senhora das Mercês

address: Rua das Mercês - Centro

This church has a rather plain outward appearance but houses some of the most revered artwork in town, a beautiful series of wood carvings decorated in gold, made by an unknown artist. The church is being restored.

Igreja de Nossa Senhora do Rosário

phone: +55 31 3557-1179

address: Rua Monsenhor Horta - Rosário

This 1752 construction has elaborately-decorated altars. The painting on the chapel ceiling is particularly well-preserved.

Igreja de Santo AntônioOldest church in the city.

Igreja São Francisco de Assis

address: Praça de Minas Gerais - Centro

Constructed between 1763 and 1794 and decorated by a number of different painters including Manuel da Costa Ataíde, who is buried here. The medallion above the doorway is attributed to Aleijadinho.

Igreja de São Pedro dos Clérigos

address: Rua Dom Silvério - Colina de São Pedro

A very attractive church designed by Antônio Ferreira Calheiros, who also designed the Igreja Nossa Senhora do Rosário in Ouro Preto. Construction began in 1752 but the church was never really finished.

Sanctuário Nossa Senhora do Carmo

address: Praça de Minas Gerais

This 1784 church is the only one in town with cylindrical towers. Part of the main nave was destroyed by fire in 1999.

Seminário Maior São José

phone: +55 31 3557-1140

address: Praça Dom Benevides - São José (Chácara)

Beautiful building designed in neo-colonial style. There is also a charming chapel with interesting mosaics. Visits must be arranged by telephone in advance.
Do
Pan for gold - Off of Rua Rosário Velho along the creek, people still pan for gold in much the same way they have for centuries.
Events
July 16 - On the anniversary of the city's founding, the state governor comes to spend the day in Mariana, and the city relives the days when it was the grand capital of Minas Gerais.
Tours
phone: +55 31 3557-5278, +55 31 9619-6801

address: Rua Eugênio Eduardo Rapallo, 192- Passagem de Mariana

Tour agency that provides for a wide range of activities including ecological treks, rappelling, canyonning, and paintball.

Eco Adventure Mariana

phone: +55 31 3558-1417, +55 31 8828-0355

Specializing in ecotourism and environmental education, this agency offers outings on foot or in Jeeps which span the region, including Ouro Preto and all the waterfalls of the outlying districts.
Eat
Alvorada

address: Rua Jorge Marques 101

Reasonably-priced churrascaria.

Dom Silvério

phone: +55 31 3557-2475

address: Rua do Seminário 290

Great pizza.

Engenho Novo

address: Praca da Sé 26

Mineiro restaurant at lunchtime, bar at night. The owners speak English.

Lua Cheia

address: Rua Dom Vicoso 23

Award-winning mineiro cuisine per kilo. An all-you-can-eat option is also available.

Mangiare della Mamma

address: Rua Dom Viçoso 27

Tasty per-kilo mineiro cuisine.

Portão da Praca

address: Praca Gomes Freire

Great little sandwich shop. Try a beirute, something similar to a döner kebab.

Restaurante Pizzeria Senzala

address: Praça Gomes Freire

Good lunch specials and a bar atmosphere at night.

Tambaú

phone: +55 31 3557-1406

address: Travessa João Pinheiro 26
Drink
Tatu's Dancing

address: Praça Cláudio Manoel

Open weekends, this disco is the busiest in town.
Sleep
Many of the accommodations in town are within a short walk of Praça Tancredo Neves.
Hotel Central

phone: +55 31 3557-1630

address: Rua Frei Durão 8

Somewhat run-down but acceptable accommodations.

Hotel Faísca

phone: +55 31 3557-1765

address: Rua Antônio Olinto 48-A

Full apartments or simple rooms available.

Hotel Müller

address: Rua Getúlio Vargas 34

Hotel Providência

phone: +55 31 3577-1444

address: Rua Dom Silvério 233

Swimming pool available.

Pousada Solar dos Corrêa

phone: +55 31 3557-2080

address: Rua Josafá Macedo 70

Rooms are furnished with replicas of colonial furniture and have nice views. Request room number 8 for the best decor.

Pousada Typographia

phone: +55 31 3557-1577

address: Praça Gomes Freire 220

Installed in a restored 18th-century manor with replica period decor. Spacious rooms.
Connect
Associacão dos Gulas

address: Rua Antônio Olinto

Stop by here to pick up a free town map.
Internet cafés
Celeiro das Artes Cybercafé

phone: +55 31 3557-1336

address: Praca Gomes Freire

Decent connections with an interesting decor of local handicrafts.

Mdo Lan House

phone: +55 31 3557-4585

Internet and gaming systems.