Marikina
Marikina City
known as the
shoe capital of the Philippines
because of the booming industry of shoe factories in the city. It is home to the world's largest pairs of shoes, and has a museum that contains collections of shoes owned by famous celebrities and notably the former first lady, Imelda Marcos. It is a twin city to
Singapore
.
==Understand==
Marikina has a reputation for its local shoe producers.
History
Get in
By train
The Line 2 (Blue Line) serves Marikina; the present eastern terminus, Santolan Station, serves is found in Pasig, but it brings you across to the city. Crossing the pedestrian overpass from the station brings you to the Riverbanks area.

Get around

Various modes of transportation are easily available in and around the city. The most affordable mode of transport for the locals is the tricycle that can sit up to 2 persons with a little extra leg room for carry-on in the cabin. It is the most preferred as it zips around the small lanes easily. However, they are not permitted on the highway. Other common modes of transport are the jeepney and taxi cabs.
Marikina is the first bicycle-friendly city in the Philippines; bike lanes are placed on major roads, unfortunately, not all drivers respect this.

See
Our Lady of Abandoned Parish

address: V.Gomez Street, Sta. Elena

Our Lady of Abandoned is the patron saint of Marikina. This is a large church renovated in 2013.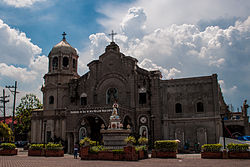 Marikina River ParkBeside the Marikina River, this river park hosts the Annual Christmas Tiangge usually starts at November and ends at January. Many people used to bike, jog and walk here. You can see here the Our Lady of Lourdes Pagoda, Chinese Temple, Marikitna, Senior Citizen Gazeebo, Roman Park, Sto. Nino Skating park. It also features bars and restaurants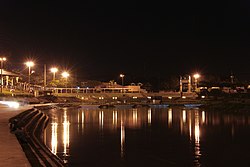 Riverbanks CenterA business center beside the Marikina River. It is a center for leisure, entertainment and shopping, it contains E-COM Center, Riverbanks Mall, Arcade Center, Marikina Convention Center, Museums, River Park, Carnival, Amphitheatre.

phone: +63 2 646 1634

address: J.P. Rizal St

The Shoe Museum traces the history of shoe industry in Marikina. It houses traditional Filipino footwear and 1,500 shoes from the famous Imelda Marcos collection. The museum holds shoes of several famous people including a pair of shoes from each president of the Philippines in chronological order. Other noteworthy shoes are those of celebrities, ambassadors, political figures and even traditional shoes from several countries. On the 2nd floor, you'll read history about shoe making including life-size mannequins depicting the art of shoemaking. You'll also find some unusual shoe sizes like one being 3 feet (91 cm) long.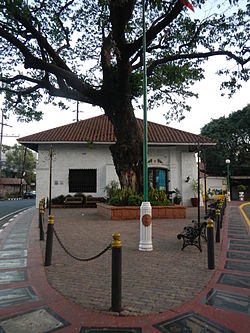 Kapitan Moy House

address: J.P Rizal Avenue

It is the Cultural Center of Marikina, features the Convention Center and Restaurants Kapitan Moy Building, situated in Marikina, Metro Manila, the Philippines, is the 200-year-old house of Don Laureano Guevarra, known as the founder of the Marikina shoe industry

Marikina Market Mall

address: W. Paz Street cor. J.P. Rizal Avenue

It is located at the Poblacion, features wet and dry market, has 3-floor commercial building

Philippine Science Centrum

address: Riverbanks Center

Philippine Science Centrum (PSC) is a premier hands-on science center museum in the country recognized by the Department of Education, Department of Science and Technology and the Department of Tourism as an ideal venue for educational field trip destination where visitors are encouraged to touch, twist, play, hear, see the interactive exhibits displayed. PSC is open to pre-school to college students, families and the general public. PSC showcases over hundred hands-on exhibits in 11 galleries (Lights, Bodyworks, Mathematics, Electricity & Magnetism, Water, Vision and Perception, Infectious Diseases, Earth Science, Space, Kids' World and Mechanics) and various educational activities, outreach programs and trainings complementing the Department of Education's K to 12 education curriculum and its goal of upgrading the level of science education in the country.
Do
Marikina Sports Center

phone: +63 682-9573

address: Sumulong Highway, Bgy. Sto. Niño

an Olympic-size swimming pool, a 400-m track oval, a sports building, an indoor gymnasium and several courts.
Wrath of Tropical Storm Ketsana
On September 26, 2009, TS Ondoy flooded the city of Marikina and the cities around it. The Marikina River reached 23 m on that day. Provident Village was the worst hit zone in Marikina. Marikina recorded 80 deaths, the highest among the towns.
Eat
Bonchalet II

Johnny's Fried ChickenServes fried chicken. Known as the fried of Marikina.

Greg and Sally

address: Marikina Heights

Serves great food and tender steak.

Pan de Americana

address: Gen. Ordonez Street, Marikina Heights

Industriya Marikina

address: M.A. Roxas Street, Calumpang

An old shoe factory turned restaurant and events venue. Wooden furniture, shoe forms and empty bottles form part of the place's modern and industrial design. They serve international cuisines including American, Japanese, Italian and Filipino.

Industriya Marikina

address: M.A Roxas Street, Calumpang

An old shoe factory turned restaurant and events venue. Wooden furniture, shoe forms and empty bottles form part of the place's modern and industrial design. They serve international cuisines including American, Japanese, Italian and Filipino.

Bun of Brothers

address: Azure Street

The newest addition to the 'Brothers' chain of restaurants, which includes Burrito Brothers and Kebab Brothers (and soon to open Breakfast Brothers). Bun of Brothers is a small build-your-own burger joint serving all-American burgers, hotdogs, fries and refreshments.
Lilac Street
Lilac Street is considered as the Food Capital of Marikina. Every corner of the street contains restaurants that offers variety of foods.
Buy
SM City Marikina is a shopping mall is located in Calumpang. It has more than a thousand parking slots including provisions for motorcycle parking, a jeepney terminal for commuters, a 4-m wide pedestrian overpass to and from the main mall area to Line 2 Santolan station and another 2.4-m-wide overpass to the Bus Bay 2 area.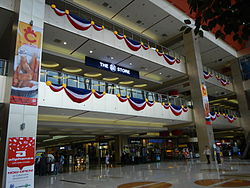 Riverbanks Mall is a shopping mall which contains many outlet store that you can find cheaper branded things. It also contains Save More Supermarket.
Circle Mall
Marquinton Mall is a shopping mall located within the Marquinton Residences. Has a Robinsons Supermarket.
Sleep
phone: +63 2 998 8342

address: Pio Del Pilar St. cor. Tangerine St., Brgy. Concepcion II

The Marikina Hotel, managed by the group that also handles the El Cielito group of inns, is one of the more popular hotels in the city.
Stay safe
Marikina is very prone to floods. The water levels on the Marikina River may rise without early warning during strong downpours, resulting into destructive floods, like those experienced in 2009 as the aftermath of typhoon Ketsana (Ondoy). Warning sirens and water level markers are located along the river, so leave the riverbanks area if you notice signs of heavy rainfall. Prolonged rain showers can grind activity to a halt.

Go next