Markham
Markham
is a suburban city directly north of
Toronto
in
Ontario
,
Canada
. It includes the historic village of Unionville, which is now a heritage district, and can offer the traveller some cheaper accommodation options if you don't mind the distance from the attractions of
Toronto
.
Understand
Markham is host to a wide variety of technology company headquarters, which included video card maker ATI Technologies, Motorola, IBM Software Labs and Sun Microsystems (with the exact list prone to change as companies are acquired by rivals). The Town's slogans 'The Mark of Excellence' and 'Canada's High Tech Capital' are well emphasized, with a multicultural community, a variety of events and attractions, and an embracement of old town nostalgia and modern high-tech living.
Main Street
Note that the City of Markham has two streets called Main Street and they are in different parts of the city.
Main Street Markham
is essentially the same as
Markham Road
and runs north-south through the city's old town centre called
Markham Village
. "Main Street North" is a more specific name for "Main Street Markham". Various maps may identify the street as both "Markham Road" and either "Main Street North" or "Main Street Markham". (There is a "Main Street South" south of Highway 7, but it is not as interesting as Main Street North.)
Main Street Unionville
is further west of Main Street Markham and runs north-south through the heritage district of Unionville. The two Main Streets are over 4 km apart and both cross Highway 7 near the south end.
Heritage districts
There are three heritage districts within the City of Markham where there is a cluster of 19th century structures. They are:
Main Street Unionville is the quaintest of the three heritage districts which is residential at the southern end and commercial (mainly eateries) at the northern end.
Main Street Markham (a.k.a. Markham Village) still retains Markham's pleasant small town centre with a number of heritage buildings intermixed with more modern structures. Main Street Markham has more shopping opportunities than Main Street Unionville. Both have a number of eateries.
Thornhill has a cluster of heritage buildings along Colborne Street, a quaint residential street. There are few eateries near this heritage district, and hardly any shopping opportunities. While Main Street Unionville and Main Street Markham may be each a day trip, Thornhill is mainly a brief stopover. Thornhill's advantage is that it is the easiest of the three districts to reach from Finch Station.
Get in
By plane
If you have a private jet, you can fly to Markham. Otherwise, you'll have to be stick to public transit or the car.
By transit
Public transit access from Toronto to Markham typically begins at Finch Station on
TTC
subway Line 1 Yonge-University, and then transferring to
York Region Transit
which offers
bus service in York Region
(including Viva express buses) serving Markham as well as other communities in York Region such as
Newmarket
and
East Gwillimbury
.
However, if you are visiting
Pacific Mall
, the best way to access these malls by transit is via
TTC route #53 (Steeles East)
which departs from Finch Station on subway Line 1 Yonge-University. If you are travelling in the east-end,
TTC route #43 (Kennedy)
going north from Kennedy Station on subway Line 2 Bloor-Danforth and Line 3 Scarborough may be more useful for you.
For
Main Street Unionville
, take the Viva Blue bus from Finch Station to the Richmond Hill Centre Terminal. From there, the YRT route 1 bus runs to Main Street Unionville; cross the street to the north side to enter the heritage district. Alternatively, you could take Viva Purple from Richmond Hill Centre to the Vivastation Kennedy Rd / Hwy 7, and then walk west 500 metres.
For
Main Street Markham
(a.k.a.
Markham Village
), take the Viva Blue bus from Finch Station to the Richmond Hill Centre Terminal. From there, transfer to Viva Purple to the Vivastation Hwy 7 / Main Markham.
GO Transit
provides train and bus service from Toronto to Markham with stops at the Milliken, Unionville, Centennial and Markham GO stations. GO trains on the Stouffville Line operate approximately every hour to Milliken and Unionville GO stations weekdays starting late morning. GO train service to Centennial and Markham GO stations is commuter-oriented with trains running inbound to Toronto during the morning rush hours and outbound in the afternoon rush. GO buses on routes 70/71 are an alternative when trains are not available. Keep in mind Unionville GO Station is 1.33 km from the south end of the Main Street Unionville heritage district.
By road
Unsurprisingly for a suburb, most travel is typically done by private automobile, with numerous highways and arterials leading in and out of the town.
Highway 404 goes north to south, starting at Green Lane in
East Gwillimbury
and ending in Toronto as the Don Valley Parkway.
Going from east to west is the privately-held toll Highway 407, which begins in the east at Brock Road and ends 108 kilometres west in
Burlington
. The 407 is the most overpriced toll road in North America, per kilometre; this road is problematic for rental car drivers as the inflated bill is sent to the vehicle's owner. Alternatives are old Highway 7 (a very busy local east-west surface street) or a trip south on the 404 to Toronto to pick up
Ontario Highway 401
, Canada's busiest freeway.
For
Main Street Unionville
, the heritage district is north of Highway 7 which intersects Main Street Unionville at a traffic light. On the north side of the intersection there are signs marking the entrance to the district. There is parking off Carlton Road on the south side, east of Main Street.
Get around
By road
The main street of Markham is nominally Markham Road (old Highway 48). There is a small downtown, which is largely lost in all the Toronto suburban sprawl.
Like the rest of the
Greater Toronto Area
, Markham is laid out in grid fashion. The main east-west local avenues in Markham (from north to south) are Stouffville Road, Elgin Mills Road East, Major Mackenzie Drive East, Highway 7, 14th Avenue and then Steeles Avenue East which is the border between Markham and Toronto. Most businesses are located on Highway 7 and Steeles Avenue East.
From west to east, the major roads are Yonge Street (border between Markham and Vaughan), Bayview Avenue, Leslie Street, Woodbine Avenue, Warden Avenue, Kennedy Road, McCowan Road, Markham Road (sometimes known as Highway 48) and then Ninth Line.
By transit
If you are travelling by public transit, three transit agencies operate within Markham:
YRT/Viva
, GO Transit, and TTC (see the Get In section).
Viva Blue, Viva Purple and Viva Pink are YRT bus rapid transit routes each having good service frequencies. Viva Blue runs north-south along the western boundary of Markham from Finch Station on Subway Line 1 Yonge-University. Viva Purple operates east-west through Markham. One can transfer between Viva Blue and Purple at the Richmond Hill Centre Terminal. Viva Pink follows the route of Viva Blue from Finch Station to the Richmond Hill Centre Terminal, then follows the route of Viva Purple to Unionville GO Station (which is 1.33 km from the heritage district Main Street Unionville). Use Viva Purple if need to go further east of Unionville GO Station.
TTC route 53 Steeles East
starts at Finch Station and runs along Markham's southern boundary with Toronto. Unlike YRT and Viva buses, TTC route 53 has overnight service from 2AM to 5AM, coming every 30 minutes. Rush hour frequencies are particularly good for this route (every 3-5 minutes), reflecting the fact that it is the 19th busiest TTC bus route out of 148.
YRT route 1 Highway 7
has a frequency of about every 30 minutes, and runs roughly parallel to the more frequent Viva Purple.
TTC route 102D Markham Rd
offers half-hourly service from Warden Station on Subway Line 2 Bloor-Danforth into York Region through Main Street Markham. Such a journey would require both a TTC fare as well as a YRT fare. Route 102D provides most of the local service within Markham Village along Main Street Markham.
See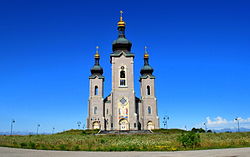 Main Street Unionville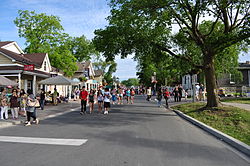 Unionville is a historic village that developed in the 1840s in what was then rural Markham Township. It's now amalgamated into city of Markham but the quaint period buildings have been preserved as a heritage conservation district,
Main Street Unionville
. Many of the old buildings now house pubs, eateries or other small businesses, and the area is worth a stop if you're in the area and have some time.
From Highway 7 north to the railway grade crossing, Main Street is lined with elegant old houses which are private residences. From the railway grade crossing north to Carlton Road, Main Street is commercial with most businesses having a tourist orientation. Many of the businesses are located in former houses. Station Lane branches from Main Street just north of the railway grade crossing and has a few old residences as well as the former Unionville railway station and Stiver Mill; the latter two buildings serve a community functions today.
Here are some sites of interest listed from south to north:
Main Street Markham
Main Street Markham has a retail and residential districts with a number of buildings from the 19th century intermixed with more modern structures. The area is also called
Markham Village
. Main Street Markham is extends from Highway 7 on the south to 16th Avenue on the north. The retail area is long and is located at the south end.
Here are partial list of interesting structures along Main Street Markham:
Thornhill
Thornhill has a small heritage district with over a dozen structures from the 19th century. Most of the old structures are along Colburne Street, a picturesque residential street, where most heritage houses have a white picket fence around the front yard. A few others heritage houses are along John Street.
Do
Main Street Unionville
Theatre
phone: +1 905-305-SHOW

address: 171 Town Centre Blvd

Live theatre.
Buy
address: 5000 Highway 7 E

Shopping mall.

phone: +1 905 470-8785

address: 4300 Steeles Ave. E

Year round including holidays. Su-Th 11AM-8PM, F,Sa, 11AM-9PM. Pacific Mall is the largest Chinese indoor mall in North America with 400 stores selling a large variety of retail goods as well as herbs, prepared Chinese foods and entertainment. This is a great place to visit for cheap DVDs, computer parts, photography equipment, cellphone accessories and the like. Caveat emptor: Some vendors in the mall have a reputation for selling cheap, poor quality counterfeit goods. There was police raid in June 2018 because of complaints.

First Markham Place

address: 3255 Highway 7 East

A medium size mall with Chinese restaurants and stores
Eat
Markham has a large variety of foods to choose from in a variety of price ranges. The Chinese population is especially high in this area (~40% in the last census), so if you enjoy Chinese food, this is the place to look for it!
Steeles Avenue
address: 2930 Steeles Ave E

Always a perennial weekend favourite. Named after the Chinese breakfast dish, the restaurant also serves many other stir-fried dishes, rice plates and soup noodles. Do try and share the Seafood & Chicken with Wintermelon Super Bowl Congee with a friend.

Backyard Garden Restaurant

phone: +1-905-415-8988

address: 3636 Steeles Ave E

Small little Chinese restaurant serving some excellent Sichuan and Hebei-style food. Several spicy options.
Main Street Markham
phone: +1 905-472-9927

address: 91 Main Street North

This tea shop is in a 1895 heritage building, a former bank branch. The interior is very attractively decorated.
Main Street Unionville
address: 202 Main St Unionville

Patio.

address: B170 Main St Unionville

Chocolate lovers should at least look inside at the various fancy chocolates on display.
Yonge Street
Paramount Middle Eastern Cusine

phone: +1 905-886-4600

address: 7315 Yonge St, Thornhill

Middle eastern cuisine. One orders food from the counter which is later delivered to the table. Only a partial menu may be available between 10-11am weekdays.

phone: +1 905-886-9992

address: 7509 Yonge St, Thornhill

A collection of small vendors selling mostly food items, many of them ready to eat. Small seating area with tables.
Elsewhere
Chauhan's Fine Indian Cuisine & Banquet

phone: +1 905-947-1234

address: 2800 14th Ave

Indian cuisine, lunch buffet, dinner à la carte.

Hunan Restaurant & Bar

phone: +1 905 597-0153

address: 300 John St, Thornhill

If you're a beginner to the world of homestyle Chinese food and/or don't speak Mandarin, the scene in the GTA can be daunting. Not so at this matter-of-factly-named eatery, where there's no language barrier to worry about, the staff is friendly, attentive, and obviously well accustomed to answering questions, and most importantly, no corners are cut in terms of culinary authenticity. (In fact, if there's a complaint to be lodged, it's that non-newbies might find the verbiage in the menu a little too dumbed-down: for instance, if you're looking for Dong'an chicken, it's listed as "deep-fried chicken with chili pepper".) Ambience is another plus, with way more character than you'd expect from a restaurant inside a shopping mall.
Sleep
Stay safe
Markham has a hospital: Markham Stouffville Hospital. It is located on the east end of the city, on Ninth Line just north of Highway 7.

Go next
Newmarket has its own attractive heritage Main Street.