Marmaris
Marmaris
is a town in
Turkey
, along the
Mediterranean
coast in the
province of Muğla
. It has around 28,000 inhabitants, however the population can be up to 250,000 during the height of the tourist season.
Get in
By plane
You can get flights to
Dalaman
, the nearest regional airport, which is 100 km away from Marmaris. Coach transfers are 1½ hours. Airport is served by many operators such as thomsonfly, flythomascook, EasyJet and Turkish airline OnurAir.
Transfers are easily arranged on-line and there are frequent bus connections which correspond to the arrival of domestic flights provided by Havas costing 25 TL single. Havas bus transfer times are detailed outside the airport terminal building.
By boat
There are ferries from
Rhodes
operated by
Feribot Lines
and
Yeşil Marmaris Lines
. Catamaran ride takes 1 hr and costs €40 (Feb 2019), however, it's not available on a daily basis, especially during winter.
Get around

Cheapest way of getting around is using the dolmus minibuses. These are 11-seaters which travel the main road in Marmaris and Icmeler, the neighbouring resort. The fee is 4 TL (2.55 TL paying Pay pass) anywhere in Marmaris and 3 TL between Icmeler and Marmaris. Marmaris dolmuşes have a green band across them and orange for Icmeler. Other dolmuş services serve Armutalan which is a suburb of Marmaris. The Armutalan dolmuş has a blue band across them.
You can pick them up from the side of the road by hailing for them and they will stop wherever you want on the route.
Other buses are frequently available and compete with dolmus services. They are slightly cheaper and are council owned buses which are similar in concept but slightly larger than dolmus minibuses.
Taxis are also available on the meter or arranging prices up front but are very expensive (prices are negotiable).

See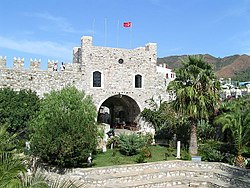 There's plenty to do in Marmaris. Busy beaches, lots of bars and restaurants, plenty of shopping with fabulous bargains if you don't mind wearing fake designer labels. Marmaris has a busy nightlife with a street devoted to dance music and all the high tech clubbing scene. Bar Street is opposite the busy bazaar and will satisfy the most discerning clubbers with it's huge outdoor dance venues and all of the latest tunes.
Marmaris has lots for families too. Great inexpensive boat excursions can take you out round the bay and to neighbouring towns like
Icmeler
and
Turunc
with all inclusive food and drinks all day for as little as 25 TL. Marmaris also has two water parks and local travel agents offer a range of trips to
Dalyan
,
Fethiye
,
Pamukkale
,
Ephesus
and other popular locations in
Western Turkey
. Another worthwhile trip is to
Mugla
, the regional capital which can be reached by frequent bus service from Marmaris Bus station (Otogar) for 12 TL. Journey time over the mountains is about 1 hour and is well worth the effort as Mugla is a real Western Turkish town not affected greatly by tourism.
The town of Marmaris is not just for the package holiday visitor as a trip to the harbour area will confirm. There you can see ocean going yachts costing $10 million and rub shoulders with those who can blow $1000 on a pair of sunglasses in the exclusive upmarket designer harbour shopping area.
Marmaris is primarily a resort that caters for British holidaymakers but recently has become popular with Russian and other Eastern European visitors.
Do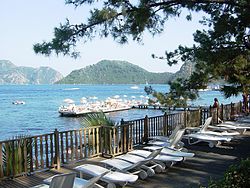 You can have a
daily cruise
taking you around the turquoise coves, mountainous shoreline, ruins of ancient cities, and a cave (the only entrance of which is from the sea) surrounding Marmaris with a stop at the beach of leafy
Cennet Adası
("Paradise Island"—actually a peninsula named
Yıldız
, however it does not have a connecting road to the rest of the mainland), which encloses the Bay of Marmaris. Just take one of yachts (which have a capacity of 20 people) which can be found all along the waterfront of city centre, you can easily recognize them by their boards and touts—who will try to convince you to take
their
tour, but basically all tours are the same. A tour doing the Bay in an anti-clockwise fashion (i.e. Turunç first, Paradise Island last) may be worthwhile to look for, as most tours ply around the Bay in clockwise direction, and thus you don't have to be with hundreds of others who took other boats all the time. Book or buy a seat at least one day beforehand. Such an excursion cost about 25 TL per person in Summer 2010 (including a meal). This type of cruise is good value but even better when offered with all-inclusive local drinks which can be expensive once on board a boat!
Many of the local tour companies offer trips such as:
Jeep Safari - drive around mountains surrounding Marmaris and visit villages, waterfalls and picturesque beaches. A tour around the Peninsula of Bozburun to south of Marmaris usually combines a visit to the Kızkumu sandbar, see below,
"get out" section
for more information. Great value fun day out at about 25 TL per person.
Turkish baths - a traditional turkish bath (Hamam) with sauna, body peel, foam massage and oil massage. From 20 TL per person including transport to and from the baths.
Turkish night - entertainment night with traditional Turkish food, dancing and entertainment including belly dancers. Many hotels do their own Turkish nights and prices range from 15-30 TL for the buffet and entertainment.
Also, trips to further afield such as Dalyan turtle beach and mud baths, Pamukkale, Lycia etc.
Buy

Lots of shops selling usual tourist fodder and local specialities such as Turkish Delight, carpets etc. Most of the branded clothing on offer is fake and is very cheap but the quality can be surprisingly good (Check sizes before committing to buy, especially when buying in markets). Beware of pirate DVDs and games as many will not work despite assurances from vendors.
Real leather can be bought for a good price if you're prepared to haggle. Starting prices are normally at least 2-3 times the final price!
Hairdressing and beauty treatments are good value but beware of tattoo hygiene issues if you decide to be inked permanently.
For food, there is a large supermarket at the end of the main road before the harbour and marina called Tansas which stocks virtually everything including international brands. Tansas has a sister company caled Migros which has two stores in Marmaris, one at the harbour and another larger store on the main road close to the Marmaris Court building. Another hypermarket is situated on the main road beyond the suburb of Armutalan, Kipa is the Turkish division of Tesco and offers a huge range of international and own brand products at competitive prices.
Most tourists enjoy visiting markets in Marmaris (Armutalan) and Icmeler. The markets sell most of the same things the local shops stock but one can haggle a bit more. Beware of pickpockets in these places. The market in the Armutalan area of Marmaris is on a Thursday and the Icmeler market is every Wednesday.
Beware some unscrupulious Turks try to sell baby tortoises to tourists and encourage them to smuggle them back home in luggage as pets. They will die, of course, in aircraft holds and can be picked up by airport x-ray machines in hand baggage. It is an offence to attempt to import a tortoise into most EU states as they are an endangered species.

Eat

Many places on the beachfront main road and just off it serving Turkish, English, Dutch and other nationality food. Tends to be cheaper away from the harbour and marina.
Nice restaurants are located on the beachfront promenade.
Proprietors will stand outside establishments and harass you into looking at their menu. Don't be too intimidated and a polite No thank you or Later will put them at bay. Marmaris and Armutalan councils have no tolerance for hassle and have special local police (Zabita) who videotape and close establishments who harass tourists. Most local establishments no longer hassle passing tourists.
Prices are 5-8 TL for starters, 10-20 TL for entrees depending on establishment.
Money saving tips: Many places will accept international currencies, such as euros and British pounds. These curriences can gain you heavily discounted prices in certain restaurants such as a three-course meal for £5 (Scottish notes not usually accepted).
If self catering visit the many supermarkets located in Marmaris the larger are Tansas, Migros and Tesco Kipa.
A bottle of water at a hotel will cost 4-8 TL. An 8-litre bottle of water can be purchased here for 3 TL. Many of these supermarkets have in store bakeries which produce lovely fresh bread.

Drink
Local beer is served everywhere and is very good, called
Efes
. Another drink worth trying is
Ayran
which is a yogurt based drink. Very cooling and good for you.
Also, some establishments stock imported beers such as Becks, Budweiser or Fosters but tend to be more expensive. Wine is very expensive and seems to be all local. Good and common winery is Villa Doluca.
One of the local drinks provided by hotels as an alternative to fruit juice is called 'Tang'. It is manufactured by Kraft and is available in sachets which mixed with water make 1 litre of fruit drink. The sachets cost about 0.65 TL and when various flavours are mixed make a very inexpensive and refreshing fruit drink.
Nightlife
Marmaris is famous for its fantastic nightlife.
For pre-partying drinks, many small bars along the beachfront offer the perfect place to watch the warm sun set.
There are a selection of good clubs along the beachfront which play a variety of music and cater to different tastes. Turtle Bar is by far one of the best bars there, bar outside with nightclub inside, without the incredulous prices of Bar street.
For hardcore partiers Bar street is where the party's at. Located in the old town this street has over 100 bars and clubs ranging from rock bars to Club areena, a huge outdoor nightclub with foam parties. All are open to at least 04:00.
Beware when drinking in Bar Street as prices are much higher (15-20 TL for a spirit and mixer) than those along the beach front although entry to most clubs is free and there are periods when there are special offers available.
Doruk Bar
is a family-run pub located in the bars street offering live music and local beers.
Sleep

Lively hotels can be found generally in Marmaris City Centre
More laid-back hotels can be found in the Armutalan area at the back of Marmaris where the local council has banned the playing of music after midnight. Armutalan council has also banned live entertainment from bars, limiting it to hotels.
There are exceptions however so make sure you choose a hotel that suits you.
As with any trip it is advisable to check websites such as trip advisor, for info on your hotel before you book as there can be great differences. All inclusive deals are good value but beware of bed and breakfast and half board as hotels may restrict you bringing food or drinks into their premises making you dependent on their offerings which will be much more expensive than buying from a supermarket. In a very hot climate like Turkey a few drinks each day can add a lot to a holiday cost. In self-catering properties beware of damage charges. Soiled towels and bedding can cost up to 80 TL to replace and damage to curtains and furnishings can be very costly. Note any damage however small on arrival and report it!

Go next
Ferries and high-speed hydrofoils depart several times a day to Rhodes, Greece, but port charges are expensive. Still a good day out and a chance to visit another country and sample it's culture whilst closeby.
Flights to international destinations available from Dalaman airport.
Turkish Airlines has a store in downtown Marmaris where flights can be booked. OnurAir also fly to several Turkish destinations from Dalaman.
Beware
: Prices at Dalaman Airport are expensive. A Coke costs 7 TL, large local draft beer 15 TL and a McDonald's/KFC meal 25 TL. Avoid the expense by taking food/snacks with you from the resort before flying from Dalaman.
Nearby
Datca is located 70-80 km west of Marmaris. It's a nice place for who want to escape from Marmaris' crowd and noise. Datca, is a holiday place who doesn't like much noise, but would like to see natural things. Espicially it's beautiful coves and bays are (Palamutbuku, Hayıtbuku, Mesudiye) very famous. Also the ancient city of Knidos on its tip. It's very easy to find direct bus services from main terminal of Marmaris. You can travel from Marmaris to Datca by bus. Datca bus tickets are available in Tikobilet Datcaand Marmaris.
Bozburun Peninsula, has beautiful coves, pine covered mountains and villages. Especially interesting on this peninsula is Kızkumu (literally "Maiden's Sand"), a sandbar that shuts the entrance of a cove almost completely. It's located on the western shore of the peninsula, near Orhaniye village. Story has it that a young lady started to spill the sand she gathered into her skirt, while escaping foreigners on one shore of the cove, and also to meet her lover who was waiting at the opposite shore. But the sand hadn't lasted enough for the entire gap of the cove, so when her sand ran out, in order not to be caught by the foreigners chasing her, she committed a suicide by jumping into the water. Scientists have another explanation, though. Kızkumu's length is about 1 km, and the sand (or more like reddish finely grained pebbles) is only one ankle under the water surface all along the road, also its width is more than enough for 5 people to walk side by side, so you can easily walk on the top of it (as many other people do). Its ending point is signed by an easily-visible Ionian column, so don't worry.
Akyaka about 20-25 min of driving in the north has a stony-but-beautiful beach, pine forests, and buildings that maintain a lovely local architecture.
Icmeler, Cennet Island, Gunnucek, Turunc, Kumlubuk, Turgut, Orhaniye, Hisaronu, Ciftlik, Sogut, Bozukkale, Bozburun, Gokova, and Dalyan are some of the popular coastal towns close to Marmaris.
Sedir Island (Sedir Adası) a.k.a. Cleopatra Island — north of Marmaris in the Gulf of Gökova, Sedir Island, known in ancient times as Kedreae, features an amphitheatre and some other Greek/Roman ruins shadowed by the silvery green olive trees. However, its biggest claim to fame is its Cleopatra Beach, with the golden sands virtually non-existent anywhere else in the Eastern Mediterranean, accompanied by milky turquouise waters of the cove. The legend has it that Marcus Antonius have this sand brought in from Egypt for honeymoon on the island with his lover, Cleopatra of Egypt, however experts conclude that this unique sodium bicarbonate-containing sand is actually consisting of dissolved seashells. The sands are under heavy protection and removing any quantity of sand from the beach is forbidden, so no towels or shoes are allowed in the beach and anyone entered the beach must have a shower before exiting. Sometimes bags are searched upon exiting, too. Frequent boats to island depart from the harbour near the highway north to Akyaka/Gökova/Muğla, about 10 km north of Marmaris (watch for brown Sedir Adası signpost) after crossing the mountain pass just after leaving Marmaris behind. Boats cost 10 TL pp return, and admission to the island is a further 10 TL pp. There is a small kiosk on the island with fairly priced drinks. Kiosk doesn't sell any alcohol but it's allowed to bring in from the mainland with you (and any other snacks and drinks). The beach closes at 19:00 and it's best to visit the island in the morning, as early as possible, because the beach gets overcrowded especially after 13:00 during the high season.