Marquette (Michigan)
Marquette
is a city in the
Upper Peninsula
(U.P.) of the state of
Michigan
.
Understand
Whenever talking to a Marquette resident, you'll eventually hear reference to "the Lake". This nearly always means Lake Superior. Other, smaller lakes nearby and elsewhere in the U.P. are referred to by their names, e.g., Silver Lake, Teal Lake.
Marquette is a university town, and shares some sensibilities with other college towns around the country. This also means that many, although by no means all, of the young adults are university students.

Get in
By plane
phone: +1-906-346-3308

A former U.S. Air Force base converted to civilian use. Direct flights from Chicago, Detroit, and Minneapolis.
By bus
It is possible to take the Greyhound into Marquette.
By car
If you drive up from the Lower Peninsula, take US-2 along the southern shore of the U.P. for a scenic drive. With a few local exceptions, all highways in the U.P. are 2-lane. Passing lanes have been added along US-2 and M-28, to help traffic flow.
Driving in the Upper Peninsula during winter can be treacherous, but the county crews do a good job of clearing, salting, and sanding the major roadways, as do the crews in Marquette. Side streets can be very slippery if snow-covered.
Get around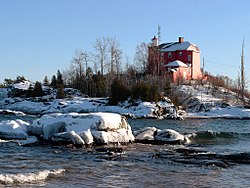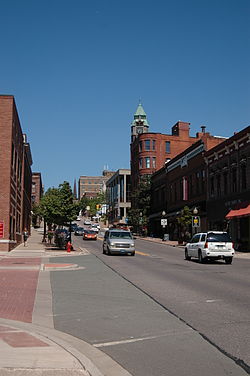 By car
For the most part one would want to take a car, especially in winter when snow or ice covers everything.
By bicycle
In the summer you can rent bicycles from some of the local bike shops. Marquette has several bike paths, one of which runs alongside the lake from Presque Isle Park to the intersection of M-28 and US-41. Biking on M-28. Additionally, the back roads around town are rather pleasant and the traffic isn't too harsh.
Lakeshore Bikes

phone: +1 906 228-7547

address: 505 N Lakeshore Blvd

has bike rentals available.
By bus
There is also county-wide
bus service
, which runs a few fixed routes and also offers door to door service.
See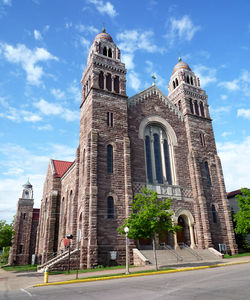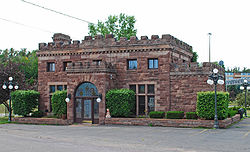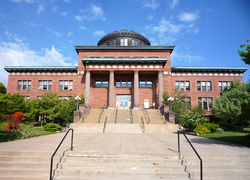 address: Gries Hall, 7th St and Lee Dr

address: Tracy & 7th Street

Marquette Maritime MuseumTour the lighthouse while you're here. You must make an appointment beforehand.

Marquette Regional History Center

phone: +1-906-226-3571

address: 145 W. Spring Street

Lake SuperiorYou can view the lake at many spots around Marquette's east side.

Iron ore boats in the Upper Harbor are a sight to behold; you can see them docked at the Upper Harbor ore dock, next to Presque Isle Park during the upper Great Lakes shipping season.
Fall colors: In September and October, the forests are filled with a variety of reds, yellows and oranges as the maple, birch, aspen, and other leafed trees get ready for winter.

Arch and Ridge Streets Historic District
Do
Outdoors
phone: +1 906-228-3072 or +1 906-362-3785

Every winter this race is held and the start is immediately followed by fireworks off of the dock in downtown.

phone: +1-877-228-5447

offers kayak outings around the U.P., including trips to Pictured Rocks National Lakeshore.
Skiing
Hiking
Hiking opportunities are abundant, with many hikes heading up the big hills in the area that overlook the lake. One can hike up Sugarloaf Mountain or Hogback Mountain and then hike back down to the Lake for a relaxing lounge on the beach. For additional trails, not yet listed here, see City of Marquette's list public trails on its
website
.
Sugarloaf MountainThis is a good, short hike north of town. Two routes are maintained: one route is a steeper climb, and the other ascends more gradually. Both routes include staircases over rock outcroppings, especially near the summit. The view from the top is spectacular - a great photo spot. Also one of the best places for autumn foliage viewing.

Presque Isle ParkA city-owned area with boat slips, picnic areas, trails, a sheltered pavilion, and a refreshment shop. Presque Isle Park is flanked by the Upper Harbor to the south, and by Lake Superior to the east and north, and northwest. It's a city park but feels much bigger. The trail around the perimeter of the island meanders through the woods, occasionally popping out for breathtaking views of cliffs and the lake. Presque Isle Park is found by following Lake Shore Drive northward, just past the north harbor ore dock. The refreshment shop is closed in the winter, as is the one-lane, one-way road around the "Island," as the park is known locally, but remains open to snow-showing, cross-country skiing, and hiking in the winter months.
Biking
Marquette has challenging trails for freeride mountain biking.
Follow the bike path from Presque Isle Park, all the way to south Marquette. This path was added within the last 10 years or so, and has become very popular. Just be prepared to share it with pedestrians and the occasional rollerblader.

Oar to ShoreIn the summer, Marquette is host to the Ore to Shore mountain bike race.
For good riding advice, stop by Lakeshore Bikes or the Quick Stop Bike Shop. Guys at both shops are avid riders and will be happy to point you in the right direction.
Fishing
You can fish Lake Superior, the inland lakes, and many creeks and streams. Licensing, minimum length of caught fish, and fish limits are regulated by the Michigan DNR, which publishes a fishing guide .
phone: +1-877-228-5447

address: 434 East Prospect St

Fishing trips on Lake Superior. Otherwise you can fish off of the breakwall downtown, which is accessible from the Coast Guard station off of Lakeshore Drive (just north of downtown), or one of the inland lakes and streams.
Festivals
Art on the RocksAn outdoor art show.

Annual Fourth of July fest at Ellwood Mattson Lower Harbor Park, just steps from downtown. Also the site for fireworks.
Indoors
Bad weather? Had enough of the outdoors? Check out these alternatives.
Northern Michigan University sporting eventsNorthern Michigan University (aka, 'Northern' or 'NMU') has a good hockey team and it's worth going to the games. NMU is also home to the Superior Dome, one of the largest wooden domes in the world and host to NMU football and indoor track
Buy
Marquette's downtown
offers plenty of shopping, with many one of a kind shops and local offerings.
Regional and national chain
stores can be found at the
Marquette Mall
and the
Westwood Mall
, along US-41 west.
Eat
A local specialty is Cudighi Sausage. It is a hard to find (in the U.S.), northern Italian sausage. Many restaurants in Michigan's Upper Peninsula serve this sausage and it's definitely worth trying.
phone: +1 906 226-5040

phone: +1 906-228-5310

address: 1635 Presque Isle

phone: +1 906 226-7744

address: 223 West Washington St

Huron Mountain Bakery

phone: +1 906 255-1301

address: 1301 South Front St
Budget
Mid-range
Splurge
phone: +1 906 228-0900

address: 113 S. Front St
Drink
The DoghouseLocated downtown and has 10 TVs. It is owned by a former NMU Rugby player and many rugby players frequent the bar, however it is still popular amongst all students.

Remi's Bar

address: Third St

The Landmark Innhas a bar downstairs. Also check out the North Star lounge upstairs - It's got the highest of view of Lake Superior and downtown Marquette.

Ore Dock Brewing Company is a craft brewery that opened in May 2012. Great beers and often concerts, 114 W Spring St.

phone: +1 906 273-1333

A cozy pub serving their own brews
Sleep
phone: +1 906-228-0465 (May to October), +1 906-228-0490 (October to May)

address: 2145 Sugarloaf Ave

A location for campers to pitch their tent or park their RV.

Blueberry Ridge Bed and Breakfast

phone: +1 906-251-0219

address: 193 Oakridge Drive

phone: +1-800-315-2621

address: 1951 US-41 West

Comfort Suites Marquette Hotel2463 US 41 West. 60 suites, including five Whirlpool Suites and two Two-room Executive Suites. Corporate and banquet facilities available.

address: 2472 US Hwy 41 W.

Featuring 84 rooms including Whirlpool Suites, Studio Suites, Family Suites, and an Extended Stay Suite. Complimentary continental breakfast. Indoor pool, whirlpool and fitness room. Free wired and wireless internet access. Twenty-four hour business center with printer.

phone: +1 906 228-2580

address: 230 N. Front St

The historic Landmark Inn has been fully restored to its original beauty. The decor is inspired by European elegance, as reflected in 62 individually designed guest rooms (many with Jacuzzis, fireplaces and views of Lake Superior and of Marquette). The hotel is 100% smoke-free.
Go next
Every surrounding town has some sort of tourist attraction.
Ishpeming
has the
Yooper Tourist Trap
, a gift shop, museum, RV park and campground.