Marseille
Marseille
(
Provençal
:
Marselha
) is the second most populated city of
France
(and third urban area) the biggest Mediterranean port and the economic center of the
Provence-Alpes-Côte d'Azur
region. In 2013 the city (with its region) was the European Capital of Culture, a large series of cultural events took place, and several new infrastructures were inaugurated.
Understand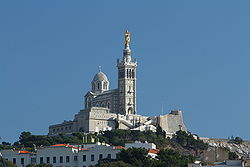 Marseille has a complex history. It was founded by the Phoceans (from the Greek city of
Phocea
) in 600 B.C. and is one of the oldest cities in Europe. The town is a far cry from the Cézanne paintings and Provençal clichés of sleepy villages, "pétanque" players and Marcel Pagnol novels. With around one million inhabitants, Marseille is the second largest city in France in terms of population and the largest in terms of area. Its population is a real melting pot of different cultures. It is also said that there are more Comorian people in Marseille than in Comoros! Indeed, the people of Marseille have varying ethnic backgrounds, with a lot of Italians and Spaniards having immigrated to the area after the Second World War.
For people not afraid to discover a real place with real people, Marseille is the place. From colourful markets (like Noailles market) that will make you feel like you are in Africa, to the Calanques (a natural area of big cliffs falling into the sea - Calanque means fjord), from the Panier area (the oldest place of the town and historically the place where newcomers installed) to the Vieux-Port (old harbor) and the Corniche (a road along the sea) Marseille has definitely a lot to offer.
Forget the Canebière, forget the "savon de Marseille" (Marseille soap), forget the clichés, and just have a ride from
l'Estaque
to
Les Goudes
. You will not forget it.
Get in
By plane
Marseille-Provence International AirportBuses, taxis and now train connect in less than 30 minutes. Shuttle services from other European cities have made more places available from Marseille.

La Navette AéroportAn easy way to get to Marseille's city centre. The shuttle leaves approximately every 15-20 minutes, taking 25 minutes and goes directly to the St. Charles bus/train station where you can take the metro or walk to your hotel. As of May 2018, the price is €8.30 for a one-way or €13.40 for a round-trip.
By train
Marseille sees
TGV
trains from
Paris
(3 hours) via
Lyon
(1hr 45min),
Nice
(2 hours) and from
Brussels
(5 hours). Slower
Intercités
trains connects with cities not on the TGV network. All trains within France are run by
SNCF
. Additionally,
Eurostar
now offers an all year round direct service from
London
(6½ hours) with up to five weekly departures during summer season and one to two during winter.
For travel from Spain, there are daily AVE service operated by a joint venture of the French and Spanish railway companies from
Barcelona
(4½ hours), and
Madrid
(8 hours). Alternatively, there are frequent connections to
Cerbère
and onwards to Barcelona by means of a series of regional trains. There is also a daily
Thello
train from
Milan
, in
Italy
(4hr 45min). This train also stops in
Monaco
.
Regional
TER
are frequent and connects with several nearby cities and can be a cheaper alternative then using TGV trains for shorter journeys.
The main station of Marseille is , at Square Narvik a few hundred metres north of the absolute city centre.It's a short walk from the Canebière and the Old Port, but the station is slightly uphill which might be inconvenient if you have heavy luggage. The station is open between 04:30 to around 01:00, information on departures and arrivals as well as practical information can be found at
Gares SNFC
webpage.
By bus
Nice – Buses leave from Nice Gare SNCF at 05:22, 06:23, 08:13, 11:23, 14:23, 15:12, 16:23, 17:40, 18:13, and 19:13, often daily. They take about 3 hr and cost €33. There are additional direct connections from Nice Care Routière Vauban and Nice airport via Aix-en-Provence. See http://zou.maregionsud.fr .
Eurolines
has many connections all over Europe. From Marseille there are at least direct connections to
Barcelona
,
Prague
and
Tangier
.
There is also a Eurolines office on the 3 Allée Léon Gambetta; If you walk down the big stairs on the southside of the station, follow the road until you come to a squarelike intersection. The office is on your left hand.
The tickets of all those companies can be purchased on
Sobus
.
By car
Marseille is very well connected to most French cities through numerous highways. As always in France those highways are expensive but practical, comfortable and fast. Marseille is around 8 hours from Paris by car, 2 hours from
Nice
, 1hr 30min from
Montpellier
, 4 hours from
Toulouse
and 3 hours from
Lyon
. However, be aware that driving in the city centre is a nightmare - park your car somewhere safe and stick to public transport whenever you can.
By boat
Marseille has a big harbour. There are direct daily services to Marseille from
Ajaccio
,
Bastia
,
Porto Torres
,
Porto-Vecchio
, and
Propriano
as well as ferries traversing the Mediterranean from
Oran
and
Algiers
in
Algeria
, usually with one or two crossings per week.
There are several piers at the harbour, so it is advisable to check well in advance from which pier you are departing.
By bicycle
If traveling by bicycle, you should arrive early in the day to avoid getting lost in this vast metropolis. Maps from the tourist office focus on the city center, so you should come with your own map to navigate the suburbs.
Get around
By bus, tramway, subway
Marseille is served by a transit system, the
Régie des Transports de Marseille
(RTM) comprising 2 subway lines, 2 tram lines and 74 bus lines. If you have any mobility problems, are in a wheel chair or have a child in a push chair, you should be aware that almost every métro station has steps in it somewhere and some will have several flights of stairs - stick to the trams and buses which are a better option.
The tickets for bus/métro can be bought in the cafes, at the subway stations, or on the bus; it is advised to buy a multi journey ticket (carte libertés) at €14 (10 voyages), which are not sold in the buses. The number of transfers is unlimited (including the return journeys) within the one-hour limit between the first boarding and last transfer on all the network (you must validate with each entry to the bus). The subway runs between 05:00 and 00:30. The tram system operates until 00:30 7 days a week. Most bus routes do not operate after 21:00 or so, although a limited network of night buses (Fluobus) operates with infrequent service (only about every 45–60 minutes or so) until about 00:30 or so. Using a taxi is recommended if you need to travel after 21:00. There is no service at all on 1 May.
The
Pilote website
, includes all the bus, tram and metro schedules but is easier to read than the RTM sites. Moreover, this site repeats the schedules of the majority of transport in common runs of the agglomeration (tram, bus interurban, trains regional) and makes it possible to search for journeys in Marseille and the nearby communes.
Airport transfers are available for €8.30 each way to/from Gare St Charles. Tickets may be bought at the cabin between Hall 1 and Hall 3/4 of the main terminal and at a separate kiosk in the new Gare Routière, after Voie N in the Gare St Charles. The bus runs every 20 minutes on 10, 30, and 50 minutes past the hour. The ride is about 30 minutes. The bus says Navette Aeroport Gare St Charles on it. From Gare St Charles, the metro can get you to most hotels.
Metro tickets allow unlimited transfers onto bus or tram within 1 hour of initial use for the base €1.70 fare but does not include re-entry (1 hour limit) to the metro. A daily ticket (carte journée) costs €5.20.
By boat
A Ferry Boat crosses the Old Harbour (
Vieux Port
). It is a tourist attraction in itself known as the shortest commercial boat ride in Europe. Several other ferries propose connections with L'Estaque, Les Goudes, La Pointe-Rouge and Le Frioul. They cost €10 return trip but a 1 week RTM transportation pass (€14.50; passport and color photo needed) comprises them (except Frioul island) which is very interesting. Also there are several companies proposing boat tours of the Calanque, like mini-cruises.
By car
Avoid taking your car if you possibly can. Marseille, at least the centre, has narrow streets, one-way streets, random lane changes and so on which can drive both locals and non-locals crazy. The local drivers have a well deserved reputation for fearlessness - particularly if they are on two wheels. In addition, Marseille has some of the lowest parking fines in France - parking fines are rarely enforced and consequently you will find cars parked (and sometimes double parked) everywhere.
Due to the new tunnel that is being built to try to alleviate some of Marseille's traffic problems, satellite navigational systems such as the Tom Tom are likely to be out of date and dangerous if followed. For instance, following a Tom Tom in the centre of Marseille could take you across newly installed pedestrian areas or Tram lines. The one-way system has also completely changed.
By taxi
Be careful of rogue taxi drivers. While there aren't many, there are a few and a €20 ride can quickly become a €40 ride. If you think you've been cheated get the taxi driver's number (in the rear of the car, often on the window) and go to the Tourist's Office at 4, La Canebière (near Le Vieux Port) and speak to a representative, they can and will get your money back if you've been ripped off. They will also get the taxi driver in significant trouble.
By bicycle
Marseille has the excellent
le vélo
cycle hire scheme in place (but
a very small number of cycle paths
), this makes it possible to get round the city quickly and very reasonably. It costs €1 for a week's subscription. Each time you hire a bike, the first 30 minutes are free, then each hour costs €1. There is a €150 deposit which will be charged if you don't return the bike properly.
See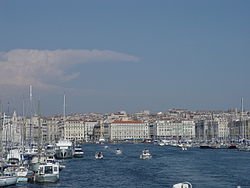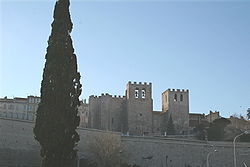 Vieux PortWatching fishermen selling their stock by auction is a must. Arriving into Marseille in the Vieux-Port on a summer evening is something you will never forget. You can watch this show by going to Frioul islands or Chateau d'If and going back late in the afternoon. there is also a nice view on the harbour from the Palais du Pharo (Pharo Palace). The famous Canebière avenue goes straight down the harbour. However the Canebière is not that interesting despite its reputation.

Basilique Notre Dame de la Garde

address: Rue Fort du Sanctuaire

The big church which overlooks the city. Old fishermen used to have their boats blessed in this church. You can still see many boat models hanging around in the church. From there it is one of the nicest view of the city. You can use the tourist train from the Vieux Port to reach the church - you can get off the train, look around and board a later train back to the port.

address: 3 Rue de l'Abbaye

L'Hotel de VilleMarseille City Hall

Le PanierLe Panier (which means basket in French) is the historical centre of the city. This district is characterized by many narrow and steep streets. The tourist office organises a guided tour in english of the Old town every saturday at 14:00. You can begin your tour from the Vieux-Port and finish at the Mucem of vice versa. A recommended trail of this district is also proposed by the tourist office.

Marseille Cathedral

address: Place de la Major

A Byzantine-Roman cathedral at the western side of Le Panier quarter.

La Vieille Charité

address: 2 Rue de la Charité

is a wonderful old monument, a former charitable housing for poor, now hosting museums and exhibitions.

Cours Belsunce

Place CastellaneWith a grand fountain/column/sculpture in the center, with excellent cinemas and cafés surrounding. There is another place called La Castellane: it is a poor suburb of Marseille where famous footballer Zinedine Zidane was born.

Cours JulienA hangout area with bookstores, cafés, fountains, and a playground for the small ones. It is a trendy area of Marseille.

Place Jean JaurèsLa Plaine is the local name for Place Jean Jaurès close to Cours Julien. Every Thursday and Saturday morning the Plaine market is the place to shop. If you are there early enough you can make very good deals, even if what you'll find there is sometimes "tombé du camion" (fallen off the truck) as one says in Marseille.

Noailles quarterLined with Arabic and Indo-Chinese shops some of the streets could be part of a bazzaar in Algeria. A fascinating area.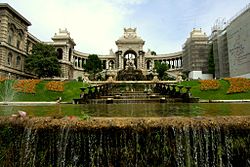 Palais LongchampIt houses the city's Musée des beaux-arts and Natural history museum. The surrounding park (the Parc Longchamp) is listed by the French Ministry of Culture as one of the Notable Gardens of France. The Boulevard Longchamp connects it with the city centre.

Fort Saint-Jean

address: Parvis Saint Laurent

Fort Saint-Jean is a fortification at the North-Western end of the Old Port, built in 1660 by Louis XIV. The fort also hosts the Museum "Musée des Civilisations de l'Europe et de la Méditerranée", but the fortification itself is accessible to the public free of cost, and worth a visit. You can walk through the old fortifications, stroll through a small park, enjoy the view on the Old Port or on the sea, or walk over the free-hanging bridges to the museum or the Church Saint-Laurent. The Fort also offers a 10-min video show about the history of Marseille and the Fort.

Vallon des AuffesSmall and out of time traditional fishing port, just near the city centre.
Museums and places of interest
Musée des civilisations de l'Europe et de la MéditerranéeThe first French national museum outside of Paris. It has large permanent and temporary exhibitions. Its architecture mixes a very contemporary structure (a dark box) with an old castle, with footbridges linking the two parts of the museum.

phone: +33 4 91 91 24 62

address: 10 Place Vivaux

Built to preserve the archeological finds at the former warehouses of the old harbour from Phoenician and Roman times
Musée d'Archéologie méditerranéenne (Archéologie-Graffiti-Lapidaire), Centre de la Vieille Charité, 2 Rue de la Charité, 13002 Marseille. Tel: 04 91 14 58 59, Fax : 04 91 14 58 76

Mazargues War Cemetery

address: On the way to Luminy

A war cemetery dedicated to World War I and World War II martyrs from the Allies, especially the Indian and Chinese gunners and runners. A very serene place, it is the perfect place to spend sometime thinking about the people who laid down their lives to give us the freedom we enjoy today.
la Corniche: a walkway and a road by the sea that provides lovely views of the sea, the Chateau d'If to the south, and les Calanques to the east.
Parc Borély (Borely park). A large and great park, 300 meters from the sea. After a siesta in the park go have a drink at Escale Borely (a place with numerous restaurants and bars on the beach) to see the sunset.

Unité d'HabitationDesigned by Le Corbusier, and one of 17 of his buildings to be listed as a World Heritage Site. The building is called "la maison du fada" (the house of the foolish) by indegenous people. The building contains a shopping street, a church, a children's school and housing. You can access the roof and enjoy the breathtaking view of Marseille between hills and sea (10:00-18:00). There is a bar/restaurant/hotel on the 3rd floor too. Take bus 21 from Rond-Point du Prado metro.
Outside of town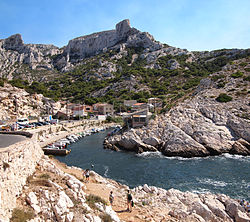 The Calanques. The Calanques are a series of miniature fjords to the south of Marseille near Cassis. From Marseille these are best accessed from the University campus at Luminy which can be reached by bus #21 departing from Rond Point du Prado opposite the Stade Velodrome or from Vieux Port (the bus fee is €1.50). The 'fjords' are amazing with wonderful blue sea and spectacular lime stone cliffs. The walk along the coast from Cassis to Marseille is spectacular, it can be done in one day at a fast pace. The trail (GR) is clearly marked (red and white strips). From Luminy, you can turn left to Cassis or right to Callelongue (a bus connects you to bus #19, which takes you back to Place Castellane in the center, or you can use also bus #21, 20, 23). From June to September some of the Calanques can be closed due to high risk of fire.
The Château d'If The Château d'If is built small island off the city, initially as a defensive structure and was later used a prison. It is most famous for its place in the novel The Count of Monte-Cristo by Alexandre Dumas. Tourist boats leave from the Vieux Port.
Allauch and Plan de Cuques are communes on the outskirts of Marseille, both blessed with beautiful countryside. You can take the metro to and then a bus #142, #144. Take a picnic and go for a walk in the hills, the views of Marseille and the Mediterranean are stunning.
L'Estaque and côte bleue L'Estaque is fishing port that is just starting to exploit its tourist potential through its connections to Cézanne. You can get there on the #35 bus from .
Do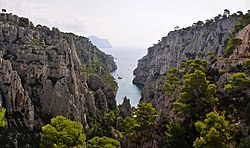 You can visit the fabulous restaurants and cafes. You can go and do many adventurous things such as diving and hiring boats! The
calanques
(fjords) between Marseille and
La Ciotat
are a very popular sports climbing area. And of course, if the weather is fine, you can simply go to the beach!
Watch football at the Vélodrome, home to Olympique de Marseille. They play in Ligue 1, the top tier of French football, and often qualify for European tournaments. The stadium, capacity 67,394, is in St Giniez district 2 km south of the city centre, use Metro station Rond-Point du Prado. Buy match tickets on-line or from the L'OM shop in Vieux Port.
Events
Marseille was European Capital of Culture in 2013.
The festival Avec le Temps that occurs every spring at the Espace Julien (one of the main concerts halls in town) consists in many concerts of French artists, in many genre (Pop, Chanson, Rock, Folk.)
La Fête Bleue, "the Blue Festival" at the end of June. A lot of shows (concerts, movie projections, exhibits) occur in many places in the city, and the theme is the colour blue.
La Fête du Panier, at the end of June. During two days, you will be able to see shows, concerts and markets in the oldest area of the town.
Le FDAmM or Festival de Danse et des Arts Multiples de Marseille, is the main dance festival in Marseille and lasts all summer.
Le festival du Plateau, at the Cours Julien, in September.
The music festival Marsatac occurs in the end of September and was created 10 years ago. Artists who performed there were for example Public Enemy, Nouvelle Vague, dEUS, Mogwai, Peaches, Amon Tobin, De La Soul, Laurent Garnier, Aphex Twin....
La Fiesta Des Suds, at the Dock des Suds, in October is a famous festival dedicated to World music. You can attend concerts of artists such as Asian Dub Foundation, Buena Vista Social Club, Cesaria Evora.
La Foire aux Santons is a very picturesque Christmas market held from late November near the Canebière and Vieux Port. Provence is the home of santons, terracotta figurines used in nativity scènes known as crèches. Some merchants and many churches display impressive crèches of their own.
Beaches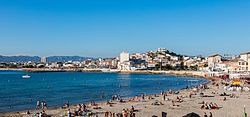 Let's be honest, beaches in Marseille are not always great. Moreover depending on the weather, they can be rather polluted.
However the small beaches south of the city centre between La Pointe Rouge harbour and La Madrague harbour are cleaner, nicer and usually slightly less crowded.
There are also good sandy beaches at
L'Estaque
- take bus #35 from Joliette metro/tram stop to the end of the line (20–25 minutes).
Learn
Universities
Marseille is home to many universities and has a reputation for great education. The universities have a wide array of focuses from art to business.
École d'Architecture de Marseille

phone: +33 4 91 82 71 00

address: 184, avenue de Luminy
Main focus on Architecture
Institut de Mathématiques de Luminy

phone: +33 4 91 26 96 30

address: 163, avenue de Luminy

Main focus on Mathematics.
Euromed École de Management
phone: +33 491 827 800
address: 65, Boulevard Balthazar Blanc
Main focus on Business (Business Management and International Business)
Université Aix-Marseille III
phone: +33 4 42 17 28 00
address: 3, avenue Robert-Schuman
General studies university
Faculté de Médecine de Marseille
phone: +33 4 91 32 43 00
address: 27 Boulevard Jean Moulin
Main focus on Medical Field and Pharmaceuticals
Eat
Unsurprisingly, Marseille's cuisine is focused on fish and seafood. Its two flag-bearing specialities being the famous fish broth "
bouillabaisse
" and "
aïoli
", a garlic sauce served with vegetables and dried cod.
La Bouillabaisse de Marseille
La bouillabaisse is an excellent fish-based soup served with la rouille (a garlic-saffron sauce) and bread similar to crostini. In fact, Bouillabaisse is a 2-course meal: first you get soup from the pot, then you get the rest, i.e. fish.
La bouillabaisse cannot be enjoyed on the cheap. If you are invited to the home of someone making bouillabaisse, then you are in the clear. But never eat cheap bouillabaisse at a restaurant unless it's not called bouillabaisse; only eat it at a place where you have to reserve in advance.
Budget
There are lots of Kebab restaurants along the Canebière. Many cheap, authentic couscous eateries are to be found around the Cours Belsunce, where the local Maghrebic immigrants have their lunch.
Bar de la Mairie

address: 66 Quai du Port

A very popular spot for the long lunch break Marseille's worker are used to taking. Friendly service, good food and wine at a reasonable price. No English spoken whatsoever.

phone: +33 4 91 33 32 12

This bakery is famous for its "Navette" dry biscuit which recipe has been kept secret for almost a century. This is one of Marseille's culinary specialities. Not to miss.
Mid-range
Many affordable restaurants with sunny terraces are to be found on Cours Julien, a pedestrian-only street near the Canebière and the "Plaine".
phone: +33 4 91 50 95 95

address: 2 Boulevard de la Libération

Despite its name, there is no canned fish in the menu there. A member of Gourméditerrannée association.

L'Escapade marseillaise

address: 48, rue Caisserie

A favourite among locals, this enjoyable restaurant offers a delectable Provençale cuisine.

phone: +33 811 45 45 45

address: 3, cours Saint Louis

(aka Toinou Les Fruits de Mer) A local reference when it comes to seafood, especially famed for its oysters. Toinou also acts as a seafood and fresh fish vendor. It is a self-service format. This place is often packed.

Le Cercle Rouge

address: 41 Rue Adolphe Thiers

This unusual restaurant does excellent Corsican tapas such as figatelli sausage, stuffed artichokes, panchetta in honey and red mullet in tomato sauce. Worth booking to get a spot on the lovely terrace.

Le Cours en Vert

phone: +33 4 86774169

address: 102 Cours Julien

Vegetarian and organic (biologique) restaurant on the cours Julien. Wholesome and tasty - mains are €10-14. Organic beers and wines are available too. Child-friendly. Service is a little slow.

Fayrouz

phone: +33 4 91483630

address: 62 Cours Julien

Lebanese restaurant with fixed-price three-course menus around €20-25 each.

L'Epuisette

address: 156 rue du Vallon des Auffes

Its amazing location in the very picturesque Vallon des Auffes harbour is an undeniable plus. Seafood specialities and affordable bouillabaisse.

Les Café des Epices

phone: +33 4 91 91 22 69

address: 4 Rue du Lacydon

Good quality, modern twist, range of set menus.
Splurge
phone: +33 4 91 91 01 16

address: 4 Place de Lenche

Perhaps the best ice cream establishment in the city. Yet another member of Gourméditerrannée association.

phone: +33 4 91 52 30 63

address: 6 rue des Catalans

For bouillabaisse and other sea food.

phone: +33 4 91 52 14 38

address: 140, Vallon des Auffes

Seafood (again bouillabaisse), nice views.

address: 8, rue Fort Notre Dame

A gastronomical restaurant consistently ranked among the city's best, specialized in seafood and fish dishes.

Le Petit Nice PassédatA 3-star Michelin restaurant on an idyllic location by the sea, facing the islands, held by local celebrity chef Gérald Passédat. It ranks among Southern France's very best restaurants and serves the best bouillabaisse in town at a cost.
Drink
Lots of new places have opened in Marseille, at night, three main districts are interesting (besides beaches between april and october where people go and spend the night), the
Old Port
with lots of bars and pubs (particularly on the southern side and on Cours d'Estienne d'Orves,
La Plaine/Cours Julien
with numerous alternative and underground bars, and
La Joliette/J4
with trendy chic new bars and clubs. However
La Friche
should not be forgotten, particularly during summer when the very large rooftop hosts dj parties for free every friday and saturday. For events and concert agenda, see
La Nuit Magazine
or printed paper
Ventilo
, particularly during summer as lots of music festivals, boat parties (mini-cruises at night with djs in the Calanques for €20-40), rooftop parties and concerts take places.
English/Irish pubs
phone: +33 4 91 71 53 71

address: 378, avenue de Mazargues

phone: +33 4 91 33 11 01

address: 17, quai de Rive-Neuve

Red Lion: small English pub at Notre dame du mont.
Red Lion(same name): famous and reknown English pub at La Pointe Rouge, southern Marseille, next to the beach.
Arty bars
Polikarpov

phone: +33 4 91 52 70 30

address: 24 Cours Honoré d'Estienne d'Orves

Lively and good value late bar with outside terrace. Does a wide range of cocktails and one of the cheaper places for beer.

phone: +33 4 91 91 56 49

address: 45 Rue Sainte-françoise

In "Le Panier", a nice terrace with a nice atmosphere
E-wine: on Le Cours Julien, small bar with terrace where some local house and techno djs play.

phone: +33 4 91 91 56 49

Next to the Old Port, small bar with terrace which offers a huge number of cocktails for €5.
le Petit Nice: on La Plaine next to the Cours Julien, nice little cafe.
Theme bars
Le Barberousse: between the Vieux-Port and l'Opéra, rhum-specialised bar with pirates and boat decoration.
Play Bar: small gay bar between the Vieux-Port and Notre Dame de la Garde, rue Breteuil.
Clubs
phone: +33 4 91 54 30 45

address: 24 quai de Rive Neuve

This three room cave-like club, is a great place to go if you like to listen to different types of music. One room or cave, plays hit music, another room plays underground techno and house music (room led by La Dame Noir records) , and the last room plays jazzy and 1950-60s music. The drink prices range from €5 for a mixed drink or well beer to €10 for more quality alcohol.

address: 1 rue du Chantier

Le Cosy Bar is a club aimed at the younger demographic. This is a multi-roomed club, plays top music in techno, dub step, hip hop, and reggae til 06:00. Le Cosy Bar is known for their extravagant theme nights such as Moscow Beach, where everyone's attire is mixed between winter wear and beach clothes, and Soiree Pyjamas, where everyone dressing in pajamas. The drink prices are €5-10, like most of the other night clubs in the area.

phone: +33 6 58 52 15 15

address: 90 Boulevard Rabatau

The best electronic music club in Marseille. €5 in advance or €10 with a drink.
Splurge
address: Boulevard du littoral

Restaurant and club under the Major cathedral, the place hosts live bands from Corsica playing French and international hits. The place is luxurious and beautiful people fit in.
Sleep
Budget
Mid-range
New Hotel has four different hotels in Marseille tailored to individual needs. For a quiet and greenery stay, the New Hotel Bompard is particularly suitable, while being close to the city center.

Hotel La résidence du Vieux Port MarseilleCompletely renovated in 2010 in a 1950s style with a tribute to Charlotte Perriand and Le Corbusier. The hotel offers beautiful views of Marseille from its balconies and three suites on the top floor have terraces overlooking the Old Harbour and the Church. All the rooms are facing the port.

Best Western La Joliette

phone: +33 1 45 74 76 72

address: 49 Avenue Robert Schuman ,13002

Clean, cosy hotel in a quiet location near Joliette metro/tram station. Good location for the port and Le Panier.
Splurge
phone: +33 4 96 11 42 11

address: 36 Boulevard Charles Livon

A four-star resort near the Pharo gardens overlooking the Vieux Port with impressive views. The place to stay for most public figures.

phone: +33 4 91 59 25 92

address: 17 Rue des Braves

One of the city's most upmarket hotels, this villa by the sea boasts the region's only Michelin 3-star restaurant.
Connect

Le Vieux Port has WiFi access, available from many of the bars and restaurants, and in some places in the street (although there are not many places to sit). The ESSID to use is "Marseille sans fil" and the network is not encrypted. When you first connect, your browser will take you to a web page about the service in French: simply click on "Cliquez ici" ("Click here") on that page to use the network freely.
Wi-Fi is pronounced wee-fee or wiffy in French - even by English speakers. Asking for Why-Fye will usually be greeted by a blank look.

Stay safe

For much of its history - and to this day - Marseille has been seen by many people in France as a crime-ridden city, and this is sadly not entirely unwarranted. Nevertheless, tourists will have a great time by taking the basic precautions, and the city center is very safe.
However, muggings and pickpockets have dramatically increased, so do avoid carrying valuables and watch your surroundings, like in most cities. Most of the northern neighbourhoods (quartiers nord), with the very notable exceptions of L'Estaque and Château-Gombert, are among the most dangerous in France outside the Paris area, and should be avoided by tourists. Thankfully, there is no reason for going there.
Furthermore, Marseille is one of the few cities in France to still have prevalent Mafias and gangs.
The area around Boulevard Michelet teems with prostitutes and should be avoided on soccer nights, as you can meet potentially angry and drunk Olympique de Marseille hooligans.

Cope
Religious centers
Christians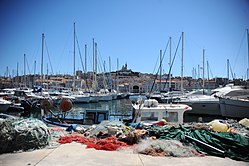 phone: +33 4 91 13 40 80

address: Rue Fort du Sanctuaire

Eglise réformée de Grignan Centre Sud

phone: +33 4 91 33 17 10

address: 15 Rue Grignan

phone: +33 4 91 17 06 40

address: 103 La Canebière

Eglise Arménienne

phone: +33 4 91 77 84 70

address: 339 Avenue Prado

Eglise Ev Baptiste Paix Aujourd'hui

phone: +33 4 91 64 08 09

address: 95 Boulevard de Strasbourg

Eglise Biblique Baptiste de Marseille

phone: +33 6 81 84 55 69

address: 72 Boulevard Plombières

Eglise Chrétienne de Réveil

phone: +33 4 91 34 35 63

address: 4 Place Sébastopol
Jewish
Consulates
Go next
Aix-en-Provence: Easily reached by Cartreize coach or SNCF train. There is a dedicated express coach from St Charles station which takes 30–40 minutes.
Cassis: attractive sea resort south-east of Marseille.