Martin (Slovakia)
Martin
is a city in the northern
Central Slovakia
. It is the center of the
Turiec region
.
It is on the Turiec river, between the
Little Fatra
and
Great Fatra
mountains. The population numbers approximately 60,000, which makes it the eighth largest city in Slovakia.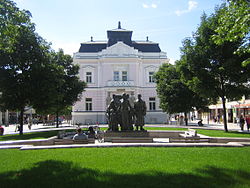 Understand
The city was the foremost Slovak cultural center in the 19th century. Several cultural institutions (including
Slovak Matica
and
Slovak National Museum
) were founded there. Most political activities leading to the Slovak national emancipation in the 19th and early 20th centuries were organized in or from the city.
After
Bratislava
became the capital of Slovakia at the beginning of 20th century, Martin lost some of its importance, but the cultural institutions founded in the city are still maintained here.
Get in
Main bus and train station
See
St. Martin of Tours churchThis romanesque church is the oldest building (13th century) of the city.

Slovak National MuseumEthnographic collection.

Museum of the Slovak VillageOpen-air museum in the suburbs, exhibits the traditional rural architecture and folk traditions of the region of Turiec.

Slovak National CemeteryThe official Slovak hall of fame, inspired by the Panthéon in Paris.

Slovak Chamber TheatreEstablished in 1944 as the second professional theatre company in Slovakia. The theatre building is a landmark of the city center.
Do
Skiing and hiking in the surrounding mountains (
Little Fatra
and
Great Fatra
) is a very good option.
Martinské hole ski area is nearest to the city, however access is only possible by car with snow chains. There used to be a cablecar and there are plans to rebuild it.

Ferrata HSZAn easy ferrata along a ravine/stream ending in the Martinské hole area. You must be resistent to some hights scare (mostly 2-5 m heights) and ferrata equipment is recommended for bigger part of the hike - at least good pair of gloves are really needed.
Go next