Masoala National Park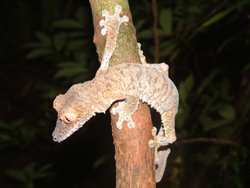 Masoala National Park
is in the
Antsiranana Province
of
Madagascar
. It is one of six national parks on the east coast of Madagascar that make up the
UNESCO World Heritage site
Rainforests of the Atsinanana.
Understand
History
Landscape
Masoala National Park comprises land and sea areas. On land, there's several different types of vegetation; mangrove, rainforest, coastal forest, marsh and flooded forest

Flora and fauna
50% of Madagascar's plant and animal species can be found in Masoala. Highlights include the gold dust day gecko, the red ruffed lemur, the Masoala fork-marked lemur and the hawksbill sea turtle. In the ocean you may spot humpback whales and different dolphins.

Climate
Get in
The national park is on the east coast of northern Madagascar, the nearest towns being Maroantsetra and Marofinaritra.

Get around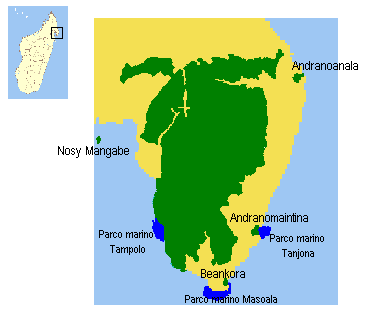 Sleep
Lodging
Camping
Backcountry