Masouleh
Masouleh
is a small mountain village in
Caspian Iran
.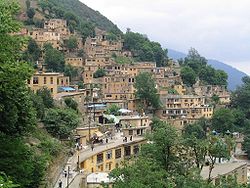 Masouleh architecture is unique. The buildings have been built into the mountain and are interconnected. Courtyards and roofs both serve as pedestrian areas similar to streets. Masouleh does not allow any motor vehicles to enter, due to its unique layout. It is the only village in Iran with such a prohibition. However, the small streets and many stairs simply also wouldn't make it possible for vehicles to enter.
The spectacular architecture of Masouleh is well-known as "The yard of the above building is the roof of the below building".
Yellow clay coats the exterior of most buildings in Masouleh. This allows for better visibility in the fog.
Buildings are mostly 2 stories (1st floor and below floor) made of adobe, rods and bole. Small living room, big Guest room, winter room, Hall, WC and Balcony are usually found in 1st floor. Cold closet, barn and stable are located at below floor that attaches to the upper floor by several narrow steps inside the building.
There are four main local communities at the village named: "Maza-var" (meaning: beside the Mosque) at the south, "Khana-var" (meaning: beside homes) at the East, "Kasha-sar" (meaning: stretched on top) at the North, and, "Assa-mahala" (meaning: Assad community) at the West. Apparently down-town is the Market (Bazaar) area and also the main mosque of the village, named: "O-ne-ben-ne Ali".
Get in
Minibus or savari from Fuman which is reachable by same mean of transport from
Rasht
. There are daily buses from Rasht to
Tehran
. There is also a direct bus connection from Tehran to Fuman and back but it might be harder to find.
Do

Hiking
There is a path on the other side of the village. It is a very nice walk.

Eat

There are restaurants catering for tourists. Also, you can buy tasty fresh made bread from market, other supplies from a couple of shops and prepare something to eat yourself.

Sleep

Many people in the village rent out rooms and this is probably the cheapest and most atmospheric way to spend the night. There is a couple of small hotels which have decent size rooms with bathroom and kitchen. In the bottom of the village there is a larger hotel but it is not recommended.

Connect

There is no internet cafes but there are public telephones available.