Masuda
Masuda
is a small city of a little more than 50,000 people in
Shimane
Prefecture. It is the birthplace of Kakinomoto Hitomaro.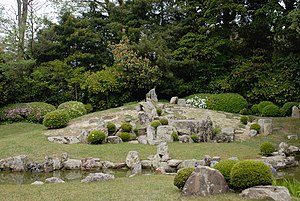 Get in
By plane
By train
Masuda is on the San'in Main Line, which runs along western Honshu's Japan Sea coast, starting in
Kyoto
and going to
Shimonoseki
. No shinkansen trains come to Masuda. The Yamaguchi Line connects Masuda with the Shinkansen at Shin-Yamaguchi Station (formally Ogori Station).
By bus
The main bus station is a short walk in front of Masuda Station. There is a line that goes from Masuda to Hiroshima and back at least 3 times a day, passing through Nichihara, Kakinoki, and Muikaichi. Another bus takes a different route between Masuda and Hiroshima that goes through Hikimi.
Get around
The easiest way is to drive. If you don't have a car there are many taxis in front of Masuda Station and buses that go around town.

See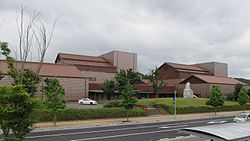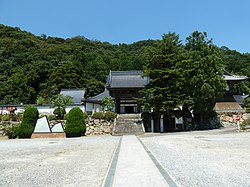 Grand ToitArt Museum and concert hall that opened recently. To visit the art museum one time costs about ¥1000. If you think you will go to the museum three or more times in one year, you may want to consider getting the "passport" option that allows you unlimited entry for ¥3000.

Ikoji

phone: +81 856-22-1668

address: 4-29 Someba-cho

Built in 1363, this temple is known for having hosted the famous Zen Buddhist monk and artist Sesshu (1420-1506) as its fifth chief priest from 1460 to 1485. Sesshu designed a garden here, now designated an important cultural property. The main gate was relocated from Nanao Castle.

Manpukuji

phone: +81 856-22-0302

address: 25-33 Higashi-Masuda

Built by the Masuda family, this temple's garden was also designed by Sesshu, and its Kamakura-style main hall was designated a nationally important cultural property.
TaikianBuilt where Toko Temple (where Sesshu spent his last years) once stood. It is said that Sesshu visited Masuda again in the Meiou period (1492 – 1506), entered Toko Temple (Taikian) and stayed there until he died at the age of 87 in 1506. His grave was built on the hillside behind Taikian.
Hikimi GorgeIt's in Hikimi, a village that merged with Masuda a few years ago. It is considered one of the most beautiful areas in Shimane.
Do
Beach - Masuda has a decent beach. Go down route 191 towards Yamaguchi-ken and you can't miss it.
Eat
Cafe & Curry JanA decent curry shop and cafe; located across the street from the Masuda fire station, next to the Docomo shop. The owner speaks English.

address: 11-7 Ekimae-cho

Good sushi made from local catch, close to the station.
Drink
The main drinking area is the area in front of Masuda Station, across route 35.

Sleep
There is a new hotel next to Masuda Station. There are no official International/Japanese Youth Hostels in Masuda.

Go next