Matabeleland
Matabeleland
is a region in the southwest and west of
Zimbabwe
. It is inhabited by the
Ndebele
people, who settled here in the mid-1800s.
Other destinations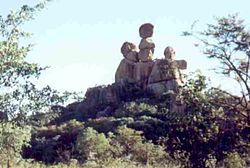 , at 14,651 km² the largest national park and game reserve in Zimbabwe.
Understand
Southern Matabeleland is for the greater portion of the year hot and dusty.
Baobab trees are common, as are mopani. The grasslands glow in the deep afternoon sun.

See
See the rock formation at Balla Balla.
Visit Chipingali Wildlife Orphanage.
Itineraries
The largest town in Matabeleland is Bulawayo, renowned for its wide streets built to allow a wagon with a 10-oxen team to do a U-turn. Bulawayo has an airport, which makes it an ideal starting point. From Bulawayo one can travel south to Matobo for a day's slow drive thru the exotic landscapes, or westward to Khami Ruins, to see miniature versions of the stone ruins found at Great Zimbabwe.
Eat
A local delicacy is the mopani worm: these caterpillars are dried in the sun, and sold as a snack food. The staple food is mealie meal, made into a stiff porridge known as "sadza".