Matmata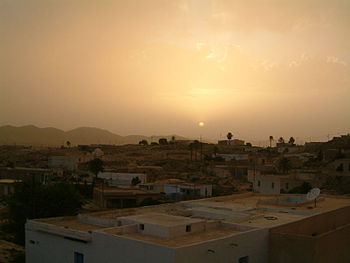 Matmata
is a village in the south of
Tunisia
, famous for its troglodyte (cave) dwellings. Scenes from a number of
Star Wars
movies were filmed here.
Get in
There are regular daytime services by louage (shared taxi) or bus (8 daily) from Gabes (40 km north-east).
SNTRI provides a daily bus service from Tunis Sud station (leaving at 21:30, 23.800 DT) via Sousse (leaving at 23:15, 16.870 DT) and Sfax (leaving 02:00, 10.610 DT), arriving at Matmata at 05:00 (Mar 2017).
Get around

Matmata is very small, so you can easily walk between places.

See
Hotel Sidi Drisswhere scenes from the Lars homestead in Star Wars were filmed. Accommodation is simple (the bedrooms are formed from individual caves hollowed out from the rock, with shared bathroom facilities), but unique; visit for a day trip or spend the night (see below).

Ask your hotel if they can arrange a tour of a traditional troglodyte (cave) dwelling; many such properties are located around the village and are today still inhabited by local families. You may give the family a small tip (no more than 5DT)
There is a small museum behind the Hotel Sidi Driss, displaying local history. No written information in any language is available, so better come with a guide. DT3 per person (February 2018)

Village of TamezretThe stone village, 10 km west of town on the Douz road makes an interesting side trip.
Eat
There are a few restaurants serving typical Tunisian cuisine in the town center (where the three roads meet).

Drink
Hotel Sidi DrissThe bar in this hotel serves local beer and is frequented by the villagers and tourists alike. English is spoken. See Sleep section on how to get there.
Sleep
Hotel Sidi Driss

phone: +216 75 240 005

address: 6070 Matmata Ancienne

Is the must-stay location in Matmata for any Star Wars fanatics. The hotel has about 20 rooms/caves, shared bathroom facilities, a restaurant and small bar. The rooms are very basic, and there are reports of bugs. The bar plays loud Arabic music 4-11PM and serves Celtic beer for 3DT.

Hotel Les Berberes

phone: +216 75 240-024

address: Near the city center

Another traditional underground cave hotel. Similar to Sidi Driss, but said to be a bit cleaner. Don't expect a fancy hotel, but it's a very interesting experience to sleep in a cave. Breakfast is included, full board can be arranged.

Diar El Barbar

phone: +216 75 240 074

address: Route de Benyahya, km 2, C104

Partial cave hotel with a pool. A bit out of town, this hotel offers more amenities than some of the very basic places in town, for a higher price. Cleanliness has been questioned by some guests.
Go next
Tounine, Beni Zelten, Matmata Nouvelle, Mareth, Douz, Bazma
SNTRI provides a daily bus service leaving from Matmata at 20:30 to Sfax (arriving 23:30, 10.610 DT), to Sousse (arriving at 02:15, 16.870 DT), and to Tunis Sud station (arriving at 04:00, 23.800 DT) (Mar 2017).