Matterhorn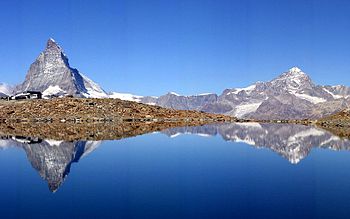 The
Matterhorn
(French:
Mont Cervin
, Italian:
Monte Cervino
) is one of the tallest mountains in the
Alps
.
Cities
It straddles the border of
Switzerland
and
Italy
and can be visited from either side:
, on the Swiss side
on the Italian side
Understand
Reading up
Before you visit the Matterhorn from either the Swiss or the Italian side, you may want to read
Scrambles amongst the Alps
by Edward Whymper — an interesting, well written book from the protagonist of the first successful and tragic ascent. It remains a classic of mountaineering literature even today, even though the motives of the author to excuse his own behavior have since been called into question.
Geography
The Matterhorn has a pyramidal shape with four faces facing the four compass points: the north and east faces overlook the town of Zermatt; the south face overlooks the resort town of Breuil-Cervinia; and the west face looks towards the mountain of Dent d'Hérens, which straddles the border. The north and south faces meet at the summit to form a short east-west ridge.
The Matterhorn's faces are steep, and only small patches of snow and ice cling to them; regular avalanches send the snow down to accumulate on the glaciers at the base of each face, the largest of which is the Zmutt Glacier to the west. The Hörnli ridge of the northeast (the central ridge in the view from Zermatt) is the usual climbing route.
History
The Matterhorn was one of the last of the main Alpine mountains to be ascended, not because of its technical difficulty, but because of the fear it inspired in early mountaineers. The first serious attempts began around 1857, mostly from the Italian side; but despite appearances, the southern routes are harder, and parties repeatedly found themselves having to turn back. However, on July 14, 1865, in what is considered the last ascent of the golden age of alpinism, the party of Edward Whymper, Charles Hudson, Lord Francis Douglas, Douglas Robert Hadow, Michel Croz and the two Peter Taugwalders (father and son) was able to reach the summit by an ascent of the Hörnli ridge in Switzerland. Upon descent, Hadow, Croz, Hudson and Douglas fell to their deaths on the Matterhorn Glacier, and all but Douglas (whose body was never found) are buried in the Zermatt churchyard.
Get around