Maya civilization
The
Maya civilization
was one of the great Mesoamerican and Pre-Columbian civilizations. The Maya were renowned for having the most sophisticated and developed writing system in the Western Hemisphere as well as their monumental achievements in art, architecture and astronomy. At its height, the Maya cultural area spanned the
Yucatan Peninsula
and highlands of
Chiapas
in
Mexico
, all of
Guatemala
and
Belize
, and parts of western
Honduras
and
El Salvador
.
Understand
Contrary to popular belief, the Maya people and their cultural heritage never really died. There are millions of people who identify as Maya and speak Mayan languages and despite the turmoil that was created by the Spanish conquest, many of them have carried on traditions that have existed for over a thousand years.

Destinations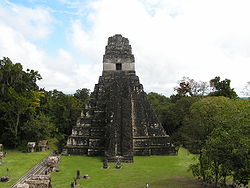 Eat
The staples of the Maya diet were maize (corn), squash, beans and chili peppers. Corn was always nixtamilized (soaked in limewater or lye), which added vitamins to the corn and made it a complete protein. Many types of meals were made from corn, including tortillas, tamales and gruels of varying consistencies. Cassava was also a widely grown crop, the energy and nutrient-rich tuber vegetable playing its part in sustaining a dense population for its time.
Meats were mostly obtained by hunting though dogs and turkeys may have been domesticated. The most common source of game was white-tailed deer. In the coastal areas, and in the larger inland cities where transportation networks were well developed, seafood was part of the Maya diet.
The Maya were the first people to cultivate the cacao plant and drink an ancient form of
chocolate
. Avocados were a commonly eaten fruit and used in a variety of dishes.
Itineraries
See also