Mayotte
Mayotte
is a French island in the
Indian Ocean
off
East Africa
between
Madagascar
and
Mozambique
.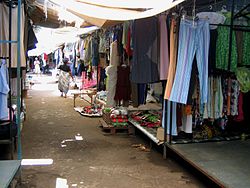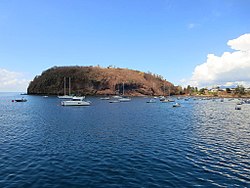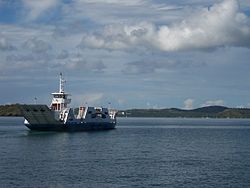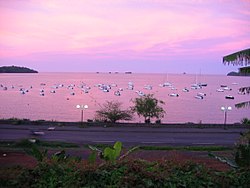 Understand
Mayotte was ceded to
France
along with the other islands of the
Comoros
group in 1843. When Comoros voted for independence in the 1970s, Mayotte decided to remain a French "collective". In March 2009, the islands voted overwhelmingly (95.2%) to become France's 101st 'departement' effective in 2011. The island is 95% Muslim and many Muslim customs such as polygamy, Islamic-inspired law, and male dominance were commonplace, although all were reversed in accordance with French law as of 2011. A large percentage of the island's population is composed of illegal aliens from neighboring Comoros. Despite the island's French ownership, less than half of the population understands French and very few speak French fluently.
Climate
Tropical; marine; hot, humid, rainy season during northeastern monsoon (November to May); dry season is cooler (May to November).
Landscape
Generally undulating, with deep ravines and ancient volcanic peaks.
Cities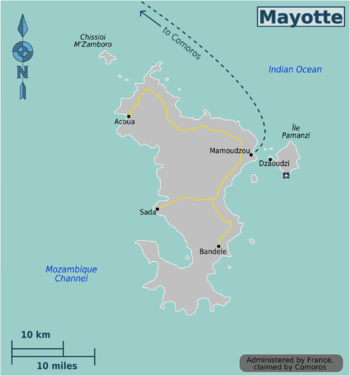 Get in
By plane
Planes fly daily between
Réunion
and
Dzaoudzi
, the airport/military base in Mayotte. For a return flight from
Paris
to Mayotte on Air Austral, expect to pay at least €800.
Kenya Airways announced flights from
Nairobi
to Mayotte (via
Comoros
) in November 2006. This is an extension of their Paris-Nairobi flights.
Inter Iles Air uses an SAAB-340B aircraft to link Mayotte to Anjouan and Moroni several times a week.
By boat
The primary port is
Dzaoudzi
. Ferry service to Anjouan and Grande Comore is sporadic and costs about the same as a flight on Inter Iles Air.
Get around
The easiest way to get around Mayotte is with bush taxis ("taxi brousse") who will take you around the island for a few euros. Passenger and car ferries operate continuously between Dzaoudzi and Mamoudzou costing under a euro roundtrip for foot passengers.

Talk
French
is the official language and is spoken by roughly 63% of the population. More commonly-spoken are Mahorian (commonly considered a dialect of
Swahili
) and Malagasy.
Buy
Money

Currency is the euro (€). Local produce (bananas, manioc, fish) is inexpensive, imported items (dairy products, manufactured products) are expensive.

Do
A hike (almost a climb) to the summit of Mont Choungui will offer a spectacular panorama of the island
Makis (brown lemurs) can be found in remote regions of the island.
Diving is mandatory. Expect spectacular sights in the world's largest lagoon.
Sea turtles come to roost on the southern beaches.
In August-September, humpback whales can be found with their calves in the lagoon.
Stay safe
Cyclones can occur during the rainy season.

Stay healthy
Mayotte is a malaria-infested zone. Consult your doctor for anti-malaria medicine, and pile on mosquito repellent.

Respect
90% of the population is Muslim, following a very tolerant Islam. Say hello to people you will cross while hiking, always smile, and you will be respected.

Connect
Mayotte has four mobile phone providers: Orange, SFR, Only, and Maore Mobile. The first three have 3G/4G coverage while the fourth is 4G only and only covers around a third of the island's land mass. Prepaid SIMs are readily available for all four (and if needed, Orange allows visitors to sign up for month to month postpaid service). Orange and SFR are better for heavy, short-term use (voice/text/data bundle offers on the two providers are for a few days at a time, like SFR's 5 GB for 5 days for 5 EUR or Orange's unlimited talk/text/5GB for 7 days for 7 EUR) while Only is better for lower usage and longer stays (offers bundles valid for a month at a time like 200 minutes/200 texts/200MB for 5 EUR). In addition, some mobile providers in the EU treat Mayotte as part of the EU roaming area, allowing free usage, so if you're arriving with an existing SIM from an EU-based provider, check to see if they cover Mayotte.