Mazar-e Sharif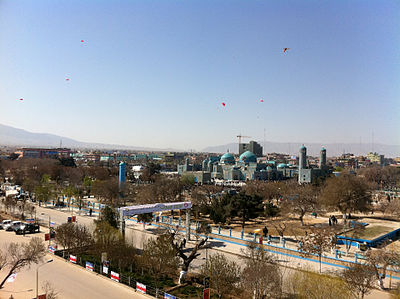 Mazar-e Sharif
(مزار شریف), officially called
Mazari Sharif
and also
Mazar-i-Sharif
,
Mazar-e Sharif
, even
Mazar Sharif
or
Mazar
is a city in
Afghanistan
and the capital of Balkh Province.
Understand
With a population of more than 375,000, Mazar-e Sharif is the 4th largest city in Afghanistan. It was founded in the 12th century after a local mullah dreamt of the secret site where Ali bin Talib, the Prophet's cousin and the fourth caliph of Islam, had been buried (outside of Afghanistan most Muslims believe that Ali is buried in
Najaf
,
Iraq
). A shrine, which was rebuilt as the Blue Mosque, was constructed on the site and the city of Mazar grew around it.
Historically this region was known as
Bactria
, its capital was
Balkh
and Mazar was a smaller town nearby. However Balkh was abandoned due to disease in the mid-19th century and Mazar assumed the role of capital of the region - a position it has maintained ever since.
Get in
By road
From Kabul can take as little as 5 hours, via the Salang Pass. The road has been improved and is possible with a normal car. Mercedes buses leave Kabul around 04:00 to 05:00, arriving in Mazar around 13:00 to 15:00, and cost 400 Afg.
It is also possible from Sheberghan, Kunduz and neighbouring Uzbekistan.
By plane
Mazar-e Sharif International Airport

Kam Air flies on Sundays and Thursdays to/from Kabul (leaving Kabul at 09:00, returning at 14:30) and have ceased direct flights to Herat. Kam Air also flies intermittently to Mashhad, Iran.
Safi Airways also flies between Kabul and Mazar for around US$40 one way.
The
Ariana
flights between
Kabul
and Mazar have been suspended due to low demand.
Get around
Taxis are plentiful and should cost 30 Afg or less around town. Negotiate a price before setting off.
See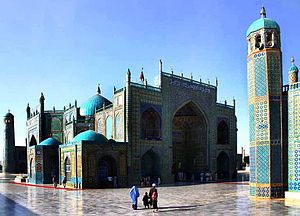 In the way of sights Mazar has little to offer the visitor other than the Blue Mosque - although some of the modern monuments built atop traffic circles are worth a photo. Mazar is surrounded by beautiful Mountains on two sides and is home to some Ancient Greek relics.
Shrine of Hazrat AliAlso known as the Blue Mosque, the shrine marks the burial site of Ali bin Talib, the Prophet Mohammad's cousin and the fourth caliph of Islam. At night the mosque is lit by coloured lights. However, due to many homeless sleeping in the surrounding park, it is not advisable to walk around it.

Day trip to BalkhIf you are in Mazar it is well worth the effort to go to Balkh - there is a good tarred road and the area is considered safe. Best to put aside half a day and make sure you get back to Mazar before sunset.

Qaila JangiA fortress 30 minutes from Mazar-e Sharif that became infamous during the American-backed defeat of the Taliban by the Northern Alliance, when video footage of US and UK soldiers appeared on television sets around the world, firing into the rebelling Taliban prisoners and an American Taliban was taken prisoner - one of the few survivors. The uprising started right after the death of an American CIA Agent. There is a plaque commemorating his death but nothing about the hundreds of more Afghans that were killed in the hours afterwards. After the fall of Mazar-e Sharif to Warlord General Dostum and western advisors, truckloads of Taliban prisoners were herded into the fortress. The fortress is divided into two sections. The walls are sloping inwards from the outside and vertical from the inside, probably a strong reason why the Taliban were not able to scale the walls and escape after capturing weapons, and why the Afghan and western soldiers were able to trap them in their area by sealing the one exit/entry point and controlling the walls. To get in you will need to find a local to fast talk the guards. There is no entrance fee as the fortress is not a tourist attraction (Entrance fees are rare in Afghanistan anyway). Walking the interior (if you get in) and perimeter is easy. There are fields near the main road giving some space between it and the fortress so photography is best from that side if you want to get wide-angle shots. The fortress is used by the new Afghan military and they are not too keen on having ordinary tourists turning up for a look around, although if you arrive with a local they can talk you in and the guards do warm up (and want photos sent back to them). UN and other NGO tourists have less hassle wanting to look around. A few rusting anti-air machine guns are next to the gate that divides the fortresses two areas.
Do
The mosque is open for daily prayers.
Buy
Eat
Between the Farhat Hotel and the Blue Mosque there are food stalls on both sides of the road. Bagels with green vegetables, tomato and french fries are especially good. Fruit shakes, soft drinks and tea are also available. Stalls close around sun set.

Kefyat HotelHas a large restaurant serving tasty meals

Delhi DarbarServes good Indian food, and alcohol is available to non-Afghans. It's known locally as the 'Indian hotel'.

Ibn Sina Restaurant

address: Darvaza-ye Balkh

Afghan cuisine - kebab, manti, plov.
Drink
Freshly made fruit slushies. Banana shakes with almonds and dates are delicious, and the persimmon version looks equally alluring. Several stands are set up near the Aamo Hotel, as well as other spots around the shrine.
Alcoholic drinks are available at the Indian hotel (Delhi Darbar), for non-Afghans only.
Sleep
Budget
Local hotels offer multi-bed rooms from 10-20 USD with a shared bathroom and toilet. Cheaper rooms have the worst toilet facilities.
Aamo Hotel

phone: +93 7 050-2478

Has reasonable rooms with 3 or more beds starting at US$15, which can be bargained down to US$10, with shared toilets and showers.
Mid-range
Farhat hotel

phone: +93 70 503-177

Darwaza-ye Balkh, (two blocks west of the shrine). Rooms from US$40 (negotiate) with attached bathroom and television (CNN, BBC World).

Barat hotel

phone: +93 70 502-235

A modern hotel with nice rooms and shared bathrooms - from US$30.
Splurge
Royal Oak Hotel

phone: +93-79-9383127

Aimed at high-end international guests this Kabul-style guesthouse is safe and includes a nice restaurant.
Go next
By plane
Kam Air flies to Kabul on Thursdays at 14:00 and to Herat on Mondays and Thursdays at 11:00. All flights costs 2500 Afg. Their office is one block north of the shrine on jad-e Maulana Jalaluddin Balkhi, or a travel agent east of the Aamo Hotel books tickets for the same price.
Ariana also has an office next door to Kam Air, but all of their Mazar flights have been suspended due to low demand.
By car
Shared taxis head to the Uzbekistan border - taking 30 minutes on a good tarred road through the desert. To drive your own vehicle will require completing some paperwork with the Uzbek embassy in Kabul.
Connect
Internet
Dunya Internet Cafe on the first floor of Aamo Hotel (on the south side of the shrine), has a reasonable connection and costs 50 Afg per hour.
Stay safe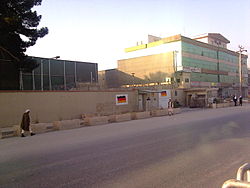 Aside from the inherent risks faced by coming to Afghanistan in such a time of turmoil, Mazar remains relatively peaceful and safe for travelers. Bearing in mind that things can change very quickly, avoid walking at night if possible, always remain friendly and upbeat, and keep aware of your surroundings. Treat police with kindness and smiles even if they aren't showing you the same respect - unfriendly passport checks are not unheard of.