McMinnville (Oregon)
McMinnville
is a city in the
Willamette Valley
in
Oregon
. It is the county seat and largest city of
Yamhill County
.
Understand
The Spruce Goose
A local museum hosts perhaps one of the most bizarre aircraft ever produced. Howard Hughes, an eccentric rich person, had gotten it into his head to build a transatlantic freight flying boat in order to sell it on lucrative military contracts as a cargo airplane. However, due to wartime restrictions on the availability of aluminum, the prototype had to be built from birchwood to achieve a lightweight airframe. The prototype only ever achieved a single test flight in 1947 (by which point all hope of military contracts was of course gone) but remained the holder of the "largest wingspan of any aircraft" record into the 2010s.
Get in
By car
Private automobile is the easiest way in to McMinnville. State Highway 99W enters from the north and south. State Highway 18 bypasses town along the south from its junction with Hwy 99W southwest of town and ends at Hwy 99W east of town.

By plane
() has two runways, one of which is in good repair. There are no scheduled commercial airline services but the airport is open to general aviation. It is located on 4000 SE Cirrus Rd, across Hwy 18 from the Evergreen Aviation Museum south of town.

By bus
See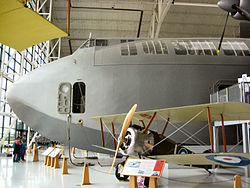 phone: +1 503-434-4180

address: 500 NE Capt. Michael King Smith Way

This is really three attractions in one: museums of aviation and space travel, and an IMAX theatre. Howard Hughes' H-4 (HK-1) Flying Boat, better known as the Spruce Goose, is the most well-known, but there are over 60 other aircraft and spacecraft to see. The space museum has a pleasantly even-handed coverage of the international history of space exploration, with unique exhibits such as an ICBM in a simulated silo. There is a good café here. Enough to see that aviation fans will want a whole day.
Do
phone: +1 503-687-3390

address: 460 NE Captain Michael King Smith Way
Eat
phone: +1-503-434-4180

address: 500 NE Capt. Michael King Smith Way

Located in the Evergreen Aviation Museum. A range of quite respectable grilled and cooked fare, especially by museum cafe standards.
Drink
phone: +1 503 472-8427

address: 310 NE Evans Street
Sleep
phone: +1 503 472-5575

address: 129 SE Baker St

The oldest single owner bed and breakfast in McMinnville (18 years). The main inn has three rooms, each with en suite bath. The private two bedroom cottage located behind the inn is a fully equipped unit. For more independence, a two bedroom vacation rental is located a few blocks away. If coming with children, note this is located within 2 blocks of the city park, library and indoor swimming pool). Discounts for extended stays.

phone: +1 503 472-8427

address: 310 NE Evans St

phone: +1 503-472-5187

address: 381 NE Highway 99 West

Rates includes complimentary continental breakfast.
Go next