Međugorje
Međugorje
is a village in
Bosnia and Herzegovina
.
Understand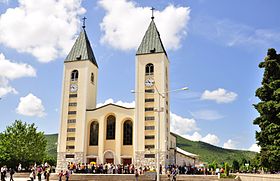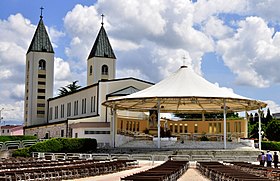 Međugorje, (the name is of Slavic origin, and signifies a region between mountains) with the villages of Bijakovići, Vionica, Miletina and Šurmanci, forms a Roman Catholic parish where today about 5,000 inhabitants live. The parish is run by priests of the Herzegovinian Franciscan Province of the Assumption of Mary. Following claims of visions of the Virgin Mary, Međugorje became a place of worldwide pilgrimage (in the first 20 years, more than 20 million), and one of the biggest prayer centres in the world, comparable to
Lourdes
and
Fátima
.
Get in
By plane
The easiest way to get into Medugorje is to fly into Mostar, Bosnia-Herzegovina (
OMO
), which is only 20 km from Medjugorje. Alternatively, fly into Split, Croatia (SPU), or Dubrovnik, Croatia (DBV).

By bus
Bus stationBus station is located in walking distance from Medugorje city center. Both city buses and coaches stops here.
By public (city) bus
There is a possibility to reach Medugorje by city bus no. 48. On Monday to Friday, there are 8 buses from Mostar and 7 to Mostar. From Mostar, the buses are at 6:30, 9:45, 11:30, 13:10, 14:30, 15:30, 18:10 and 19:40. Return buses from Medugorje leave at 6:35, 7:35  (note long gap), 12:15,  13:30, 15:15, 16:15  and 19:45. On Saturdays there are 4 buses in both directions. There are no buses in Sundays. One-way ticket costs KM3.50 from driver. Detailed schedule can be found on Mostar Bus page . Most of these buses do not stop at Mostar Bus station, so the most convenient place to catch this bus is the close to Krajla Tomislava and Krajla Petra Kresimira IV crossing, or the close to Ekonomska Skola on Krajla Tomislava 1.

By inter-city bus
There are few buses daily from Mostar (east) bus station to Medugorje. Some buses also stops at Mostar (west) bus station. Price is ~2 EUR (4 BAM). Detailed schedule can be found . Additionally there is connection at 11:10 from Mostar (east) bus station to Medugorje with relation change in Capljina. In most cases you don't have to change a bus, because the same bus continues to Medugorje. Price for whole trip is 5 BAM from driver. Schedule can be found here and here.
There are 3 buses daily from Split to Medugorje at 1055, 1700 and 1730. From Medugorje buses travel at 0730, 0930 and 1115. Price is around 61 Kuna - ~15 EUR. Detailed schedule can be found here.
There is one bus daily from Dubrovnik to Medugorje at 1715. Price is 135 Kuna - ~17 EUR. Detailed schedule can be found here.

Get around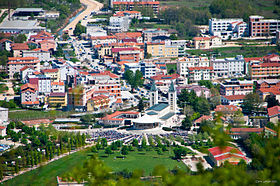 Međugorje is not a large town, and it is possible to walk. Taxis are available for hire if necessary.
See
St. James' Church

Apparition Hill

White Cross Hill
Sleep
It is rumored that there are as many accommodation beds located in the town of Međugorje as there are in the entire country of Bosnia and Hercegovina, therefore it should be almost impossible not to find accommodation!
Unfortunately during the Youth Festival it's almost impossible to find accommodation unless you do a reservation up front.
Hotel Annnamaria, 500 m from St Jacob's Church in the center of Međugorje is one of a few hotels in town and offers very good full board service for 25-30 euros.
Go next
Fátima – place of pilgrimage where the Virgin Mary is said to have appeared in a vision
Vatican – world center of Catholicism
San Giovanni Rotondo – home to the shrine dedicated to Saint Pius of Pietrelcina