Meghri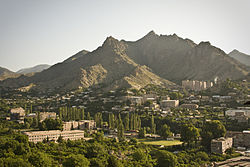 Meghri
is a city in
Southern Armenia
.
Understand
Although the nearby village of Agarak is the crossing point into Iran, Meghri is the last major centre and the gateway for those entering. The sheer jagged brown mountains here jut up from the thick waters of the Arax River. The old mud adobe architecture of the city is crumbling, much of it replaced with Soviet, but parts of it remain for those who want a taste of a town with a very middle eastern flair. There are a few churches, 2 of them are in very good condition and absolutely covered in frescoes inside. A series of fortresses and fortifications above the city are some of the most recent in Armenia, only a couple of centuries old.

Get in
By bus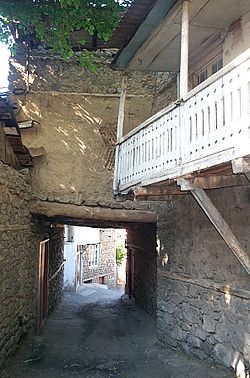 Yerevan – One per day, 9-10 hr. Though, it might not be available each day.
See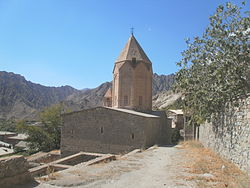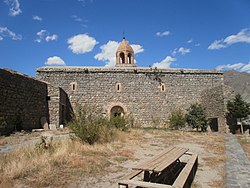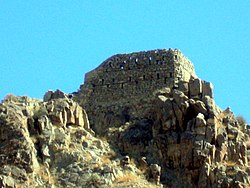 The old churches, the older sections of town which surround them, the fortresses, the Arax River.
Fortress MegryBuilt in the 17th century.

Astvatsatsin Mets Taha churchBuilt in the 17th century.

Church of St. Sargis Pokr TahaBuilt the 17th century.

Ethnographic houses (17th - 20th centuries.)
Nearby:
Mégret Wank churchBuilt in the 15th - 18th centuries.
Eat
Food can be ordered in B&Bs and in a few barbecue joints along the road.

Sleep
Mila Hotel

phone: +374 2860 3180

address: Adelyan 2nd Ln

Amenities: hot, cold water in Luxe rooms, TV in all rooms, refrigerator,

Jemma's Hotel

phone: +374 2860 21480

address: 5 Nshagortsner Str., Agarak village

Luxes have TV, hot/cold water, heating

Hotel Aygedzor

phone: +374 2860 43340, +374 94 602006

address: Aygedzor village

hot, cold water, TV set, refrigerator, bathroom, toilet, restaurant, horse-riding, swimming pool, hunting (upon request), cow milking

Haer B&B
Go next
Jolfa, Iran – Take a taxi to Agarak border crossing. It is an 8-km ride and should not cost more than 1,000 dram. There is also one marshrutka per day to Agarak, coming from Kapan. Cross the border and arrange a taxi (US$10-15) or hitch a ride with an Iranian trucker to Jolfa, the first Iranian city having proper transport options.