Meißen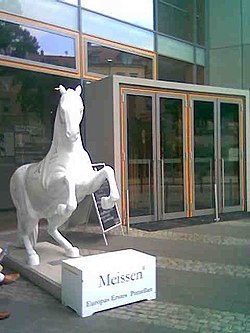 Meissen
(German spelling
Meißen
) is the oldest town in
Saxony
,
Germany
. It is very close to
Dresden
and the adjacent landscapes of the
Saxon Switzerland
. Meißen was once home to the local bishop and has a huge medieval cathedral and adjoining castle. Meißen was also the residence of the dukes of what would later become Saxony, before they moved to Dresden.
It is also the place where the first European porcelain was invented. The factory is still producing today and you can visit it and get to experience it. Meißen porcelain (German: Meißner Porzellan) enjoys an excellent reputation and is priced accordingly.
Get in
By plane
The nearest international airport is in
Dresden
(
DRS
). If you are arriving from further away it is more likely you will fly to Leipzig-Halle (near Schkeuditz, LEJ) instead, as it offers more connections.

By train
Meißen has three train stops, Meißen, Meißen-Altstadt (old town) and Meißen-Triebischtal, all served by the S-Bahn from Dresden every 30 minutes. The Meißen station is located on the eastern banks of the Elbe, across the river from the old town. Best for tourists is to use the Meißen-Altstadt station. The old town and the tourist sights are within walking distance from there.
Meissen is part of the VVO transport executive., Tariff-zone 50. All VVO-tickets including this zone can be used on buses, regional trains and (most) ferries.

By car
Get around
Walk. The old town of Meißen is not that big, but very pretty. Up to the Albrechtsburg it is rather steep though. There is a tourist bus doing several round trip tours daily, which might be an option if you're lazy or mobility impaired. A couple of years ago the city of Meißen built an escalator to the upper parts of town, but it has been out of order due to mechanic failures more than it has been in use.
Public Transport
All information about public transport is available at the
homepage
of the Public transport authority Upper Elbe (VVO). There are three urban bus lines (A,B,C), many regional buses and a sight-seeing route (E).
Here
is a map of public transport.
S1 takes you to Dresden in 36 minutes. All lines (except E) are connected at Busbahnhof (central bus station) Meißen.
See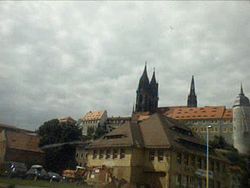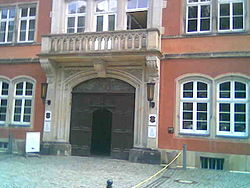 The porcelain factory and museum

phone: +49 3521 468-0

address: Talstraße 9

A museum dedicated to the porcelain that has made the town famous.

AlbrechtsburgA castle in Meißen.

Meissen cathedral

Besides this, it is also worth to take a look at the town itself and its old beautiful houses.
Do
Meißen is a rather quiet town and there isn't all that much you can do that doesn't have to do with either porcelain or the castle and former residence.

Buy
address: Am Markt 5, Meißen

Wine tasting and sale.

address: Zaschendorfer Str. 2, Sörnewitz

A private winehouse of the Schuh family. Wine tasting, sale, excursion to the vineyard, cafe, and a small hotel (guest house).
Eat
Perhaps the weirdest local speciality is the "Meißner Fummel" a very brittle piece of dough that tastes of basically nothing and consists mostly of air. It was supposedly invented to be transported along with the famous Meissen china to prove that any breakage was not due to the recklessness of the coach-driver. Some bakeries sell it and you are bound to be told about them in any guided tour of the city. Tasting is often included
phone: +49 3521 453285

address: An der Frauenkirche 12, 01662 Meissen

Traditional wine house and restaurant since the 1870s.

phone: +49 3521 4764414

address: Rosengasse 12

.
Drink
Meissen is the easternmost wine area in Germany and on the northeastern edge of winegrowing in Europe. Meissen Wines are mostly white wines and they are, given their location, rather on the dry side, The most common grapes are Riesling, Müller-Thurgau, and Weißburgunder. Red wines are rather uncommon. As the wine area is not too large and hardly able to meet the demand, Meissen wines are rather scarce and therefore pricey.

Sleep
phone: +49 3521 454334

address: Siebeneichener Straße 34

A Youth Hostel close to the Elbe

phone: +49 3521 47760

address: Wilsdruffer Str. 35

.

phone: +49 3521-72250

address: Hafenstraße 27-31, 01662 Meißen

Hotel with Art Nouveau charm and modernity, situated directly on the banks of the Elbe with a view of Albrechtsburg Castle and the cathedral of Meissen.
Go next
Dresden and Saxon Switzerland by S-Bahn (you don't have to change trains in Dresden to go all the way to Bad Schandau)
The Czech Republic is relatively close by take the S-Bahn to Dresden and than an Eurocity directly to Prague (via Usti nad Labem)