Melanesia
Melanesia
is a region of
Oceania
.
Countries and territories
Melanesia consists of the following small island nations:
Geographically, the Australian island territory Norfolk Island is situated in Melanesia, although no Melanesian people ever settled there:
The large nation of
Papua New Guinea
and its neighbor
West Papua
(
Indonesia
) are also usually considered part of Melanesia, both culturally and historically speaking, but are covered in separate articles.
Cities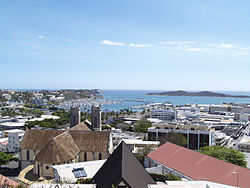 — the capital of the Solomon Islands
— the second city of Vanuatu.
— the capital of New Caledonia.
ー Fiji's main tourist hub.
— Vanuatu's capital.
— the large capital of Fiji.
Other destinations
— the largest island in Vanuatu
— a small island in New Caledonia and one of the most beautiful islands in the Pacific
Get in
See
Go next
Melanesia is well connected to the rest of Oceania.