Melbourne/Eastern suburbs
The
Eastern suburbs
of
Melbourne
include Boroondara, Box Hill and Glen Waverley, Manningham and Nillumbik, Ringwood and surrounds. Stretching from almost inner suburbs of Kew, Hawthorn and Camberwell in Booroondara to the outer cities like Maroondah and the
Dandenong Ranges
.
Understand
Ringwoodis a major activity centre in Melbourne's outer north-east.

Croydon

Bayswate
CamberwellThe seat of the local government and major district centre, centred around the bustling Camberwell Junction.

Kewis the major suburb of the north, also based around a busy junction of the same name.

Balwynis a more low-rise area in the east of the municipality.

Hawthornis one of the more cosmopolitan areas of Boroondara, with a lively arts and music scene and a number of bars and nightclubs in the Glenferrie precinct. The Swinburne University of Technology borders the rail station, making the area a hub for local and international students.
Get in
Boroondara is generally blessed for public transport. It is served by six tram routes, three railway lines, 16 train stations and an abundance of fairly frequent bus routes. A map of Boroondara's public transport network is available on the
PTV website
.
The Belgrave/Lilydale line provides a fast, direct rail service from the
City Centre
to middle Boroondara, with stations at the major centres of Hawthorn, Camberwell and Canterbury. The line also connects Boroondara to Box Hill in Whitehorse and Ringwood in Maroondah. The Alamein line generally only operates to the city in the peak, with a transfer at Camberwell Station required during other times.
Tram routes 48 and 109 run from Collins St in the city to the northern part of Boroondara, including Kew, Balwyn and North Balwyn. Routes 70 and 75 operate from Flinders St in the city to the southern parts of Boroondara, including Hawthorn and Camberwell. While tram routes 16 and 72 also operate from Swanston St in the city, they take long detours via the southern suburbs and are not a direct service; they are useful for getting into the area from neighbouring
Stonnington
.
Bus routes 200 and 207 are useful for reaching Boroondara from the
inner north
along Johnston and Lygon Streets or neighbouring Manningham and Doncaster. Routes 302 and 304 operate express along the freeway from the city and fill in a gap in the tram network along Belmore Rd.
The Eastern Freeway runs along the northern border of Boroondara, providing convenient access to Kew, East Kew and North Balwyn. Citylink and the Monash Freeway provide the southern border, making access simple to areas in the south. Studley Park Rd, Bridge Rd, Victoria St and Swan St also provide major river crossings from the
inner east
.
While the Manningham area infamously has no train or tram services, it is surprisingly well-connected to the
city
and surrounding regions by buses. Most of the buses which serve the main roads are the silver-coloured
SmartBuses
, which offer real-time arrival information, extended operating hours and on-board announcements of the next stop. They generally operate every 15 minutes or better on weekdays, and every 30 minutes on weekends and at night.
The major public transport hub in the area is the
Doncaster Park & Ride
The 907 SmartBus runs from Lonsdale Street in the city to Doncaster, and is the fastest way to reach Westfield Doncaster and the Park & Ride. The 905 SmartBus services Bulleen and Templestowe from the city, while the 906 SmartBus is the quickest way to reach The Pines, East Doncaster and Warrandyte. The 903 SmartBus operates as a cross-town route, connecting the area to train stations at
Heidelberg
and Box Hill, while also stopping at the Heide Museum and Westfield Doncaster. Other useful SmartBuses in the area include the 901 (from Melbourne Airport), the 902 and the 908.
Get around

The tram and bus networks form a convenient grid, generally making connections from one part of Boroondara to another simple. Tram routes 48, 109, 70 and 75, and frequent bus routes 200/207 and 302/304 are useful for east-west travel. Tram routes 16 and 72, along with regular bus route 624, provide an option for north-south travel. Bus routes 548, 284 and 285 are also an option for north-south travel although operate less frequently.
Major east-west thoroughfares for vehicles are Earl St/Belmore Rd, Barkers Rd and Burwood Rd. North-south roads include Denmark St/Princess St, Auburn Rd and Burke Rd, although the latter is regularly heavily congested.
Boroondara streets are also generally very walkable and very pleasant, with well-kept footpaths on both sides of the street.

See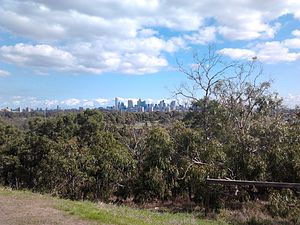 phone: +61 3 9278 4444

address: Yarrbat Ave Balwyn VIC 3103

One of Australia's oldest native gardens. Located next to Beckett Park in the leafy suburb of Balwyn, the gardens provide visitors with a large range of native plants in different sections.

Canterbury streetsA number of residential streets in Canterbury are renown for their streetscapes and gentle elegance. There are two main groupings of streets that are worth walking along: from Wentworth Avenue to Hopetoun Avenue, and the area between Maling Road, Prospect Hill Road and Wattle Valley Road.

phone: +61 434 382 920

address: Maling Road, Canterbury VIC 3126

A lovely quaint shopping village established in the 1800s with an 'old world charm'. Many small boutique shops line the street, with most of the original buildings still intact.

address: 8 Wallen Road Hawthorn

Twenty-one historic, fully-restored trams reside in the museum, including one of the first electrified trams from 1906, several versions of the iconic W-class tram of the 1930s and the original prototype of the "modern" Z-class from 1975. The museum is housed in the now-defunct Hawthorn Tram Depot, which was opened in 1916 in the American Romanesque architectural style.

phone: +613 9278 4770

address: 360 Burwood Rd, Hawthorn

This grand town hall was completed in 1890 in the Second Empire style as the seat of government for the former City of Hawthorn. It now houses an art gallery, a performing arts centre, a youth hub amongst various other functions.

phone: +613 9859 1221

address: 1-9 Doncaster Rd, Balwyn North

While the current refurbished building is nothing spectacular, it was the site of the first free-standing Coles supermarket in Australia in 1960, with the chain later growing to become the largest supermarket chain in Australia.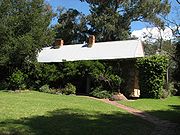 Box Hill Town Hall

Ramsay Street from Neighbours

Schwerkolt CottageSchwerkolt Cottage is a pioneer cottage built around 1880.

phone: +61 3 9850 1500

address: 7 Templestowe Rd, Bulleen

A world-famous contemporary and modern art museum set amongst the Yarra River floodplains in Bulleen. Offers three separate galleries, including one in the original 1870s farmhouse. Home to works of many artists, including Sidney Nolan, Albert Tucker and Joy Hester. There is also a free-entry outdoor sculpture garden which can be visited at any time. A café and gift shop are also located on-site. Free guided tours daily at 2pm.

Maroondah Access GalleryAn art gallery.
Parks
Ringwood Clock Tower and Park

Blackburn Lake Sanctuary

phone: +61 3 131963

Beautiful and large expanse of parkland and bushland only 3km from the CBD. Contains Fairfield and Studley Park boathouses, walking/cycling tracks, historical sites and picnic areas.
Do
Koonung Creek TrailA fairly flat and easy bicycle track following the Eastern Freeway through the suburbs of Kew, North Balwyn, Box Hill North, Blackburn North and Nunawading. A pleasant ride which follows parkland, featuring toilets, drink taps and seating along the route. The entire track is a sealed path and is well signed.

phone: +613 9853 1828

address: 1 Boathouse Road, Kew

Established in 1863, the Studley Park Boathouse is the oldest operating boathouse in Australia. The building is hidden amongst the beautiful Yarra River parkland, and houses a café, restaurant and small kiosk. Visitors are also able to hire a canoe, kayak or rowboat to paddle along the Yarra River, or utilise the walking tracks and playgrounds.

phone: +61398821391

address: 97 Camberwell Rd, Hawthorn East

Race Party is a venue for slot car racing with two custom made eight lane 40-m slot car race tracks, suitable for all ages from 6 and up.
Events
Box Hill Chinese New Year Festival
Buy
Eat
phone: +61 3 9813 4190

One of the oldest centres of Melbourne, Camberwell boasts a large variety of different cuisines in a traditional shopping 'village' feel. The strip shops stretch along Burke Road from Camberwell Junction in the south up to Burwood Road and beyond in the north.

phone: +61 3 9853 6929

address: 285 High Street Kew VIC 3101

Recently won a chef's hat award from the Age's Good Food Guide. Features traditional Sicilian cuisine.

phone: +61 3 9381 1222

address: 26 Cotham Road Kew VIC 3103

Run by reknowned chef George Calombaris. Features Greek cuisine.
Drink
There are a few small areas which offer some nightlife. These precincts include Glenferrie Road (Hawthorn) and Box Hill. The suburbs are not known for their nightlife.

Sleep
phone: +613 9848 6811

address: 19 Williamsons Rd, Doncaster

The Shoppingtown is the only real hotel-style accommodation in Manningham, and it's right in the heart of Doncaster Hill. While a bit 60s, it offers comfortable 3.5-star rooms and facilities. The hotel also offers a bar and bistro, a nightclub and a cabaret room, hosting various performances and shows regularly throughout the year.

Warrandyte Goldfields Bed & Breakfast

phone: +61 3 9844 0666

address: 1-3 Whipstick Gully Road, Warrandyte

A humble 4-star bed and breakfast in a scenic rural setting, right next to the main shopping strip of Warrandyte. Includes complimentary breakfast, Wi-Fi and Netflix.
Stay safe
Although the eastern suburbs of Melbourne are much safer than the north or west, you should still show basic common sense with belongings and travel. Some major centres such as Box Hill and Ringwood have occasional issues with crime.