Melbourne/Frankston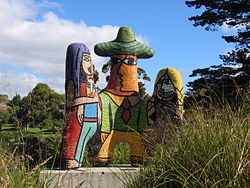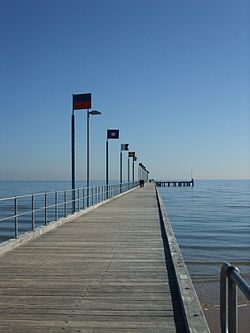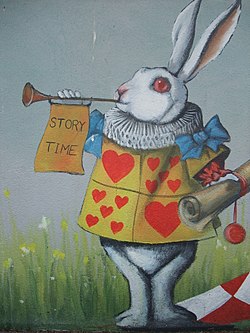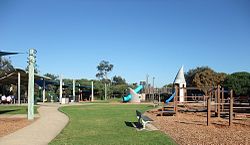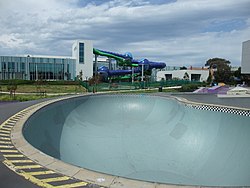 Frankston
is a city in
Victoria
,
Australia
.
Understand
Frankston is a town 40km from
Melbourne
on the edge of Port Phillip Bay often referred to as the "Gateway to the
Mornington Peninsula
". Frankston is where the electric train line terminates. If you are a backpacker heading to the Mornington Peninsula,
French Island
or
Phillip Island
chances are you're going to go through Frankston. It has a beautiful beach, vibrant street art, many restaurants, bars and shops.
Events
Frankston is home to several festivals;
Waterfront Festival in January.
Ventana Fiesta, a Latin American, Portuguese and Spanish festival in March.
Big Picture Fest, a street art festival in March.
Pets Day Out in October.
Festival of Lights in late November.
A Sand Sculpting display runs from December to April.
Tourist Information
Get in
Car
Bus
781 bus from Mt Martha via Mt Eliza, Mornington.
782 bus from Flinders via Coolart Road, Hastings.
783 bus from Hastings via Coolart Road.
782/783 combined from Hastings/Flinders via Coolart Road.
788 bus from Portsea via Dromana, Rosebud, Sorrento.
901 bus from Melbourne airport via Dandenong.
Frankston and Peninsula Airport Shuttle - a much faster more expensive option than the 901 bus.
Train
Get around
See
Boathouse Gallery

phone: +61 488-123-088

address: 368 Nepean Hwy, Frankston

phone: +61 3 9789-1676

address: 60 Cranbourne Rd, Langwarrin

Dame Elizabeth Murdoch Arboretum

address: Edward Street, Langwarrin

phone: +61 3 9784-1060

address: Davey Street, Frankston

phone: +61 3 9784-1020

address: 60 Playne St

Books, CD's, DVD's, Kids Storytime, Internet.

George Pentland Botanic Gardens

address: Williams Street

McClelland Gallery & Sculpture Park

phone: +61 3 9789-1671

address: 360 - 390 McClelland Drive, Langwarrin

Street ArtThroughout Frankston's laneways are significant works of art. Visit the Big Picture Fest website for a map and details.
Do
BMX
Frankston BMX Club

address: 101R Old Wells Road, Seaford

BMX Track

Langwarrin Pump Track

address: Lloyd Park, Cranbourne/Frankston Road, Langwarrin

BMX Track
Bowls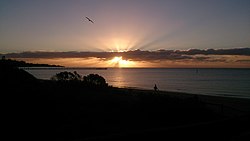 Barefoot Bowls

phone: +61 3 9783-2877

address: Cnr Yuille & William Streets

It's a fun night for families and a sausage sizzle is included.
Golf
Centenary Park Public Golf Course

phone: +61 3 9776-6505

address: 300 Centenary Park Drive, Frankston

Frankston Golf Club

phone: +61 3 9783-9266

address: Golf Links Rd, Frankston

Long Island Country Club

phone: +61 3 9786-4122

address: 165-235 Frankston-Dandenong Rd, Frankston

Peninsula Kingswood Country Golf Club

phone: +61 3 9789-2222

address: Skye Road, Frankston
Skate
phone: +61 3 9769-6579

address: 16 N Cranbourne Rd

Langwarrin Skate Park

address: 185N Cranbourne-Frankston Rd, Langwarrin

Seaford Skate Park

address: 50R Railway Parade, Seaford
Tennis
Nature Reserves
Parks
address: 260R Cranbourne Road, Frankston

Barbecues, basketball ring, playgrounds, flying fox. The Park is home to Ballam Park Homestead, a historic home and museum from the 1850s run by the Frankston Historical Society.

address: Spring St, Frankston

Outdoor fitness facilities. Lake.

Jubilee ParkBarbecues, basketball ring, cricket nets, playgrounds, wetland area.
Other stuff
CyclingThere are several bicycle paths around Frankston. The longest is the Peninsula Link Trail which is 25km. It begins at Patterson Lakes and ends near Moorooduc Station (Mornington Railway), Mt Eliza Regional Park and Moorooduc Quarry Flora and Fauna Reserve. It is a shared use path for cyclists and pedestrians. It interconnects with the Dandenong Creek Trail and the Frankston-Baxter Trail which follows the Stony Point train line from Frankston to Baxter.

PARC - Peninsula Aquatic Recreation Centre

phone: +61 3 9781-8444

address: Cnr Cranbourne Rd & Olive Grove

Pools, water slides, gym.
Buy
phone: +61 3 9462 1520

address: Young Street

Art and craft, plants, second hand goods, jam donuts.

Seaford Farmers Market

address: Station Street, Seaford

Fresh produce.

address: Wells Street

address: Beauty Park, Frankston
Eat
There are several food courts located within the shopping centers offering a wide range of food such as Chinese, Thai, Japanese, Indian, Italian, not to mention all the regular fast food chains. Pizza, Fish and Chips there is no shortage of choices.
Drink
phone: +61 3 9783-7255

address: 510 Nepean Hwy

Craft beers and quality pub food.

phone: +61 3 9783-1003

address: 2-4 Davey St, Frankston

Flanagans

phone: +61 3 9783-9800

address: 508 Nepean Highway

Epiphany nightclub

phone: +61 3 9770-6000

address: 480 Nepean Highway

Grand Hotel

phone: +61 3 9783-7388

address: 499 Nepean Highway

phone: +61 3 9783 1382

address: 101 Young Street

JDs Poolroom and Bar

phone: +61 3 9783 8488

address: 82 Wells St

Pool tables, juke box, and drinks.

Pint & Pickle Tavern

phone: +61 3 9770 2880

address: 448A Nepean Highway

Robin Hood Tavern

phone: +61 3 9770 2055

address: 506 Nepean Highway

address: Wells St

Ten Pin Bowling. Thursday's Drink 2 Bowl deal offers a free game with any drink purchased.

TwentyFirst Century

phone: +61 3 9783 7311
Sleep
phone: +61 3 5971 2333

address: 2 Robinsons Road
Connect
Free internet at shopping centers and Frankston library
Go next
Frankston station serves as a transit hub for bus and train services.
Flinders - Bus 782 Frankston - Flinders via Coolart Road, Hastings.
Melbourne Airport - 901 Bus or Airport Shuttle - a much faster more expensive option than the 901 bus.
Mount Martha - Take the 781 bus via Mt Eliza and Mornington.
Portsea - Take the 788 bus via Dromana, Rosebud and Sorrento.
Stony Point - Take the train to Stony Point, where ferries leave for French Island and Phillip Island.